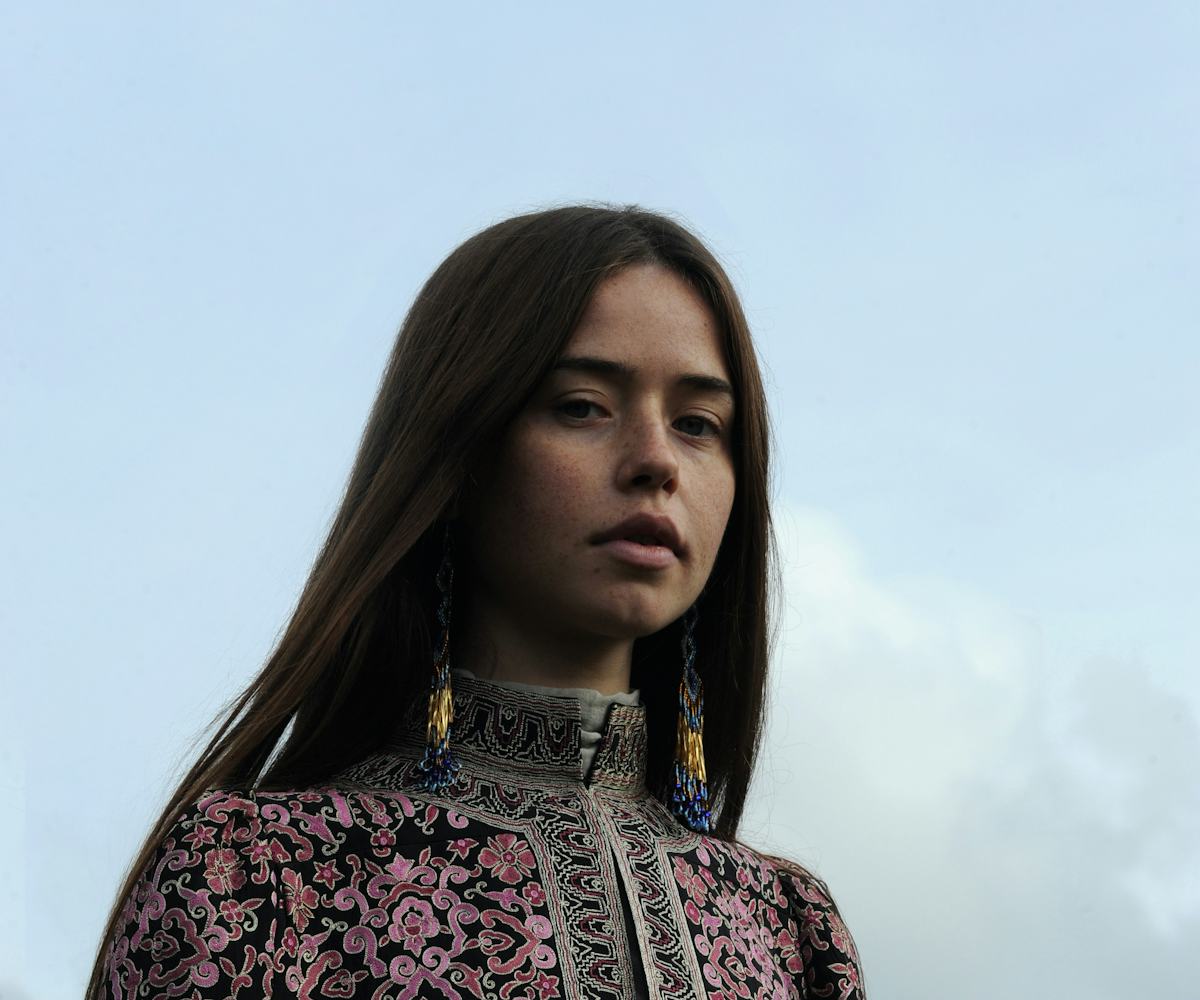 photo by Sophie Harris Taylor
Band Crush: Flo Morrissey
In the realm of famous former MySpacers, Flo Morrissey may seem out of place—not for her lack of frizz-free blonde hair and million-dollar-smile, but for what many on the Internet seem to forget counts the most: the music itself.
When she was 14 years old, the English singer and songwriter started using her Super 8 camera to create dreamlike videos, which she then uploaded to the former social network king, and sent out to random blogs. "I wasn't kind going by any book," she says. "I think sometimes that's how the best things come about, when you just go on your instinct. I more was just discovering it on my own." Those sentiments, coming from the mouths of most musicians (young and old) would sound overdone and cliché at best, but coming from the now 19 year old, they sound strangely genuine and original. It would also sound banal to describe someone as an "old soul" merely for their affinity for flowing bohemian tunics, but that's exactly the type of energy that Morrissey and her music emit. Even at an initial listen, it almost feels as if you're transported back to the thriving Laurel Canyon music scene of the late '60s, back to a time when sparkling harmonies were still synth-free.
Comparisons to the likes of Joni Mitchell and revivalists like Lana del Rey have followed Morrissey around, which seems unfair given her originality. "I like having a kind of timelessness to everything that I do," she says. "But I'm not trying to be a girl from the '70s in 2015. I don't think I'm kind of trying to emulate something, but, I get that people want that thing to cling on and say oh, like, you know, she's the new blah, blah. It's just what feels right to me I think."
Listen to her latest single "Pages of Gold" and read our interview with Morrissey below.
How would you describe your musical aesthetic?    
A couple of weeks ago, a French musician said that he would describe my music as "dentelle," which means lace in French. I like that, because I never know how to describe my music. I think lace is delicate and fragile, and it has these beautiful, intricate details. 
What kind of music do you find yourself drawn to?
When I was like 10, my dad played like Devendra Banhart and Antony and the Johnsons and people like that in the car. Then there was also Nick Drake, Bob Dylan, Neil Young. So it was mainly male musicians, funny enough. I guess more recently I've gotten into female musicians like Billie Holiday and Vashti Bunyan. But in terms of modern music, I just supported a band called Ibeyi—they're these two French sisters who are incredible—and then I love James Blake and I'm about to go on tour with Tobias Gesso Jr.. There's a good amount of inspiring music coming up at the moment. 
How has your music progressed since you started?
When you're like 14, everything seems so exciting or inspiring. An A-minor chord would be like, Wow, I have the whole world in my hands. But as you get older you have to work with life a little bit more. My whole message is trying to like find beauty in the ordinary things.
Can you tell me a little bit about like the process behind your upcoming album? 
It's felt like I've been with some of the songs since I was 15, so I feel like the past five years have kind of been—they're ready to be released.   
If there was a phrase that best sums up your approach to life, what would it be? 
Recently, mine has been "Just listen." That kind of means the space for anything to come and you'll be able to tell what is right and what is wrong if you just listen.