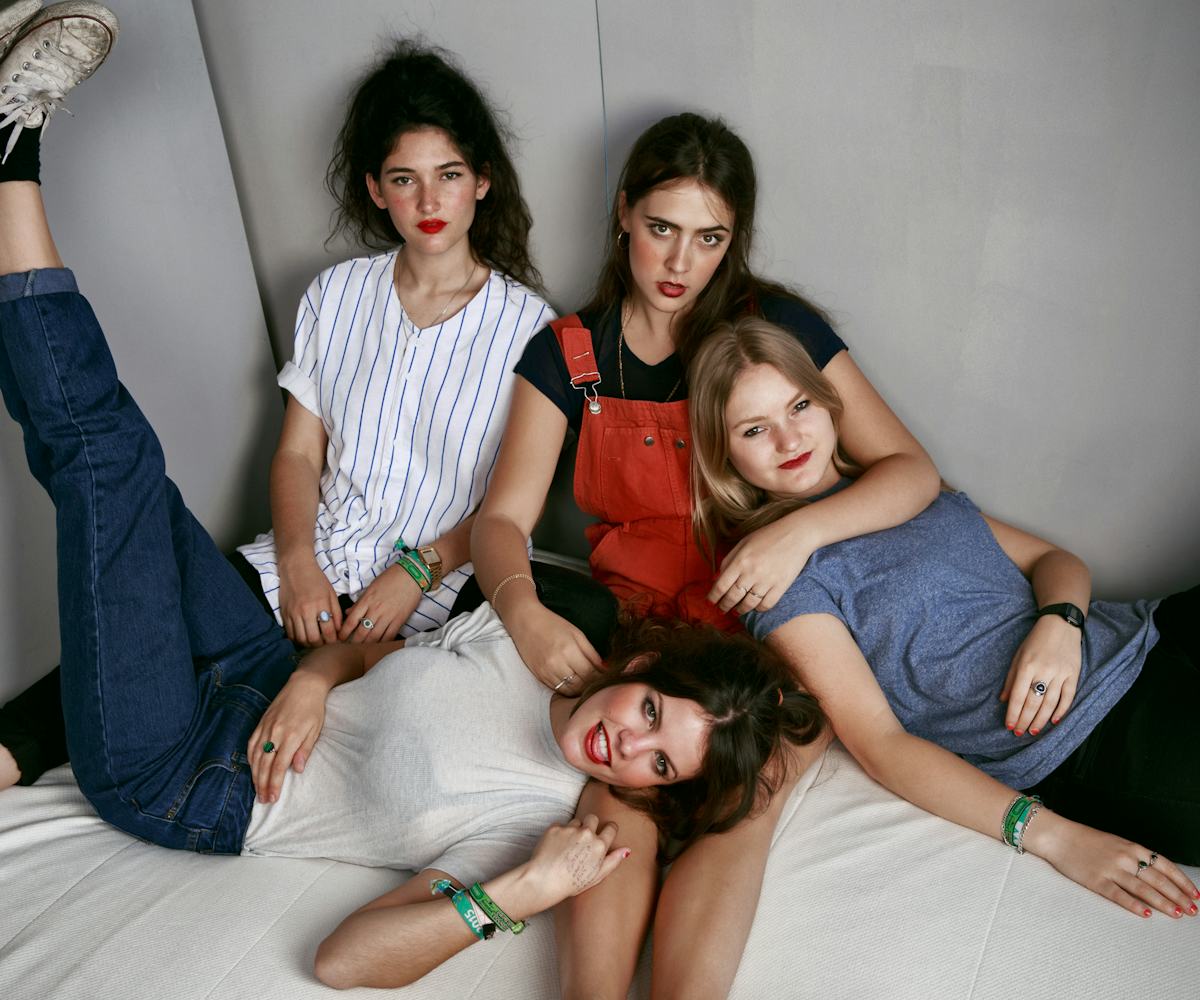 Madrid DIY Rockers Hinds Are About To Get Serious
"The more you live, the less you die, bitch."
Lo-fi rockers Hinds have been making ragged, carefree music together for years, but in a little over three weeks, things get official. That's when the Madrid foursome—Ana Perrote, Carlotta Cosials, Ade Martin, and Amber Grimbergen—will release their debut album, Leave Me Alone, an honest tribute to their experiences as young women coming of age in Madrid, and a departure from their reputation as casual, DIY rockers. "The good part of having to write songs so separately in time is that we wrote about very different feelings we've lived," the band says. "It's funny 'cause we thought this album would be all party and cheerfulness, but—surprise!—it's not! Haha. Feelings are more balanced, like in life. So suddenly, we had a more sober—or even sad—album than we expected. Please don't think we've turned into depressive people or something, we've always been humans, it's just we're now showing it to you." 
How would you describe your aesthetic?
Dirty and baggy.
How did your career get started?
It was a way to escape from the cold. We spent the whole winter of 2013-14 in Carlotta's room writing songs and rehearsing and disturbing her neighbors so bad, hahah. It all started in that room.
Where do you hope to be professionally in five years?
Professionally happy :)
What's your next project?
Releasing the album! Our first LP, called Leave Me Alone! It's gonna be out on January 8.
What famous person, dead or living, do most wish you could have as a roommate?
Joe, the drummer of Mac Demarco.
What is your favorite driving music?
The Strokes, Room On Fire. It's almost obligatory to listen to it every time we are driving anywhere.
Whose career would you most like to emulate?
I think Arctic Monkeys are doing a great long-term work. 
If you had to live in a past time, what do you think would be the most fun era and why?
I think living in New York during the '70s with the CBGB an all that stuff would be so much fun, but we all hate cocaine, so I really don't know if we would survive more than a week there, haha.
What activities do you most enjoy doing alone?
Walking my dog in Madrid is always so nice. But it's also good in company!
How do you wind down before bed?
Ade always watches a movie, Amber reads, Ana combs her hair, and Carlotta never sleeps, haha.
When are you most relaxed?
Coffee in the morning! 
What kind of person were you in high school?
We all were good students! Maybe not too popular, but we had a lot of friends and we keep them nowadays! School friends are the best. 
Can you tell me a quality about yourself that you are genuinely proud of?
We all have a super-pro choreography we have created while we were on tour, and when we show it to the people they really freak out, haha. 
Do you have any phobias?
Ade has a lot of vertigo and I think that's pretty much all. 
What's a serious side of you that people are unlikely to know about? Either in terms of interests, hobbies, or personality?
Carlotta used to study medicine, Ade used to have a radio show, Ana tested antibiotics on herself to earn money to buy her guitar amp, and Amber was born in Spain even though she is blonde.
What are some new hobbies you would like to take on?
Pffffff we'd love to have a basketball team!!
How do you hope to grow as a creative person?
Getting better as musicians, getting more stylish, getting a better rehearsal place decorated with a lot of flowers and little memories and lights...  
If there was a phrase that you think best sums up your approach to life what might it be?
The more you live, the less you die, bitch.