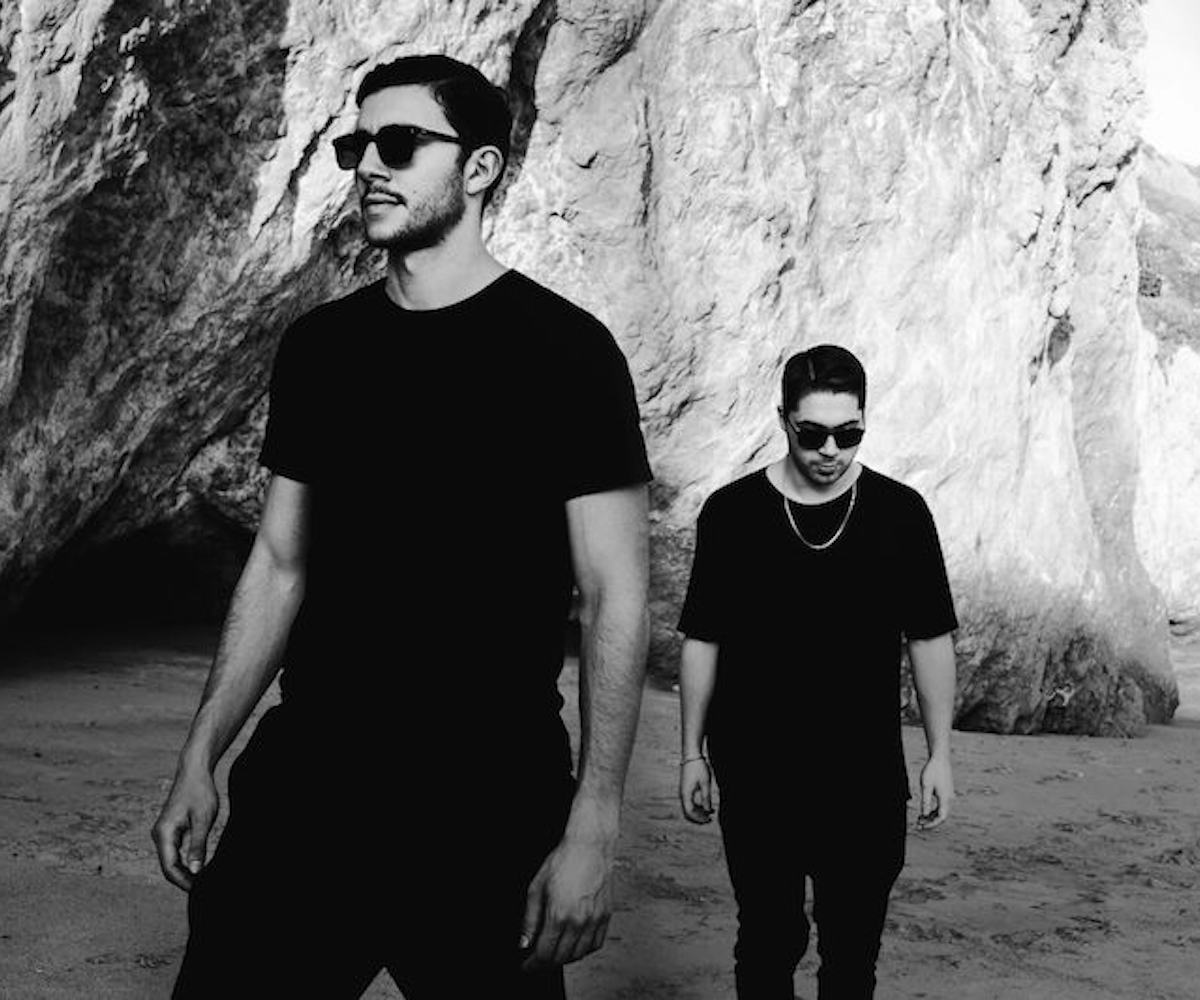 Photographed by Jamie Wesbter.
This Is The Duo To Watch On Drake's Label
they're called majid jordan, and we can't get enough
The first time you heard Majid Jordan was probably on Drake's two-step-inducing smash "Hold On, We're Going Home" in late summer 2013. Since then, the air of mystery surrounding the duo (because "Majid Jordan," it turned out, didn't refer to just one person, but rather two producer-performers, Majid Al Maskati and Jordan Ullman) became more and more clear: The dreamy vocals and house/R&B hybrid beat on the track were actually the foundation of the group's signature sound, which was crafted when the Toronto native Ullman and Bahraini import Al Maskati met as college students in 2011. They quietly released the afterhours EP under the moniker Good People shortly after "Hold On" came out, and followed up with A Place Like This—their debut EP on Drake's record label, OVO Sound. Their eponymous first album drops tomorrow and, based on the six singles they've so kindly released, it's set to be a testament to the R&B group's transforming sound that we can't wait to hear.
Here, Majid Jordan discuss what it's like to be work with Drake and the rest of the OVO team, sing the praises of Toronto, and give a crash course on their hometown's many eats (and, yes, there are many).
Congratulations on the debut album! I'm really excited for it.
Jordan Ullman: Thank you. We are too, man. We really are.
You guys have been really generous with releasing the singles, so we kind of already have a pretty solid feel of how it's going to sound. Is that something you did on purpose?
Majid Al Maskati: Yeah, we just thought it would be nice—considering we're new artists and people want to get introduced to our sound—to slowly reveal it, instead of just having a lot of music to digest all at once.
What's it like having the OVO team backing you guys, and being able to get feedback from them?
MAM: For us, a very big part of the music is having a conversation and sharing. The best moments for artists are sharing ideas together. So, when Jordan and I are creating, we both like to sort of keep things to ourselves until a point where we think, "OK, this is a good time for us to share this music with Drake, 40, and Oliver," and then we can continue the conversation after it's been developed a bit more. So it's a progression for us: "OK, we have this idea, how do we develop it? OK we developed it to this point. When we're ready to develop it further, let's take it to the OVO team."
You guys were even featured on the latest episode of OVO Sound Radio. I was pretty impressed at how diverse your mix was. How did you go about selecting songs?
JU: Any time we're able to have a radio show or put out a mix, it's really true to the way Maj and I listen to music, and what we listened to while we were growing up. It's very eclectic. It pulls from different parts of the world, different eras, different genres. We might be in the studio and listen to a record that we used to listen to, but we'll stop it halfway and put on another record. So a lot of the mix transitions are abrupt, almost like you're changing the radio station. A lot of our influence comes from how the radio puts out music and transitions because it's a 24-hour means of putting out music. So that eclectic mix of going from, like, Vybz Kartel to a Michael Jackson record, putting those two worlds that never really existed together and making it coexist makes things new and refreshing.
MAM: And we both enjoy the idea of people dancing. So we grew up with a lot of music that had just that movement and that sort of brought out that feeling in people.
What are some of the more unexpected influences on your sound?
JU: I feel like a lot of my influences come from the U.K. and the U.K. electronic scene.
MAM: And Brazilian music. There's this cool band called Novos Baianos that we used to listen to. Yeah, a lot of different things.
And for you, Majid, growing up in Bahrain, what was the music scene like there?
MAM: I think it changed since I left when I was 17, but I was there for the emergence of the Internet and being able to share music across platforms, rather than physical CDs and stuff. Back in the day, all that really made it out there were big pop records. A lot of U.K. artists would also get out there because it's a closer market and Bahrain has a lot of British expatriates there. So, you know, the Spice Girls were really big when I was younger, so were the Backstreet Boys and Craig David. Those were the actual albums making it out to that part of the world, since they were so big in the mainstream. We didn't really get a lot of underground hip-hop. We would get bigger acts like Nas and Jay Z, but we wouldn't really get the Wu-Tang Clan, or Mobb Deep, or The Pharcyde. Eminem was there, too. It was limited, because it's primarily an Arabic-speaking country, so we didn't really have access to the same distribution in that part of the world.
How do you guys describe your music? Because a lot of people refer to your music as PBR&B or electronic R&B.
JU: I mean, we don't drink PBR, so it's not PBR&B. [Laughs]
[Laughs] That's fair.
JU: It's whatever people want to categorize it as. I would categorize our music as R&B borrowing from house roots. A little more energy [than R&B], but our songs are love songs and you could really relate them to Motown records. We're making music that sonically doesn't bring to mind Motown, but the writing is there, the trueness of the record is there. So I would say it's like electronic R&B, house R&B, funk R&B. Even leaning toward pop music, because pop music is changing. We have a big respect for pop records that are timeless, from Whitney Houston tracks to Michael Jackson to Prince. So if we can try and recreate that in an electronic space, then that's cool, too.
The industry in general is in this space where the lines between the genres are getting more and more blurred; your music is a pretty clear example of that.
MAM: Yeah, because when you think of the access that younger people have now to genres of music, you can go online and find a rare record that you would've never have found unless you dug in a crate in a record store. And then it's like, "Oh, if you like that song, you'll like this." You can go deeper, and deeper, and deeper, and deeper, and you can mix it with different sounds without even realizing that you're doing that. So music is definitely moving into a more blurred space. I think it's all coming together really nicely, and I just want to encourage that because nothing should exist separate from the other.
JU: Music is at a spot where people are coming up with genres, and then we have to have that discussion of "What is this? How do we categorize this?" The lines are getting blurred and it's amazing because it's just a recognition of music. There should be no borders to art.
Who are some of the newer artists that you're currently listening to?
MAM: We've been working so much that we haven't really been taking in music like the same way we were before, but people that we collaborate with, like Illangelo and Roy Woods, who are under OVO, too, we really enjoy their music. We have so much music that we've made with people close to us and we're always trading ideas, so those are really the people that are inspiring us right now.
That's not surprising, since you guys are from essentially the trend setting city in music right now. Do you feel like Toronto deserved the shine a little bit earlier, though?
MAM: Every city has a magical side to it, you know? I moved to Toronto in 2008, and the way Toronto is today compared to then is even amazing. I could only imagine people who were here in the '90s, what they were thinking, since in the '90s there was a big jungle scene in the city. Back in the day, there was Broken Social Scene, with Feist, Chilly Gonzales...that era of Toronto music. It's always had big movements, especially in music, and I think part of that comes down to the diversity and the mix of people that come to this place.
JU: I definitely feel that a lot of people in Toronto, we're all recognizing these artists and more or less thinking like, "Wow, this really sounds like Toronto. This is a Toronto sound." It's really cool to be able to grow up in a city as we're starting to recognize the way our city sounds, right from the soul. It's very unique and it pulls from many places around the world, and that's just a representation of Toronto as a city.
So, obviously, you have arguably one of the biggest artists coming out of Toronto in a while behind you: Drake. What has he taught you about making music?
JU: It's honestly incredible to work with such a down-to-earth artist who really is super-talented, and over the past few years we've been able to call him a friend. It's a blessing. It's just a dream come true. Especially when we were two guys making music in a dorm room, and we got this incredible opportunity to even have a conversation with this guy who does what we love professionally. So having him behind us, it really just taught us that if you put the work in and you stay true, good things will come. Just believing in yourself and believing in each other, and building a team, and sharing knowledge, and passing on tricks, communicating—all these things, you learn just by being around Drake and 40, and the rest of the OVO guys. They all communicate very well. They all have a shared vision and are working towards a shared goal, so Jordan and I try to do the same thing.
What, to you, will make Majid Jordan a successful release?
MAM: Just the fact that we get to put out a piece of music, and then go on tour and connect with fans on a real level. That's going to be one of the best parts, to actually perform and put a face to the music. Getting to [show] our personalities, and for fans to meet us for the first time and see us on stage, I think that's really going to be a great part of this whole project. I'm really excited for the live shows. That in itself will be a success because it's like, "OK, we communicated our ideas and you guys have understood everything, and now we're sharing this moment together." It's going to be beautiful.
How far along are you in planning a tour?
MAM: We're planning it right now but we're going to be going on tour very soon, hopefully in the next month. The first leg is going to be North America.
Do you have other projects with members of OVO Sound coming out as well?
MAM: Right now we're just working. We've got this first album that's coming out soon, and Jordan and I are just doing the press and stuff and we're just really excited to get back in the studio and make another album. We're so inspired right now and we have so much energy. We're going on tour and and meeting people, and we have more ideas, so that's really what we're looking forward to.
Absolutely. I'm excited for it, too, to see you guys live. So, when you're in New York, hit me up.
MAM: Oh, yeah, we'll see you in New York. 100 percent.
You guys were here last week, right?
MAM: Yeah, we were. We did some press, met with the New York Times and did the Hot 97 interview. It was really cool. I love going to New York and walking around in New York. It's definitely a good city to take in some visual inspiration.
Did you get to do any cliché tourist stuff while you were out here? At least get a good slice of pizza?
JU: Oh, yeah, we didn't even get a slice of pizza while we were there! But we had a lot of "New Yawk cawffee."
Ah, you have the accent! I respect it.
JU: I think I had like, three cups of coffee when I was there. I was everywhere: "Alright, where we going? What's going on? What we doing?"
So what are the foods that you have to eat when you visit Toronto?
JU: Okay, there's definitely a big Caribbean influence in Toronto, so roti is a huge thing here, oxtail, rice and beans, things like that. Then you have the Vietnamese food, you know, a good shredded pork roll. There's great Chinese dumplings in Chinatown. We have one of the biggest Chinatowns in the world, I think, in Toronto. Jordan and I, when we first met, we actually made two songs that same day. And then I looked at him, and I was like, "Wow, we just had a crazy session. You want to get Chinese food?" We went and got Chinese food at 1:30 in the morning. We spent a lot of time in Chinatown together when we first started, you know. We have the best Chinese food in the world, in Toronto, I'd say. What else would I say? There's good Persian and Afghani food here, too. There's so many cultures here, you can get really good food from anywhere. It's kinda crazy. Good Portuguese chicken, too.
You're actually making me hungry right now.
MAM: [laughs] Come to Toronto! We'll pick you up.
I actually had plans to go up for All Star Weekend but they fell through. I'm really sad about it.
MAM: It's a big deal, though, Toronto getting the All Star. It just shows you what Toronto is becoming as a city. That Toronto could get an All Star game, I think that's really, really cool.
Do you guys have performances planned for that weekend?
MAM: No, we're going to save our performances for the tour. We're going to go rehearse for this tour a little bit, put the show together, and you know, save our performances for real fans in real intimate venues that have been waiting to see us. Not just jumping on an All Star Weekend [performance]. We can't because there are people out there that have just been waiting to see us live and we finally can give them that taste of our music.