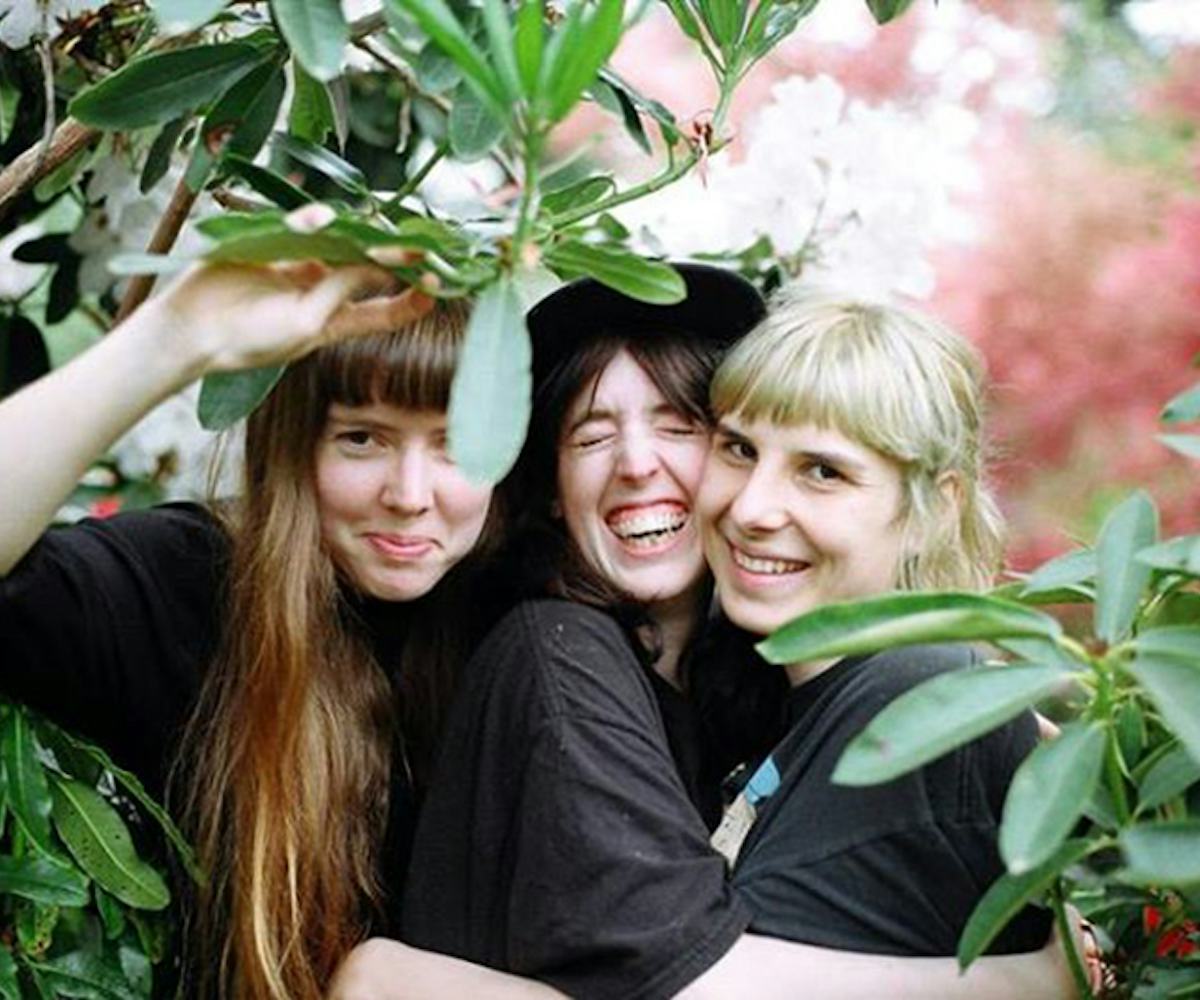 all photos via the courtneys on facebook
band crush: the courtneys
on slurpees, carmen san diego, and touring with tegan & sara.
If you were going to break into your big sister's room while she was at her best friend's sleepover to uncover her diary and call your friends over to read it out loud together, chances are, it would read a lot like The Courtneys' lyrics.
"I watched you play guitar all night. Blonde hair, you're really quite a sight." (Delivery Boy)
"Running through the field in a velvet gown, thinkin' of him as the rain falls down." (Nu Sundae)
"Making minimum wage, you just work to get paid. But it's not gonna give you a better reason to live here." (Insufficient Funds)
Kathleen Hanna has said that inspiration for the Julie Ruin in 1997 came through a girl writing songs in her bedroom. When it comes to The Courtneys' music, that's also basically what you get: The ultimate soundtrack for the time you lived vicariously as a teenager through your Barbie dolls, living out actual moments you read about in your older sister's handwriting.
And while their '90s-inspired girl power-fueled music might sound like it could be Riot Grrrl-flavored, Jen Twynn Payne will tell you it's an insult to Riot Grrrl to compare her band to the infamous political movement from the era of scrunchies and Dr Martens.
But The Courtneys are the type of band who you'd expect to stock their merch table with Puffy Paint and vintage math books—and I can't wait for you to meet them.
The all-girl trio is made up of three different "Courtneys":
Courtney Loove—AKA "Classic Courtney"—on guitar and vocals
Sydney Koke—AKA "Crazy Courtney"—on bass and vocals
Jen Twynn Payne—AKA "Cute Courtney"—on drums and vocals (yes, drums and vocals).
I had the chance to chat with Sydney Koke over the phone, which felt a lot like dialing up your crush at a sleepover. That's because Koke relayed all of my questions to Jen and Courtney IRL, while sitting outside of the PNE Fair in Vancouver (the same place they filmed the video for "Lost Boys"—and where Jen was going to obsess over a Game of Thrones exhibition straight after our interview).  Between answers, I could hear them giggling and trying to find the right ways to say what they wanted. In the end, I did uncover something similar to a teenage girl's diary from the '90s. I found out what the best Slurpee flavor is, where in the world Carmen San Diego actually is, and which band tees are actually impossible to get rid of.
If you could make a comic book featuring your favorite badass chick, musician, actress, or celebrity, who would be the leading lady?
I've been reading a whole bunch of graphic novels by this author who is really sweet, by the name of Alison Bechdel. She's so amazing. She is so cool and a lot of her work is autobiographical and I've been reading all of her stuff for the last month. Since she's already in her own cartoon, I wouldn't even want to improve on that. She is one of my biggest literary heroes. The last book I read by her was called Fun Home and it was really, really good.
What is your favorite music venue where you like to see other bands perform live?
Courtney says The Commodore in Vancouver, but we don't know what its like to play there yet, because we are playing there this week for the first time. I think my favorite one ever is the one where I went to go see punk shows when I was a teenager. It's called the Multi (as in, like, the multicultural center) and it was just like this super grungy community center on the edge of a river. All these different kinds of punks would go and it was just a very open environment. There was lots of moshing, and it was just really fun. That was like the first place I ever saw a band.
What was one of your favorite venues to play while on tour with Tegan and Sara?
Jen says The 9:30 club in Washington D.C. It's so nice! They give you cupcakes when you play there and we had, like, two different dressing rooms. My favorite venue on tour was probably a tie between First Avenue in Minneapolis because that's where Prince recorded parts of Purple Rain—which his like one of my favorite albums ever. It was really cool to actually be standing in the same room that the album was recorded in. So, yeah, that's tied with this place that's like a botanical garden in Grand Rapids, Michigan. To get to catering you had to go between all the different plant rooms. There was one room that was just for carnivorous plants and it was really sweet.
"There was one room that was just for carnivorous plants and it was really sweet."
What's one thing you found out about Tegan and Sara while touring with them that you didn't know before?
Jen can't answer that because she's their cousin, so she knows them pretty well. I had met them just a few times and I really respect how professional they are. They are super in charge of everything they do, they don't sit back and let a manager tell them what's up. They are the bosses of this huge group of people and this huge enterprise and I just really respect the way that they operate. They're really good examples of being a working musician and living a healthy lifestyle. They make sure everyone on their team is super cool and make up a really positive community to be in.
I totally get a Kathleen Hanna / Riot Grrrl Vibe from you guys, but I don't really see a comparison to those things anywhere online. How do you guys feel about that movement?
We sometimes get the Riot Grrrl reference and I think that it makes sense sonically, but a big thing about Riot Grrrl was that it was very politically fueled in a really explicit kind of way. Jen has said before that when it comes to her lyrics, she's not trying to be intentionally political at all, that she is just really writing about her life—just like normal stuff. She sees it as kind of an insult to Riot Grrrl to call us a Riot Grrrl band specifically because we're not intending to be political. We're from the West Coast to and we can't deny that there's a culture of musicians that we listen to or that we are influenced by the music that comes before us, but I think we're more influenced by '90s boy bands, like Pavement, Dinosuar Jr, and Fugazzi. All art is political so we are political by default, but we aren't intending to have a political message. I think that's one thing we have in common with Tegan and Sara, too, is that they end up being really political on account of their identity, but they're not trying to be that way. They're almost making a statement by being themselves and we definitely relate in that way. There is definitely a level of honesty in our music.
"I think that's one thing we have in common with Tegan and Sara, too, is that they end up being really political on account of their identity, but they're not trying to be that way."
Best Keanu Reeves movie?
Courtney says Point Break or The Matrix.
What are some old band tees you own that you just can't get rid of?
Jen always wears a Slayer shirt and has Metallica one that is really falling apart. Courtney doesn't wear band tees that much. I just have a few: a Tyvek shirt, a Liars shirt, and So Pitted from Seattle. That's a surfing term, but yeah, they made these t-shirts by hand.
You're so '90s. Where in the world is Carmen San Diego?
Courtney says she had a game called Where in Time is Carmen San Diego and that sounds really cool. When I was watching the show I would have always pretty much guessed Chicago, I don't know why. I always thought Chicago seemed so cool. Every time I've been to Chicago I loved it.
I was just there for Lollapalooza!
Oh yeah, we love playing festivals. We went to Firefly with Tegan and Sara and we just want to play festivals all the time.
I know you guys love Slurpees. So, what is the best Slurpee flavor?!
I think we would all say Coke. We all pretty much get Coke, but sometimes Courtney gets banana. Sometimes we get Coke with a little bit of cream soda, too. We love Slurpees, we're probably going to get Slurpees right after this.
And, yes, I'm pretty sure they did.