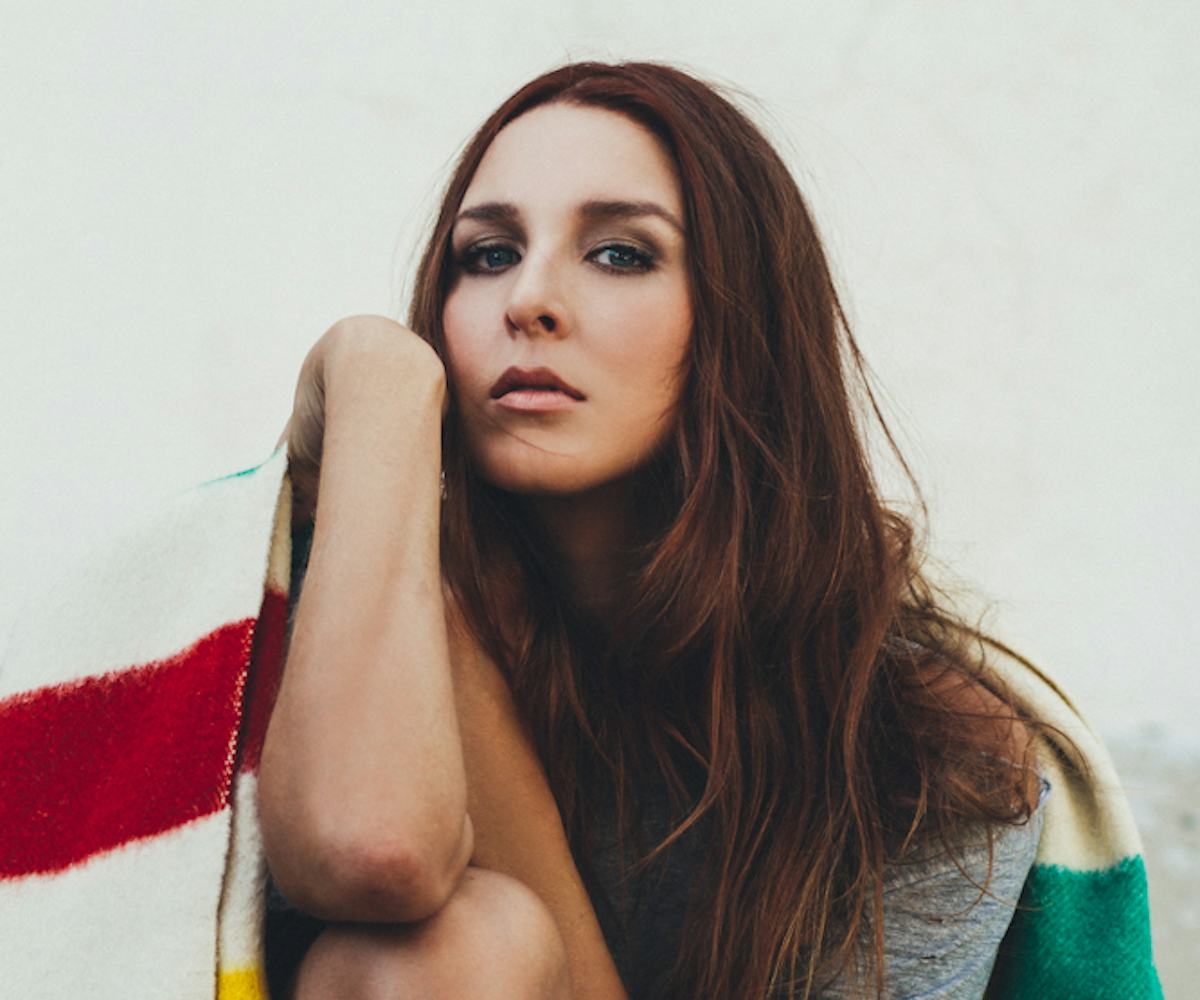 You Need to Hear Canadian Singer W. Darling's Dark, Romantic Pop
premiering her video for "dizzy"
If you recognize W. Darling$1's luminous voice, it's likely you may have heard it on Bassnectar's soaring 2014 EDM anthem "You & Me," (or the trailer for We Are Your Friends it was heavily featured in). But since then, the Canadian singer, who has penned songs for Cody Simpson, Victoria Justice, and the ill-fated Jem and the Holograms movie, has embarked on an ambitious solo career. Last summer, her debut EP, Lost Girls: Chapter One, introduced Darling as an expressive vocalist and open-hearted lyricist, whose tales of emotional turbulence fit seamlessly with her dark, metallic production. 
W. Darling, whose real name is Haylely Gene, named herself after Peter Pan's Wendy Darling, and relates to the character's experience of waiting in that one place, waiting for something—or someone—to whisk you off to some magical new reality. That sentiment is felt in W. Darling's video for "Dizzy," which we're premiering here. Part of a trilogy directed by The Young Astronauts collective (you can check out the other two here and here), the clip features a young girl perched on the bleachers outside her school on a grey afternoon. But when her face is revealed, we see that she's smiling, as if she's gazing out at the endless possibilities just beyond the trees. Watch the video, and get to know W. Darling, below.
How would you describe your aesthetic?
Joni Mitchell and Diane Keaton went thrift shopping in Manitoba.
How did your career get started?
I met Hawksley Workman at the Junos in Canada, and he introduced me to a songwriter friend from Sweden. I had already planned a vacation to Stockholm, so it was quite serendipitous that we ended up having a session two weeks before I left. It went so well that he ended up connecting me with all of his contacts in Sweden and I spent my entire vacation in studios writing and recording. 
Where do you hope to be professionally in 5 years?
I hope to be at a place professionally where I have the freedom to work with the artists I respect and admire and put out honest work that people can connect to. It would also be really nice to be able to fly my sisters to my side whenever I want. 
What are you most proud of so far in terms of your career?
There are so many hurdles to get over before you are even able to start releasing music. I'm so grateful that I've been given the opportunity to create something that I can fully stand behind. 
What famous person dead or living do you most wish you could have as a roommate?
It's a toss up between chef Francis Mallmann, Julia Child, or Sally Field circa Forrest Gump. 
What is your favorite driving music?
James Taylor all day, every day.
Whose career would you most like to emulate?
I'm gonna roll with my fellow Canadian, Alanis Morissette. She's such an inspiration to me in terms of her uncompromised artistry. She's unapologetically herself and I'm so inspired by that. Also, she's a songwriting goddess.
If you had to live in a past time, what do you think would be the most fun era and why?
I mean, going backwards any amount of time makes me a bit nervous, but I guess 1940s Hollywood would have been kind of fabulous. All I really want is to be in old movie musicals, somehow beat Julie Andrews to the audition for The Sound of Music, and get the role before her.
What activities do most enjoy doing alone?
Besides the obvious one, I love baking.
How do you wind down before bed?
I binge-watch Cheers on Netflix. 
When are you most relaxed?
When I'm writing alone in my bedroom with a glass of red wine and a piece of 90% dark chocolate. 
What kind of person were you in high school?
I was a textbook overachieving art school weird at a private Mennonite high school. Yes, I made shoes out of newspaper—so what?
Can you tell me a quality about yourself that you are genuinely proud of?
I'm a very good big sister.  
Do you have any phobias?
Uggs. 
What's a serious side of you that people are unlikely to know about? Either in terms of interests, hobbies, or personality?
I do Krav Maga everyday for two hours, I love it. 
What are some new hobbies you would like to take on?
I love cross-stitch more than I would like to admit, and I would love to get a head start on the rest of my grandmother-y pastimes. I literally dream of looming on a nightly basis.  
How do you hope to grow as a creative person?
I hope to continue surprising and pushing myself, and to never reach a point where I look around and say, "I made it. I'm done." I think developing creatively is a lifelong journey and I hope to never forget that. 
If there was a phrase that you think best sums up your approach to life what might it be?
Jump now, ask questions later.