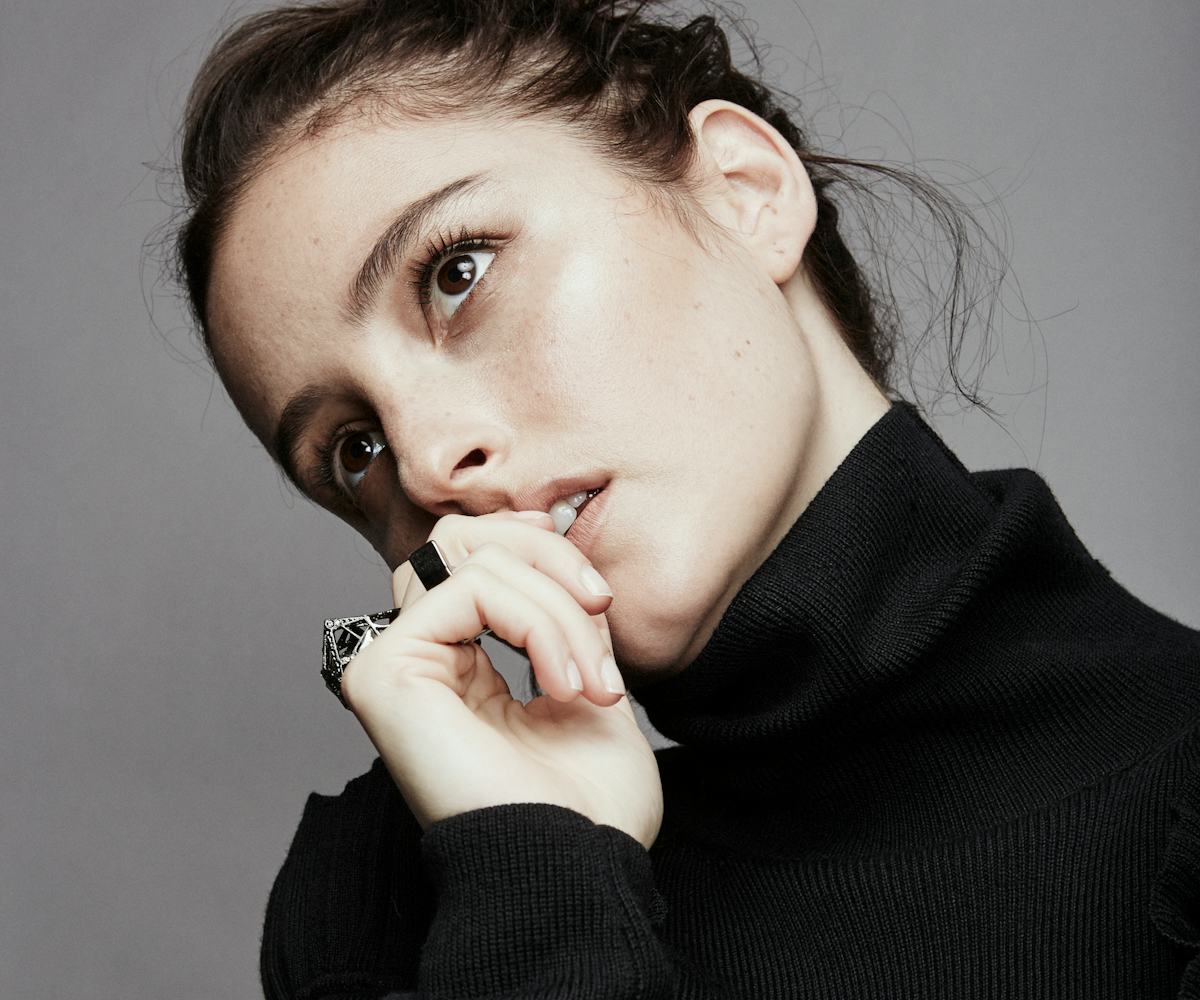 Photographed by Helen Eriksson. Styled by Liz Rundbaken.
Banks Tells Us About Her New Album 'The Altar'
"I want to keep pushing myself creatively"
The following feature appears in the October 2016 issue of NYLON.
Banks strolls into the lobby of New York City's Inn at Irving Place dressed from head to toe in black. The humidity is stifling, but that hasn't discouraged her from wearing a silk bomber jacket, ribbed maxi dress, and heeled ankle booties. While we wait to be seated at the hotel's famed Lady Mendl's Tea Salon, she approaches the table in the center of the foyer, upon which rests a huge arrangement of wilting sunflowers. "I wonder if these are real," she says as she pokes the petals.
Once we're seated, Banks contemplates ordering the lemon verbena tea, which is described as having medicinal elements that help ease aches and pains. It's almost too fitting, given the nature of her music: R&B-infused alt-pop that's dark, devastating, and a little depressing, but also comforting, like a friend who knows just what to say to console you after a bad breakup. But she quickly changes her mind, instead opting to stick to the huge bottle of water that she brought with her. Though not a firm believer in astrology, Banks acknowledges that there are moments when it's obvious that she's a Gemini—such as when she's too indecisive to settle on a drink order. "All in all, I think everybody can choose their own destiny. People aren't predestined to be a certain way," she says. "You can also read into things in any way you want, so everybody has different sides and facets to who they are. When I think about the fact that we're all just hydrogen—because that's how the world was created—I can start buying into [astrology] a little bit more, because I realize how everything started from one simple cell."
Raised in Los Angeles' San Fernando Valley, Banks began writing songs around the age of 14, primarily as a form of personal therapy. "When I first started writing, music saved my life," she explains. "It's the language I'm most fluent in." While she has fond memories of her dad blasting Dead Can Dance, she gravitated toward artists like Fiona Apple, Lauryn Hill, Erykah Badu, Eartha Kitt, and Brandy—all women to whom she has been compared—because of their raw honesty.
Click through the gallery to read the rest of the feature.
She went on to major in psychology at the University of Southern California, but she denies that her studies have influenced her music in any way. "It's a separate thing that I'm interested in—human dynamics, how people develop, adolescent development, what affects you years later, stuff like that. My music doesn't come from a mental place. It comes from my heart," she says, placing her hand on her chest to affirm the statement. Still, her work does give the impression of being grounded in some form of social science. Take her music video for "Gemini Feed," for example, a Philippa Price-directed performance piece in which Banks channels different versions of herself to convey a thirst for balance. "I want to keep pushing myself creatively. My goal is to always stay inspired and keep creating. If I'm not inspired, I feel like I turn gray—my skin turns gray and I just wilt," she says, illustrating the point by dragging her hands down her face. "If you're inspired, you're excited, and if you're excited, you're passionate. If you're passionate, you have meaning."
On her new album, The Altar, the singer unveils the product of her personal metamorphosis. "I called my album The Altar because the altar is a place of sacrifice, of pure emotion," she explains. "That's what I feel like my music is—it's the purest place of who I am. It's the safest place, the holiest place for me. 'Altar' can also be spelled with an 'e,' and I feel like I've gone through a transformation."
That change is especially apparent in Banks's appearance: Her flawless, freckled skin (which she maintains by applying fig oil, she divulges) is offset by her recent haircut—gone is the long, brown mass of hair she used to hide behind. "I'm the same person, but you have to let go of certain aspects of yourself—certain things you used to think about, things you need to overcome—in order to grow," she says. "Sometimes I feel lovesick for my past in this deeply nostalgic way, even if the things from the past didn't always work for me as well."
After three years on the scene, Banks is finally comfortable enough to reveal to the world who she truly is—and has been all along. "I walk to the beat of my own drum, and I always have," she explains. "Sometimes people ask me to describe myself and how I do things, and I almost have to create the way that I do them because I don't think about it. It's such a natural thing. I don't have a formula."
Get to know Banks:
FAVORITE QUOTE: "I've been absolutely terrified every moment of my life and I've never let it keep me from doing a single thing that I wanted to do." —Georgia O'Keeffe
HANDLE: @hernameisbanks (Twitter and Instagram). Fun fact: When she first came onto the scene, she connected with fans via a phone number that she shared with them.
HOMETOWN: Los Angeles. "I grew up in the Valley. How people think of L.A. is not my version of L.A. It felt like a good home," says Banks. "It's cool that it's so spread out. There's a beach, there's a city. You get time to yourself because you drive so much."
MEMBER SINCE: 2013, when she started putting songs out on SoundCloud, including her debut, "Before I Ever Met You," which Zane Lowe played on his Beats 1 radio show that year
SONG: "Fuck With Myself," off her new album, because she's the type of person who believes in living in the present but also thinks that "you can't capture a whole human in one song"
TOP 8: Lowe, The Weeknd, Miguel, DJ Dahi, Tim Anderson, Sohn, Snakehips, Chet Faker