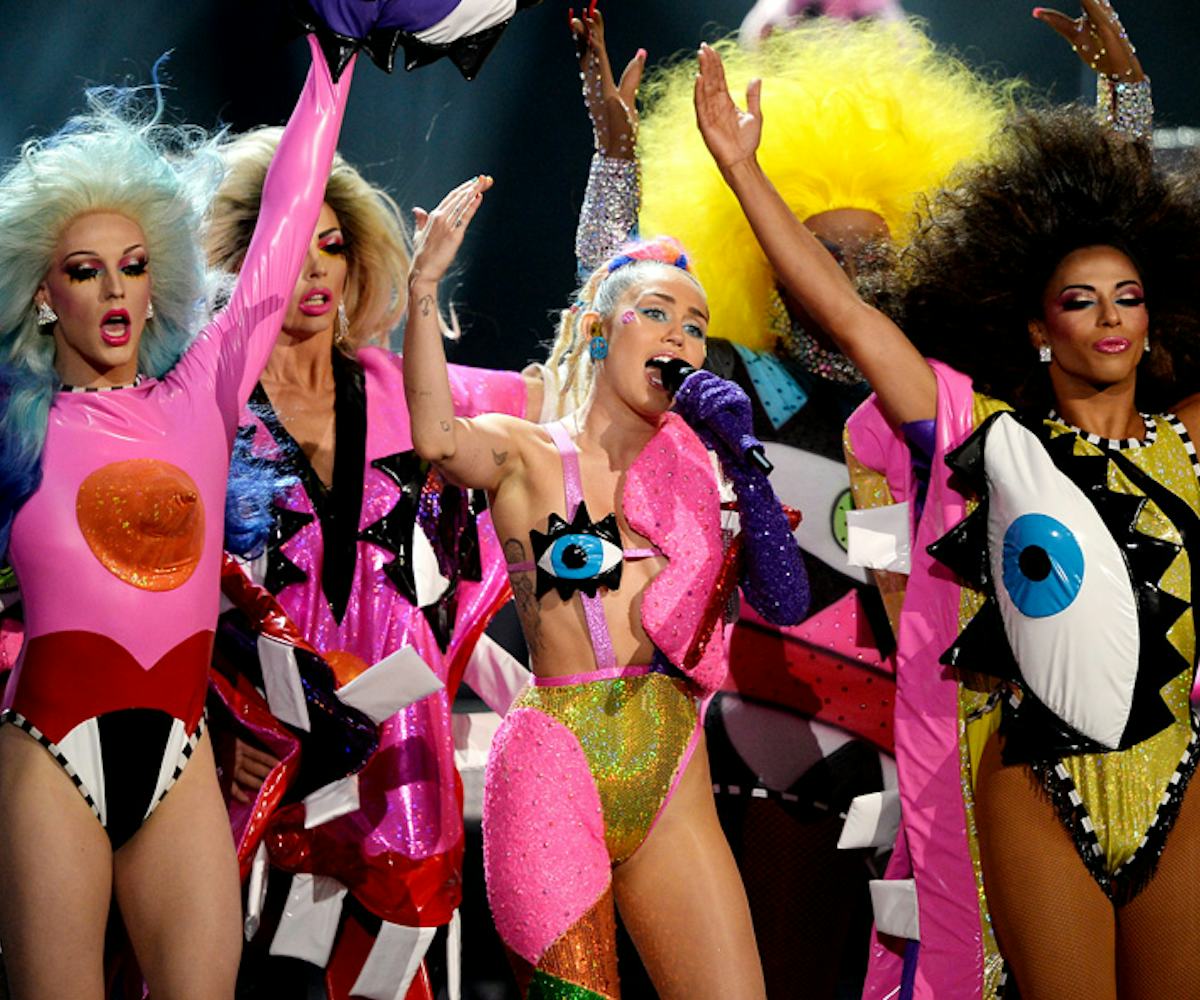 Photo by Kevork Djansezian/Getty Images
was miley cyrus' vmas look copied?
intellectual thievery versus a common cultural vocabulary
Edit: an earlier version of this piece made it sound like Di$count Univer$e directly called Bcalla a plagiarist. This is incorrect. It was instead commenters and users on Instagram who have taken to doing so, not DU. We apologize for the confusion and error.
Yesterday—well, actually, Sunday night—NYLON had an incredible opportunity to interview Brad Callahan, a young, queer designer who has been making a name in New York City nightlife, dressing stars like Azealia Banks, RuPaul's Drag Race runner-up Pearl (in fact, a lot of RPDR stars), and Instagram stars galore. We spoke to Callahan, who designs under BCalla, about working with Miley Cyrus and her stylist Simone Harouche for the now-infamous performance, creating 30 costumes for former RuPaul's Drag Drace contestants (and now celebrities) and Miley —an astonishing 31 looks in total. He shared the sketches for the queens with me, and they looked reminiscent to his older work featuring airbrushed melting faces, monsters with their tongues out, and big, bulging eyes onto outfits—like this one from Lady Gaga, or this editorial in Galore from earlier in the year. 
Photo via Galore Mag
When we woke up the next morning with our interview live, we saw that another brand we follow and respect, 
Australian design duo Di$count Univer$e
, 
Their very vocal and dedicated fans took to Instagram to call out BCalla, effectively launching pieces across media about Callahan's—and Miley's team's—intention, calling him a plagiarist and hashtagging all of his photos with "#thief."
Initially, I rolled my eyes, because the
RPDR
queens were dressed in looks that were so obviously BCalla that I didn't worry about any flack. But then I focused a bit more on Miley, with her sequins and skin-tight cut-outs. She looked different from her drag brethren—more femme than freaky, and the similarities were
much
more obvious.
But then I got frustrated—Did Miley's team accidentally (or, perhaps not) lead Brad into nebulous copying territory? Was Miley's look was distinctly "Miley" because it was envisioned through her previous collabs with Di$count? Yet, as Brad told me, "Simone sent over some really awesome reference images that were really easy to be inspired by, but I really took inspiration from two of the images: The first being a vintage picture of two little kids at a carnival wearing giant paper-mâché heads as backpacks, and the second being that iconic image of Bowie in custom Kansai Yamamoto." And then he said, "Miley's look was a bit more involved and took several rounds of sketches, but my favorite part of that experience was Miley requesting a gold tooth in her outfit and then immediately changing it to braces because, 'She is promoting braces, not grills now.' And I could really get behind that train of thought." Braces, as commenters have pointed out, have been featured prominently in DU's designs before. But are braces copyright-worthy?
As my feed exploded with young creatives, those who have personal relationships with either designer weighed in. The issue, they said, was that fans and social media immediately thought that BCalla's designs were Di$count Univer$e. 
pointed out, the evil-eye motif that others call out as plagiarism has been seen everywhere, from Kenzo to Mara Hoffman, Manish Arora and this Jean Charles de Castelbajac outfit Katy Perry wore to the European VMAs in 2008 
to these shoes I bought in 2012
. Similarly, comments on our Instagram and Facebook pages also featured some choice quotes from fans suggesting that BCalla should be sued (or...killed, in a few shocking instances) for stealing from DU.
Photo by Mike Marsland/Getty Images
As one 
wrote,
I can assure you that the dancers for Miley's performance were very, very Bcalla, from the quilting, the black-and-white trims, the 3-D elements, the heavy usage of latex, and the color palette. The all-seeing eye is something he incorporated into his last collection, and the monster vibe is something we've seen from him for the past two years, at least. He is immersed deeply in queer and nightlife culture and having said that—he was the right person for this gig that celebrated gay culture.
Looking at BCalla's fall/winter 2015 collection, he took the exact same design aesthetic he used in his most recent collection and put it on the queens. Here are a few up-close looks:
Photos via instagram: @planettammie / @courtneyact / @carmen_carrera / @laganjaestranja
And a couple from his collections, which are
very
not safe for work—and are basically a gay porn, which is his aesthetic—and why he was chosen for the job. (Below is a SFW Instagram of a NSFW piece featured.) (Also, the pasties worn by Carmen Carrera are Ruth Melbourne.)
Photo via instagram @bcalla
Photo via bcalla.com
Photo via bcalla.com
It is clear that these two designers are, what Instagrammer 
(an Australian stylist who is pals with both brands) identifies as, "...two (zeitgeist) brands that have existed parallel to each other for the past five years and speak the same creative vocabulary. They draw (no pun intended) from the same trends, influences, and motifs." These trends and motifs of "trash couture," '90s references, and cartoonish colors and imagery are seen every weekend in nightclubs around the world. As an Australian commenter on one Facebook thread I've been following writes, "I'd also question the politics of borrowing so liberally from drag culture, and then flipping your shit when drag culture borrows back." BCalla is, by admission and via acceptance, a member of drag culture—traveling with famous queens, designing for them, promoting them, and being a gay man himself. 
In sum, 
: "If BCalla shifted his direction completely for Cyrus' performance (which he cleary didn't), DU's argument would be much stronger." But this is not the case of prints being straight-up lifted (like the 
Jeremy Scott/Santa Cruz Skateboards
fiasco), but of vibes being unsettlingly similar. And when two artists draw from the same subculture for inspiration, it is no wonder they may pick up similar design cues. It's not as simple as "anyone with a brain can see these are similar"—because both of these designers stand on long and documented histories that include Manish Arora, fellow Aussies Romance Was Born, and even Bowie muse Kansai Yamamoto. 
But the issue feels markedly twofold. The first is that the 30 drag queens looked like BCalla, but Miley herself did not. Which would be fine, if Miley hasn't worn DU many,
many
times in the past and on her 
Bangerz
tour. (Her outfit was, as Brad told us, the only one her team really worked with him on, asking for several revisions.). Given their close relationship to Miley, 
or to be upset to be so dismissed by her team. Di$count Univer$e, a team who is truly talented and deserve plenty of shine, have a right to raise their eyebrows—but raise their eyebrows at whom, exactly? The second is an issue of social media: It doesn't matter what it looks like, how many sketches anyone has done, or whether or not Callahan has been bedazzling looks with cartoon eyes and a glittery mouth for years. Once someone's work gets hashtagged "#thief," when that person is an indie designer who has been relegated to the deepest, most overlooked parts of subculture, that's a big deal—and one that has heaped tons of vitriol onto the young designer. As the Insta thread pointed out, "The shine is not a zero-sum game. There
is
enough to go around, and this type of social media witch hunt serves no purpose than to vilify (and potentially slander) a talented, up-and-coming designer who is simply doing his thing." And when his thing and your thing collide, then whose thing is it, really?