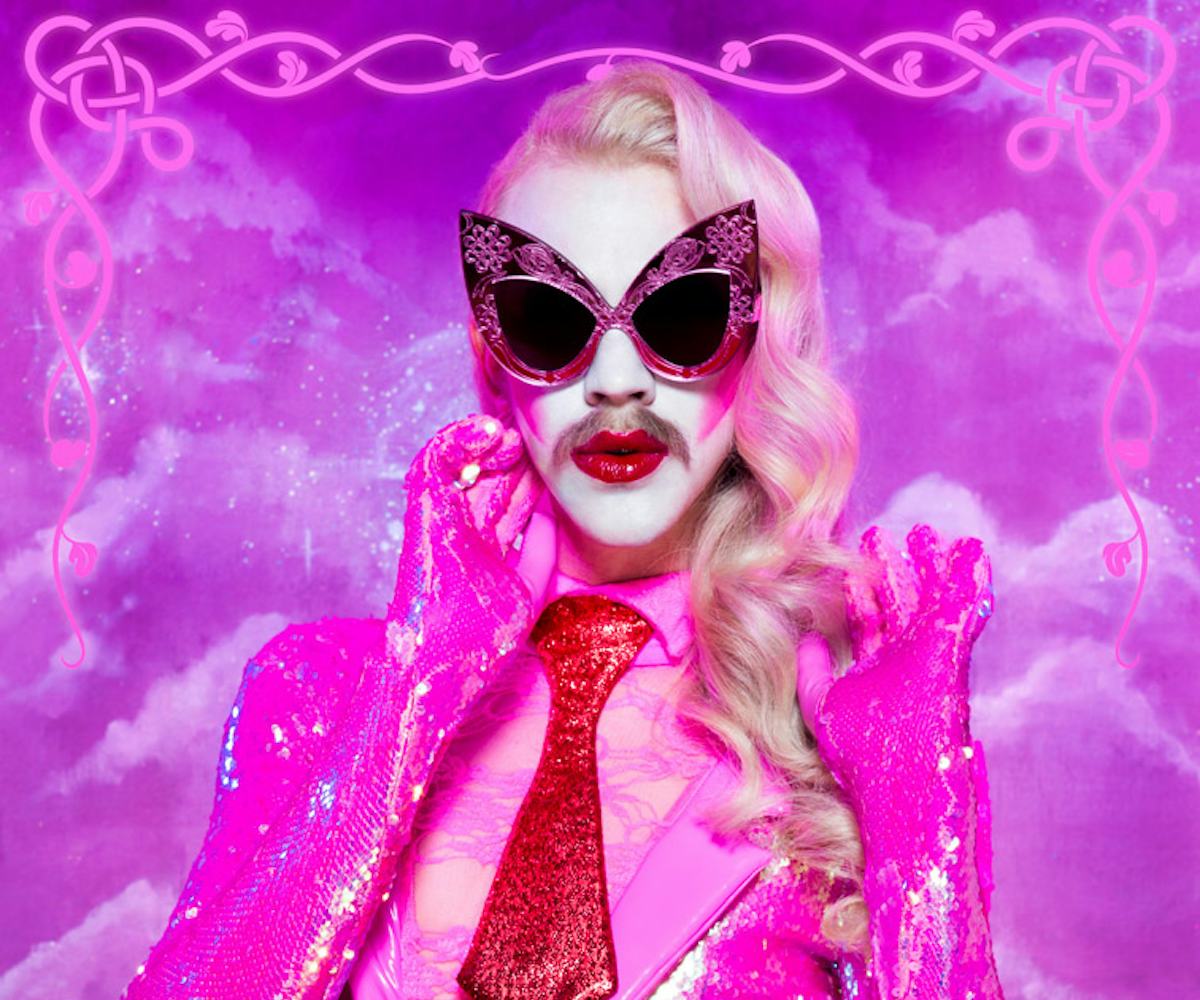 This BCALLA Lookbook Brings Your Dystopian Prom Fantasies To Life
ruffles, sequins, and plenty of pink
Subtlety isn't quite the name of the game for BCALLA, the club-kid label behind some of Miley Cyrus' wildest looks. Designer Brad Callahan traffics in explosions of glitter, tulle, cartoonish imagery, and flamboyant color so bright you'll need sunglasses. Would we expect his looks for prom, one of the (supposedly) classiest nights of our lives, to be any different? 
That didn't stop our jaws from dropping when we saw their hot pink prom collection blaze across our laptop screens. Complete with ruffles, rhinestones, and exposed midriffs, the line aims to embody "that awkward, sweet moment when we fully subscribe to pop culture ideals of love and chivalry"—and what a passionate love affair it is. This collection is what our prom night fantasies would've looked like, had we all been tripping and descended down a rabbit hole of dystopian queer club culture right in the middle of our high school gyms. So if you've got the guts to pull these looks off on your big night, we say kudos.
To see more from the collection, click through the gallery above. 
BCALLA Fall Winter 2016
BCALLA Fall Winter 2016
BCALLA Fall Winter 2016
BCALLA Fall Winter 2016
BCALLA Fall Winter 2016
BCALLA Fall Winter 2016
BCALLA Fall Winter 2016
BCALLA Fall Winter 2016
BCALLA Fall Winter 2016
BCALLA Fall Winter 2016
BCALLA Fall Winter 2016
BCALLA Fall Winter 2016
BCALLA Fall Winter 2016
BCALLA Fall Winter 2016
BCALLA Fall Winter 2016
BCALLA Fall Winter 2016
BCALLA Fall Winter 2016
BCALLA Fall Winter 2016
BCALLA Fall Winter 2016
BCALLA Fall Winter 2016
BCALLA Fall Winter 2016