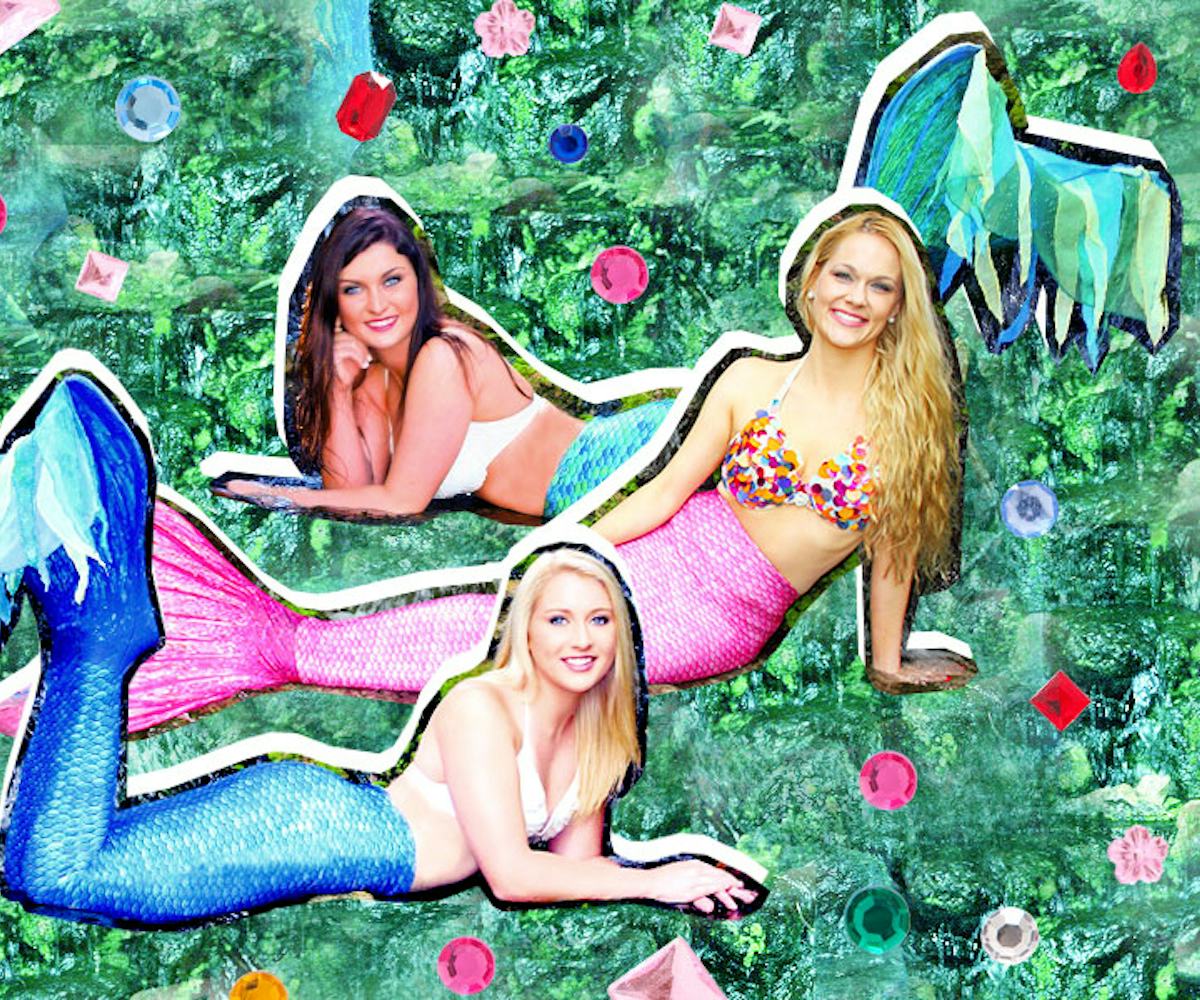 Photos courtesy of Weeki Wachee Springs
beach beauty advice from irl mermaids
learn from the professionals
Mermaids, man. What's not to love? They have gorgeous hair, flashy tails, and impeccable taste in bikini tops. Simply put, they're the babes of the sea. Which is why we're pretty obsessed with the professional mermaids who regularly perform underwater for thousands of Florida tourists each year. Yep, mermaids. Real ones.
For more than 60 years, Weeki Wachee, Florida has laid claim to one of the most curiously awesome roadside tourist attractions in the state: A subterranean theater where visitors can look directly into the crystal-clear waters of Weeki Wachee Springs and witness choreographed underwater shows performed by real, live mermaids. Decked out in shimmering tails, these ethereal sea-sirens perform impressive feats of athleticism, all entirely underwater (supplemented by perfectly timed sips from strategically placed air hoses). Needless to say, they're pretty dreamy. And with the amount of time they spend underwater (and the fact that they're, you know, actual mermaids), we have a feeling they know a thing or two about beach beauty.
So, we chatted up three of Weeki Wachee's subaquatic stunners—Cheyenne Bragg, Desiree Stookey, and Amanda Luter—for the scoop behind their pre-performance beauty routines, tips for keeping mermaid locks in good shape, and intel on which cosmetics wear well on both land and sea. It's the closest you'll get to beauty advice from Ariel.
Click through to see what the mermaids have to say.
HAIR
Any mermaid worth her sea salt knows that logging hours underwater can wreak havoc on hair. Mermaid Cheyenne keeps her locks healthy and luscious by coating strands in coconut oil after she emerges from the water, while Mermaid Amanda reaches for both a detangling comb and a leave-in product like It's A 10 Miracle Silk as soon as she gets out. Mermaid Desiree, meanwhile, applies conditioner before her swim, ensuring that her mermaidly sheen will stay intact throughout and after the show (she likes Suave's Keratin Infusion line). As for growing out those long mermaid locks, Desiree swears by two things: vitamins and regular trims (though Amanda reminds us that, of course, you don't have to have long hair to be a beautiful mermaid).
FACE + BODY
Though the Weeki Wachee Mermaids perform underwater, they still get plenty of sun exposure (they do live in Florida, after all). All three use sunscreen regularly. Cheyenne doubles up on her sun protection by using a daily moisturizer with SPF. Sun protection is an obvious one, but Amanda reminds us of another important concern for people (and mythological creatures) who spend a lot of time in the water: "Hydrate, hydrate, hydrate!" she says. "If you're in the water for extended periods of time, you want to make sure you hydrate your skin and hair, because they will dry out." She prefers Neutrogena Naturals to keep her skin moisturized, while Desiree tells us that she keeps her sensitive skin happy and breakout-free with Burt's Bees Soap Bark & Chamomile Cleansing Cream and Alba Botanica Hawaiian Oil-Free Moisturizer.
Amanda grew up in Florida, has been visiting Weeki Wachee since she was a baby, and even worked as a lifeguard at Weeki Wachee's spring-fed water park, Buccaneer Bay, in her pre-mermaid days. Safe to say she knows a thing or two about sun protection—and according to her, good old-fashioned Coppertone always does the trick. Once you're out of the water, repair and restore your skin's hydration with a good moisturizer: Cheyenne likes Nivea Extended Moisture Body Lotion, a non-greasy formula that manages to keep skin soft for up to 48 hours. 
MAKEUP
In the midst of summer, we regular humans have enough of a time getting our makeup to stay on our faces—and we're on dry land. The Weeki Wachee ladies have to not only strike a perfect balance between makeup that's subtle but still visible to the audience, it also has to stay in place. Underwater. While swimming. Through trial and error, they've managed to find a few products that wear well both on land and in water. Cheyenne applies Maybelline Fit Me Liquid Foundation to her face, dusts it with Neutrogena Healthy Skin Pressed Powder, and adds a teeny bit of glam with L'Oreal Infallible Super Slim Eyeliner. 
Amanda, who prioritizes a pop of blush, a defined and filled-in brow, and an eyeshadow matched to the color of her tail, digs Urban Decay and Lorac shadows (for their staying power and their wide range of hues). At $2, ELF's Waterproof Eyeliner stays put and, therefore, is a no-brainer. And for a bold lip that won't disappear underwater, she looks to the rainbow of budge-proof colors from Maybelline Superstay 24. Desiree swears by Pur Minerals Gel Eyeliner, and adds that you can make powder products (like eyeshadow) stick around longer by applying them with a wet brush.
MERMAID WISDOM
When it comes to beauty routines, these ladies have pretty unique requirements: Embrace the mermaid life, look good while doing it, and manage to pull it all off while submerged in chilly waters. But they also have nuggets of beauty wisdom that apply to even the most landlocked of humans. Desiree attributes her youthful skin to both her devotion to sun protection and washing her face each morning and night. "I think vitamins help, and eating healthy is a biggie," she says. (Do mermaids eat pizza? Guess not.) When it comes to nailing a sea-worthy look, Cheyenne adds that a little goes a long way. "Don't overdo your makeup, because natural is beautiful," she says. And in addition to echoing the recommendation that we always protect our skin with sunscreen, Amanda reminds us of two important principles:  "Remember to have fun with makeup…and just keep swimming." If that's the mermaid's guide to life, we'll take it.