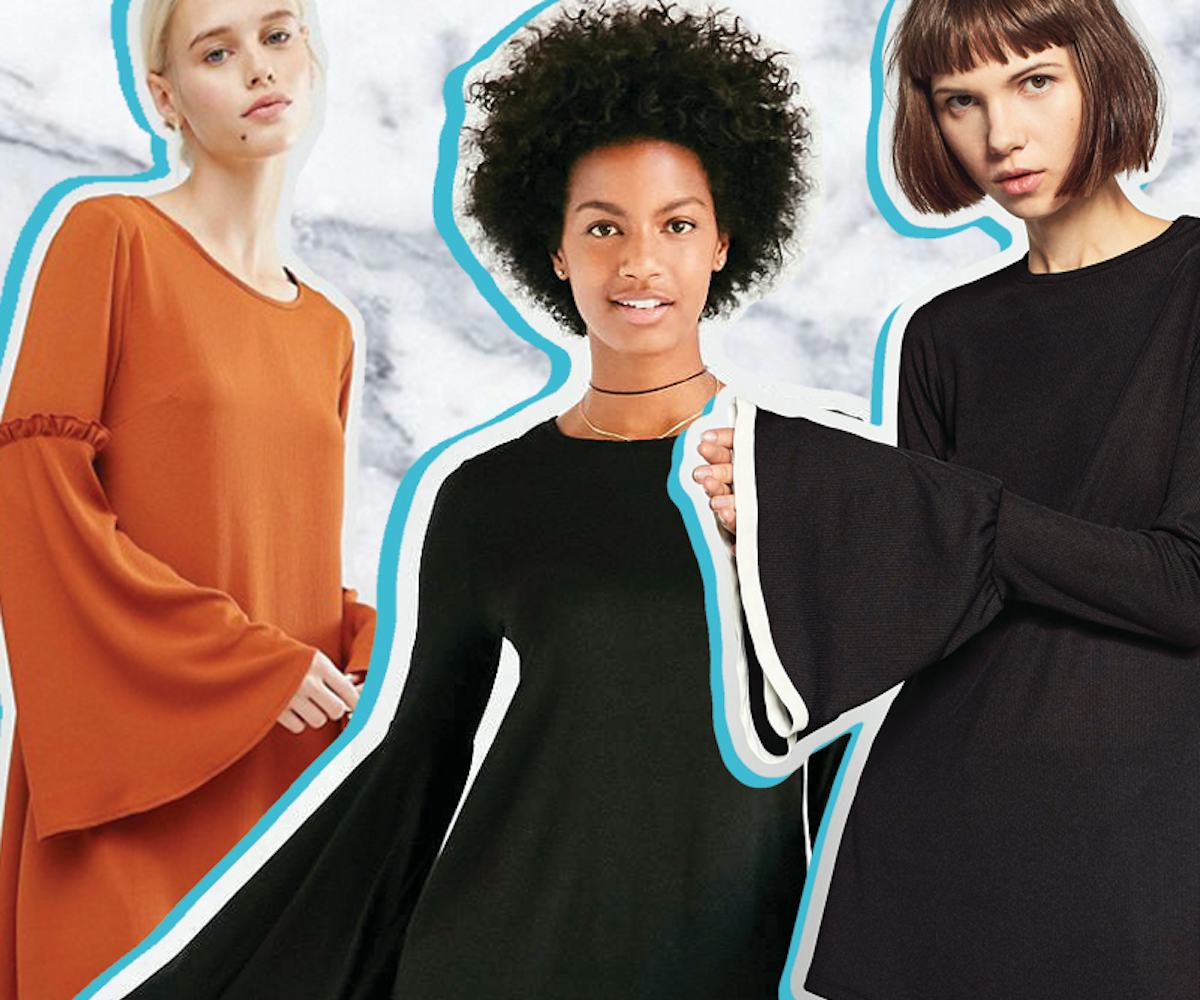 15 Billowy Bell Sleeves To Rock This Fall
Shop this season's major statement-maker
We've been seeing a bunch of '70s trends making their way back into the mainstream the past few seasons, and there's no denying that this era is still alive and kicking, at least sartorially speaking. The next blast from the past to take the reins this season? The bell sleeve.
There's something to be said about a billowing, flowing sleeve. It's a little bit retro, a little bit romantic, and we've always loved how an all-black lacy version gives us some serious witchy vibes (Halloween inspo, perhaps?).
This season, we're seeing versions of the bell sleeve just about everywhere. Whether for a dramatic effect, starting from above the elbow, or a subtle touch, starting from the wrist down, we're seeing it on everything from T-shirts and blouses to party dresses. Could this be the next off-the-shoulder top (that is until off-one-shoulder comes into the spotlight this spring)?
Click through below to check out 15 styles we have on our shopping lists this season.
Ecote, Knit Bell-Sleeve Mini Dress, $59, available at Urban Outfitters.
Free People, She's A Lady Top, $168, available at Free People.
Missguided, Petite Bell Sleeve Choker Neck Playsuit, $48, available at Missguided.
Lost Ink, Swing Dress with Bell Sleeves and Ruffles, $59, available at ASOS.
Finery, Lynmouth Flute Sleeve Shift Dress, $95, available at Finery.
Nasty Gal, Left Field Bell Sleeve Shirt, $68, available at Nasty Gal.
Zara, Belled Sleeve Top, $22.90, available at Zara.
Theory, Marah Printed Silk-Chiffon Mini Dress, $395, available at Net-A-Porter.
Zimmerman, Indienne Floral Lavish Playsuit, $630, available at Bona Drag.
Forever 21, Self-Tie Bell-Sleeve Top, $17.90, available at Forever 21.
Ellery, Sigmond Textured-Crepe Top, $760, available at Net-A-Porter.
Claudia Li, Light Wool Flowered Bell Cuff Shirt, $825, available at Claudia Li.
Bardot, Emmie Bell Sleeve Lace Sheath Dress, $159, available at Nordstrom.
Pixie Market, Striped Bell Sleeve Pearl Cuff Top $56, available at Pixie Market.
Keepsake, Lighthouse Long Sleeve Knit Dress, $280, available at Fashion Bunker.