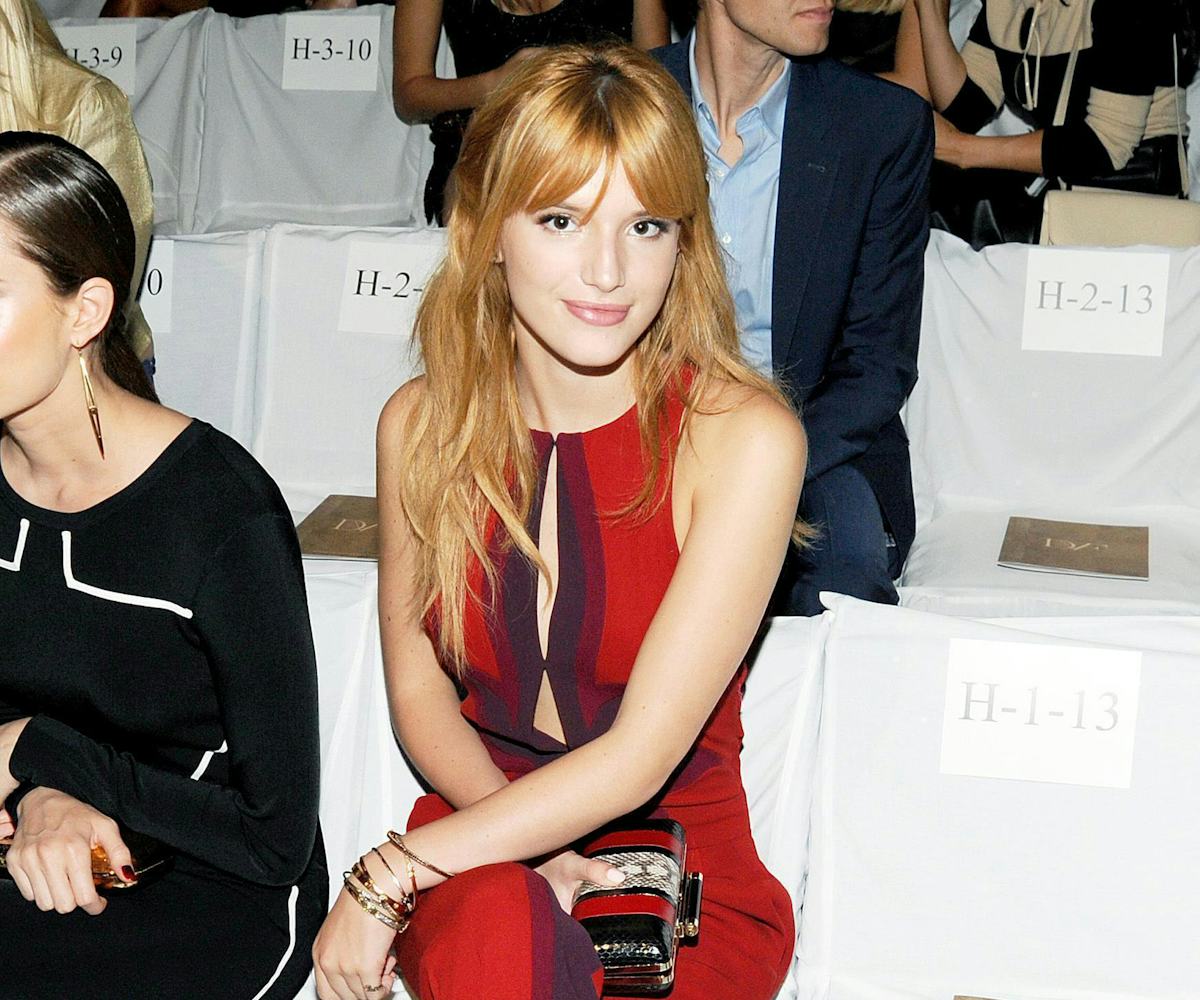 photo by billy farrell/bfanyc.com
the insider: bella thorne
why working with drew barrymore is the best.
With a successful TV show, two upcoming movies, and incredible dance skills, it's hard to believe that Bella Thorne is only 15 years old--and that we've only seen a glimpse of her talent. The Disney starlet proves her comedy chops 2014's The Familymoon and in the film adaptation of the classic children's book Alexander and the Terrible, Horrible, No Good, Very Bad Day. We sat down with Thorne at the Sega Go Dance mobile game party to chat about what it's really like to hang out with Drew Barrymore, why she doesn't want to hear any Pretty Little Liars spoilers, and how you can never have too many pairs of Converse sneakers.
Why did you decide to partner with the Go Dance app?
It keeps kids active and, I mean, any way that you can dance with your friends is so much fun and now it's portable, so that makes it cool.
Other than dancing around, what's been keeping you busy?
I just got done with an Adam Sandler and Drew Barrymore [film called The Familymoon] in South Africa; that was crazy fun! And now we're shooting Alexander and the Terrible, Horribe, No Good, Very Bad Day. We just call it Alexander, and that's with Jennifer Garner and Steve Carell--and let me tell you, that is nerve-wracking being on set with them! Those two legends, you're like, "Oh God, if I mess up right now.." And I did! I messed up 20 times on one little line. The name was "Nagamaki" and I said it all right the whole entire day and the last 20 minutes I closed up and I totally messed up the line! I was like, "Ok, thank God Steve Carell is not here, because I'd literally cry."
Not going to lie: We're totally jealous that you got to work with Drew Barrymore.
That was crazy! I don't know what I expected, but it was so different from anything that I expected. Drew's the sweetest! She literally gives the best hugs ever. She's just so nice all the time and she would hang out with me on set and call me to her trailer, like, "Let's talk makeup," because she has the makeup line. And then Adam's such a guy's guy, it's crazy; he'll leave during a scene and say, "I'm gonna go play basketball, I'll be back when these takes are done."
Seems like you're surrounding yourself with famous funny people. Does it make you want to do more comedy?
I never thought that I'd be in comedy, but it just seems that people like me for it--which is so weird because I'm so much better at drama; that's my strong suit. I like falling in love with projects. It's one of my favorite parts of the whole process, so if I fall in love with it I will be determined to get it.
Are there any acting roles that you'd like to do in the future?
You know a dream of mine would be X-Men. I know that's never going to happen, but I don't even know what I would do if I got it. I would probably have a heart attack!
Is there a TV show that you've been binge-watching recently?
I haven't been able to watch the last season of Pretty Little Liars and I'm so upset--I'm not even kidding you right now! My brother forgot to record it while I was in Africa! But I also love watching Dexter, my mom and I are obsessed with it.
If you could trade closets with anyone, who would it be?
A regular teenager because that's my style: hipster clothes. I scatter through all my gorgeous gowns and my designers in my closet to get to my hipster stuff. I have my closet and then I have a different closet that's more like event stuff and all these shoes. In my [real] closet it's the double high-top sneakers that I wear. My maid put all of my Converse under my bed, that's how much I wear them. I love the double high top. The platform ones, those are my favorite!
What else are you obsessed with?
For fall I'm really into scarves. You know the ones that come in a circle, the infinity ones? Yeah, I love those!