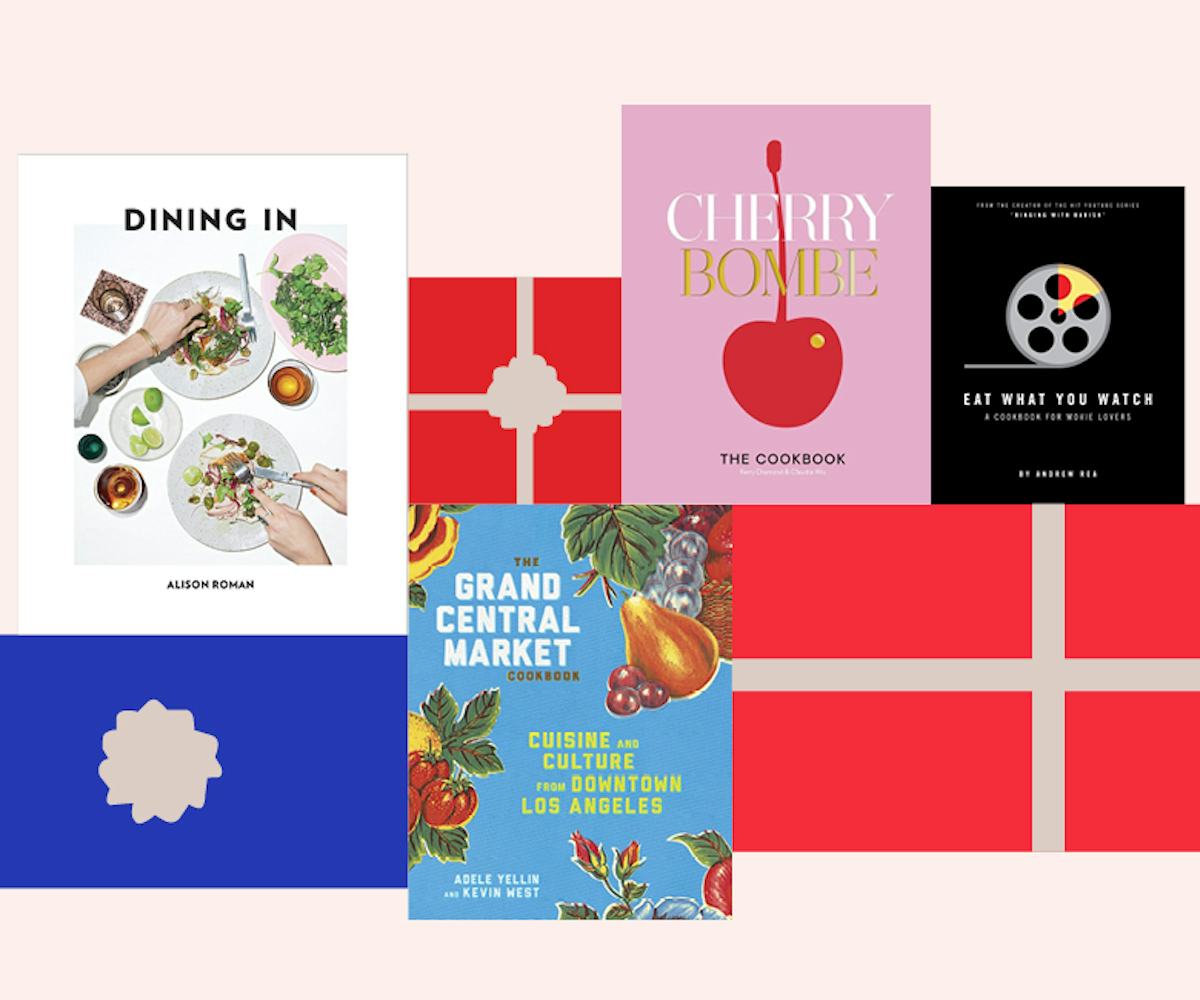 It's Lit: The Best New Cookbooks To Give This Holiday Season
George Bernard Shaw once said, "There is no sincerer love than the love of food." Here at NYLON, we wholeheartedly agree. Whether ordering a ridiculous amount of greasy Chinese for lunch or consuming a decadent five-course tasting menu at a new restaurant preview, we don't discriminate and try to express our love of food on the daily. That love only grows bigger once the holidays are nigh.
But we don't just love eating food, we also love making it. This task is made all the easier thanks to the help of some of our favorite cookbooks and food memoirs. Whether you're a kitchen novice or an amateur chef, there's no denying the power of a good recipe. And with all the festive energy in the December air and cold temperatures that call for indoor time, there's no better time to explore some new ones that will add plenty of tasty magic to any festive celebration. 
Ahead, feast your eyes on the 15 culinary books with which we are currently obsessed, each celebrating and expressing a love of food. Full of glorious imagery, inspiring stories, and unique, tantalizing recipes inspired by travel, fashion, film, and more, they're guaranteed to make your mouth water. 
Of course, not everyone wants or loves to cook. So even if you do plan on calling a caterer or sticking to your go-to takeout menus this month, it's worth noting that these literary wonders also make for great gifts, perfect for that certain someone who loves making food as much as you love eating it. Bon appétit!
Cherry Bombe: The Cookbook by Kerry Diamond and Claudia Wu
After Cherry Bombe quickly asserted itself as a magazine that celebrates women and food, fans were begging founders, Kerry Diamond and Claudia Wu, for a proper cookbook. From start to finish, this book, holding over 100 recipes and stories from some of the most influential and creative women in the food world and beyond, delivers. Want a cookie recipe from supermodel Karlie Kloss? Check. A cocktail from Top Chef judge Gail Simmons? Say no more. And while we normally don't like to judge a book by its cover, we must say the millennial pink was an excellent choice.  
Recipes to try: Charred pineapple margarita, carne adovada, pumpkin-swirled mashed potatoes, and spicy ginger cookies.
Cook Beautiful by Athena Calderone
Lifestyle guru and founder of Eye Swoon, Athena Calderone, has completely changed the game with the launch of her first cookbook. But Cook Beautiful isn't just about food: Rather, consider this your comprehensive guide to fabulous entertaining. Each page is full of brilliant food pairings, table settings inspo, tips for décor, and Insta-worthy gift ideas, which are sure to come in handy this month—and all year round. 
Recipes to try: Salt-encrusted red snapper with winter citrus and salsa verde; cherry and apricot polenta crisp.
Kristen Kish Cooking: Recipes and Techniques by Kristen Kish and Meredith Erickson
Some of the greatest chefs out there have put their skills to the test on Bravo's cutthroat competition series Top Chef. Kristen Kish is not only one of them, but she might be the best of the bunch. Born and raised in Michigan, this book is a celebration of Kish's own life—a unique hybrid of American and Korean sensibilities. Should you find yourself new to the kitchen, fret not. This handy cookbook offers up several techniques to make sure you don't burn the food (or house) down. 
Recipes to try: Ravioli con uovo and braised baby potatoes.
Peter Callahan's Party Food: Mini Hors d' Oeuvres, Family-Style Settings, Plated Dishes, Buffet Spreads, Bar Carts by Peter Callahan.
The holidays are all about entertaining, and when it comes to creating the perfect party spread, New York's king of catering Peter Callahan has got you covered. Having created food for the likes of Diane Sawyer, Tory Burch, and Kelly Ripa, Callahan knows all about putting the "art" in party. Take a cue from his eye-catching bar cart displays and his imposing fruit towers that will keep your guests full and happy. 
Recipes to try: Wasabi macarons with smoked salmon, Mexican corn on the cob, and individual apple tarte tatins.
Eat What You Watch: A Cookbook for Movie Lovers by Andrew Rea
Have you ever seen a movie and thought, I want and need to eat that? (Looking at you, Chef.) Well, then you're in luck. Andrew Rea has been entertaining millions with his cinema-inspired food creations on his YouTube channel Binging With Babish, and with the release of his first cookbook, you can now recreate dishes from Hollywood classics like When Harry Met Sally and Saturday Night Fever, all from the comfort of home. 
Recipes to try: Confit biyaldi, butter-poached lobster with lemon-butter sauce, and Bourbon French toast sticks. 
Making Chocolate: From Bean to Bar to S'more by Todd Masonis, Greg D'Alesandre, Lisa Vega, and Molly Gore
Chocolate is hardly a seasonal treat. It's meant to be enjoyed all day, every day, if you ask us, but, of course, eating the same Ghirardelli squares and drinking packaged hot chocolate with those dehydrated marshmallows can sometimes leave you wanting to spice up your occasional (or daily) cocoa fix. That's where Making Chocolate comes in. It's as pornographic as food porn can get, offering gorgeous photos and creative recipes that are sure to get you going. It's the first-ever guide to making chocolate from scratch, too, which we are very down to try.
Recipes to try: Maybe the very best chocolate chip cookies, s'mores, and frozen hot chocolate.
Rasika: Flavors of India by Ashok Bajaj, David Hagedorn, and Vikram Sunderam
With the onset of cold weather, there's nothing like a little Indian food to warm us up inside. Full of over 120 recipes from renowned Washington, D.C., restaurateur Ashok Bajaj and award-winning chef Vikram Sunderam, this book is a beautiful blend of both recipes and stories. It offers a unique approach to Indian fare that includes both traditional and modern takes on classics you already know and love. Tip: If you are ever in the D.C. area, you need to stop by the namesake restaurant. Low-key, it has the best Indian food you will ever have.
Recipes to try: Sweet potato samosas, goat biryani, and masala chai crème brûlé.
Simple Fare: Fall and Winter by Karen Mordechai
When it comes to food, sometimes simplicity is key. It's also important to remind ourselves that cooking isn't just reserved for this time of year. Creator of Sunday Suppers, Karen Mordechai does just that with her Simple Fare editions. Each recipe in the book is wholesome, minimalist, and extremely well-chosen. They were all hand-selected to fit the season, too, so you'll be sure to find all the ingredients at the market with smooth-sailing ease. 
Recipes to try: Rose grain porridge and burnt carrot toast.
Vinegar Revival Cookbook: Artisanal Recipes for Brightening Dishes and Drinks with Homemade Vinegars by Harry Rosenblum
Co-owner of Brooklyn Kitchen Harry Rosenblum is making a case for using vinegar in, basically, everything. And we're sold. Who knew that you could use vinegar for cocktails, starters, sides, and desserts? Now you do.
Recipes to try: Mint vinegar julep and dashi-sesame vinaigrette.
The Chef and the Slow Cooker by Hugh Acheson
Contrary to popular belief, you don't need an industrial-sized kitchen to whip up a full-blown holiday meal. So instead of giving yourself a headache, opt for using a slow cooker! These magic machines are perfect for making all kinds of stuff, and with celebrity chef (yes, celebrity chef who uses a slow cooker) Hugh Acheson as your guide, you'll be sure to impress anyone and everyone with an impressive dish devoid of stress.
Recipe to try: Duck and andouille gumbo, duck eggs cacciatore, and peach butter
POK POK The Drinking Food of Thailand: A Cookbook by Andy Ricker and JJ Goode
Anyone who's been to Thailand will tell you it's a magical place—so magical, in fact, that you'' want to try and recreate some of your culinary experiences through this brilliant cookbook from Andy Ricker and JJ Goode. Full of enticing recipes and entertaining AF travel stories, you'll be sure to elevate your usual holiday gathering with a strong, Thai twist best enjoyed in the company of friends and loved ones.
Recipes to try: Drunkard's stir-fry and thua thawt samun phrai.
The Grand Central Market Cookbook: Cuisine and Culture From Downtown Los Angeles by Adele Yellin and Kevin West 
For a century, Grand Central Market in Los Angeles has been a bustling marketplace, but its most recent iteration as a culinary hotspot has taken on a life of its own, making it a destination for everyone visiting and living in L.A. Here, Adele Yellin and Kevin West have compiled a comprehensive collection of behind-the-scenes stories about GCM's history, interviews with popular vendors, and devoted visitors, making this a must-read for any food lover.
Recipes to try: Cheese platter and yeasted waffles. 
Downtime: Deliciousness at Home by Nadine Levy Redzepi 
The wife of (and cook for) one of the best chef's in the world René Redzepi, Nadine Levy Redzepi has been cooking since she was a child. For Nadine, cooking invokes intimate family memories, which is why her dishes are best-served family-style for a crowd, plated stylishly, and, of course, delicious as can be. Another bonus for beginner chefs: Throughout all of the recipes are helpful tips guaranteed to build up your confidence in the kitchen. Also, if her recipes are applauded by René himself, they sure as hell are good enough for us.
Recipes to try: "Seal the deal" pasta, Portuguese pork chops and rice, and Japanese omelet with sticky fried rice.
Dining In: Highly Cookable Recipes by Alison Roman
As one of the most dynamic food writers working right now, Alison Roman has written a cookbook true to her reputation. With Dining In, she shares beautiful and inspiring recipes paired with kitchen hacks guaranteed to make cooking a breeze. 
Recipes to try: Chicken soup with toasted garlic, mushrooms, and celery; and caramelized winter squash with toasted coconut gremolata.
The Cottage Kitchen: Cozy Cooking in the English Countryside by Marte Marie Forsberg
Even if you've never been to the English countryside, there's a certain romance and nostalgia that comes to mind when picturing it. It was during a trip to England that Norway-born Marte Marie Forsberg decided to slow down and embrace simplicity, opting for the rolling meadows and charming cottages of the countryside versus airplanes and crowded hotels. After starting a blog, The Cottage Cookbook is the result of her newfound style of cooking, and it's perfect for winter—also: spring, summer, and fall. 
Recipes to try: Fig and pecan no-knead bread and truffled vegetable toad-in-the-hole