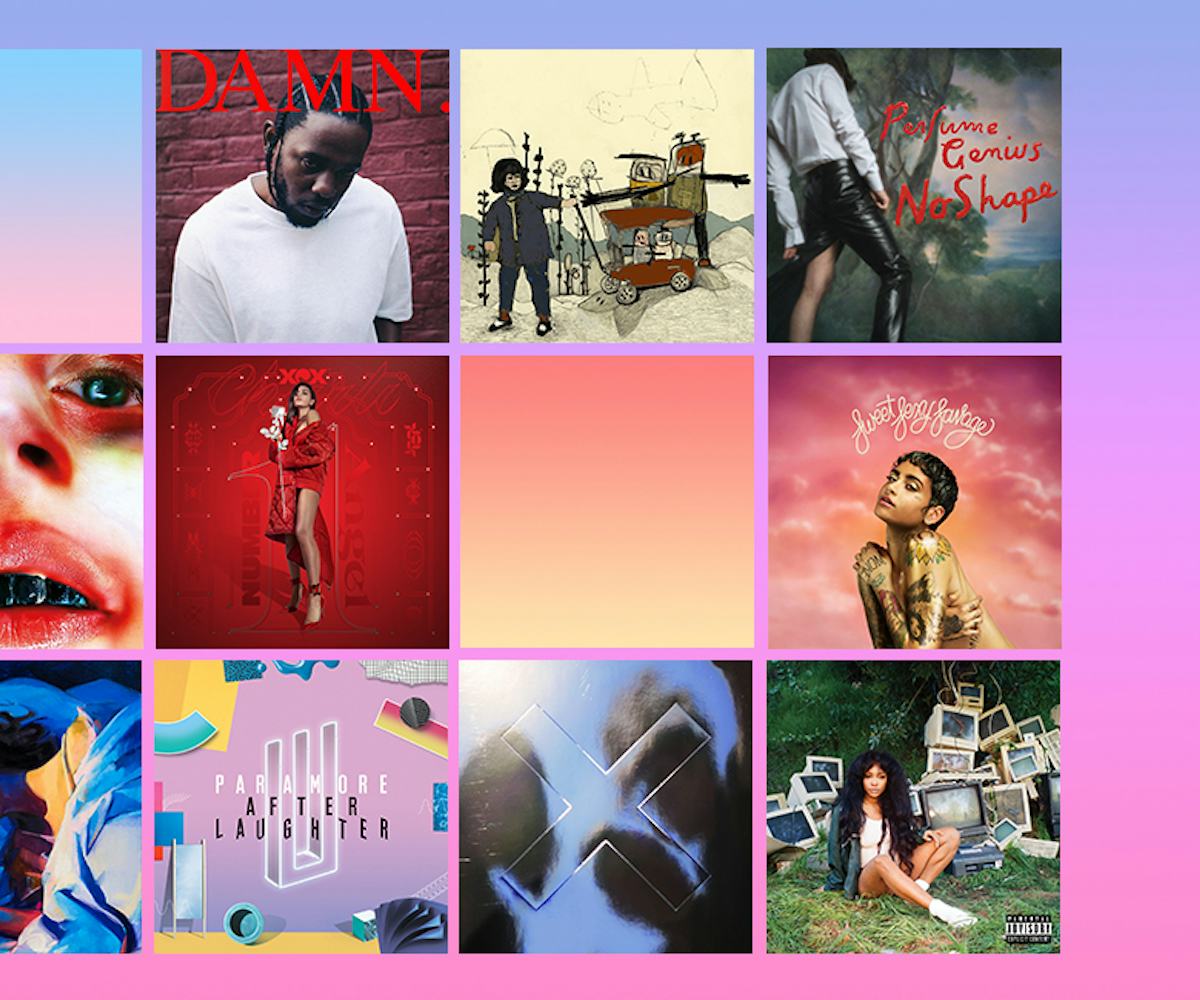 Photo courtesy of Def Jam Recordings; Wichita Recordings; Matador Records; Mute Records; Atlantic Records; Republic Records; Fueled By Ramen; Young Turks; RCA
The Best Albums Of 2017, So Far
Damn, what a year it's been
The year of realizing things (2016) has become the year of accepting things (2017). The music world, thankfully, has been a safe space. The albums that have come out so far are a reminder that people still make full-fledged albums. It's one thing to fall in love with an LP's single (or two), but it's a whole new type of fulfillment when said LP blows those singles out of the water.
This year, we've seen projects that are truly album's albums, bodies of work that demand a full listening to. Last year, only a handful lived up to that standard. This time around, however, patience and control have paid off in spades with albums that took longer than fans may have liked but soared above the expectations leading up to their release. Ahead, we look back at the best of the first half of 2017's album releases, as voted on by NYLON staffers. Get lost in their world because, well, you deserve to.
10. Powerplant, Girlpool
Girlpool breathe new life into the DIY punk movement with Powerplant, a bold sophomore project from L.A.'s Cleo Tucker and Harmony Tividad. Through 12 songs, Girlpool explore the highs and lows of best friendship, how it ebbs and flows with outside romantic relationships and the very real fact of growing older. It's an album in search of truth, one that's wise beyond its years while still maintaining its creators' youthful glow.
9. Arca, Arca
Arca is one of this year's most hauntingly queer projects. Alejandro Ghersi's dive into homosexual sex—the shame and ecstasy of it all—is spellbinding. It's also one of Arca's most cinematic endeavors. His voice, operatic at times, is both weary and hopeful. The world needs Arca, but it may not totally deserve him... yet.
8. After Laughter, Paramore
In a year of anticipated returns, Paramore's was among the top. After Laughter bops to its own beat, finding the trio at their poppiest. Hayley Williams solidifies her place as one of this generation's most powerful vocalists while keeping one foot firmly in their pop-punk roots that started a movement. 
7. No Shape, Perfume Genius
There's a freedom that comes with fully giving into yourself and then giving yourself to another. Perhaps that's what love is, perhaps it's something different, but Perfume Genius' Mike Hadreas explores the complexity of that emotion wonderfully on No Shape.
6. I See You, The xx
Jamie xx fully leans his keen ear for dance music into the entirety of The xx's newest album. Gone are the days of muted melancholy. The xx are living in full color now with big beats, triumphant horns, and a frenzied energy. I See You is a classic and takes you on a journey through the perfect night out to the blistering self-destruction and emptiness that habit can create.
5. Number 1 Angel, Charli XCX
Though technically billed as a mixtape, Charli XCX's 10-track release might as well be an album. Charli is the only person in pop who could merge the mainstream with the still-underground world of PC Music. Number 1 Angel is made to turn up to. It's the future of pop and hosts a bevy of all-star producers, like A.G. Cook and SOPHIE. It's comforting to know people are still making party records. We are truly blessed to be alive in the era of Charli XCX.
4. SweetSexySavage, Kehlani
No one does Kehlani better than Kehlani, and SweetSexySavage is a testament to that. Her fierce self-empowerment is leading the young to be as confident as she is. This is how you do '90s-inspired hits justice.
3. CTRL, SZA
SZA's debut album highlights the lows of being a girl in a world where everything—love, sex, adventure—is at her fingertips. She ruminates on perseverance and the effort it takes to put your best face forward day by day. Not everything in life is lovely, and love often goes awry, but SZA's drive endures. CTRL (pronounced "control") is about just that: learning to be in control of yourself when the world around you seems a mess.
2. Melodrama, Lorde
Lorde's sophomore album, her first in nearly four years, lives up to its name. It's a breakup album masquerading as a party album and a party album masquerading as a breakup album. She traces the lush beginnings of love ("The Louvre") through the generational anthem for the l-o-v-e-l-e-s-s youth ("Hard Feelings/Loveless") and all the drinks and parties in between. This is an album that emboldens and gets brighter with every listen. It glistens with wisdom, painting love out to be both wonderful and sad, but also desirable. Lorde asks "what the fuck are perfect places" at the close of the album, but the answer is right there in front of her: a life lived in Melodrama.
1. DAMN., Kendrick Lamar
Kendrick Lamar is a genius. DAMN. is a prophetic and asks the big questions with gale-force, earth-shaking beats. What's with all the negativity in the world when there are good people working to make a positive change? Where does a man of faith, such as Lamar, exist within the world he's ascended in? What does he do with this platform and do his actions go against his beliefs? There are levels to Lamar's lyrics. Listen up, listen closely, and internalize everything. In Kendrick Lamar we trust.