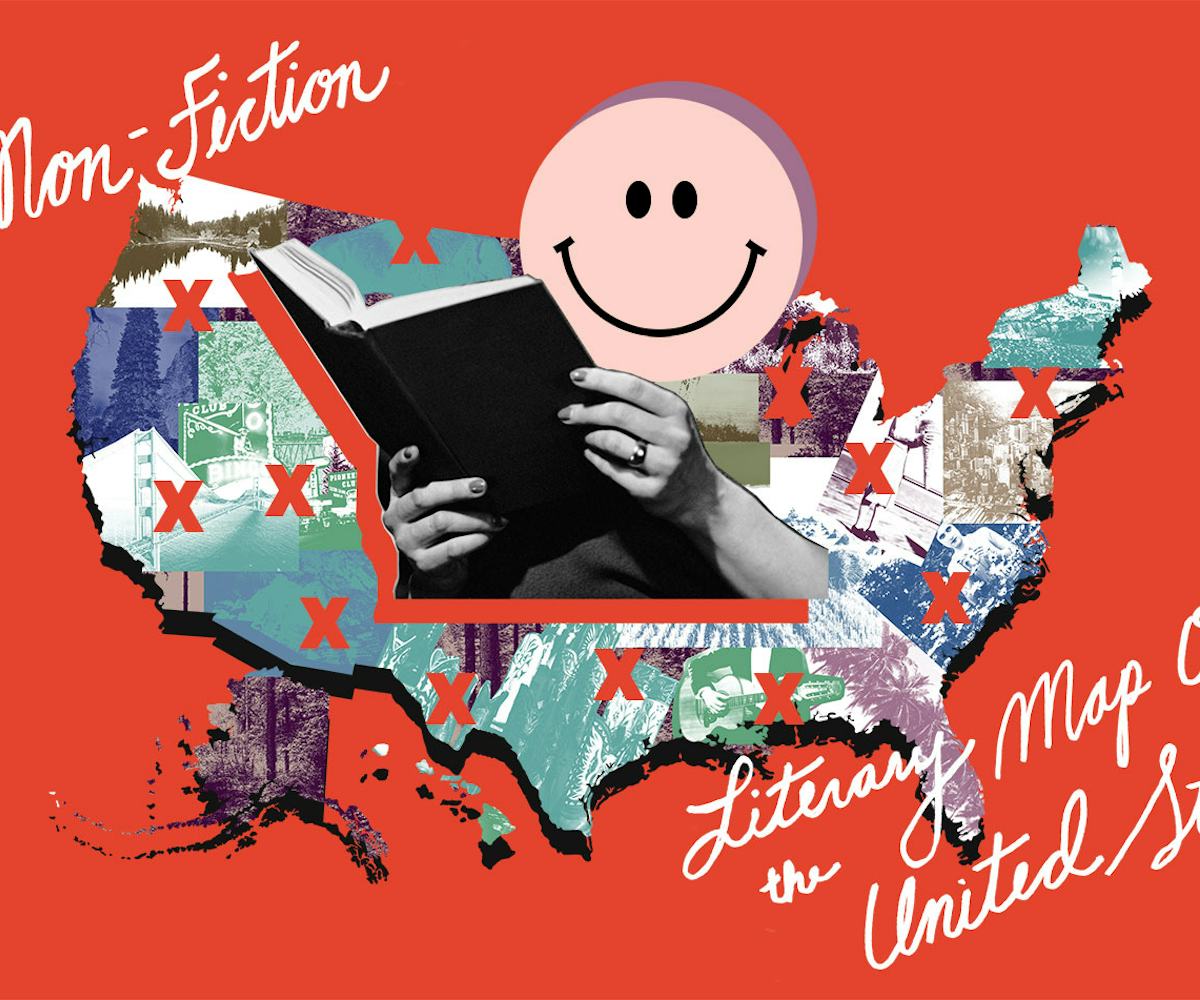 Collage photos via Getty Images
Read Us: A Nonfiction Map Of The United States
"One place comprehended can make us understand other places better." So wrote Southern novelist Eudora Welty in her essay "Place in Fiction," and it's a concept well worth thinking about in an era in which communities and countries feel paradoxically fractured and all-encompassing, in which people feel torn apart and thrown together, all at once. At times like these, it is not a bad thing to step away from the bigger picture and focus on something smaller, as a way of re-orienting yourself in this world.  
And what better way to do that than by reading? While Welty was referencing the importance of place in fiction, there is little doubt that its importance in nonfiction is similarly essential. The very best writing about a place can bring the reader a whole new understanding of a life different than their own, as well as, per Welty, a better grasp of their own place in the world. Here then, are some of the best pieces of nonfiction from every state in America. (Plus D.C., naturally; and with a special shout-out to New York City, because, obviously.)
On this list are biographies, essays, memoirs, reported histories, a volume of oral history-based poetry, and, ok, one book that's a fiction-memoir hybrid that I just really, really wanted to include because of how much it has informed my own desire to lose myself in the woods of upstate New York (what's up, I Love Dick). Some of these works are comprehensive in their scope of a place, most focus on smaller things—a political campaigning event, say, or an ultra-exclusive restaurant, in order to get a better idea of the larger forces at play; some revolve around tragic pasts and the painful present, others are simply straight-up funny, addressing the trivialities, the mundanities, of a time and place. Some of these pieces were published as recently as a month ago, others date back a century or more. None of them is a completist view of the place they reference, partly because that would be impossible, but mostly because it's the fragments I'm interested in, the infinite pieces that, once put together, form a whole.
Everything here offers readers a chance to get to know a place with which they might not be familiar a little bit better, to understand where it is that we all come from, and, perhaps, even where we're going. And, at the very least, learn a little bit more about the secret life of Martha Stewart.
ALABAMA
Just Mercy: A Story of Justice and Redemption, Bryan Stevenson
"We are all implicated when we allow other people to be mistreated. An absence of compassion can corrupt the decency of a community, a state, a nation. Fear and anger can make us vindictive and abusive, unjust and unfair, until we all suffer from the absence of mercy and we condemn ourselves as much as we victimize others."
ALASKA
Coming into the Country, John McPhee
"We came here to get away from lots of people, lots of machines, and into a simpler way of life… Everybody in Eagle says they came here 'to get away from it all.' We found 'it all' in Eagle. We came here to do without unnecessary things, to live out. To deal with the land in a more natural way."
Also read: American Buffalo: In Search of a Lost Icon, Steven Rinella
ARIZONA
Killing the Hidden Waters, Charles Bowden
"The state in the year of the book's publication had 2,427,000 people. By the year 2001, Arizona held 5,307,331 souls. In the intervening years, the net amount of water in the state declined as people, such as myself, guzzled the waters of the ancient aquifers and made increasing raids on the dying rivers of the region. Other states in the West behaved in exactly the same way. So after a quarter-century of what humans amusingly call progress, there is less water at a higher price and more people dependent on this declining amount of water.
"We can ignore these facts. We can pretend these facts do not matter. But in the end, they will slap us in the face and we will have to snap alert. And this slap may come from our kitchen faucet, or from the pump at the gas station, or from the electricity thrumming into our homes, or from the supermarket or from our local lumberyard. But it will come."
ARKANSAS
On the Laps of Gods: The Red Summer of 1919 and the Struggle for Justice that Remade a Nation, Robert Whitaker
"[The black farmers] had moved into cabins that were, even by the dismal housing standards of the time, a sorry lot. Plantation owners threw up cabins made from rough lumber for their sharecroppers, each one surrounded by the plot of land that was to be worked by the family, and typically they were so poorly constructed that, as the joke went, the sharecroppers 'could study astronomy through the openings in the roof and geology through the holes in the floor.'... Because southern Phillips County was so vulnerable to floods, the landowners had erected cabins that were particularly flimsy, since they needed to be 'so cheap that the loss from floods was small.'"
Also read: The Arkansas Race Riot, Ida B. Wells-Barnett
CALIFORNIA
The Land of Little Rain, Mary Austin
"The desert floras shame us with their cheerful adaptations to the seasonal limitations. Their whole duty is to flower and fruit, and they do it hardly, or with tropical luxuriance, as the rain admits. It is recorded in the report of the Death Valley expedition that after a year of abundant rains, on the Colorado desert was found a specimen of Amaranthus ten feet high. A year later the same species in the same place matured in the drought at four inches."
Also read: The Woman Warrior, Maxine Hong Kingston
COLORADO
Full Body Burden: Growing Up in the Nuclear Shadow of Rocky Flats, Kristen Iversen
"I have always loved the many moods of the sky at Rocky Flats. Turquoise and teal in summer, fiery red at sunset, iron gray when snow is on the way. The land rolls in waves of tall prairie grass bowed to the wind, or sprawling mantles of white frosted with a thin sheath of ice in winter."
CONNECTICUT
"The Story of How and Why Martha Stewart Became the Queen of Living Well," Margaret Talbot 
"[T]here's just Martha, alone in her garden or kitchen, her teacherly tones blending with birdsong, her recipes cued to the seasons. Whimsical recorder music pipes along over the credits. Martha's crisply ironed denim shirts, pearl earrings, and honey-toned highlights bespeak the fabulousness of Connecticut... Here at Turkey Hill, time is as logy as a honey-sated bumblebee… Would that we all had these très riches heures."
DELAWARE
"A Better Brew," Burkhard Bilger
"Luckily, Delaware was also very small and very friendly to business. 'I literally drove to Dover, asked which one is the House and which is the Senate, and started knocking on doors,' he remembers. 'They said, "You want to do what, son? Well, write up a bill!"' Six months later, the governor signed the bill into law."
FLORIDA
The Orchid Thief: A True Story of Beauty and Obsession, Susan Orlean
"Sometimes I think I've figured out some order in the universe, but then I find myself in Florida"
GEORGIA
Midnight in the Garden of Good and Evil: A Savannah Story, John Berendt
"For me, Savannah's resistance to change was its saving grace. The city looked inward, sealed off from the noises and distractions of the world at large. It grew inward, too, and in such a way that its people flourished like hothouse plants tended by an indulgent gardener. The ordinary became extraordinary. Eccentrics thrived. Every nuance and quirk of personality achieved greater brilliance in that lush enclosure than would have been possible anywhere else in the world."
HAWAII
Barbarian Days: A Surfing Life, William Finnegan
"Hands folded under my chin, I drifted. A bruise-colored cloud hung over Koko Head. A transistor radio twanged on a seawall where a Hawaiian family picnicked on the sand. The sun-warmed shallow water had a strange boiled-vegetable taste. The moment was immense, still, glittering, mundane. I tried to fix each of its parts in memory. I did not consider, even passingly, that I had a choice when it came to surfing. My enchantment would take me where it would."
IDAHO
Bloodlines: Odyssey of a Native Daughter, Janet Campbell Hale
"All the Indian nations were conquered now, restricted to reservations, forbidden to hunt buffalo, to practice their traditional religions. This was perhaps the darkest hour of the Indian people. The old way was gone, or at least deteriorating, breaking apart."
ILLINOIS
The Devil in the White City, Erik Larson
"Place has always been important to me, and one thing today's Chicago exudes, as it did in 1893, is a sense of place. I fell in love with the city, the people I encountered, and above all the lake and its moods, which shift so readily from season to season, day to day, even hour to hour… Chicago has disappointed her enemies and astonished the world."
Also read: The Warmth of Other Suns, Isabel Wilkerson and "Ticket to the Fair," David Foster Wallace
INDIANA
"A Queer Hoosier on Still Loving Indiana," Ashley C. Ford
"I didn't leave Indiana because I didn't feel safe or loved or understood. Yes, there were issues with my family, but I was still in Indiana when I found my community, and when I found acceptance. I feel like I lived two lives in Indiana: one that got me, and one I never gave the chance to get me. But that doesn't seem very rare. It seems like the complicated relationship most people have with their hometowns."
IOWA
Little Heathens, Mildred Armstrong Kalish
"I discovered, somewhat to my surprise, that I have come to view that time as a gift. Austere and challenging as it was, it built character, fed the intellect, and stirred the imagination."
KANSAS
In Cold Blood, Truman Capote
"The village of Holcomb stands on the high wheat plains of western Kansas, a lonesome area that other Kansans call 'out there'... The land is flat, the views are awesomely extensive; horses, herds of cattle, a white cluster of grain elevators rising as gracefully as Greek temples are visible long before a traveler reaches them."
KENTUCKY
The Unforeseen Wilderness: Kentucky's Red River Gorge, Wendell Berry
"And the world cannot be discovered by a journey of miles, no matter how long, but only by a spiritual journey, a journey of one inch, very arduous and humbling and joyful, by which we arrive at the ground at our own feet, and learn to be at home."
LOUISIANA
Beyond Katrina: A Meditation on the Mississippi Gulf Coast, Natasha Tretheway
"When we begin to imagine a future in which the places of our past no longer exist, we see ruin… Although I had intended to consider the impossibility of returning to those places we've come from—not because the places are gone or substantially different but because we are—by August of 2005, the poem had become quite literal: so much of what I'd known of my home was either gone or forever changed."
MAINE
"Once More to the Lake," E.B. White
"It is strange how much you can remember about places like that once you allow your mind to return into the grooves which lead back. You remember one thing, and that suddenly reminds you of another thing. I guess I remembered clearest of all the early mornings, when the lake was cool and motionless, remembered how the bedroom smelled of the lumber it was made of and of the wet woods whose scent entered through the screen."
MARYLAND
Homicide: A Year on the Killing Streets, David Simon
"West Baltimore. You sit on your stoop, you drink Colt 45 from a brown paper bag and you watch the radio car roll slowly around the corner. You see the gunman, you hear the shots, you gather on the far corner to watch the paramedics load what remains of a police officer into the rear of an ambulance. Then you go back to your rowhouse, open another can, and settle in front of the television to watch the replay on the eleven o'clock news. Then you go back to the stoop."
MASSACHUSETTS
The Witches: Salem, 1692, Stacy Schiff
"The sky over New England was crow black, pitch-black, Bible black, so black it could be difficult at night to keep to the path, so black that a line of trees might freely migrate to another location or that you might find yourself pursued after nightfall by a rabid black hog, leaving you to crawl home, bloody and disoriented, on all fours."
MICHIGAN
Detroit: An American Autopsy, Charlie LeDuff
"Go ahead and laugh at Detroit. Because you are laughing at yourself… And it is awful here, there is no other way to say it. But I believe that Detroit is America's city. It was the vanguard of our way up, just as it is the vanguard of our way down. And one hopes the vanguard of our way up again. Detroit is Pax Americana… America's way of life was built here."
MINNESOTA
The Late Homecomer: A Hmong Family Memoir, Kao Kalia Yang
"I learned that what made our parents sad was not so much the hardness of the life they had to lead in America, or the hardness of the lives they had led to get to America, but the hardness of OUR lives in America. It was always about the children."
Also read: Chronicles, Bob Dylan
MISSISSIPPI
South Toward Home: Travels in Southern Literature, Margaret Eby
"Downtown Natchez is a place that screams 'quaint' from every cornice. Old plantation homes wrap around a downtown crammed with antique stores and cafes and ritzy hotels. Riverboat casinos float along the Mississippi River. But outside the blocks downtown, it's clear that Natchez is a tattered town, mended in strategic places."
Also read: Men We Reaped, Jesmyn Ward
MISSOURI
Cross-X, Joe Miller
"Even for cocky kids, it was difficult to fathom success in a school like Central. Over the past half century the school had become a nationally recognized symbol for the despair of urban education. It was the flashpoint for Kansas City's riots in the 1960s. In the early 1970s, the school's security guards carried handguns as they roamed the halls. Through the 1980s and '90s, ABC, 60 Minutes, scores of newspapers and even Jesse Jackson all paid visits to Central—all to tell virtually the same stories of failure or slim hope. And then, in 2001, as if for final emphasis, Missouri education officials put the school on alert, declaring it 'academically deficient.'"   
Also read: The Discomfort Zone, Jonathan Franzen
MONTANA
I Await the Devil's Coming, Mary Maclane
"[C]an I be possessed of such a peculiar rare genius, and yet drag out my life in obscurity in this uncouth, warped, Montana town? It must be impossible!"
Also read: Killing Custer: The Battle of Little Bighorn and the Fate of the Plains Indians, James Welch
NEBRASKA
Sandhill Sundays and Other Recollections, Mari Sandoz
"But the sandhiller lives in the present also. The young folks take long car trips to dances that break up at midnight, by command of the law, and endeavor to spend most of the time until Sunday morning getting home. Sunday is a good day for those who need it to sleep off bad liquor."
NEVADA
"Las Vegas (What?) LAS VEGAS (Can't hear you! Too noisy) LAS VEGAS!!!" Tom Wolfe
"Las Vegas is the only town in the world whose skyline is made up neither of buildings, like New York, nor of trees, like Wilbraham, Massachusetts, but signs. One can look at Las Vegas from a mile away and see no buildings, no trees, only signs. But such signs!"
NEW HAMPSHIRE
"The Party Crashers," Jill Lepore
"I watched Wednesday night's Democratic Town Hall from inside the Halligan Tavern, an Irish pub housed in an old brick fire station across the street from the Derry Opera House… CNN played on screens above the bar and on the walls. More than a hundred reporters huddled with their laptops at tables, upstairs and down… On side tables, fried chicken, macaroni and cheese, and potato skins were served from platters warmed by cans of Sterno, their blue flames flickering. Power strips rested on every table, like so many centerpieces. The coffee was free. So was the Wi-Fi. The password was the date, 02032016."
NEW JERSEY
12 Days of Terror: A Definitive Investigation of the 1916 New Jersey Shark Attacks, Richard G. Fernicola
"Less than twenty miles north of the gambling and salt water taffy capital of Atlantic City lies a tranquil summer resort called Beach Haven. One hundred years ago, on the eighteen-mile stretch of Long Beach Island, Beach Haven was a place where couples and families escaped for a vacation, just as they do today… The men who developed Beach Haven envisioned that their resort would be like no other."
NEW MEXICO
"New Mexico," D.H. Lawrence
"There is no mystery left, we've been there, we've seen it, we know all about it. We've done the globe, and the globe is done… But break through the shiny sterilized wrapping, and actually touch the country, and you will never be the same again."
Also read: In the West, Georgia O'Keeffe
NEW YORK
"The Most Exclusive Restaurant in America," Nick Paumgarten
"I drove up from Manhattan. It was a wet, blustery day. The G.P.S. steered me off the Thruway onto narrow winding back roads pegged with "Repeal the S.A.F.E. Act" pro-gun yard signs. After a while, around a turn, I came upon a tidy wood sign painted with Baehrel's name and a logo of acorns, pine needles, and cattail spikes arranged around a sumac bob. I was a few minutes early. The gate was closed. I waited. Beyond the gate, a newly paved driveway curved through a wide lawn, past garden plots and trees hung with sap buckets, and up toward a simple two-story drab-green clapboard house. At eleven, the gates swung open.
"I parked in a small lot. In addition to the house, there were a neatly painted red barn with a brick patio, a small greenhouse, some cold frames, a tractor, and a big silver Dodge pickup. Out back, a brook ran from a broad marsh and through several acres of woods. From the lot, a brick path led under a white arbor to a doorway of leaded glass and wood, with the name Damon Baehrel over the door. I knocked, and he answered immediately and chided me for knocking. 'Come on in!'"
Also read: I Love Dick, Chris Kraus and "How Much My Novel Cost Me," Emily Gould
NEW YORK CITY
Metropolitan Life, Fran Lebowitz
"I am not the type of person who wants to go back to the land. I am the type who wants to got back to the hotel."
Also read: The Power Broker, Robert A. Caro and When I Was Puerto Rican, Esmeralda Santiago and Random Family, Adrian Nicole LeBlanc
NORTH CAROLINA
"Our Perfect Summer," David Sedaris
"At some point in the mid- to late nineteen-sixties, North Carolina began referring to itself as "Variety Vacationland." The words were stamped onto license plates, and a series of television commercials reminded us that, unlike certain of our neighbors, we had both the beach and the mountains. There were those who bounced back and forth between one and the other, but most people tended to choose a landscape and stick to it. We ourselves were Beach People, Emerald Isle People, but that was mainly my mother's doing. I don't think our father would have cared whether he took a vacation or not. Being away from home left him anxious and crabby, but our mother loved the ocean. She couldn't swim, but enjoyed standing at the water's edge with a pole in her hand. It wasn't exactly what you'd call fishing, as she caught nothing and expressed neither hope nor disappointment in regard to her efforts. What she thought about while looking at the waves was a complete mystery, yet you could tell that these thoughts pleased her, and that she liked herself better while thinking them.
NORTH DAKOTA
The Horizontal World: Growing Up Wild in the Middle of Nowhere, Debra Marquart
"Farmers do not mean to be so possessive; they're just punctuated that way. And farmer's daughters must struggle against the powerful apostrophes of their fathers… We were farmgirls running tall through pastures.  We had long shiny hair and peach-fresh skin.  Born to carry the milk bucket, the alfalfa bale, our hands soon mastered the manual transmission.  We learned to speed shift, double clutch.  Our feet never knew the brake.  We roared down the section lines in our fathers' pickups, empty gas cans clanging in the truck bed.  We left trails of dust behind us.
"This was no little house on the prairie. We smeared musky blue shadow on our eyelids and raspberry gloss on our lips. We wore platform shoes and bell-bottom jeans. It was the times.  We were hip-huggered, and tight-sweatered, and navel-exposed. We walked around town like the James gang, tossing this and flashing that."
OHIO
"Aftermath," Philip Hamburger
"Doors open. One wanders. In spite of—or rather because of—the universal feeling on the campus that undercover agents are everywhere, people tend to be open and ingenuous. This is not as paradoxical as it might seem. When everyone in a community has the sensation that everything he does and says is being reported to someone else, he reaches a point where he couldn't care less."
Also read: "On the Streets of Cleveland," Benjamin Wallace-Wells
OKLAHOMA
The Worst Hard Time: The Untold Story of Those Who Survived the Great American Dust Bowl, Timothy Egan
"Throughout the Great Plains, a visitor passes more nothing than something. Or so it seems. An hour goes by on the same straight line, and then up pops a town on a map… The town has slipped away, dying at some point without funeral or proper burial."
OREGON
"The Really Big One," Kathryn Schulz
"Soon after that shaking begins, the electrical grid will fail, likely everywhere west of the Cascades and possibly well beyond. If it happens at night, the ensuing catastrophe will unfold in darkness. In theory, those who are at home when it hits should be safest; it is easy and relatively inexpensive to seismically safeguard a private dwelling. But, lulled into nonchalance by their seemingly benign environment, most people in the Pacific Northwest have not done so. That nonchalance will shatter instantly. So will everything made of glass. Anything indoors and unsecured will lurch across the floor or come crashing down: bookshelves, lamps, computers, cannisters of flour in the pantry. Refrigerators will walk out of kitchens, unplugging themselves and toppling over. Water heaters will fall and smash interior gas lines. Houses that are not bolted to their foundations will slide off—or, rather, they will stay put, obeying inertia, while the foundations, together with the rest of the Northwest, jolt westward. Unmoored on the undulating ground, the homes will begin to collapse."
PENNSYLVANIA
The Johnstown Flood, David McCullough
"In all the talk there would be about the lake in the years after it had vanished, the boats, perhaps more than anything else, would keep coming up over and over again. Boats of any kind were a rare sight in the mountains. . . .
The club fleet included fifty rowboats and canoes, sailboats, and two little steam yachts that went puttering about flying bright pennants and trailing feathers of smoke from their tall funnels. There was even an electric catamaran, a weird-looking craft with a searchlight mounted up front, which had been built by a young member, Louis Clarke, who liked to put on a blue sailor's outfit for his cruises around the lake.
But it was the sailboats that made the greatest impression. Sailboats on the mountain! It seemed almost impossible in a country where water was always a tree-crowded creek or stream, wild and dangerous in the spring, not much better than ankle-deep in the hottest months. Yet there they were: white sails moving against the dark forest across a great green mirror of a lake so big that you could see miles and miles of sky in it."
RHODE ISLAND
Killer Show: The Station Nightclub Fire, America's Deadliest Rock Concert, John Barylick
"If West Warwick, Rhode Island were a car, it would be a Studebaker—functional in its day, but now well past its prime. It has the look and feel of a place that time, and certainly prosperity, have long since passed by."
SOUTH CAROLINA
Wisteria, Kwame Dawes
I am a tornado child
born in the whirl of clouds; the center crumbled, 
then I came. My lovers know the blast of my chaotic giving; 
they tremble at the whip of my supple thighs; 
you cross me at your peril, I swallow light 
when the warm of anger lashes me into a spin, 
the pine trees bend to me swept in my gyrations. 
I am a tornado child.
When the spirit takes my head, I hurtle into the vacuum 
of white sheets billowing and paint a swirl of color, 
streaked with my many songs.
SOUTH DAKOTA
"Ghosts of Wounded Knee," Matthew Power
"Across the road, a large historic marker, filled with dates and details—Ghost Dance, Hotchkiss Guns—green paint bleaching in the sunlight: MASSACRE OF WOUNDED KNEE. The word 'Massacre' is a patch, affixed to the sign, covering some earlier wound. The signs final sentence reads, 'The site of the last armed conflict between the Sioux Indians and the United States Army.' A further edit, scratched in the paint over the word 'armed': LIES"
Also read: "A Heart-Rending Account of the Battle at Wounded Knee," International Herald Tribune
TENNESSEE
A Walk in the Woods, Bill Bryson
"It is such a strange contrast. When you're on the AT, the forest is your universe, infinite and entire. It is all you experience day after day. Eventually it is about all you can imagine. You are aware, of course, that somewhere over the horizon there are mighty cities, busy factories, crowded freeways, but here in this part of the country, where woods drape the landscape for as far as the eye can see, the forest rules. Even the little towns like Franklin and Hiawassee and even Gatlinburg are just way stations scattered helpfully through the great cosmos of woods.
But come off the trail, properly off, and drive somewhere, as we did now, and you realize how magnificently deluded you have been. Here, the mountains and woods were just backdrop-familiar, known, nearby, but no more consequential or noticed than the clouds that scudded across their ridgelines. Here the real business was up close and on top of you: gas stations, Wal-Marts, Kmarts, Dunkin Donuts, Blockbuster Videos, a ceaseless unfolding pageant of commercial hideousness."
TEXAS
"The Reckoning," Pamela Colloff
"Tom and Claire stepped out into the thick, midday heat and headed east under a canopy of live oak trees. Tom was sporting a short-sleeved plaid shirt and his first mustache. Claire was wearing a brand-new maternity dress he had picked out, a beige shift with a flowery ribbon around the yoke. She was eight months along by then, and she could feel the weight of the baby as she walked. When they reached the upper terrace of the South Mall, the live oaks receded, and they were suddenly out in the open, exposed under the glare of the noon sun.
To their left stood the Tower, the tallest building in Austin after the Capitol; to their right stretched the mall's green, sloping lawn. As was often the case, they were deep in conversation; they had just begun a discussion about Claire's spartan eating habits and Tom's concern that the baby was not getting proper nutrition. Claire was in the middle of saying that she had, in fact, had a glass of orange juice that morning when a thunderous noise rang out. An instant later, she was falling, her knees buckling beneath her. Bewildered, Tom turned toward her. "Baby," he said, reaching for her. "What's wrong?" Then he too was knocked off his feet."
UTAH
Under the Banner of Heaven: A Story of Violent Faith, Jon Krakauer
"Balanced atop the highest spire of the Salt Lake Temple, gleaming in the Utah sun, a statue of the angel Moroni stands watch over downtown Salt Lake City with his golden trumpet raised. This massive granite edifice is the spiritual and temporal nexus of the Church of Jesus Christ of Latter-day Saints (LDS), which presents itself as the world's only true religion. Temple Square is to Mormons what the Vatican is to Catholics, or the Kaaba in Mecca is to Muslims. At last count there were more than eleven million Saints the world over, and Mormonism is the fastest-growing faith in the Western Hemisphere. At present in the United States there are more Mormons than Presbyterians or Episcopalians. On the planet as a whole, there are now more Mormons than Jews. Mormonism is considered in some sober academic circles to be well on its way to becoming a major world religion--the first such faith to emerge since Islam."
VERMONT
"Where the Roads Have No Name," Geoff Manaugh
"Sooner or later, every road comes to an end—but not in Vermont. In other states, a road that goes unused for a reasonable period of time is legally discontinued; in Vermont, any road that was ever officially entered into a town's record books remains legally recognized, indefinitely. It doesn't matter if the road has not been travelled in two hundred years, or if it was never travelled at all, or if it was merely surveyed and never actually built. Any ancient road that exists on paper—unless it has been explicitly discontinued—is considered a public highway in the eye of the law."
VIRGINIA
Pilgrim at Tinker Creek, Annie Dillard
"Nature is, above all, profligate. Don't believe them when they tell you how economical and thrifty nature is, whose leaves return to the soil. Wouldn't it be cheaper to leave them on the tree in the first place? This deciduous business alone is a radical scheme, the brainchild of a deranged manic-depressive with limitless capital. Extravagance! Nature will try anything once... The real and proper question is: why is it beautiful?"
WASHINGTON
This Boy's Life, Tobias Wolff
"And in my heart I despised the life I led in Seattle. I was sick of it and had no idea how to change it. I thought that in Chinook, away from Taylor and Silver, away from Marian, away from people who had already made up their minds about me, I could be different. I could introduce myself as a scholar-athlete, a boy of dignity and consequence, and without any reason to doubt me people would believe I was that boy, and thus allow me to be that boy. I recognized no obstacle to miraculous change but the incredulity of others. This was an idea that died hard, if it ever really died at all."
WASHINGTON, D.C.
S Street Rising: Crack, Murder, and Redemption in D.C., Ruben Castaneda
"[N]o U.S. metropolis was getting hit harder by crack than D.C. In the eastern half of the city, bodies were dropping nightly in violence propelled by crack turf wars. Washington became known not simply as the nation's capital but as it's murder capital."
WEST VIRGINIA
The Glass Castle, Jeannette Walls
"One time I saw a tiny Joshua tree sapling growing not too far from the old tree. I wanted to dig it up and replant it near our house. I told Mom that I would protect it from the wind and water it every day so that it could grow nice and tall and straight. Mom frowned at me. 'You'd be destroying what makes it special,' she said. 'It's the Joshua tree's struggle that gives it its beauty.'"
WISCONSIN
This Common Secret: My Journey as an Abortion Doctor, Susan Wicklund
"I could see the crowd gathered there, one hundred of them, I guessed, maybe more. All people who hated me, whose only objective was to keep me from my work. Under the pious, prayerful guise of religion, they were after control: Control of me. Control of the women coming to the clinic for help. Control of anyone who believed differently than they."
WYOMING
"The history of the meadow goes like this: No one owns it, no one ever will. The people, all ghosts now, were ghosts even then; they drifted through, drifted away, thinking they were not moving."