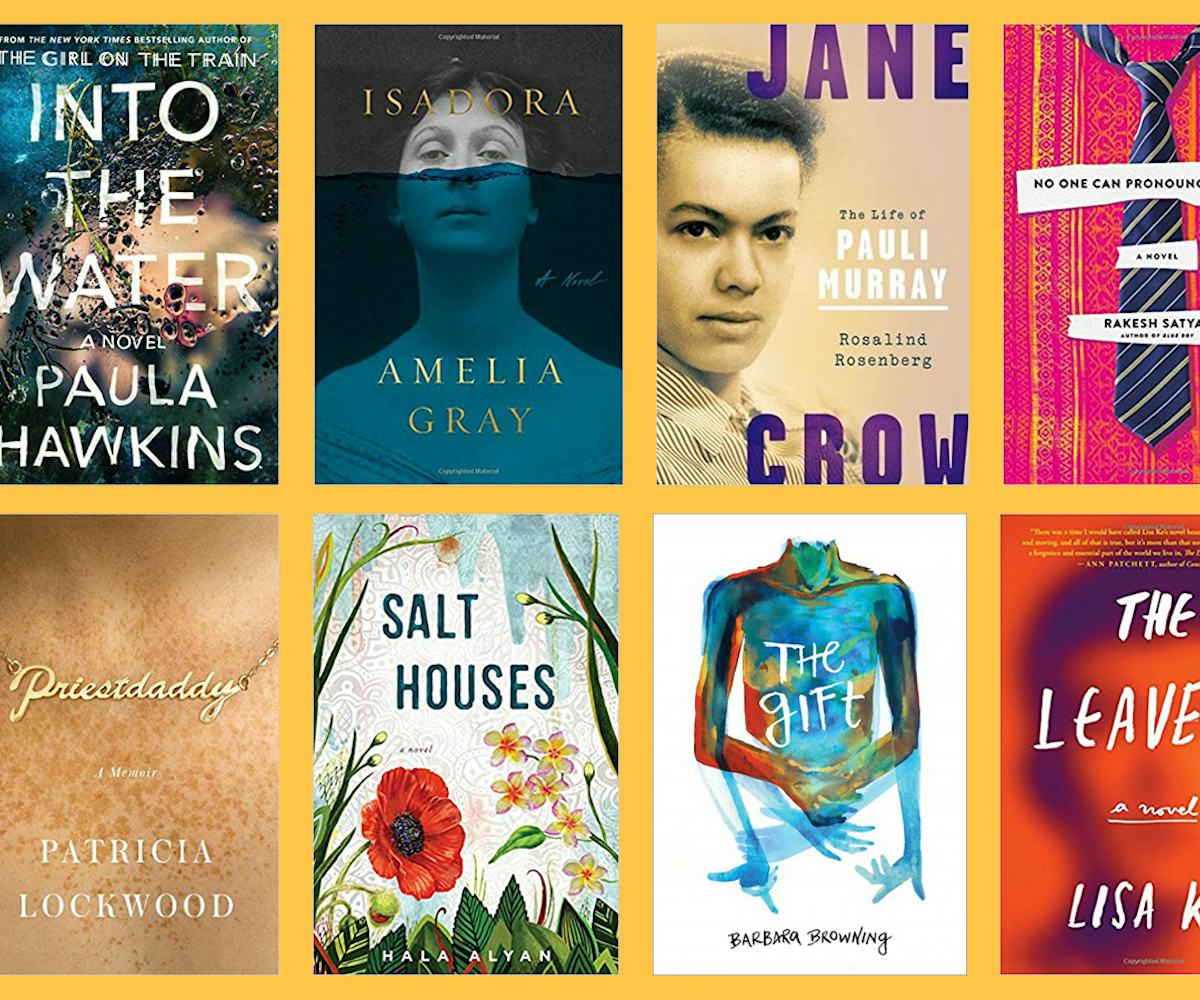 The 10 Best Books To Read This May
From ukelele covers to priest-daddys
For the last many months, we've been kicking off our book recommendations by reminding you that the weather's been crappy, so you might as well stay inside and read a book. And while that was undeniably true (ugh, April, why'd you have to be so gray?), it was also kind of lazy writing, because, seriously? Mentioning the weather within the very first sentence of introductory copy? How banal. Beyond that, it also makes it seem like we're fair-weather readers (or whatever the opposite of that is... stormy weather readers?), which we most definitely are not. Reading doesn't have to be relegated to those days you don't want to go outside! Take your book with you. Especially if it's one of the following 10, which range in genre from murder mystery to memoir, from biography to autofiction, and are all brilliant and compelling and the perfect thing to throw in your bag as you head out to your local park, to read under your favorite blossoming cherry tree. It's May! Spring has sprung. Celebrate with one (or all) of these excellent books.
Salt Houses by Hala Alyan (available now)
Spanning over 50 years and several generations in the life of a Palestinian family, and taking places in locations as far-flung as Kuwait, Paris, Boston, Beirut, and Jaffa, Hala Alyan's debut novel, Salt Houses, is an epic in every sense of the word. But though the scope of the novel is great, its beauty lies in the finely wrought, intimate details of the Yacoub family's journey, both literal and figurative. Every chapter switches perspectives, so that, over the course of the novel, Alyan writes from the point of view of an 11-year-old girl to that of a man in his 70s; she does so with a deftness that is, in retrospect, breathtaking.
In the moment of reading it, though, Alyan's beautiful facility with her characters is something that you don't notice as a reader; you take it for granted like you do the quiet glory of the return of a new day. Set mostly in the Middle East during the latter half of the 20th century, Salt Houses has, as a backdrop, the chaotic reality of war and brutality, alienation and rebuilding, but the book's focus on the experience of one family keeps everything on a recognizable scale. Still, though, it's impossible not to feel pierced to the core by the struggles and triumphs of the Yacoub family, and to think deeply about what it means that stories like this are so rarely told in America. 
Into the Water by Paula Hawkins (available now)
The author of Girl on the Train has finally blessed us with her much-anticipated sophomore psychological thriller. This one starts in a small rural town in England, where a single mother, with an unhealthy obsession with the neighboring "Drowning Pool" river that violently took the lives of several women over the course of decades, is found dead in, you guessed it, that same river, just months after her daughter's best friend has also mysteriously ended her life there. Years of secrets and history begin to be unraveled by authorities, town residents, and her estranged sister, who reluctantly returns to town to take care of the young daughter. The plot line gets as dark and turbulent as the river where "troublesome" women are sent to die. —Irina Grechko
The Leavers by Lisa Ko (available now)
Ko's debut novel is a compelling stunner. Alternating perspectives between Polly, an undocumented Chinese immigrant, who abruptly vanishes on the way to her job at a nail salon, and Deming Guo, Polly's 11-year-old son, who is adopted by a white couple following his mother's disappearance and renamed Daniel, The Leavers offers a harrowing glimpse into the convoluted world of U.S. immigrations, and serves as a provocative, important look at one of the most punishingly inhumane systems in our country.
One Day We Will All Be Dead and None of This Will Matter by Scaachi Koul (available now)
Beyond the fact that this book has one of the most darkly honest titles in recent memory, it also happens to be one of the most mercilessly funny critiques of modern life that we've read. Koul takes aim at everything from internet trolls to the unwanted body hair she sprouts as a teenager, and she hits her targets with precision, humor, and an honesty that is as welcome as it is revelatory.
Priestdaddy by Patricia Lockwood (available now)
Riotously funny and perversely beautiful, poet Patricia Lockwood's new memoir is a fascinating look into her incredibly unique upbringing as the daughter of a Catholic priest. Yes, that's right: Lockwood's father (definitely one of recent literary history's most memorable creations) is a gun-loving, Rush Limbaugh-listening, "feminazi"-hating Catholic priest who got a special dispensation to be ordained as such following an epiphanic experience watching The Exorcist while in a submarine ("the deepest conversion in history," he calls it). You kind of have to read it to believe it, and while you're at it, you can check out my recent profile of Lockwood, who is as delightful to talk to as she is to read, here.
Jane Crow: The Life of Pauli Murray by Rosalind Rosenberg (available now)
Not enough people know about the incredible Pauli Murray, who is one of the most important civil rights figures in American history. Murray was a groundbreaking activist and lawyer, co-founder of the National Organization for Women, close friend to Eleanor Roosevelt, and an ordained priest. It was as a law student in the 1940s that Murray came up with the legal argument that would ultimately lead to the end of segregation (focus on the problem with the "separate" part, not the "equal" part).
Murray's life story is remarkable no matter what, but, as Rosenberg explores in this sensitive, provocative new biography, it's all the more so considering that Murray, hailed as a feminist icon, actually did not identify with being a woman at all and sought hormone therapy in a time long before the word "transgender" was used with any regularity.
No One Can Pronounce My Name by Rakesh Satyal (available now)
In this funny, provocative look at an Indian-American community in the suburbs of Cleveland, Ohio, Satyal grapples with issues of identity, displacement, longing, and love. He dissects with near surgical precision the inherent irony of a society in which the majority white population loves nothing more than adopting "trends" like yoga and Ayurvedic medicine, but can't even bother learning how to pronounce an Indian neighbor's name.
The Gift by Barbara Browning (available May 9)
Can I first say that I'm genuinely excited for anyone who gets to read this book for the first time and by excited I mean jealous and by jealous I mean happy for you, because this book is, well, it's a... gift. No, but really, Browning's sinuous, seductive exploration of "inappropriate intimacies" is one of the most exhilarating and provocative books I've read in ages.
It revolves around Barbara Andersen and her long-distance relationship with Sami, a one-legged ukulele virtuoso with Asperger's living in Germany, but also explores relationships of all kinds—with family, with friends, with lovers, with the truth. Browning is one of the most interesting writers working today (after reading The Gift, I immediately purchased Browning's prior two novels—The Correspondence Artist and I Am Trying to Reach You—which, with The Gift, make up a sort of autofiction trilogy) and her latest novel is evidence of that. Also? It's got some of the most perfectly rendered scenes depicting the power of dance that have ever put into words. Which is no easy feat.
Give a Girl a Knife by Amy Thielen (available May 16)
A memoir from a James Beard Award-winning food writer and cook, Give a Girl a Knife follows the story of Amy Thielen, a former Food Network personality and author of Heartland Table, as she makes her way from her rural Midwest hometown to New York City, where she works for the likes of David Bouley and Daniel Boulud, and... back to the woods of Minnesota to reconnect with her culinary roots. It's the juxtaposition of narratives, from behind the scenes of elite kitchens and the home kitchen in an off-the-grid town that's "home to the nation's largest french fry factory," mixed with a healthy dose of Midwestern humor and New York City's cynicism, where the literary magic happens. —IG
Isadora by Amelia Gray (available May 23)
I first heard about Isadora Duncan in an unfortunate way: by learning of her death. Oh, the legendary dancer had died many decades before I was born (the long, flowing scarf she famously wore got caught in the wheels of the convertible in which she was driving), but the chance horror of such a demise profoundly affected me. And though I knew her life ended in tragedy, it also seemed emblematic of the purity and freeness of her spirt, a quality Duncan evoked in her legendary dancing. But Duncan's life was marked by other profoundly sad events, and in Gray's exceptional novel, the "mother of modern dance" is shown dealing with the horrific drowning of her two young children in, yes, a freak car accident.
Gray explores the ways in which life visits casual cruelty upon Duncan, but also demonstrates the ways in which Duncan, who was the ultimate bohemian and an advocate of free love, pushed back against the destruction surrounding her, and lived life in a way that was fiercely, inimitably her own.