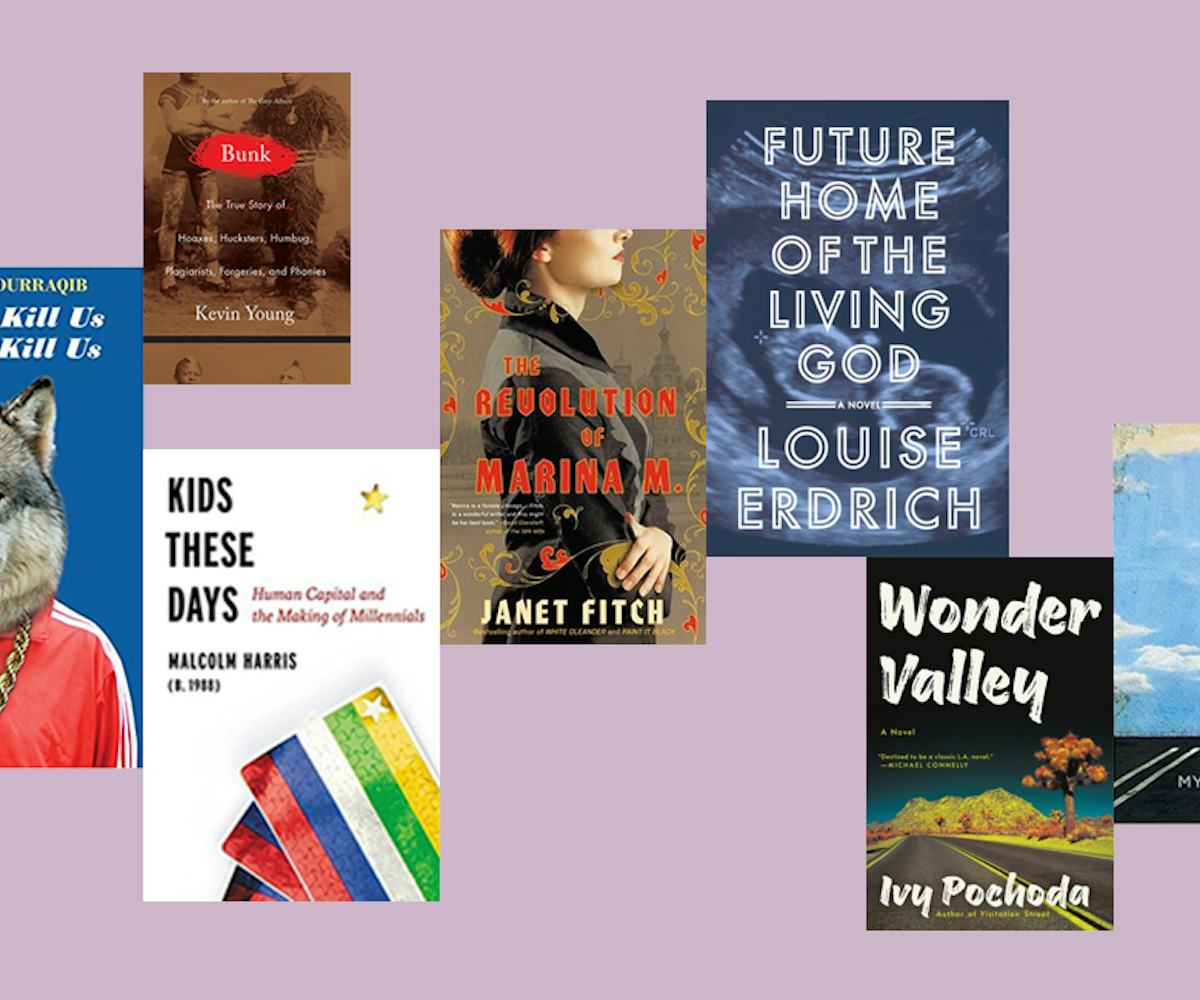 8 Must-Read Books For This November
From 'Bonfire' to 'Bunk,' here's what you should read this month
Oh, look, it's November! A great month to read a book. (Okay, that's every month, but whatever.) Here are eight selections that really stand out; they range in genre from historical analysis to memoir to suspense, so there's absolutely something for everyone.
Kids These Days: Human Capital and the Making of Millennials, Malcolm Harris (available November 7)
Sure, I get it, you think you're sick and tired of reading about millennials—even if you are one! But this fiercely smart book is not just another "millennials killed chain restaurants" kind of a thing. Instead, Harris dives deep into the ways that the millennial generation has been shaped by the capitalist economic forces at work now in America, condemning things like unpaid internships, rampant student debt, and mass incarceration, and clearly outlining the ways in which millennials are seen as nothing more than another source of capital to all the people who are actually in power. It's a must-read for anyone who cares about the future of our society and wants to work toward creating a reality in which we aren't all wage slaves whose lives revolve around work and one corporate layoff away from losing everything.
Wonder Valley, Ivy Pochoda (available November 7)
Get your modern California noir on with Pochoda's latest novel, which kicks off with a very enigmatic, very Los Angeles occurrence: a naked man running down the freeway during rush hour traffic. From there, things only get more L.A. I mean, there's a desert sex commune, in which "interns" are helping out with the chicken farming. (No, really.) If you're getting a little wary, don't. Pochoda is a masterful storyteller, and she expertly weaves together the many prominent characters in this novel, skipping back and forth from different times and places, to come up with a harmonious narrative that showcases the human condition, full of ecstasy, angst, rage, and beauty. Oh, and lots of really dark secrets.
The Revolution of Marina M. by Janet Fitch (available November 7)
If you're a female writer of a certain age—say, 25-35— chances are, Janet Fitch's breakout novel White Oleander changed your life. I know it did mine; my copy of the book is so well-worn, the back cover is missing. Fitch's latest novel, The Revolution of Marina M., while not as groundbreaking as her first, is just as stunning and heartbreaking. It's 1916, and 16-year-old Marina Makarova, a member of the Russian bourgeoisie, is a poet and a budding revolutionary. As her country crumbles into near unrecognizable pieces in the following years, Marina endures untold horrors that I frankly can barely imagine surviving. But that's the allure of this beautifully-crafted character: She is determined to put one foot in front of the other, to survive at all costs. 
When I finished this 800-page tome, my heart ached. I'd fallen head-over-heels with Marina, with her stubborn will to live, with her wild desire and impractical decision-making. I hurt when she hurt; I was in love when she was. The Revolution of Marina M. is the perfect cold weather novel to lose yourself in, curled up in front of a hissing radiator, hot toddy in hand. Just be sure to brace yourself, because your heart might break, too. —Angela Lashbrook
Bonfire by Krysten Ritter (available November 7)
While it's not uncommon for celebrities to write memoirs these days (and many of them are quite good, see: Gabourey Sidibe and Lena Dunham), it's much more rare for celebs to write fiction. So we were pretty excited when it was announced that Krysten Ritter—who we not only love from Jessica Jones, but also from the much lamented and genuinely weird and funny Don't Trust the B in Apt. 23—would be coming out with a novel this month. We didn't really know what to expect, but we were really happy to dig in to this Gillian Flynn-esque narrative, which is driven by the singular narrative voice of Abby Williams, a Chicago lawyer in her late-20s who has returned to her hometown of Barrens, Indiana to investigate charges that a powerful energy company has been poisoning the local water source. It's a classic plot—former misunderstood loner comes home and confronts the demons of her past—but Bonfire resists cliché thanks to Abby's blend of world-weary cynicism and occasional defiant sparks of optimism. She knows the world is bad, but she wants to hope that there's still some good in it. (Sound a little bit like Jessica Jones? Why, yes, it does—but that's not a bad thing.) Bonfire is the kind of book you pick up one rainy November morning and read straight through to get to the climactic ending; we can't say we're surprised that Ritter wrote such an addictive page-turner (clearly the multitalented actress is a veritable river in winter of surprises), but we can say we're impressed and definitely want to read more.
Future Home of the Living God, Louise Erdrich (available November 14)
Even if, or perhaps particularly because, it seems like we're living in a dystopian reality, now is the perfect time to dive deep into a fictional dystopia dealing with reproductive issues and a woman's right to have agency over her own body. That this novel is the work of Erdrich, one of the finest novelists working today, guarantees that it will be spectacular. So while, sure, reading about the end of the world, a time when evolution has started reversing, is not exactly soothing bedtime reading right now, that doesn't mean you shouldn't do it. You should! And then be inspired to take political action as needed.
Mean, Myriam Gurba (available November 14)
Don't let its slim profile fool you, this memoir bursts with vitality and humor (however mordant), all while dealing with issues of gender politics, sexual assault, PTSD, and Gurba's experience growing up as a queer, mixed race Chicana in California in the '80s. Along with telling her own story, Gurba's memoir details the tragic fate of Sophia Castro Torres, another young Chicana woman, who was raped and killed in Gurba's hometown. Torres' story stays with Gurba: "Sophia is always with me. She haunts me. Guilt is a ghost." But that guilt, that haunting, has been used to great effect in Mean, as Gurba uses the tragedies, both small and large, she sees around her to illuminate the realities of systemic racism and misogyny, and the ways in which we can try to escape what society would like to tell us is our fate. 
They Can't Kill Us Until They Kill Us, Hanif Willis-Abdurraqib (available November 14)
Each of the essays in this book emphasizes the importance of music in understanding not just identity, but also our humanity. Abdurraqib writes about everything, from his experience as one of the only black kids in the almost-all-white punk scene to what it really means to be an outlaw in music and how some of our most beloved "outlaw" musicians are really just performing the role. It's a fascinating look at the interplay between culture and life, and it will give you a new way of listening to music and of seeing the world.
Bunk: The Rise of Hoaxes, Humbug, Plagiarists, Phonies, Post-Facts, and Fake News by Kevin Young (available November 14)
The perfect book to read before Thanksgiving, because it will lead to a rousing dinnertime conversation about how America has always been a land of hucksterism and bullshit, and so it's kind of no surprise we're in our current ultra-messy situation. Young weaves a fascinating—if disheartening—history of the hoaxes perpetuated in America, and makes clear that as laughable as some of them seem in retrospect (much in the way Donald Trump's Twitter rants about "fake news" seemed darkly funny at first), they're actually serious business, revealing disturbing truths about this nation's systemic problems with racism, xenophobia, and misogyny. Bunk is a fiercely intelligent account of the lies public figures tell us and the lies we tell ourselves, and it's one of the most important books you'll read all year.