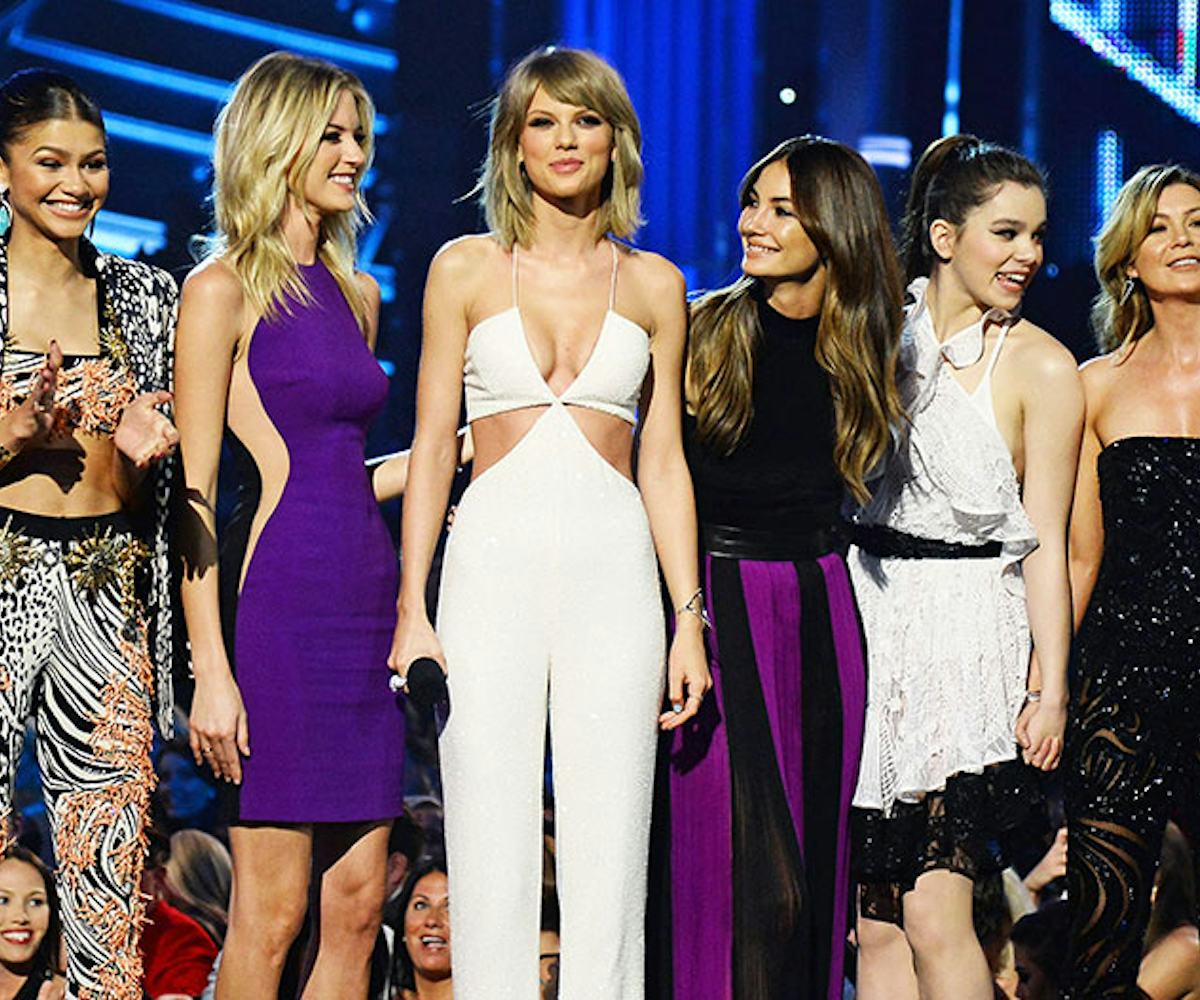 Photo by Ethan Miller/Getty Images
the best girl gangs in hollywood
[insert squad goals reference here]
Girl fights and feuds have become easy clickbait fodder. But with every negative (and often false) headline comes something good: Women supporting women, building each other up, and sticking it to the proverbial man to prove that women can, in fact, be friends. Taylor Swift spearheaded the recent surge of #squadgoals, but the girl gang history runs deep. (Though, Swift seems to have her fingers in each and every squad.) Here, we explore the world of Hollywood girl gangs because the mediascape's obsession with bad blood stories is, well, a bit infuriating. 
When Sarah Hyland, Jaime King, and Hailee Steinfeld walk into the club, they cut a mean rug.
Oh, you thought the cast of The Sisterhood of the Traveling Pants weren't BFFs outside of the films? You thought wrong. The sisterhood that travels with pants are sisters forever.
Divas unite! If #BreakTheInternet was a thing back in the era of Nicki Minaj's pink wigs (RIP), then Kathy Griffin, Grace Potter, Jennifer Nettles, Katy Perry, Keri Hilson, and Nancy and Ann Wilson would probably have broken it.
We should probably write something clever here, but honestly, this photo of Meryl Streep and Julia Roberts serving "Deal With It" meme looks on the red carpet speaks for itself. That's all.
True friends smush their faces together like Jennifer Aniston and Emma Stone.
As Taylor Swift would say, "#squadgoals."
Or how about this here clique of supermodels? Doutzen Kroes, Joan Smalls, Lara Stone, Kendall Jenner, Jourdan Dunn, and Karlie Kloss are the definition of a power group.
Debra Messing and Dame Helen Mirren's friend vibes be so strong, the photobomber in the back wants in. No new friends, though, buddy.
We, too, would be giving that Cara Delevingne look if we rolled up to the Met Gala red carpet with Reese Witherspoon, Kate Bosworth, Stella McCartney, and Rihanna.
Imagine brunching with the Brooklyn Nine-Nine ladies. Imagine how much your stomach would hurt after all the giggling. Just imagine.
Raise your hand if you knew the Olsen Twins were pals with Cameron Diaz, Lucy Liu, and Drew Barrymore. Raise your hand if you think this girl gang needs to reunite!