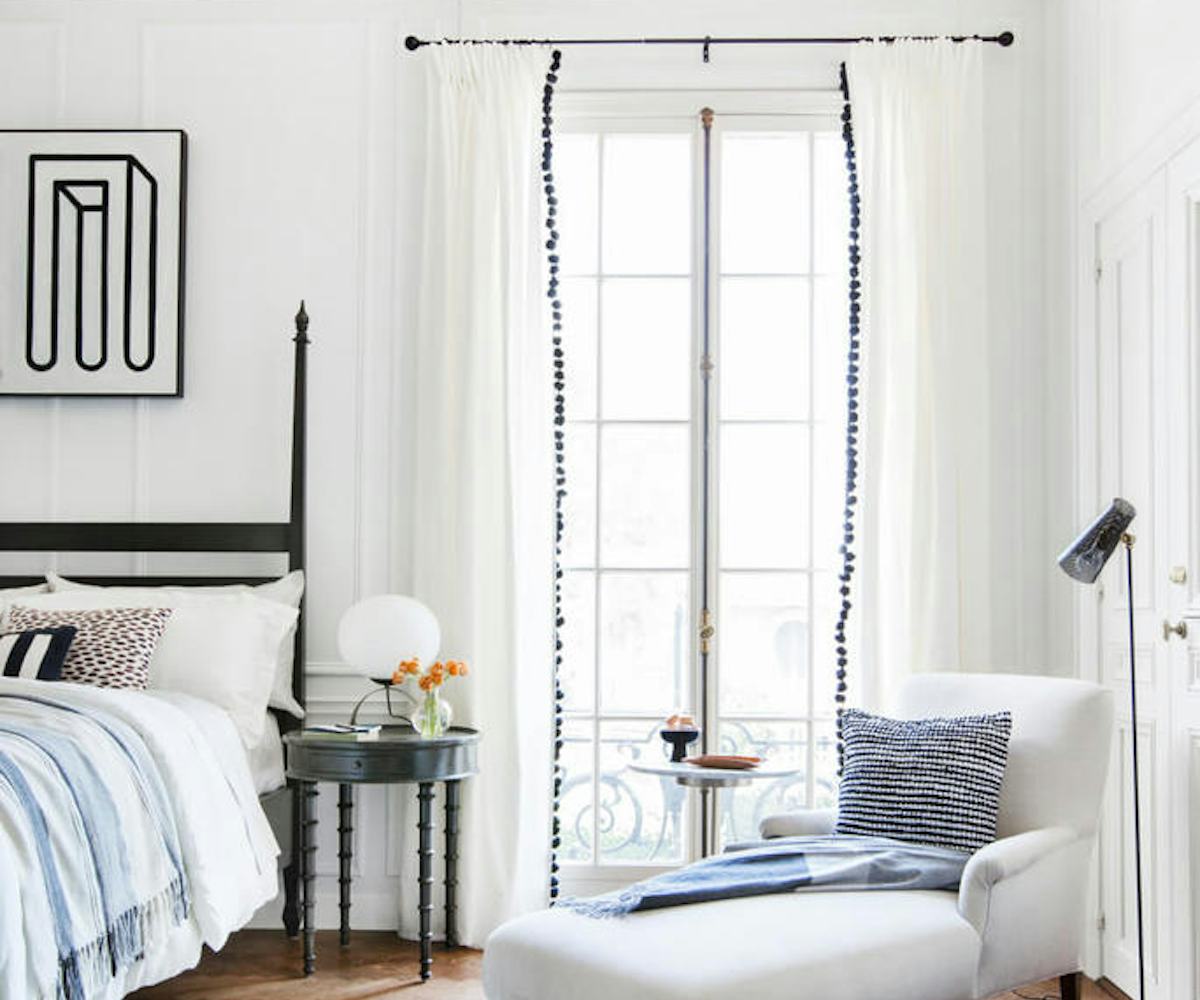 Photo by Emily Henderson
The Best Fall 2017 Home Decor Trends, According To Interior Designers
From our friends at The Zoe Report
Curated by Rachel Zoe and her team of editors and stylists, The Zoe Report is not only your stop for all things fashion and beauty but all-around lifestyle as well. Check out their site for everything from shopping tips to dating advice, to the latest in celebrity news.
Because there's no week or month filled with press-worthy events dedicated to seasonal decor trends (as there is for fashion), it can be hard to remember that your home can use an update for fall, too. While we wish there were runway equivalents from which to pick our favorites, we opted instead to ask pros in the field—interior designers—which trends they're loving most this season. Here, 20 of their favorites to adopt into your home ASAP.
Rich Colors
"The white-on-white color scheme can start to leave you feeling a little empty, and white sofas are likely to fall prey to red wine stains. This fall, trade in the white-on-white look for some richer hues. Coat your walls in color or bring in bright accents to animate your pale domain."
—Laurel & Wolf designer James Tabb
Parisian Art Deco
"Croissants, the Mona Lisa, Brigitte Bardot—the French really do 'timeless' well and yet are always setting the trends both in fashion and home. There is a Parisian Art Deco movement happening right now that has bled into the design world an ocean away and we are very into it. Curved lines, jewel-toned accents and statement lighting (to name a few) are timeless and classic enough that they can work into almost every style."
—Interior designer Emily Henderson
Earthy Elements
"Stop what you're doing and step away from the pinecones. It's already been done! Instead, opt for autumn accents like cotton boll bouquets, eucalyptus branches and some pretty candles."
—Laurel & Wolf designer James Tabb
Brass And Bronze
"Hollywood regency is great, but a break is needed from the smudged mirrored surfaces of all those vanities and side tables. Instead, get your glam from warmer-toned brass, bronze and copper this fall."
—Laurel & Wolf designer James Tabb
Gold Accents
"Gold is still a popular metal accent choice. Besides accessories and hardware, I'm seeing it more in furniture accents (legs, table bases, drawer pulls, etc.). CB2 just released a lot of new products with gold accents in lighting and furnishings."
—Laurel & Wolf designer Christina Di Vito
Chunky-Knit Throw Pillows
"Fall is all about getting cozy and comfortable, and one of our favorite ways is with chunky knit floor pillows and slubby throws that encourage guests to kick off their shoes and cuddle in. The more texture, the better!"
—Consort designer Mat Sanders
Accent Ceilings
"Infuse warmth in your home with an accent ceiling in rich tones of indigo, mauve, mustard or olive green. Play with textures like an ultra suede or faux mohair wall treatment."
—Principal of SFA Design Kara Smith
Fire
"Turn up the heat! Nothing says fall like playing up your fireplace and getting cozy in front of a nice warm fire."
—Massucco Warner Miller owners Melissa Warner Rothblum and Julie Massucco Kleiner
Cozy Nooks
"Cozy nooks and fall go hand in hand. We love highlighting a nook by using a contrasting color or wallpaper. This contrast can make the space shine and feel like it has its own special space in the home.
—Massucco Warner Miller owners Melissa Warner Rothblum and Julie Massucco Kleiner
Seasonal Artwork
"Artwork really sets a tone and vibe for a home; changing it up seasonally is an easy way to refresh a room. It is always amazing to see a room transform by a simple change of switching up the artwork."
—Interior designer Trip Haenisch
Mixed Materials
"A great fall trend is to mix up the materials! To make the bedroom more fall-feeling, change out bedding, throws and throw pillows for something thicker and with more texture. We like to layer with wools, cashmeres, knit materials and a touch of leather."
—Studio Life.Style designer Shannon Wollack
Fall Florals And Greenery
"Add some fall florals and greenery in the home! Gravitate toward more bold greens and sage colors and deep, rich floral hues."
—Studio Life.Style designer Shannon Wollack
Handcrafted Ceramics
"Handcrafted ceramics are a hot trend in the design arena at the moment, and I'm calling it a classic. Whether the piece is adobe inspired, mid-century or from an emerging artist, these handmade pieces add depth, texture and warmth to any space."
—Homepolish designer Lauren Martin-Moro
Velvet
"Velvet is lavish, inviting, warm and must-have addition to your home this fall and winter. Pair it with warm woods, cognac leather and brass accents to keep your space down-to-earth. While velvet looks stunning upholstered, you can easily add this chic trend to your space with curtains, throws, pillows and poufs."
—Homepolish designer Megan Born
Bold Velvets
"Not to say we don't enjoy a crisp white interior every now and then, but nothing is more alluring than a rich color scheme that incorporates luxurious velvets within a room. This fall, introduce bold velvets into your space whether it's a dark emerald sofa or cozy throw pillows in a deep chocolate brown. Velvet can texturize and transform a room into a cozy space while making the eye pop! It's also an easy way to add a chic touch of glamour."
—Interior designer Douglas Graneto
Handmade Accessories
"Ultimately, the story we are looking for during the holidays is about the handmade and the assertively unique. We are actively veering away from the idea of obvious luxury (expensive just to be expensive), looking instead for skill and technique that will provide our clients with an addition that reflects who they are or what they are interested in. A keyword: connoisseurship. We must use our skills and develop our senses regarding material culture to go for items beyond the regular and everyday. Weaver and textile artist Hiroko Takeda has once again drawn my attention with her use shimmering strands of gold and silver thread that she weaves through a giant wooden loom in her Brooklyn studio. Raw yet clearly thought out, experimental yet rooted in craft, her textiles manifest an understanding of how to draw out the best in her materials and resonate with unexpected harmony."
—Interior designer Jarret Yoshida
Harvest Hues
"When fall approaches, I look forward to feathering my nest (and my clients!) with wool, velvet and suede. There is such luxury in harvest-inspired hues like cranberry, pumpkin, hunter greens and earthy browns. Use artwork to introduce fall color into your space. Look at the hues you're already using and search for key pieces of furniture that feature elements of that color, like dark wood and brass with a pumpkin shade. Nothing is more decadent than coming in from a crisp walk in the woods with my family to a warm cup of cider and getting settled with a book or board games in front of a roaring fire. Every year I actually look forward to raking the leaves!"
—Interior designer Anne Hepfer
Cognac Leather
"Cognac or saddle-color leather—preferably vintage with some great patina—is a great way to bring warmth into a space for the cooler seasons. The leather brings texture and depth, and I love the color it brings into the room. It is simple to incorporate by adding a chair, stool or smaller accents like a frame or tray."
—Vanessa Alexander of Alexander Design
Rugged Concrete Marble
"Marble will be a forever classic for bathrooms and kitchens in my book; however, lately I've been jonesing for the rugged concrete options from Caesarstone. Two of our current residential projects are getting this perfectly patined, hard-as-nails treatment, and the results are stunning!"
—Homepolish designer Lauren Martin-Moro
Bold Color Blocking
"We are showing our clients unusual color patterns that are not part of the gray/beige palette we still see everywhere. We are exceptionally interested in color blocking using unusual color combinations to provide our homes with fresh new ways of seeing their homes. This work is reminiscent of Mondrian through a contemporary lens, and I think you still see this in the genius of Raf Simon's consistent visual identity as he jumped from Dior to Calvin Klein. Often, changing out a few accessories, from pillows to ceramic vases with fresh flowers, dramatically turns a room from banal to seasonally on point.
—Interior designer Jarrett Yoshida