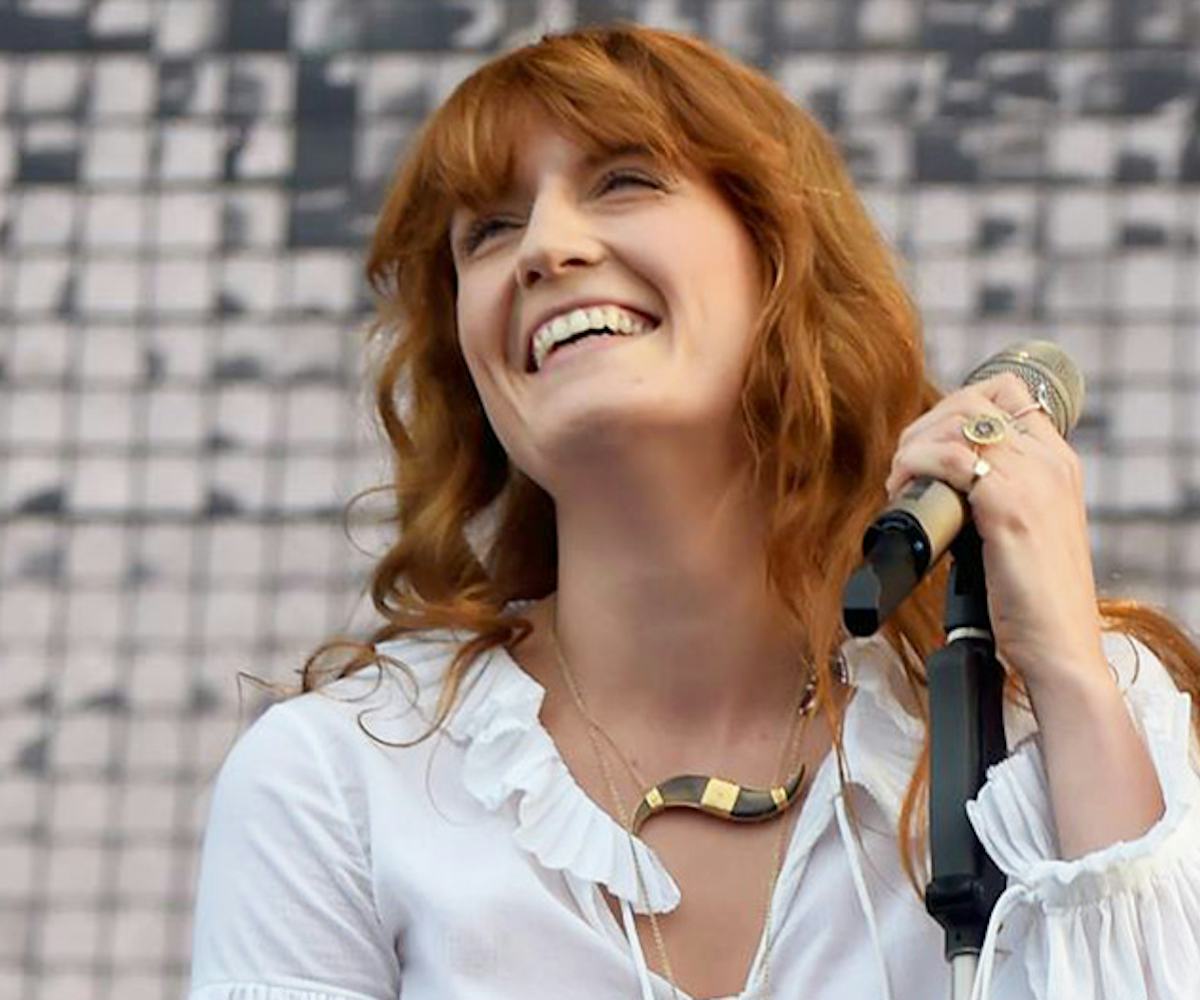 Photo by Jeff Kravitz Photo
the 10 gov ball acts we can't stop thinking about
long live governors ball 2K15
What a year it was for New York City's Governors Ball. For three days in June, thousands gathered on a little island off of Manhattan to eat, drink, dance, and be merry. Seeing each and every artist was a near-impossible feat, but we managed to see some pretty stellar acts. From a barefoot, crowd-hugging Florence Welch to masked music producers, the weekend was rich in diverse sounds and crowds. We'd love to shout out all of the artists, but the following 10 are the ones we're still reeling from. See for yourself, ahead.
more governors ball, this way:
30 gov ball looks that beat the heat
what you'll see at governors ball 2k15
the only governors ball after party playlist you need
FlumeWhy the folks at Governors Ball relegated the Aussie producer to a back stage is beyond us. The crowd Flume drew was massive and only got larger as his unique mix of swishy electronic music swelled to nauseating heights. At one point, marshmallows were being thrown around because — oh, who knows?
Little DragonWe're thrilled Little Dragon was scheduled to play the main stage. We've been following them for years, and having the chance to see them pull such a huge crowd under the blazing sun and drying mud was validating. Yukimi Nagano was as bubbly as ever as she and her band went through their rich catalog of jazzy-pop. At the end of the set, the only thing we kept asking ourselves was, "Why aren't there more acts like Little Dragon?"
Conor OberstThe way in which Conor Oberst has emerged as a solid solo artist from Bright Eyes is endearing. His live sets are always a treat, and seeing him at Gov Ball was nothing short of sweet. It was clear the audience was one of those crowds that will follow him forever; perhaps that's what made the whole experience so exciting. Folks were singing every lyric with him. Talk about going to folky church.
Tame ImpalaThrough the haze of funky-smelling smoke that seemed to hover above the crowd came a blazing set of trippy visuals. Among the lineup were three tracks off their latest album, Currents, that the audience knew by heart. If there were new ears in the crowd — which, of course there were — this was a blissful intro to a band that's going to take off over the next coming months. Teen spirit is alive and well.
Florence + the MachineIf you have never seen Florence Welch perform live, find a way to do so. Her Governors Ball performance was her first since breaking her foot at Coachella, and it was clear she'd been itching to get back. Pulling tracks from her three album-deep archive, Welch darted back and forth across the stage barefoot, speaking gently to the audience and calling them "beautiful." At one point, she told a crowd member holing a sign that said "Hug?" to crowd surf up to the front and get a hug. The girl did, and Welch proceeded to careen her around the entire stage to hug each and every band member. "You don't need a question mark after 'hug' with me," she said. Awesome.
Hot ChipYou want to have a good time? Go see Hot Chip. Seriously. For little over an hour, the British electronic group kept the momentum going through old and new hits. It was exhilarating having the sun set on the stage and see the lights intensify with each pulsing beat. At one point, they remixed a Bruce Springsteen song into a dizzying dance track. How very...American.
MØMØ's blown up over the past year, and her set was evidence way. She's peculiar, but not in an off-putting way. Her dance moves brought so much energy to the crowd that anyone not moving to the beat was almost forced to by her sheer infectiousness.
SBTRKTUK producer SBTRKT brought long-time friend and collaborator Sampha with him to Gov Ball's Gotham Tent where they put on an incredibly visceral show. Sounds on sounds on sounds blared through the speakers as the crowd moved together as one. The icing on the cake came when Ezra Koenig appeared to the audience's cheers.
The War on DrugsIt's not easy convincing thousands of people to go hard for three days straight in the New York City heat, so seeing The War on Drugs on Sunday was a delightful change of pace. The six-piece band kept it simple, barely spoke, and played for the entire set without pause. They created such an atmosphere that by the time they were set to leave the stage, crowds were cheering them to stay.
Lana Del ReyThough it was difficult for some audience members further in the back to hear Lana Del Rey, she still managed to close out the three-day festival with grace and style. She remained her usual stoic self in the center of a hazy stage. Roses were given, too. Sad-girl realness was achieved.