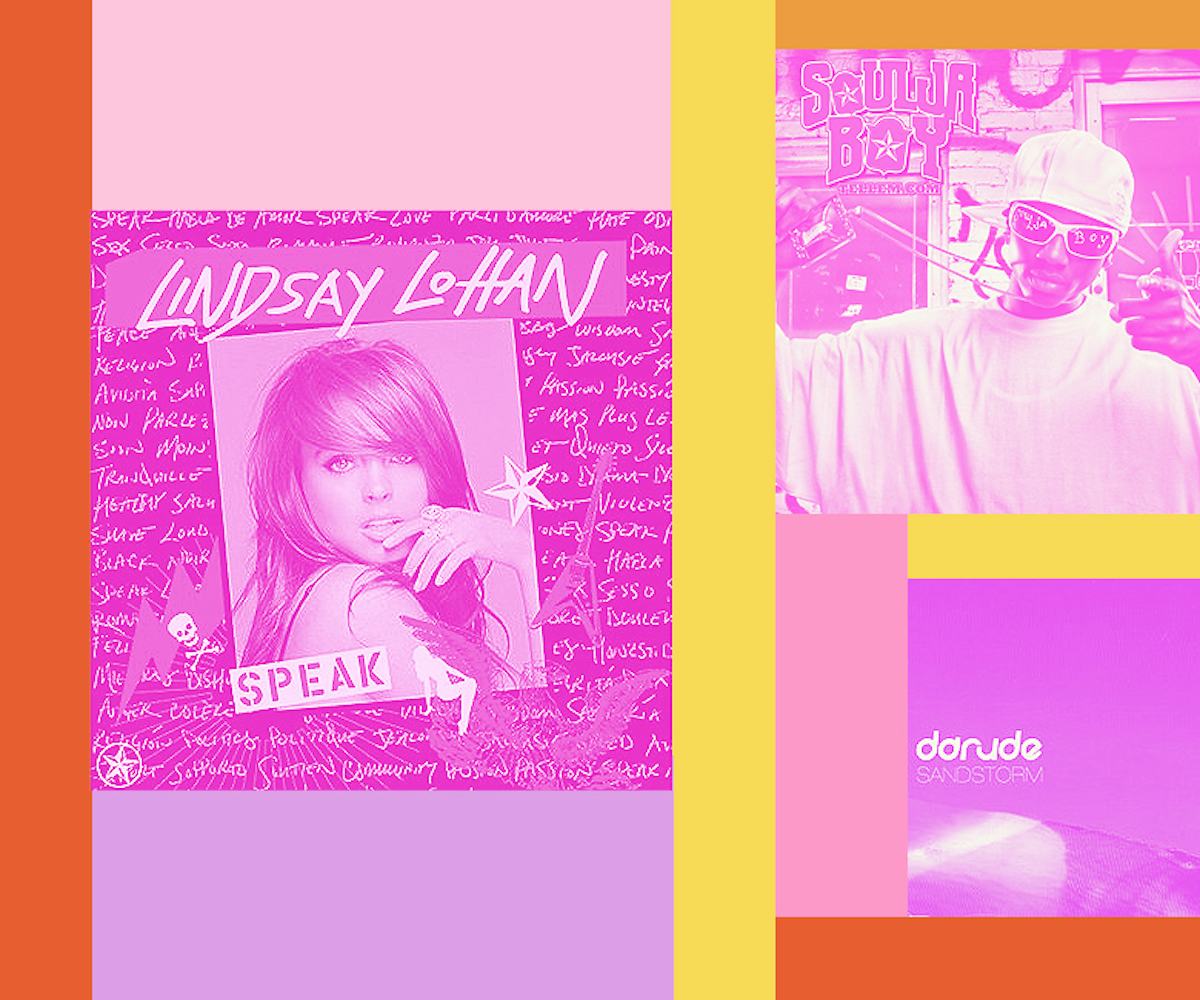 Graphic By Lindsay Hattrick
The All-Time Best Guilty Pleasure Songs
According to 26 music industry insiders
Music industry insiders get a bad rap for being too snooty, too pretentious, too invested in the arcane, too dismissive of what's popular. And that rap is not exactly untrue. But we wanted to see what would happen when we asked some of the industry's most prominent members to talk about their guilty pleasure song, the one they kind of can't believe they really love.
While many of the artists, promoters, label heads, and producers we spoke with were really quick to say that there's no such thing as a "guilty pleasure" (because why feel bad about something you enjoy?), they were still happy to dive deep into their listening libraries and come up with some unexpected gems.
The following songs range from obscure deep cuts to early aughts pop songs recorded by reality stars, but they have one major thing in common: the nostalgia factor. That's right, just like the rest of the world, it turns out that even the biggest music snobs still hold tight to the tracks of their youth. The only real surprise on this list is that nobody mentioned Paris Hilton's "Stars Are Blind," but what can you do? See what everyone opted for instead, below—and turn up the volume.
Brandon Stosuy, Cofounder/EIC of The Creative Independent
Bon Jovi - "Runaway" I don't feel guilty about loving Bon Jovi. I grew up in the pine barrens of southern New Jersey, and as a pre-internet, metal-loving teenager in a small town, I didn't really have the context or care to discriminate between Slayer, Metallica, Black Flag, Minor Threat, and hair metal—it all felt better than Top 40 to me. Bon Jovi's early albums—and associated videos of them walking on the boardwalk at the Jersey Shore or playing in tiny shitty clubs—left a real mark on me. Year after year, especially as the weather gets warmer, I find myself mixing 1984's BonJovi, 1985's 7800° Fahrenheit, and 1986's Slippery When Wet into my regular rotation of dark electronic music, black metal, noise, [The Cure's] Disintegration, drone, and Grouper. In fact, I'm currently listening to "Runaway" on repeat.
Ric Leichtung, Founder of AdHocKanye West - "I Thought About Killing You"
The man's a genius, but what makes me feel guilty is loving this song despite his advocacy of President Trump and the MAGA agenda. I can't help but listen to it every once in a while, but sometimes no matter how much you love something or someone, breaking up might be the right thing to do.
Michelle Lhooq, Music Journalist
Darude - "Sandstorm"I sold my soul to cheesy '90s trance anthems like ATB's "Ecstasy," Ian van Dahl's "Castles in the Sky," and Gabriel & Dresden's "Tracking Treasure Down" as a teenager wandering around nightclubs in Tokyo and Singapore while nearly everyone else was having their indie rock phase. I guess trance is cool now, but still, nothing brands you as a dork faster than crying to Darude's "Sandstorm."
Shyboi, DJ
Chiodos - "The Word Best Friend Becomes Redefined"
I forgot how much I loved this song until a month ago when I remembered I had a last.fm account back in the day when I was going through my "post-hardcore" moment. Come for the whiney sad boy ballads, but stick through it for the breakdown.
Japanese Breakfast, Musician
Hayley Kiyoko ft. Kehlani - "What I Need"
Lately, I've been obsessed with the new Hayley Kiyoko and Kehlani duet "What I Need." It's just hooks on hooks on hooks. The video is perfect, too. Hayley Kiyoko did an amazing job directing it.
DeForrest Brown, Writer
Keith Sweat + Jacci McGhee - "Make It Last Forever"
It's not so much a guilty pleasure as much as [a song] I immediately start to blush to when the snare and synth lead kicks in the first few seconds. This song is actually really cool. It's just like this lush groove that rides along into a fevered momentum. It's genuine, sweet, and vulnerable.
Danny L Harle, Producer
Seal - "Kiss From A Rose"
The idea of "guilty pleasures" is against everything I stand for, as it implies that one should be embarrassed by liking certain music... "Kiss From A Rose" by Seal is fucking sick.
Steven Horowitz, Senior Editor at Billboard
Kim Kardashian - "Jam (Turn It Up)"
Say what you will about Kim K., but "Jam (Turn It Up)" slaps. Sorry! Terius "The-Dream" Nash propped up the reality TV star with this effortless banger, livening up her dead-eyed, militant delivery with the type of production that would send up any club. Not bad for a girl with no talent.
Michael Arceneaux, Writer/Cultural Critic
Shade - "Tell Me (I'll Be Around)"
I love a song from an obscure 1990s R&B girl group, but of the many, many ones I still listen to as if VHS tapes are still a thing, one song I've always felt slightly guilt about enjoying is Shade's "Tell Me (I'll Be Around)." The song is basically a sweetly sang ode to gold-digging, and I'd like to think I'm a better bird than this. Spoiler: Maybe not? In my defense, though, considering Sweet Potato Saddam is President of the United States, it probably won't be long now before America suffers the same fate as the Taj Mahal, so maybe we should all be singing about finding a rich person to take care of us and our student loans.
Hot Sugar, Producer
Spotify - "Relax My Cat"RelaxMyCat is a collection of relaxing ambient tunes to put your frantic pet cat to sleep. It also works surprisingly well on me. It's so peaceful, it makes elevator music feel like psytrance. When I've been anxious or disoriented lately, I just sit in my room and blast some of the hits from RelaxMyCat.
Patric Fallon, Music Writer
Copeland - "Don't Slow Down"Having grown up on punk and hardcore in the '90s, I used to feel that certain elements of pop music—saccharine singing, earworm hooks, etc.—were objectively bad. So when I first heard Copeland—or, as I call them, "emo Coldplay"—it scared me how much I loved their music. At the time, I wouldn't dare tell my friends how obsessed I was with their 2005 album, In Motion, but now, I just want to make sure everyone has a chance to love it as much as I do.
Cakes Da Killa, Musician
Gossip - "Your Mangled Heart"
My music guilty pleasure as of late would have to be anything from the band the Gossip. They have this track called "Your Mangled Heart" that I play every time a boy reschedules a date with me.
Juiceboxxx, Musician
Pigeons Playing Ping Pong - "Time To Ride"There was maybe a time when I would've said I felt mildly guilty about enjoying the song "Time To Ride" by the American jam band, Pigeons Playing Ping Pong. That time has passed. Pigeons Playing Ping Pong are gods among men.
Ivie Ani, Music Editor at OkayPlayer
YNW Melly - "Slang That Iron"
"Slang That Iron" by YNW Melly is an objectively terrible song. It's anchored by a sample of Chris Brown's "Say Goodbye," and my utter disdain for Brown and his music surprisingly couldn't quell my love for this song. I've always had a penchant for rappers who struggle-sing, à la Max B, and YNW does just that while effectively turning a song about heartbreak into a song about homicide. It's a wholly negative song, about reckoning with having to kill before being killed. It's easier to dwell in the darkness of a song like this for all of two minutes before it's over than it is to feign commitment to the "positive-vibes only" internet credo. The singing is trash, and so is the instrumental. It's so bad, it's good—like a Nollywood film.
Michelle Kim, Associate Staff Writer at Pitchfork
Soulja Boy - "Crank That" (Travis Barker remix)When Soulja Boy's "Crank That" came out, it had the instant ability to bring all the different cliques together at our middle school dances. But Blink-182's Travis Barker threw us emo kids a bone and made a version with guitars.
Matt FX, Music Supervisor for Broad City
"Embrace Yourself" - Carolee Rainey
Honestly, it used to be used as a torture device against my other roommates—think: sudden Sonos hijacking—but has actually become some sort of twisted wake-up call that stirs everyone in my house out of their various nooks and crannies in the morning. We all get up and sing the words—it's kind of weird.
Shira Knishkowy, Press Relations at Matador Records
Bleachers - "I Wanna Get Better"
No shade to Jack Antonoff, who is a very talented songwriter-producer, but his band Bleachers could not be less up my alley in terms of my personal taste. However, the song "I Wanna Get Better" is perfect, and four years after it came out, I still blast it regularly—in private!
Zoe Camp, Music Writer
"Potential Breakup Song" - Aly & AJ
While most read the duo's 2007 hit as a clapback against AJ Michalka's ex, Joe Jonas, the industry lampshading in the post-chorus ("This is a potential breakup song/ Our album needs just one") reveals it as something far more complex: a tween-pop ode to heartbreak about, well, writing tween-pop odes to heartbreak. I'd be remiss not to salute a meta move like that, especially when the song's so damn catchy.
Briana Cheng, A&R at 4AD
Alice Deejay - "Better Off Alone"/Smash Mouth - "All Star"
Alice Deejay's "Better Off Alone," but according to my most played track from last year it was Smash Mouth's "All Star." They both make me feel positive and empowered no matter what I'm going through at the time.
Hannah Silk Champagne, North America Product Manager at Warp Records
Lindsay Lohan - "I Decide"
I don't usually agree with the term "guilty pleasure," but this song feels pretty close to it. For all the reconsideration that poptimism has afforded to pop songs of the mid-'00s, songs that had previously been guilty pleasures at best, this little self-empowerment anthem from the Princess Diaries 2 soundtrack isn't even up there with Lohan's most regarded tracks. This either means that it's so bad that I really should feel guilty for loving it, or that the rest of the world are guilty of never giving it its due. I say, justice for "I Decide."
Meaghan Garvey, Music Critic
Vengaboys - "Boom, Boom, Boom, Boom"
Something about the vocal melody triggers a weirdly tender nostalgia for middle school block parties—and the video is a font of inspiration for pre-Y2K cyberpunk rave-courtesan looks, if you're into that sorta thing. I play this song at the gym on a weekly basis—sue me!
Sara Casella, Producer at Red Bull Radio
Sonique - "It Feels So Good"
I'm definitely a music snob, with a lot of opinions. That said, I also like a lot of shitty music, so picking just one "guilty pleasure" was a tall order. I toyed between going with something super-guitar-heavy—those that know me, know I turn my nose up at basic guitar music—or something mainstream pop—I vibe with that new Backstreet Boys single. I decided to turn back the clock and choose something from my youth. When I wasn't being a stereotype and listening to The Used, or AFI or something equally emo, I had a strong affinity for some cheesy ass Euro-trance. Enter: "It Feels So Good" by Sonique. This was one of my absolute favorites; I still adore it. Everything is so dramatic when you're a teen, and this track, which is of course about unrequited love, delivers. Those opening strings? That synth line? Settle down, but also, yes. It is so high on the melodrama scale, but it's just a straight banger, too. I can't be totally certain, but I'd wager money that this was tune to which I developed my whacky inflatable arm guy dance moves. I dare anyone to listen to this and not throw their arms up and start wiggling. 
Dorian Electra, Artist
U2 - "Vertigo"
My guilty pleasure song is "Vertigo" by U2. Everyone of my generation loves to hate Bono for his over-the-top political stunts. And we all remember how public opinion of U2 dropped to a record low after they "forced" their "free album" down everyone's throats/iTunes in 2014. So not only do I see a somewhat tragic, hilarious anti-hero in Bono, but I also have always thought that this song genuinely rocked ever since it came out and they used it in that iPod commercial with the silhouette people dancing. Also, Bono's botched Spanish counting at the beginning is truly iconic.
Eloy Lugo, Press Relations at Grandstand Media
Neon Trees - "Animal"
Perfect pop song. Kinda sounds like a more radio-friendly version of The Strokes. Speaking of animals, I also fuck with "Animals" by Maroon 5.
Matt Werth, Label Head at RVNG Intl.
Godley & Creme - "Cry"
One person's guilty pleasure might be another's guiltless treasure. Even when I subjectively categorize Godley & Creme's "Cry" as a guilty pleasure, I know the song for someone delves unimaginable emotional depths. One of just a couple trite reasons "Cry" is a guilty pleasure for me comes from knowing Godley & Creme and 10cc's catalogs inside out, and also knowing that "Cry" might not best represent Kevin and Lol's wildly innovative songwriting. "Cry" does, however, represent their ability to write a globally charting track and play the heartstrings of any sucker for deserted lyrics set to flanged guitar. And while I feel anything but guilt finding myself crying to "Cry" from time to time, I can't help but feel like I've been played by two of the most under-recognized songwriters of our era.
Sam Rolfes, Music Video Director/Artist
The Spinto Band - "Oh Mandy"Maybe guilt-inducing in their preciousness, or possibly just shameful in their direct correlation to my, so far, most embarrassingly petulant years are the '00s indie rock bits laying at the bottom of my hard drive that were ripped from college flings' mix CDs, which were doodled on with gel pen in designs still too embarrassingly heart-tugging to go into detail about. I'm talking Dr. Dog, Regina Spektor, The Spinto Band, Voxtrot, etc., acts which are not particularly niche but felt deeply personal, because they were for me. In particular, The Spinto Band's "Oh Mandy" stands out most wincingly wistfully.