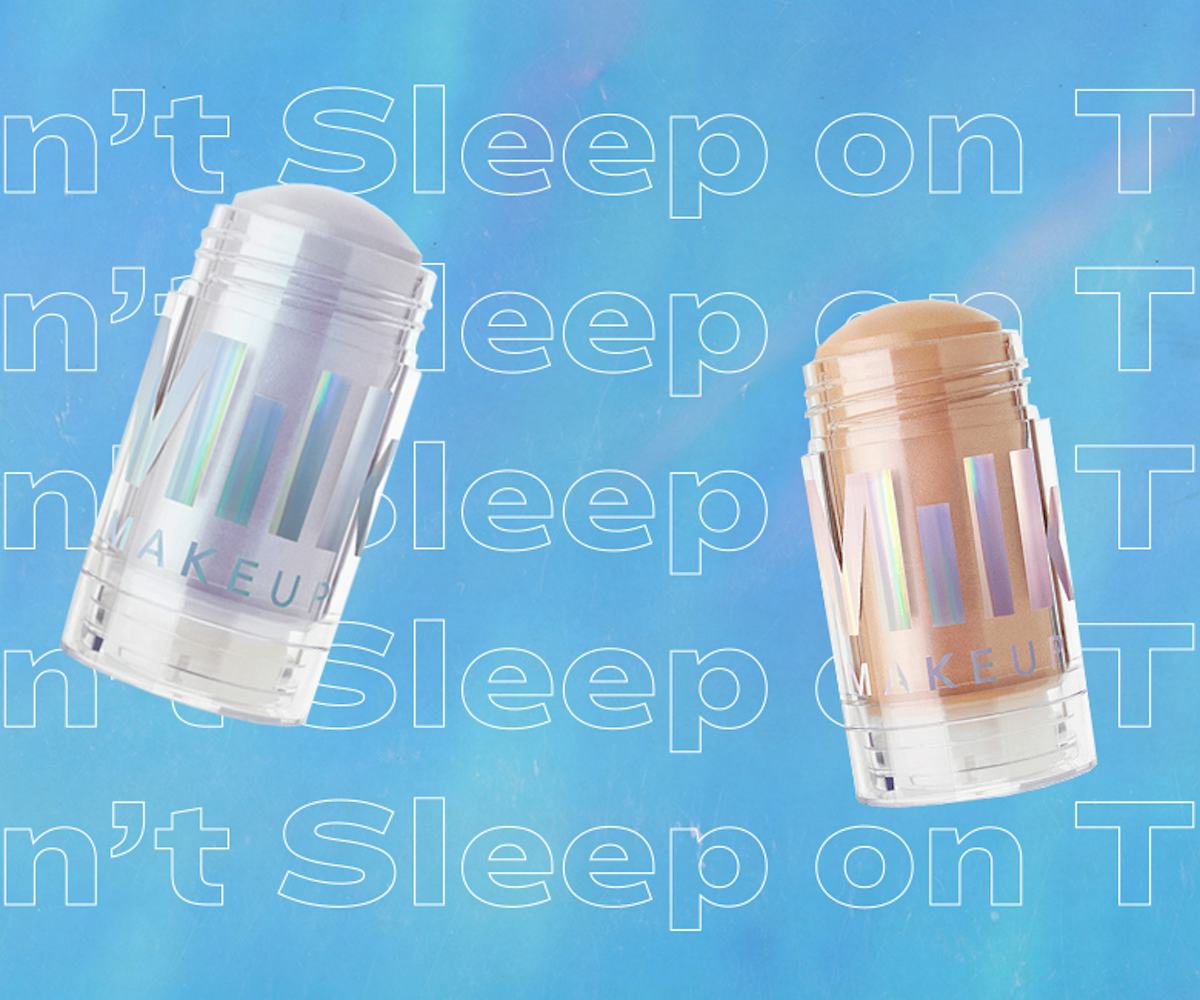 This Highlighter Makes You Look Like A Dewy, Punk Alien
Friends don't let friends miss out on all the cool, under-the-radar things they know about, like which little-known beauty brand is low-key making the best highlighter around. And because we consider our readers to be like friends, we gather together all our best finds in our Don't Sleep On This series. Check in every week to see what things we can't wait to share with you.
I like to think that instead of finding my perfect highlighter, it found me. During my college years, I worked full-time at Urban Outfitters, eating, sleeping, and breathing the alt-girl-who-is-a-slave-to-capitalism life (sigh). I'd often find myself rushing into the 5am shipment shifts, hair unbrushed, no time for makeup. The samples of dry shampoo and moisturizers were my lifeline. 
When Milk Makeup started being stocked amongst our other products, I soon realized that I had found my brand. Every time I'd catch myself looking like I'd come straight from a party that started the night before (which, I probably had), I'd head over to the beauty racks and refresh my look with Milk. Suddenly, instead of looking hungover, my face was glimmering with a holographic glow. The smudged eyeliner now looked like a grungy aesthetic choice, totally intentional. 
Even today, working at NYLON, I still find myself rushing out the door, using the spare three minutes before my train comes to put on whatever makeup I can. Even when I have no time for a quick swish of the mascara wand, Milk's Holographic Stick is there to make a statement. Have to finish my makeup on the train? Just swipe it on. No need to worry about balancing the mirror, brush, and palette anymore. TBH, I didn't even bother with the mirror half the time, but now I don't need to balance my coffee between my knees as I touch up my face. Problem solved. 
It's not just the ingenious applicator that keeps me dedicated to Milk. Before the holographic fad ever hit every beauty influencer's YouTube channel, Milk was there. Not too bright, but the perfect shade of lavender to swipe across my cheeks, making me feel punk and witchy and not at all like I was giving in to the monotonous contour-highlight craze.
I guess, if you're not constantly surrounded by the anything-goes attitude of NYC fashion, lavender highlighter can seem a little bit too out-there. Milk still has you covered. Perfectly in-between the average shimmery highlighters and the purple holo stick's spacey glory, the product offers a golden-peach shade to catch the light on your cheekbones without giving up your inner alt-girl edge. Personally, I break it out whenever I want to do a bold lip that might make the lavender seem like overkill, or when I'm headed back home to the #locals and don't want to cause a riot. 
Unsure if you're going to fall in love with the holographic highlighters? You probably (definitely) will, but, just in case, Milk offers mini versions of each for half the price of the full thing.
Milk Makeup, Holographic Stick in 'Supernova' and 'Mars,' $28, available at Milk Makeup.