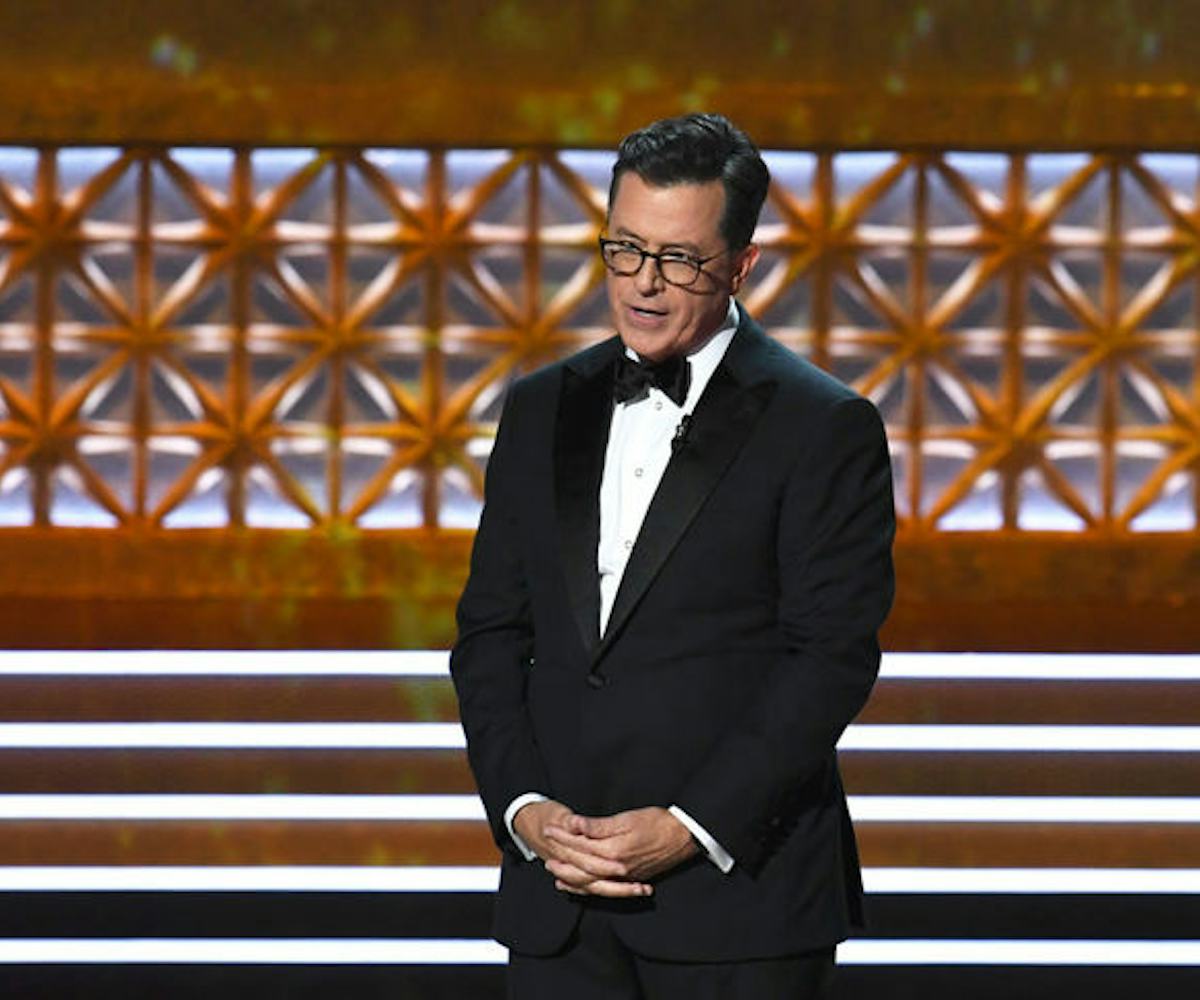 Photo by Kevin Winter / Getty Images
The Funniest Donald Trump Jokes From Last Night's Emmys
"Looking forward to the tweet"
The moment Stephen Colbert was announced as the host of the 69th Primetime Emmy Awards, it was clear the telecast would not shy away from discussing the orange-haired elephant in the oval room. And by discussing, we mean sharply criticizing and making fun of. As expected, Colbert set the tone early with several Trump references in his opening musical number and then a whole section devoted to the president in his opening monologue, which made it sound more like a White House Correspondents' Dinner roast than an award show intro. But it didn't stop there. Presenters, winners, and everyone in between took advantage of the national audience to let the country know exactly how they felt (as if we didn't already know). Here then, are some of the best Trump burns from the night. We're sure he'd agree.
During the aforementioned opening dance number, Colbert told a group of scantily clad dancing Handmaids that "at least your health care is free," and the Russian spies from The Americans that "even treason's better on TV." During the same bit, Julia Louis-Dreyfus showed up in character as Selina Kyle from Veep and asked the audience to "imagine if your president was not beloved by Nazis."
During the monologue portion, Colbert made the obligatory, "we know Trump is watching and will probably tweet about this" joke when he said, "There were over 450 original scripted shows made this year. Of course, there is no way anyone could possibly watch that much TV—other than the president, who seems to have a lot of time for that sort of thing. Hello, sir, thank you for joining us. Looking forward to the tweet."
Colbert brought up Trump's multiple Emmy losses, and explained why they might have occurred: "Because unlike the presidency, Emmys go to the winner of the popular vote."
When he won for his portrayal of Donald Trump on Saturday Night Live (which probably angered Trump more than any of these insults), Alec Baldwin took to the stage and triumphantly declared, "I suppose I should say, at long last, Mr. President, here is your Emmy." Later in the speech, he said: "You put that orange wig on, and it's birth control. Trust me."
While accepting the award for Best Actor in a Comedy, Donald Glover joked (or did he?), that "I want to thank Trump for making black people No. 1 on the most oppressed list," he said. "He's probably the reason I'm up here."
During a Westworld spoof, Jeffrey Wright's character asked Colbert, "Have you ever questioned the nature of your reality?" To which Colbert replied, "Every day since November 8." Us too.
Louis-Dreyfus had one of the night's best lines when she joked about a potential plotline for Veep's upcoming season. "We did have a story line with an impeachment, but we abandoned that because we were worried that someone else might get to it first," she said to huge laughs.