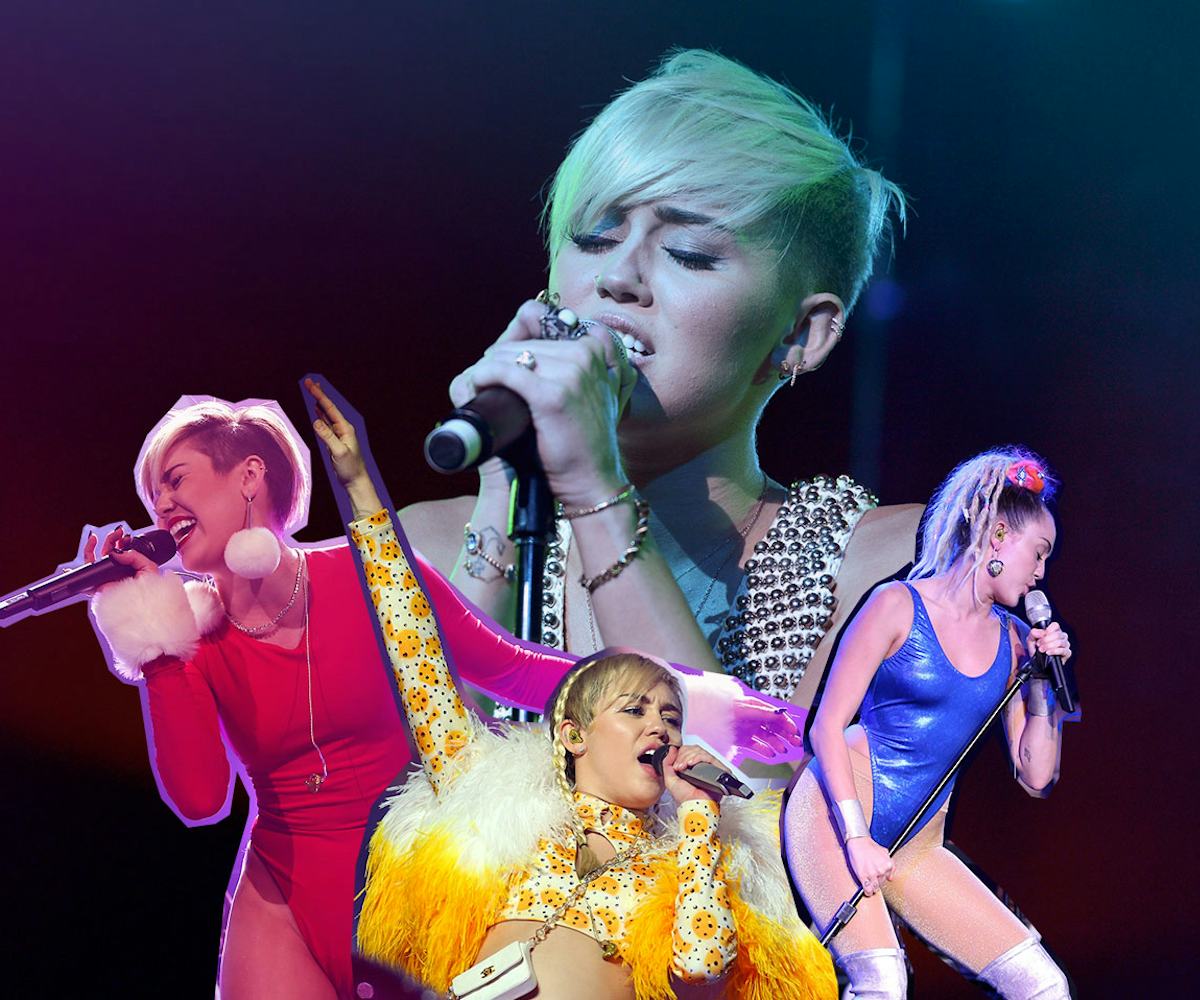 Photos by Tasos Katopodis; Jonathan Leibson; Paul Kane; Michael Kovac/Getty Images.
10 Times Miley Cyrus Proved She Can Sing
Too often, the showmanship of today's pop stars gets in the way of their undeniable talent. Don't get us wrong: We love a live show filled with bombast and music videos that push boundaries. But it's the live performances that tone the bombast back and truly inspire. Too often is Miley Cyrus accused of being untalented, a bad singer, and poor role model. Many long for the "old Miley" because the "new Miley" isn't the same. Well, an artist has every right to do what they want and change how they see fit. (Look to Miley Cyrus & Her Dead Petz as a prime example.) Cyrus' days of hair extensions might be over, but the talent she possesses is still very much the same as it was five or more years ago. So as a reminder, let's look back at 10 performances of hers that really wowed the crowd and reminded the haters of the talent they wished would come back. See for yourself in the pages ahead.
2011: The Gypsy Heart Tour - "Landslide" Cover
There's no equivalent for doing a double-take for sound, but you best believe listening to Miley Cyrus cover Fleetwood Mac's "Landslide" will make you do one. Cyrus' lower-range voice sounds like the moon sister to Stevie Nicks'. She floats through this cover, ethereal and bursting with magic. Of course nothing touches the original version, but Cyrus' is really quite good.
2012: The Backyard Sessions - "Jolene" Cover
A year before releasing Bangerz and premiering the "new Miley," Cyrus and her band filmed a series of cover videos in her backyard. Rolled out over a few months, The Backyard Sessions yielded many a fantastic cover, the most impressive of which is Cyrus' stripped-down version of "Jolene," originally performed by her godmother Dolly Parton. Cyrus performed the song live with Parton a few years earlier, but the solo, blues-inspired version of the song is entirely Cyrus' own. In the public's eyes, the cover reminded everyone that Miley wasn't just an average Disney star, but rather a young woman with an extensive music repertoire and a powerhouse voice.
2013: The Today Show - "Party In The USA"
Cyrus always had talent, whether or not people wanted to acknowledge it. In her Today Show performance, Cyrus completely reinvented her '09 hit into a rock hit. While it doesn't showcase her vocal abilities quite like the other songs on this list, Cyrus does give us hints of her now-signature grainy riffs.
2013: The Tonight Show Starring Jimmy Fallon - "We Can't Stop"
Jimmy Fallon has a lot of fun late-night a capella moments. Here, Cyrus bops through her polarizing first single off Bangerz. This was like a big middle finger to the people who longed for the "old Miley"; the "old Miley" never left, she just changed. Underneath the edgier haircut was the same voice that made Cyrus one of the most successful and intriguing ex-Disney stars. Sorry, Glee, but you'd be hard pressed to find another a cappella song talking about "dancing with Molly" and "trying to get a line in the bathroom" as endearing as this one.
2013: Saturday Night Live - "Wrecking Ball"
Many of today's most successful acts get a huge boost after performing on Saturday Night Live's famed stage. Coming off a controversial but exciting summer and the VMAs, Cyrus was at the top of her game when she took its stage in 2013. (She still is, to be quite honest.) This performance of "Wrecking Ball" brought the house down. She went on to perform the song a number of times after this, but the SNL rendition is truly a great moment for her. It's strong, controlled, and downright moving.
2013: BBC Radio 1 Live Lounge - "Summertime Sadness" Cover
Even though she released one of the century's most inventive pop albums a month before, people were more invested in Cyrus' personal actions and style than her actual music. In her Live Lounge session, though, Cyrus commanded everyone's attention once again with her performance of Lana Del Rey's "Summertime Sadness." Indulgent, raw, and sway-inducing, this may just go down as the best Lana cover on the internet.
2013: Z100's Jingle Ball - "Adore You"
Bangerz may have been all over the place in terms of genre, but hey, it was an album of bangers, and bangers know no genre. "Adore You" was one of the LP's standout ballads and highlights Cyrus' lower register wonderfully. Unless you saw her tour, hearing it live was a rarity. Thankfully, she added it to her Jingle Ball set list because this performance is a joy to watch and listen to.
2014: MTV Unplugged - "Don't Tell Me" x "We Can't Stop"
MTV's Unplugged series is an intimate way of highlighting the talent behind the glitz of many of today's biggest acts. Following the release of Bangerz, the still-bleached blonde Cyrus brought her unique brand of fun to the small stage, performing toned-down versions of her new album. She also got fellow provocateur Madonna to join her for a mashup of Madge's 2000 single "Don't Tell Me," off her outstanding eighth studio album Music. The pop-country vibe meshed well with Cyrus' certain twang and, like any good pop song, made peppering in "We Can't Stop" a seamless affair.
2015: Happy Hippie Presents "50 Ways To Leave Your Lover" Cover
The Happy Hippie: Backyard Sessions were a great reminder of Cyrus' talent as a singer. While her duet performances, like those with Joan Jett and Ariana Grande, were incredible, Cyrus really shined in her solo shows. One that stands out in particular is her cover of Paul Simon's "50 Ways To Leave Your Lover," which she originally performed on SNL a few months earlier. By putting her rich vocals and country music background center stage, Cyrus shows off her understated range. 
2015: A Very Murray Christmas - "Silent Night"
Though the Sofia Coppola-directed Christmas special was a bit of a downer, Cyrus' cameo was a delight. She sang through a medley of Christmas carols, but it's her "Silent Night" rendition that really highlighted her talent. It's a stunning and intimate performance; the way she goes from her head to chest voice still sends chills down our spine. If we're good this year, maybe Cyrus will gift us a Christmas album.