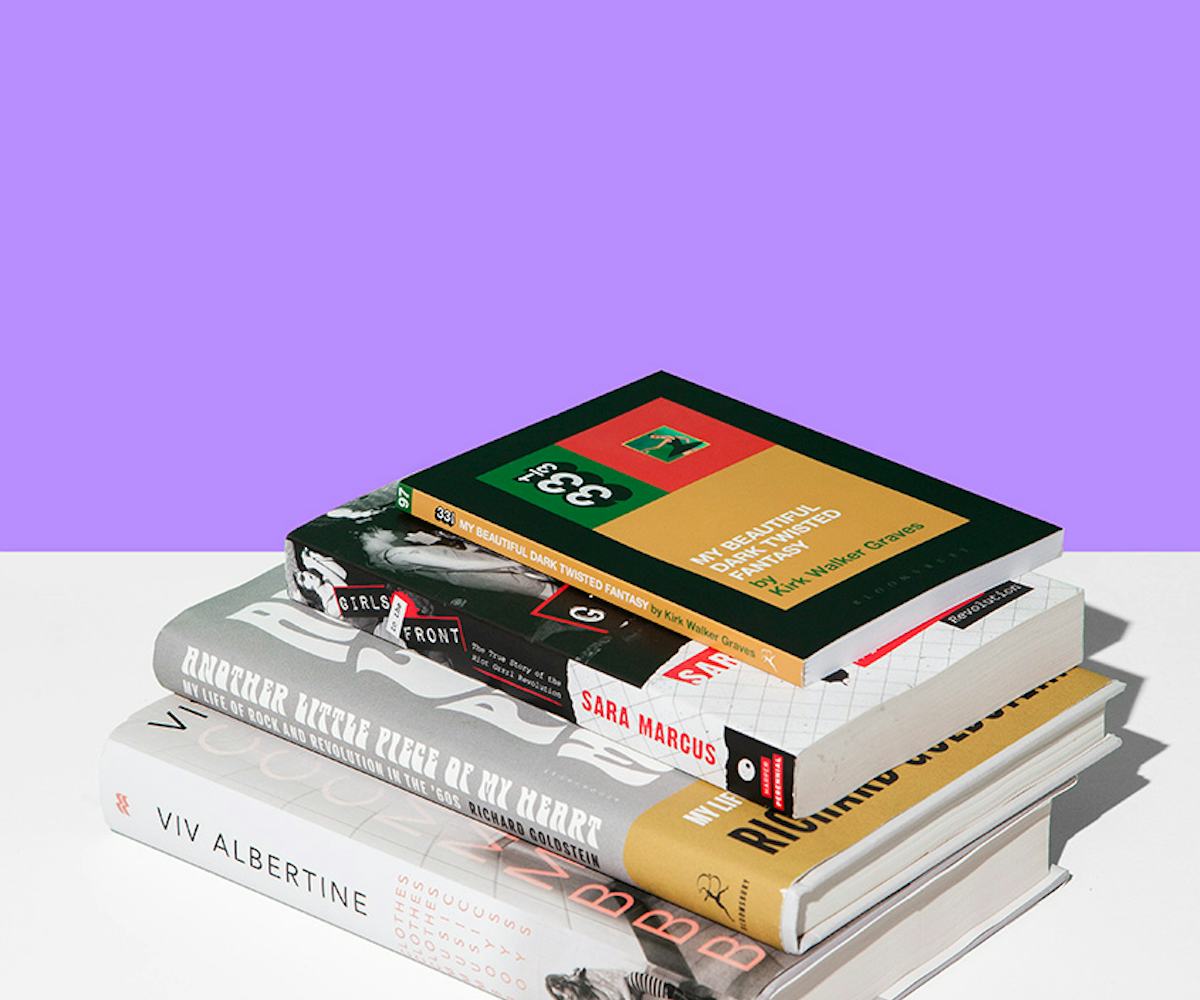 Photographed by Matthew Kelly
The Best Music Books to Read This Summer
read between the (musical) lines
Summer is the official season for music festivals in North America. Between Hangout Festival, Governors Ball, and the not-to-be-missed Pitchfork Music Festival, if you are anything like us, you're eating, breathing, and sweating music at this point (and Lollapalooza is yet to happen). While we're on that music-enhusiast boat, here are five music books that will make you a more well-rounded listener. 
Girls to the Front by Sara Marcus
During one of Bikini Kill's concerts, Kathleen Hanna stopped the show and screamed into her microphone, "All girls to the front! I'm not kidding. All boys be cool for once in your lives. Go back...back, back." Hanna did this because the violence at concerts during the hardcore-punk-grunge era in the '90s was through the roof—with many attendees leaving with bruises, fractured bones, and concussions. She thought if all the girls stood in the front together, they could protect themselves and each other. Marcus's historical account and analysis of the era, named after this event, is the feminist holy bible of the riot grrrl revolution, examining everything from how the movement started, and what key members were involved in it, to how it affected pop culture and the media, and, most importantly, women themselves. A must-read for any girl, no matter what feminist wave you're riding. — Jade Taylor, senior beauty editor
Girls to The Front, $14.99, available at Target. 
Another Little Piece of My Heart by Richard Goldstein
Veteran music journalist Richard Goldstein's memoir of life in the '60s takes you on an intimate journey: Music, sex, friendships, and Goldstein's part in the gay liberation movement are all there. Moreover, there are accounts of life-changing moments, such as watching Martin Luther King's "I Have a Dream" speech at the Lincoln Memorial, the student riots at Columbia, taking Susan Sontag to a disco for the first time, and dropping acid with Brian Wilson and the Beach Boys. His close relationships with Janis Joplin and Jim Morrison, and the shock of their untimely deaths, channel the reality of the fast times of the '70s, and how they came to an end. — Kelly Shami, designer
Another Little Piece of My Heart, $21.82, available at Wordery. 
Clothes, Clothes, Clothes. Music, Music, Music. Boys, Boys, Boys.: A Memoir by Viv Albertine
It might seem hard to imagine, but there was a time, not too long ago, when rock 'n' roll was an all-boys club. Long before the roars of Courtney Love and the riffs of Chrissy Hynde—even before The Runaways exploded on to the scene with "Cherry Bomb," there were punk-rock rumblings across the pond that would forever change the music game. In Clothes Clothes Clothes Music Music Music Boys Boys Boys Viv Albertine recounts her path into the pantheon of punk pioneers as a member of the seminal '70s band The Slits. Chronicling her relationship with Clash frontman Mick Jones, her first band, Flowers of Romance with a pre-Sex Pistols Sid Vicious, and her emotional journey all throughout. Albertine's memoir is as raw, real, and honest as punk rock should be. — Joseph Errico, fashion director  
Clothes, Clothes, Clothes. Music, Music, Music. Boys, Boys, Boys.: A Memoir, $21.13, available at Barnes and Noble.
Rolling Stones Fans by Joseph Szabo
Photographer Joseph Szabo's latest collection, Rolling Stones Fans, reminds us that before Coachella crop tops and Bonnaroo fringe, there was an entire generation of bearded and feathered bohemians zoning out to rock 'n' roll. All of the photographs in this stunning, black-and-white folio were taken on 35mm film during a particularly vibey 1978 Rolling Stones concert at JFK Stadium in Philadelphia. Szabo, whose career is dotted with blunt portraits of wild adolescence, depicts a distressed mix of wide-pupiled concertgoers in the book. Not to be missed is the grizzled guy in overalls who has fashioned a concert tee into a do-rag, or the young woman in a form-fitting shirt that proclaims: CONSENTING ADULT. These are our parents (I was named after Jagger—true story), and we should be proud! — Mickey Stanley, senior editor
Rolling Stones Fans, $20.73, available at Walmart.
Kanye West's My Beautiful Dark Twisted Fantasy by Kirk Walker Graves 
As Kanye West's place in American culture gets more defined by the minute (he is in Time's 100 Most Influential People list as of April 2015), Kirk Walker Graves's extended review of Pop Christ's most acclaimed album remains one of the best works of cultural criticism: Analyzing the meaning(s) of living in a social-media-driven world, West's album, My Beautiful Dark Twisted Fantasy, and his career building up to it, Graves draws singular commentary on West's art, and why he has come to be the ultimate narcissistic 21st-century representative of you, me, and everyone we know. — Busra Erkara, senior editor
Kanye West's My Beautiful Dark Twisted Fantasty, $12.21, available at Amazon.