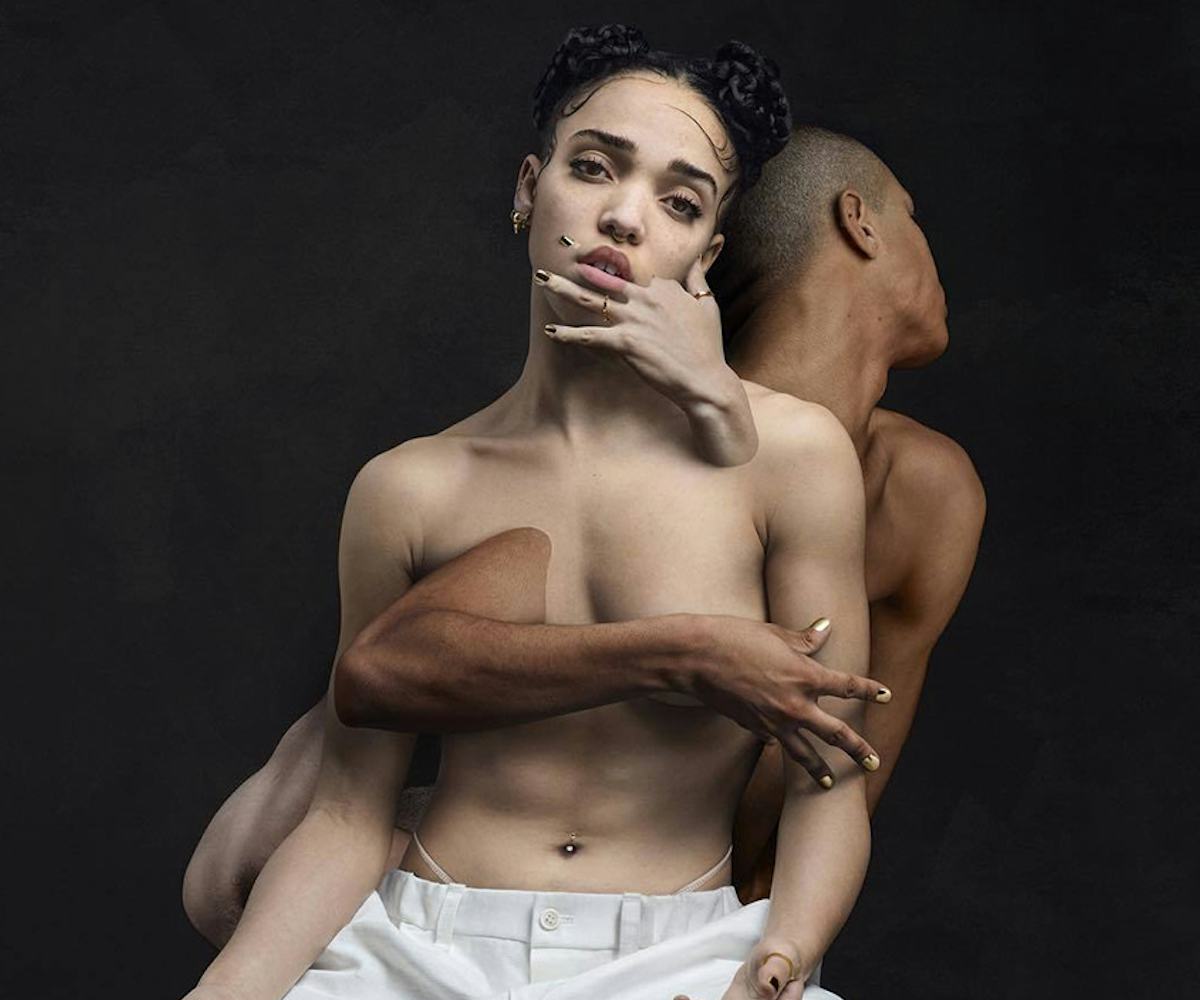 Photo courtesy of Young Turks
The 20 Music Videos We Couldn't Stop Watching This Year
press play over, and over, and over again
The musical days of MTV and VH1 are long gone, but YouTube and other video hosting sites have quickly filled their void, and as such, made the art of the music video more direct, sharable, and important for an artist than ever before. Where once you had to watch an entire countdown show just to see your fav's latest visual, you can now click a few times...et voilà! You've increased their watch count by one and inadvertently connected with the artist on a more personal level than you would have via television. Because of this, music videos aren't just about cool dance moves and flashy outfits anymore. Hell, people like Beyoncé and Kanye West are making entire albums out of them. They're politically and socially charged, and that's what makes this time so exciting.
This year spawned videos that the early-Aughts would've deemed too artistic. Now, thanks to Kendrick Lamar, FKA twigs, and others, the more boundary-pushing you can be, the better. Some of the best ones to come out of 2015 juxtaposed political statements with the glamour of a polished music video; highlighted an artist's variety of egos; poked fun at the media; brought back the flip phone. There were teasers for videos, countdowns, and other odd types of promotions that were unheard of a few years ago.
Keeping up with it all—let alone narrowing down 365 days of videos—was no easy feat. But one thing's for sure: The 20 videos ahead are among the top tier of prime music video making, and set the bar for 2016's roster pretty damn high. So let's look back one more time before we dive into the new year, where new, exciting projects await.
Sia, "Elastic Heart feat. Shia LaBeouf & Maddie Ziegler"
Though controversy surrounding the video prompted Sia to apologize to "those who feel triggered" by her choice to have Shia LaBeouf and Maddie Ziegler duel each other through dance, it doesn't detract from the video's deeply personal and highly powerful message. According to the singer, it's meant to show "two warring 'Sia' self states." Anguish, heartbreak, and fear all come to a head here, as LaBeouf and Ziegler bring to life a song about Sia's relationship with her father. To say this video is moving would be an understatement.
Taylor Swift, "Blank Space"
With over one billion views on YouTube/Vevo, Swift's "Blank Space" is yet another record breaker for the zeitgeist's current tally. It's Vevo's fastest video to ever break a billion, and that title is not without warrant. The Jonas Åkerlund-directed clip is a lush, stylized parody of Swift's middle-finger-to-the-media song. Swift pokes fun at her tabloid self, cavorts around with some serious arm candy, and looks primed to own her throne atop the charts. Think what you want about her politics and squad, but there's no denying the fun "Blank Space" packs.
FKA twigs, "M3LL155X"
FKA twigs is an extraordinary force of nature. She understands the power of sex, how to manipulate the body, and uses submissiveness to get what she wants. "M3LL155X" (a.k.a. "MELISSA") is the video companion to her new EP by the same name. NYLON's Leila Brillson called the 16-minute tour de force "an ode to sex" and she's right. twigs went full art house (by pop music standards) here and created something so carnal and hyper-feminine, it stuns you, and leaves you to deal with the afterglow on your own terms.
Janelle Monáe + Jidenna, "Yoga"
Shoot, we knew yoga was kind of sexual, but Monáe really went there. And if you can't handle it, get off her areola.
Adele, "Hello"
"Hello?" a familiar voice sounded. "It's me." And just like that, Adele was back from her near half-decade long hiatus—save for "Skyfall." Her record breaking song (and album) dominated the last part of 2015. The Xavier Dolan-directed video for 25's lead single, filmed on an IMAX camera, is a sweeping reintroduction to the British chanteuse and ushered in her new era beautifully. It's a shame people got hung up (no pun intended) about the flip phone's cameo, but hey, at least it got people talking about one of the best songs to ever come out of the past 15 years.
Lana Del Rey, "Music To Watch Boys To"
Lana Del Rey makes gorgeous, cinematic music. Lana Del Rey also makes gorgeous, cinematic music videos and this one, off Honeymoon, might be her best, yet. A strong sense of femininity pervades the entire piece, one that makes it known that Del Rey is in the driver's seat of her own imagination.
Baauer, "GoGo!"
Sex in a car? Been there, done that. But sex in a car that's falling through the sky? Never been there and definitely have never done that. This video has, though, and it's f*cking nuts. 10s across the board.
Kendrick Lamar, "Alright"
It's a bird! It's a plane! It's Kendrick Lamar rapping through the sky! The Colin Tilley-directed video, for one of Lamar's more standout tracks, is visually arresting, and, though the ending is a bit jarring, cloaked in positivity. We all gon' be all right!
M.I.A., "Broader Than A Border"
Spoiler alert: M.I.A. is on this list twice. "Broader Than A Border" was the first track from her Matahdatah project and incorporates songs "Swords" and a Matangi track called "Warriors." The footage of the African dancer might even be the stuff her label banned due to "cultural appropriation." What is known is that this video, like most M.I.A. tracks, will floor you.
Nicki Minaj and Beyoncé, "Feeling Myself"
Ah, Tidal. If ever there was a reason to subscribe to the premium streaming service, a video as good as "Feeling Myself" would be it. (Rihanna's impending new album would be another.) Filmed during Coachella, Bey and Nicki reign over the entire, sexually-saturated video. Beyoncé is a force to be reckoned with and Nicki's choreography provides enough dancing-on-my-own, in-the-mirror fodder for the coming year. What's more, they genuinely seem to be having a blast. For once, a video touting strong female friendships over one that pits two women against one another. We'll cheers a burger over petty feuds any day.
Disclosure, "Magnets feat. Lorde"
You've never seen Lorde like this before. The "Royals" singer embodies her femme fatale character perfectly here, as she traverses around a luxe Los Angeles mansion helping a woman get back at her abusive partner. The song itself is a hypnotic push and pull of a track, and the video does well to amplify it. Vengeful Lorde is compelling as hell and the fashion here is just so…good! It's so good, you guys. Watch it once and you'll know.
Rihanna, "Bitch Better Have My Money"
Bad Gal Riri lived up to her name with this mini-movie of a music video. Girl is out for revenge and when Rihanna wants something, she's going to get it. This blood-soaked, kidnapping tale of debt caused much controversy over its depictions of violence and torture. (The "that's not very feminist of you, Rihanna" card was pulled on more than one occasion.) But did Rihanna care? Nope. This video made evident that Rihanna's going to do what Rihanna's going to do. She doesn't need a squad or whatever to get what she wants. She's an independent woman, thriving on her own creative instincts. Role model or not, the girl makes a strong case for owning your image. Now that Riri's got her money, though, she better have that album soon. Time's a-ticking.
Tinashe, "All Hands On Deck"
Tinashe's had quite the year, but all politics aside, she has yet to release a disappointing song. She's a bop maker and "All Hands On Deck" is a grade-A kind of bop. The video is hypnotizing, too. Come for the track; stay for the choreography. And if you happen to memorize said moves, let Lena Dunham know. She's been waiting since April to learn.
Tame Impala, "The Less I Know The Better"
On paper, a video about a gorilla named Trevor sweeping a high school girl off her feet while another boy, who recently performed cunnilingus on her, watches, sounds nuts. But it's 2015 and Tame Impala went there. "The Less I Know The Better" is one of the most sex positive, feminist videos to come out this year. Not only is it brilliantly directed by CANADA, it shows a girl in control of her own sexuality and pleasure. NSFW, sure, but required viewing for all.
Jack Ü, "Where Are Ü Now feat. Justin Bieber"
Putting all of one's eggs in a basket is never ideal, but it's pretty safe to say Jack Ü's song with Justin Bieber jump started pop's enfant terrible redemption course. Skrillex and Diplo let fans go wild with paint and pens on photos of Bieber's face, and the result was a stylistically jarring video that exposed Bieber to vulnerability and the very real reality of celebrity objectification. When cut with some soft-lit dance scenes featuring no one but the Beebz, the message is clear: Justin Bieber can take the punches. Now the real question is, are we ready to let him in again?
Drake, "Hotline Bling"
Turtleneck sweaters, dad dance moves, and the nostalgia of actually calling someone on the phone—Drake's "Hotling Bling" was made to be a meme. All jokes aside, the video is pretty baller. It's a solid hat tip to the time Apple ads featured silhouettes of dancing bodies against boldly colored backgrounds. If you didn't know the Champagne Papi was all about that Apple music life, you do now.
Charli XCX, "Famous"
Our relationship with technology and connectivity is astounding and, unfortunately, inescapable. (Detox all you want, but when that deadline starts creepin' up, you're going to want smartphone and e-mail capabilities like you want water.) We're at a weird place where we critique our habits, but don't do much of anything to change them. Charli XCX's video for "Famous" shows the perils of our plugged-in lifestyles, but takes the pessimistic route and doesn't offer much of a solution. I guess it'd be hypocritical, seeing that most people will be consuming her video on some sort of device that's connected to the Internet. Oh well, at least we're aware of the dangers. Let's blog about it, shall we?
Missy Elliott, "WTF (Where They From) feat. Pharrell Williams"
She's baaaaaaack! That's right, y'all. Missy Elliott finally made her triumphant return this year with "WTF (Where They From)" and skipped no beats in doing so. The video is everything a Missy Elliott video should be and more. There's high-octane choreography, bonkers fashion, a tiny dancing prodigy, and some marionettes just 'cause. "WTF (Where They From)" shows her impact is still strong and that you don't need fancy gimmicks to get people talking. Just throw some imagination in there and—BAM—you've got yourself one of the best videos of the year. Boy, oh boy it's good to have her back.
Grimes, "Flesh without Blood/Life in the Vivid Dream"
Praise be to Grimes for not taking sh*t from anybody and doing her own thing, because she's a magician and what she puts out is always extraordinary. Our first real taste of her stellar album, Art Angels, came in the form of the two-part video, "Flesh without Blood/Life in the Vivid Dream." Claire Bocher embodied various alter-egos, oscillating between vanity, greed, wrath, and more. (She self-directed the project, too, which makes it extra impressive.) It took a scrapped album to get to this point, but man are we thrilled with the end result. Alluring and enigmatic, "Flesh without Blood/Life in the Vivid Dream" is an adventure world that's hard to leave once inside. But really, who wants to when it feels this good?
M.I.A., "Borders"
Rounding out our list is M.I.A.'s self-directed video for "Borders," another song off Matahdatah. It's rife with political commentary, the most pressing one being refugees. She joins the group climbing wire fences and in crowded, tiny boats. As she sings acid-tongued lyrics, refugees assemble into a human pyramid/ark-type of structure. If that's not enough to drive her message home, M.I.A.'s choice to rock a Fly Emirates-inspired shirt reading "Fly Pirates" will.