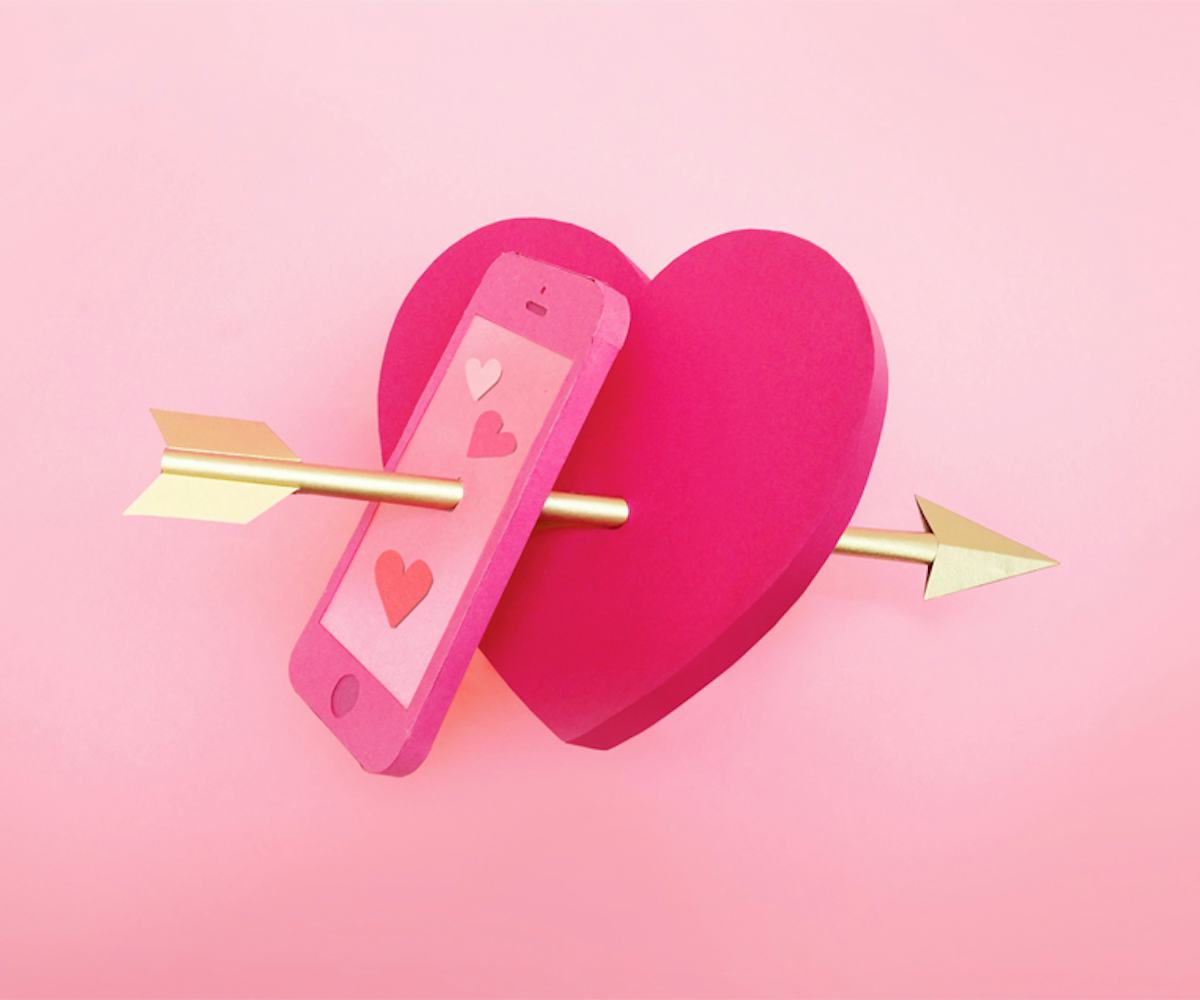 illustration by ollanski
5 rad new dating apps you haven't heard of yet
the next gen of dating is here.
Finding a soulmate can be hard, but dating doesn't have to be. With the swipe of a finger a multitude of potential matches and—lets face it… internet stalkers—passes right by your eyes. The intake of so many faces can feel daunting and depressing, but there are a new batch of apps that can actually make the endgame seem worth it. Though we all know the basics: Tinder, OKCupid, Grindr, Match.com, here's a short list of entertaining alternatives that might just match you with the lover that'll have you swiping right.
Do you have that friend who is constantly trying to introduce you to their friend-of-a-friend's-friend? Hinge helps you avoid awkward introductions and uses your Facebook network to find you someone that isn't a total stranger.
How it works
: Users sign in through Facebook, and once a day you'll receive small batches of potential matches to pass on or like.  Liking someone will land them in your queue, and if they like you back you can begin to chat.
Justin McLeod, Hinge CEO and founder says, "The concept of meeting naturally, through your existing social circles, just as you would serendipitously at a dinner party or wedding, is something that has really resonated." Instead of connecting users through geo-location, the app connects socially only through second or third party friendships.
Likelihood for love
? Despite the thin selection, at least you already know that you have some people (and thus, perhaps, some interests) in common. 
Good things come in threes. Three-piece suits, Destiny's Child, long weekends. In sexual equivalence, a threesome is the ultimate…
three
, and with the emergence of the app 3nder, it's now easier than ever to satisfy those
ménage a trois
fantasies.
How it works
:  Users will log on as a couple or a single person, and swipe up and down to find matches nearby. The app discreetly connects through Facebook for profile pictures and age. A personalized list of desires also helps users find matches with similar interests, ranging from from vanilla to
50 Shades Of Grey
.
For $1.99 you can hide from Facebook friends and family—eeek!—who might also be using the app. London based founder Dimo Trifinov also has a social initiative in mind. He hopes the app will "make our society more open by accepting the open-minded and their desires."
Likelihood for love
? You aren't really using this app to find romance, are you? 
One is all you need, especially when you are longing for love in the Big Apple (or any large, intense city). With an overwhelming pick of potential suitors, Coffee Meets Bagel aims to simplify dating.
How it works
: Once again obtaining information through Facebook, each day at noon the app presents one match (a "bagel", if you will). You then decide to eat—figuratively—the bagel or pass in hopes for a better flavor tomorrow. When passing, you can give a reason such as "too many selfies," so the app can better understand your preferences.
One match a day takes patience and a romantic sensibility. Dawoon Kang, a co-founder, assures that users find the app's simplicity refreshing. "We hear from our members all the time how much they appreciate getting one person a day because it forces them to consider each match seriously instead of treating it like another piece of screen!" she says. The moral of the app? Quality, not quantity.
Likelihood for love
? It depends. Do you really know what you want, or is window-shopping half the fun? 
Sorry, ladies, this one is not for you. Sure, there are dozens of gay dating apps on the market (after all, Grindr was one of the first location-based apps available) but SCRUFF offers an outlet for the burlier chap with the ever-present 5 o'clock shadow.  
How it works
: After creating a profile with stats, a picture, and tribe association (jock, twink, etc), users connect with guys nearby by sending a "woof" or a message. Potential "dates" are not limited to a close radius. An international map allows users to see other guys in different areas to connect with as well.
"While the guys do tend to lean physically SCRUFFier,"says Johnny Skandros, Founder of SCRUFF, "we feel that SCRUFF is more about fostering an inclusive community than a look." A new self-service tool also allows non-profits that benefit the LGBT community to advertise for free. If that doesn't make your chest hairs stand up in excitement, I don't know what will. 
Likelihood for love
? Well, if bears are your thing, you'll be in heaven. 
Queen bee, hive, male workers, honey: The references are clear. From Whitney Wolfe, the female co-founder of Tinder, comes Bumble, an app that puts the power directly into the hands of the gals, in a Sadie Hawkins-type way.
How it works
: In the usual Tinder fashion, users swipe to connect with a match. A mutual connection adds the men to the ladies "hive." She then has 24 hours to make a move by sending a message, or else the match is lost.
Strong, confident women are kinda our M.O., and Bumble takes the crown off Tinderella and on to the Queen Bee. Bumble's Samantha Fulgham promises, "we are changing the game!" Start downloading; you never know whom you may stumble upon. No joke, I swiped right on Clay Aiken the other day-—so there's that.
Likelihood for love
? Girl power, Tinder-inspiration, easy use...sounds exactly up our alley.