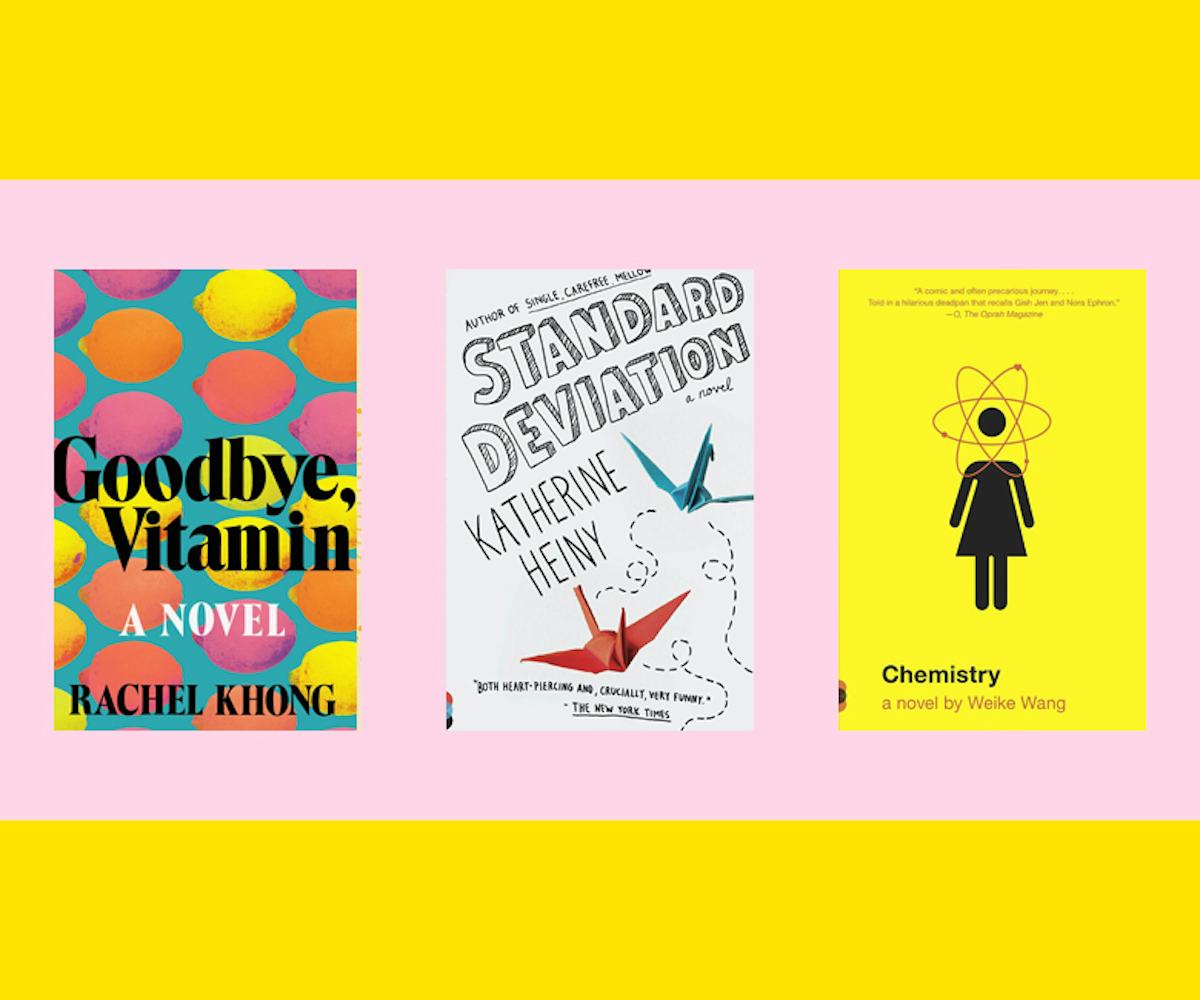 10 Great New Paperbacks To Read Right Now
Throw 'em in your bag and go
I love cracking open a hardcover as much as the next person, but they can be... kind of a lot to carry around as you run from place to place, inevitably late to wherever you're going because you... left late. (That's not just me, is it?) Plus, hardcovers are the kind of books that beg to be kept in pristine condition; I feel guilty scribbling notes in the margin and dog-earing pages as I read. But a paperback? I constantly underline my favorite passages and draw little stars by favorite lines. Oh, and many of my paperbacks have wavy, warped water lines along their bottoms from all the times I've taken them into the bath.
All to say, why not treat yourself to a stack of paperbacks, the workhorse of your bookshelf, today? To help get you started, here are 10 of our favorite new ones, which are, not coincidentally, 10 of our favorite books that came out in the last year or so. We've recommended them all before, but our love for them has only grown stronger. 
Chemistry by Weike Wang (available now)
In her debut novel, Weike Wang perfectly captures the interior life of a woman whose life seems perfect on the outside (or, at least, what we've been taught to believe "perfect" looks like). She is in a relationship with a man who loves and wants to marry her; she is enrolled in a graduate program at Harvard; she is doing all the things to make her immigrant parents proud. And yet, it's not enough. Or rather, maybe it's too much. Either way, she starts rejecting this life she has built—she ends her relationship, she drops out of her program, she comes to terms with her complicated relationship with her parents, and she learns who it is she wants to be. While this book tackles emotionally and psychologically weighty topics—and does so with great sensitivity and skill—it's also full of sharp doses of humor, empathy, and love; in short, it covers the spectrum of emotions that all humans experience, and does so with a unique style and grace. I read it in one afternoon, underlining things on almost every other page, and I bet you will, too.
Standard Deviation by Katherine Heiny (available now)
While there are plenty of novelistic explorations of what a functional marriage should be like, there are far fewer of what a functional divorce should be like. No doubt this is because, at least in part, "functional divorce" seems something like an oxymoron, and is one of those concepts that makes more sense figuratively than actually. But in Standard Deviation, Katherine Heiny offers a fascinating, often hilarious look at that most strange of love (or like? or... dislike?) triangles—that of a wife, husband, and his ex-wife—and, along the way, examines what it means to be a parent to a child whose way of being you don't fully understand. Heiny deals with potentially heavy subjects, and yet the humor woven throughout the book helps make it clear that, no matter how serious the things we're dealing with in life, it's always helpful to examine them from varying perspective, to find the joy in the most tedious of things, the hope where others might see only despair, the love where otherwise you might feel exhaustion.
Pachinko by Min Jin Lee (available now)
This brilliant epic takes readers back to early-20th-century Korea, where a young woman rejects the powerful, duplicitous father of her unborn child in favor of another man, a good-hearted minister, with whom she moves to Japan and has another child. The lives of all these people are forever intertwined and tangled up through their own actions and because of the complicated realities of the world around them. Lee deftly weaves a compelling and intimate story of family drama, but she, also, perfectly portrays the complex geopolitical dynamics taking place throughout this time in Japan and Korea. What readers are left with is a stunning example of how the exigencies of fate—of time and place and the powers that be—wreak havoc on individual lives; there are no easy answers about how to live in a world that cares little for your happiness, but Pachinko offers proof that, though the universe may be indifferent to our sorrows, it is still possible to create a life for yourself and your family, and to carry on, no matter what obstacles lay in your path.
Sorry to Disrupt the Peace by Patti Yumi Cottrell (available now)
Thirty-two-year-old Helen is aimless in the way so many young, over-educated but under-employed, women are; she has things to do but still feels purposeless. Direction comes to her life from a tragic place, the news that her adoptive brother has killed himself. Helen sets about figuring out why he did so and travels from her home in New York City to Milwaukee, where she grew up and where her estranged family still lives. Helen is looking for an answer as to why someone would want to stop living, and as she searches for clues to her brother's misery, she uncovers hidden truths about her childhood, family, and herself. Cottrell's novel—a truly remarkable debut—is, as I wrote when it first came out, "a poignant, profoundly empathetic look at the things that might drive us toward death, or toward life." It's also one of the most darkly funny books you'll ever read.
Startup by Doree Shafrir (available now)
When I interviewed author Doree Shafrir last year about her hilarious, ever-timely novel, I got to lead off with probably my favorite interview question of all time: "Why are men so bad?" It's a question to which there remains no easy answer, but it remains as relevant now as it was then—if not more so. Startup is filled with bad men, the kind who are familiar to anyone who has ever worked in an office, or lived in New York City, or... met a man. It's the story that takes place in the spheres of tech media and start-ups and so is filled with the kind of guy who I like to think of as a "devil in a J. Crew blue gingham shirt"; you know, the kind who goes to morning raves and speaks in tech jargon and is so unused to getting his own way that he doesn't understand why it might not be appropriate to send a dick pic to a woman who's his junior at work. It's a smart, hilarious look at male privilege and the ways in which women are trying to combat it, however imperfectly and with varying degrees of success. But, hey, we're all in the same late stage capitalism boat, so we might as well read about it and laugh and cringe together.
What It Means When a Man Falls from the Sky by Lesley Nneka Arimah (available now)
One of the most provocative, beautiful story collections I've ever read, What It Means When a Man Falls from the Sky contains surreal, moving meditations on the complexities of family life, fertility, and loss. Writing about this book last year, I noted, "Arimah's dazzling debut collection... delivers stunning stories revolving around family and romance, and love and war, all told with an incredibly perceptive point of view and lyrical prose that still maintains surgical precision in terms of getting to the heart of complicated matters." And as exquisite as each of her stories are, what she is able to do on a sentence-by-sentence level is truly stunning, each line—each word—is something to pause at, roll around your mind as you would a precious gem between your fingers, marveling at its beauty and strength.
Marlena by Julie Buntin (available now)
Ah, this novel is one that I have pressed into the hands of friend after friend in the year since its release. It offers one of the most affecting, accurate portrayals of the kind of intense female friendship that is far more of a romance than anything else. Julie Buntin so beautifully captures the physicality of teenage girlhood, the ways in which we are tangles of limbs and hair, figuring out how to move through life in more ways than one. The book centers around Cat and her doomed best friend Marlena, who are growing up poor and surrounded by bad options in the northern Michigan woods. Perhaps, though, it is more accurate to say the book—and Cat—orbit around Marlena, who is one of those larger-than-life figures that so many of us happen upon in the most formative years of our lives. Marlena is the friend who embodies the fierce desires most girls think they must tamp down, reject in order to live more normal lives. And while it is rarely ever sustainable to burn as brightly as we do when we are in the wildest days of our youth—and, in fact, it is not sustainable for Marlena, whose drug problem and lack of potential economic opportunities prove too much for her—it is still important to acknowledge the power that those days hold. Which is why, as I wrote last year: "For anyone who has ever been a teenage girl and loved and lived a little too recklessly for their own good, Marlena will resonate on a cellular level, unlocking feelings you might have forgotten you'd ever had."
American War by Omar El Akkad (available now)
I know what you're saying: "A second American Civil War? What are the chances?... Oh, right. Pretty good actually." Perhaps the most haunting thing about Omar El Akkad's debut novel is the fact that, though it's speculative fiction and set 60 years into the future, it seems plausible as a reality just a few years from now, because, well, things are bad. And while I tend to shy away from dystopian fiction that just feels ~so relevant~, El Akkad never panders to some easy idea of what could go wrong with this country, but rather, deeply engages with the way things are currently foundationally flawed, and how worrisome that is when it comes to moving forward. The book centers around a young child, Sarat Chestnut—whose experience as a refugee means that she is constantly on the move, whether it's because she's escaping climate change-ravaged landscapes, going to a detention camp, or acting on secret missions—who serves as our guide through a time of war, destruction, and ruin.
Goodbye Vitamin by Rachel Khong (available now)
What could have been an altogether impossibly sad premise—a young, unemployed woman goes home after a traumatic breakup to live with her parents and help out as her father's dementia worsens—is instead a beautiful, hilarious look at family bonds, and the constantly evolving state of love and shared memories. As I wrote in an earlier review, Goodbye, Vitamin "manages to subvert any expectations you might have about such a sad premise and take you on a provocative journey toward understanding the complications of love, both familial and romantic. It's poignant and compassionate, accurately demonstrating the ways in which we struggle to maintain our composure even when we're sure we're falling apart on the inside. Khong's insights into our relationships with our parents, our partners, and ourselves are profoundly moving, and the ending scene left me in tears—a condition that only stopped so that I could immediately text everyone I know that they had to read this brilliant book."
Sing Unburied Sing by Jesmyn Ward (available now)
Spanning both the course of a couple of days and several generations of a Mississippi Delta-based family, Sing, Unburied, Sing centers around 13-year-old Jojo as he and his toddler sister, Kayla, leave behind their beloved grandparents, Mam and Pop, and accompany their drug-addicted mother, Leonie, to pick up their father, Michael, at Parchman, the northern Mississippi prison where he's been incarcerated for the past three years. Though reminiscent of other epic Southern journey novels, notably William Faulkner's As I Lay Dying and that other archetypal road trip narrative The Odyssey, here the monsters are sickly sweet-smelling white men and women, whose inescapable allure lays not merely in the pleasures they offer, but in their own imperviousness—to punishment, yes, but also, seemingly, to time itself. Their power resides beyond the realm of consequence; it exists outside of recent positive developments meant to combat things like institutional racism. Their power laughs in the face of things like social progress. As one characters notes about the injustices of the world, "Sometimes I think it done changed. And then I sleep and wake up, and it ain't changed none."
And yet this story remains one of hope, a testament to the ways in which we learn to heal each other, no matter how imperfect the world or how much tragedy strikes our lives. It's emblematic of how we must work to live within something bigger than ourselves, to be our best no matter how wild are the woods around us, no matter how easy it is to get lost. It's a love that shows how interdependent we all are on one another, and how that isn't a bad thing; or, in the words of Mam, it's a way of knowing none of us are alone, "because we don't walk no straight lines. It's all happening at once. All of it. We all here at once."
NYLON uses affiliate links and may earn a commission if you purchase something through those links, but every product chosen is selected independently.