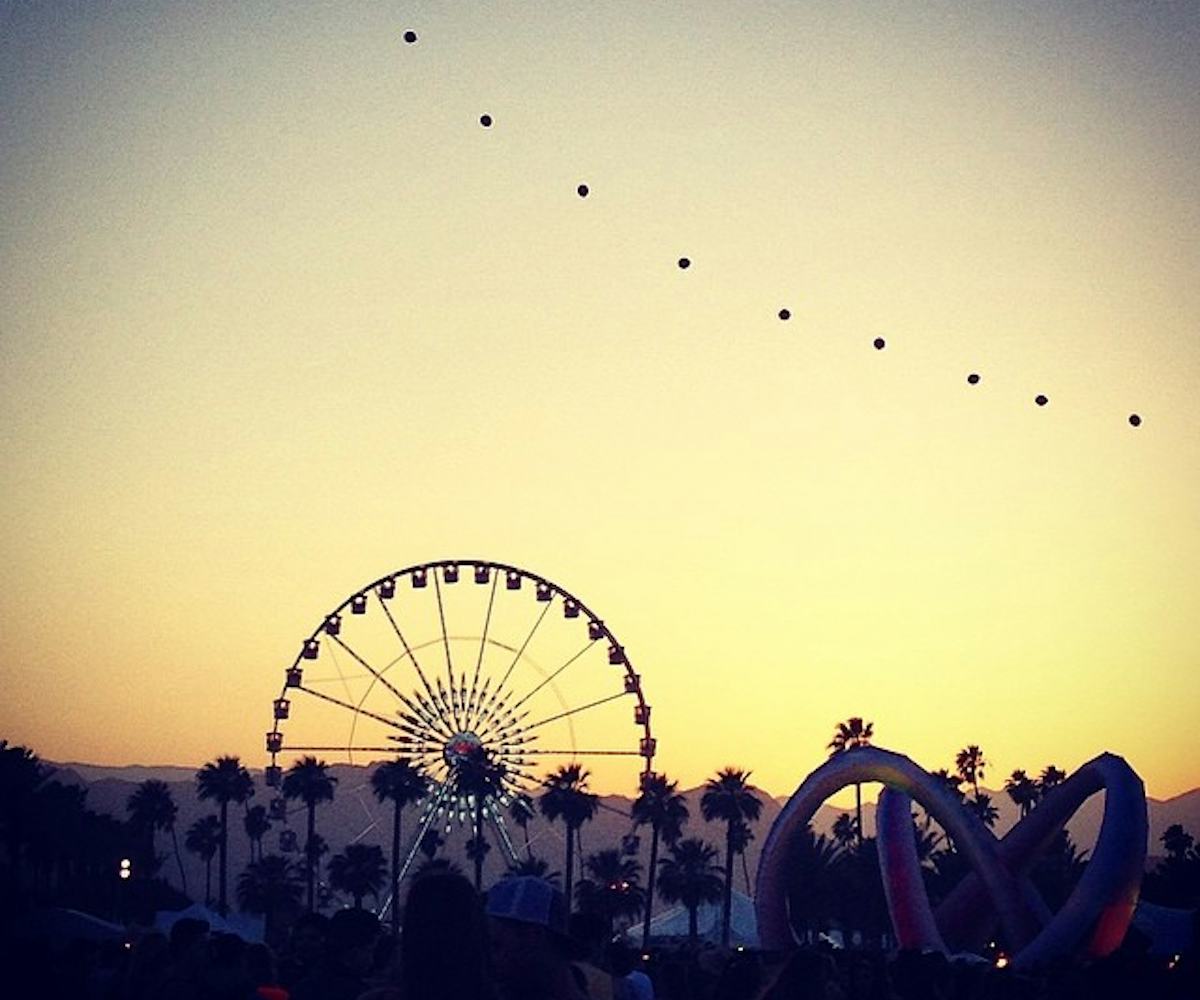 the ten coolest things about coachella
our fashion market director shares her favorites from weekend one.
This past weekend at Coachella, the sun was hot and the nights were cold, as is often the case in the desert, and the wind was just as turnt up as the crowds. Dust storm aside, the jam-packed outdoor festival was great this year, with enormous glowing art installations, top notch food, and of course awesome music. Festival goers took street style to the next level, rivaling the elaborate outfits worn during Fashion Week--and when the sun went down, there were too many thumping parties to attend just one. These are the ten coolest things about my weekend spent hanging with festival wear brand This is a Love Song:
1. POOL PARTIES - Pools are #veryrare in New York City so I am easily excited at the prospect of chilling in and around them. Luckily, during the festival they are the centerpiece around which all the daytime parties are thrown. Adorable inflatable toys and solid DJs are a definite bonus.
2. OVERALLS - Never have I seen so many cool ways to style the '90s classic as I did cruising around the festival. Like cutoffs, overalls have now become synonymous with festival style and it doesn't look like they'll be going anywhere for a while. Even up and coming Chicago favorite Chance the Rapper preformed his set wearing a pair.
3. CAMEOS - This was the season of the music cameo. Busta Rhymes, Puff Daddy, Nelly, Diplo and Gwen Stefani (!!!) made guest appearances during Pharrell's performance alone. Justin Bieber showed up at the aforementioned Chance show, Beyonce danced with sister Solange, and Jay-Z joined Nas onstage for a very memorable East Coast hip hop moment.
4. ILLMATIC TURNS 20 - Nas performed Illmatic on Saturday night and celebrated the record's 20th anniversary with a brunch and screening of Time is Illmatic, which debuts at Tribeca Film Festival. At the show he reminded his fans that the album originally came out on cassette tape, now a relic, which speaks to the lasting relevance of the legendary record.
5. LORDE'S PURPLE LIPSTICK - Lorde performed crowd favorite "Royals" wearing all white, punctuated with the perfect vampy purple lipstick. Counting down until we can finally buy it in her MAC collection this June. 
6. FRESH GREEN COCONUTS - What is more refreshing than sipping the water from a fresh coconut through a bendy straw on a blistering day in the sun? Nothing. They were available for the bargain price of $4 at the festival food stands.
7. WHERE IS MY MIND - Every time I hear The Pixies play this song, I lose mine for sure. On Sunday I didn't know whether to stage dive or cry tears of nostalgic joy.
8. CARNIVAL GAMES - A friend of mine won the prize bear in all three colors at skeeball horse race and our beauty director Katie swept me at the watergun balloon challenge. Lack of skills aside, I live for carnival games-- so the NYLON x Olay Fresh Effects Neon Carnival was obviously my favorite party of the weekend. Plus, how can you resist a good ferris wheel pic?
9. BANDANAS - When the winds picked up Saturday night, everyone tied bandanas around their faces, bandit-style, to protect from dust. Afterwards they pulled them down around their necks which I think is pretty stylish sand storm takeaway. Luckily I remembered to pack mine! During the day, I like to dip one in water, twist it into a short rope and tie it around my neck to keep cool.
10. RETRO FIFTIES - The city of Palm Springs, in which most of the hotels are situated, has this amazing time capsule appeal with vintage cars, classic signage and tons of mid century architecture. The Aloha Hotel, where I stayed, was a true relic from the fifties. You can get a sense of the retro vibes in my short video.