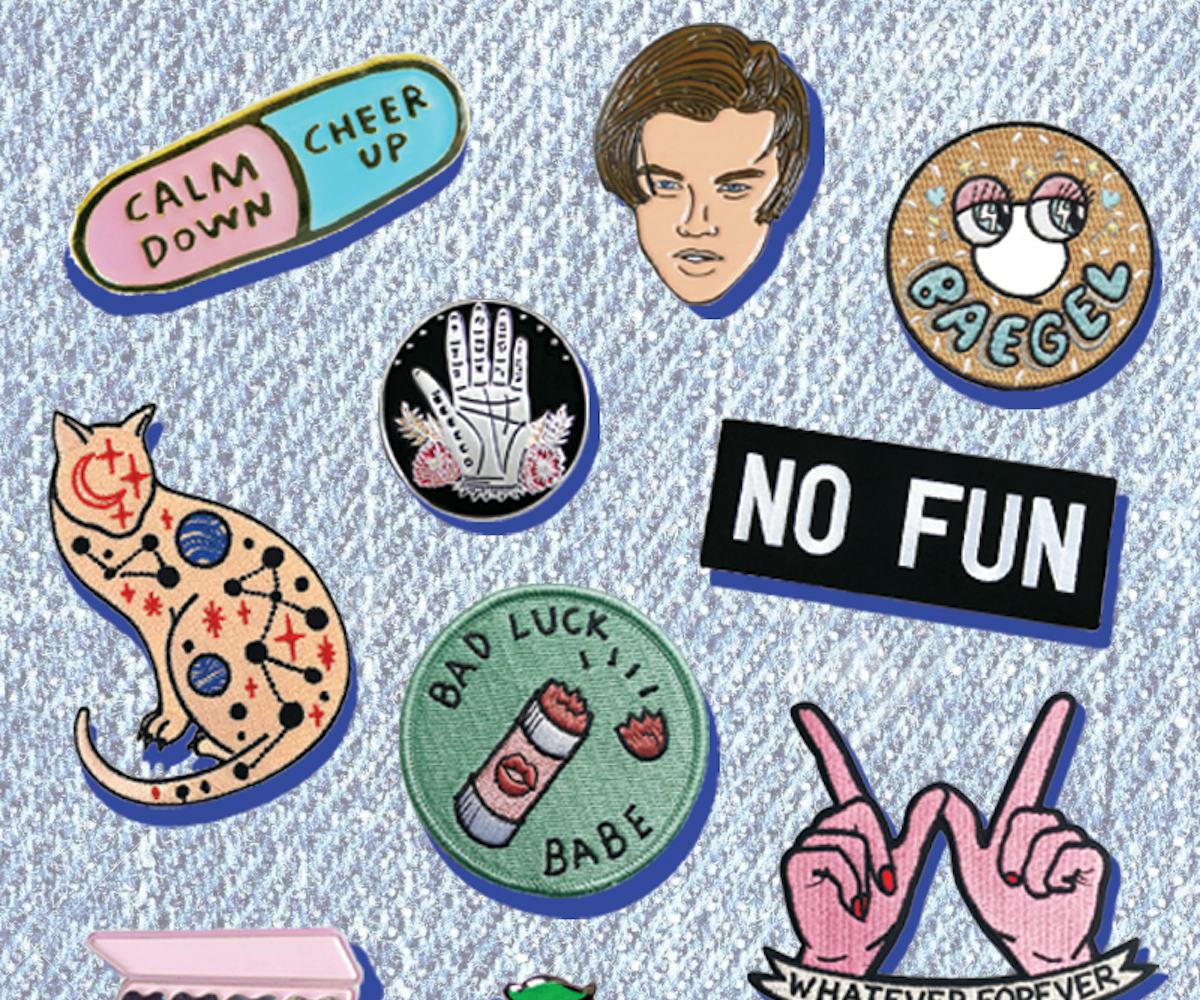 The 12 Best Places To Snag The Coolest Pins And Patches
Your guide to our favorite artist-run shops
Long gone are the days of us wearing our denim jackets—or anything really—plain and simple. After all, what better canvas is there than our own everyday staples? To help out with that, today's most talented young artists are making their artwork much more accessible by customizing with pins and patches to use on said canvases. 
We rounded up our favorite places to shop online at for the coolest pins and patches, so you can get ready to deck out all of your fall jackets, totes, and more. There's no better feeling than making something your own by covering it with things that really speak to you. Whether it's Leonardo DiCaprio's handsome '90s mug or a friendly reminder to "cheer the fuck up," find something great at one of these 12 awesome shops and really jazz up your gear.
Click through the gallery below to read about these artist-run websites, and shop our favorites from each.
Tuesday Bassen
Tuesday Bassen is a Los Angeles-based designer and illustrator. Her work is sold in the form of prints, home goods, tees, and more. However, we can't help but fall in love with her adorable pins and patches, which were actually among the many designs knocked off by a certain fast fashion retailer. We'll be channeling our love for bagels (and baes) this fall with the "baegel" patch, for sure.
Tuesday Bassen, Baegel Sticker Patch, $10, available at Tuesday Bassen.
AdamJK Gift Shop
Adam J. Kurtz is a Brooklyn, New York-based designer and illustrator that embraces the world with an optimistic, yet somewhat dark, sense of humor. He's collaborated with brands such as Urban Outfitters and Strand Bookstore, putting his drawings on everything from mugs to tote bags, in addition to a number of pins and patches. How could you not "cheer the fuck up" at the sight of this pin?
AdamJK, Up/Down Enamel Pin, $10, available at Adam JK Gift Shop.
Leila + Olive
Leila + Olive is a one-woman label that features the mystical illustrations by designer Nicole Rallis. Her pins, patches, and scarves show her affinity for all things witchy, botanical, and magical.
Leila + Olive, Palmistry Lapel Pin, $14, available at Leila + Olive.
No Fun Press
No Fun Press is a Toronto-based lifestyle and accessory brand. While they claim their aim is to create pieces that noticeably increase the level of "bad vibes" in and around your general vicinity—creating pins, patches and more reading phrases like "ready to die" and "anti-you," we're sure they're just kidding. We can't deny how fun this "no fun" patch actually is to wear.
No Fun Press, Embroidered Patch, $5, available at No Fun Press.
Sick Girls Official
Sick Girls Official is a Toronto-based online shop that sells everything from prints and clothing to accessories, showcasing the artwork of the founders, freelance illustrators Natalie Watts and Fox Xoft. Their sometimes tongue-in-cheek humor is offset by their typically soft, pastel color-palette.
Sick Girls Official, Bad Luck Babe Patch, $8, available at Sick Girls Official.
Laser Kitten
Laser Kitten is the work of Los Angeles-based creative director Marisa Ravel. The shop offers clothing and accessories that take heavy influence from art, pop culture, and the '80s and '90s. Ravel also collaborates with other artists to bring you unique, exclusive pieces.
Laser Kitten, Spooky Babe Eyeshadow Pin, $12, available at Laser Kitten.
Sara M. Lyons
Sara M. Lyons is a self-run shop by the artist, selling her colorful works in the form of pins, patches, and even fortune telling cards. We can't help but feel a little bit of middle school nostalgia at the site of her "whatever forever" patch.
Sara M. Lyons Whatever Forever Iron-On Patch, $6, available at Sara M. Lyons.
Pintrill
Pintrill is a Brooklyn, New York-based brand that specializes in—you guessed it—pins. They pride themselves on knowing "what's now, and what's next," and if you've been paying attention to eggplant emoji-related news, you'd know just how relevant this pin is.
Pintrill, Eggplant Pin, $12, available at Pintrill. 
Band Of Weirdos
Band Of Weirdos is your one-stop shop for accessories, home goods, and greeting cards for all of your weird friends (or "sassy squatches") out there. The brainchild of a Minneapolis-based artist Jacie, this label is here to tell you to "fly your weirdo flag high," and to let you know that you're certainly not alone in your weirdness.
Band Of Weirdos, Sassy Squatch Patch, $8, available at Band Of Weirdos.
Little Arrow Studio
Oregon-based design studio Little Arrow is here to make our dreams of living in a pastel world filled with cuteness come true. The brainchild of artist Bri Bulski, you can expect a slew of unicorn- and ice cream-themed pins, patches, and more.
Little Arrow, Ice Cream Addict Lapel Pin, $10, available at Little Arrow.
Valley Cruise Press
Husband and wife team, Ted and Kelley Feighan, founded Valley Cruise Press as a way to get their artwork into the world. It all started with a zine back in 2013 and has now expanded from a small publishing label to a shop of wearable art—from their own designs to the work of the artists they partner with.
David Polka, Cosmic Cat Patch, $10, available at Valley Cruise Press.
Rosehound Apparel
Rosehound Apparel and Design showcases the work of artist and designer, Megan Campagnolo. We must say, she has a way of designing things that really speak to us—from her '90s Leonardo DiCaprio pins to her Doritos sweater.
Rosehound Apparel, '90s Leonardo DiCaprio Pin, $7, available at Rosehound Apparel.