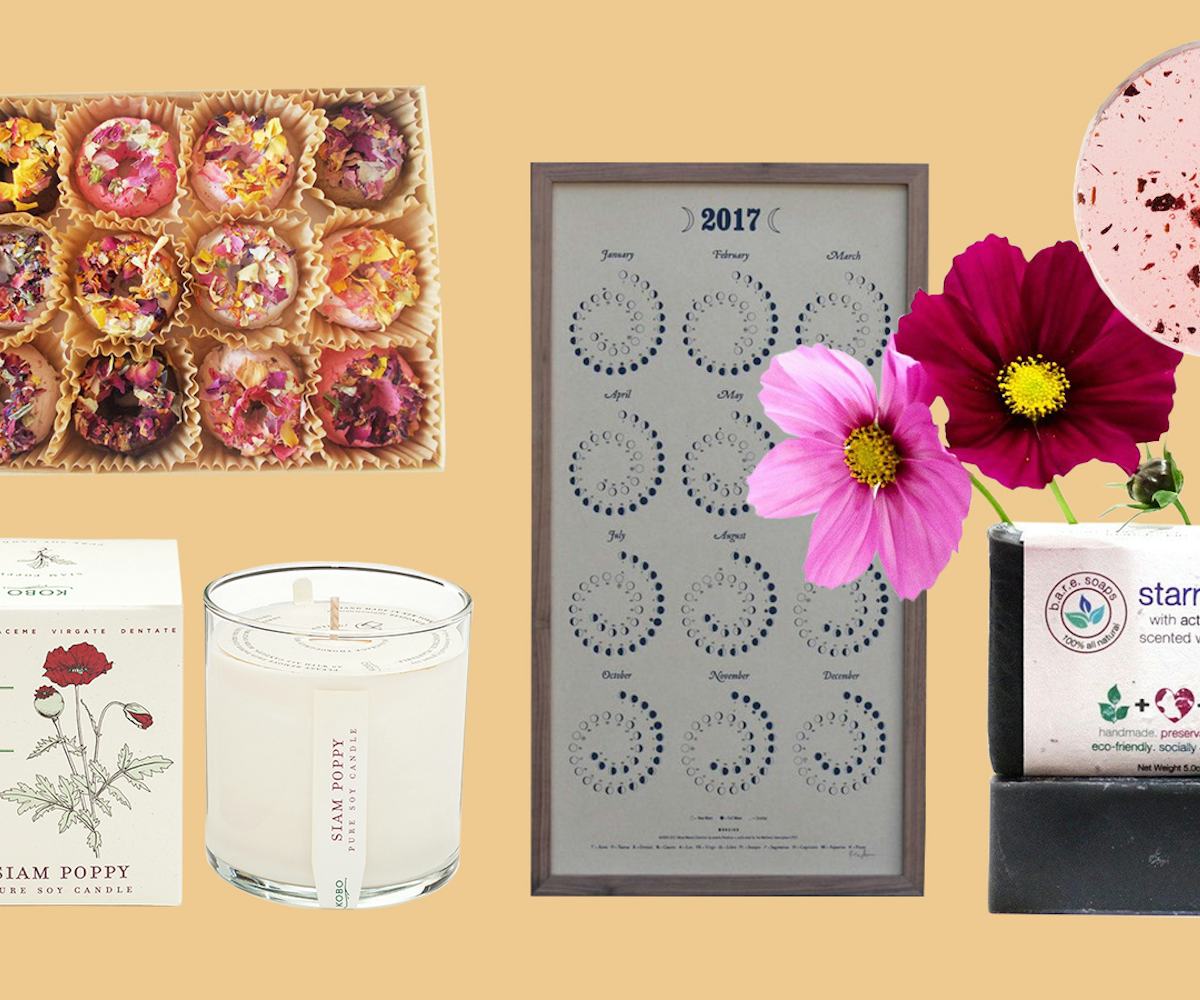 10 Cool Products That You Can Use Now, Plant After
Have your sweets and plant them, too
Being mindful of the environment and treating yourself to pretty things don't have to be mutually exclusive. In celebration of tomorrow's Earth Day, we've rounded up 10 products that are kind to both you and the planet—and that have serious longevity. Rather than leaving creative recycling up to the consumer, the below brands have produced products and packaging that can be planted in your garden (or, you know, the window planter you have in your four story walk-up) to fill your living space with gorgeous blooms for the warmer months.
While eco-friendly products have a bad rep for being drenched in tacky shades of green or boasting clip art tree logos (cringe!), these goodies shatter the mold. Wrap up your bestie's birthday gift in plantable wrapping paper, and let the gift keep on giving when her wildflowers bloom later on. Better yet, why not plant the flowers while you party with seeded confetti hearts? Even environmentally aware witches can dig into this stash to find their new source for moon phase calendars and herb code-adorned note cards. 
This Earth Day, lighting a candle and hopping in the bath with handmade soap and a glass of wine can totally be an eco-conscious effort. Flip through the gallery below to find out how.
As if doughnuts weren't already Instagram-worthy, these guys grow wildflowers. All the aesthetic and none of the carbs, what could be better? Just try not to be too tempted to take a bite, as these sweets aren't edible. If doughnuts aren't your thing, Paper Sprouts has plenty of other cute plantable options, including seeded flower gardening sets and succulent arrangements.
Paper Sprouts, Wildflower Seed Bomb Donuts, $24, available at Paper Sprouts.
Adults like lollipops, too, and Amborella Organics understands just that. The company offers seven different yummy flavors, from rosemary and sage to champagne and roses. And get this: When you're done with your treat, bury the stick in some soil, and it'll grow a plant of the same flavor (so, plant a sage and marshmallow pop to grow your very own sage plant). Blow Pops have nothing on these babies.
Amborella Organics, Seed-Bearing Lollipops, starting at $2.25, available at Amborella Organics.
These candles from Kobo are super fragrant and burn for 60 hours. Once you take the candle out of its box, plant the packaging and grow a flower of the same scent. Soon, you'll have a total swoon-worthy floral abode. If flowers aren't your style, peek through the entire seed collection for options like Wild Tomato Vine and Crushed Mint. 
Kobo Candles, Siam Poppy Candle, $28, available at Kobo Candles.
Sprout totally solved all the problems from our grade school days. Well, maybe not all, but at least the one where we were left with a pencil pouch full of broken wooden stubs after one semester. Each of the brand's pencils is packed with a different type of seed, so you'll be able to grow eight different plants—including sunflowers, basil, cilantro, and more—by the time you've written through them.
Sprout, Sprout Pencil and Sprout Color Pencil, $17.95, available at Sprout World. 
Not only does b.a.r.e. soaps' eco-friendly packaging grow wildflowers, the soap itself is a miracle-worker. The Starry Night bar helps naturally clear blackheads and removes makeup while maintaining a light, fresh scent. If you're looking for something a bit more luxurious, their Cupid's Love bar, made with rose clay and lavender, is an absolute dream. Flowers and some luxurious shower time? It's a win-win.
b.a.r.e. soaps, Starry Night Bar Soap, $9.99, available at b.a.r.e. soaps.
Tell your friends how much you love them and the environment with these plantable greeting cards. If you're not feeling witchy, opt for the adorable forest wildlife collection or, better yet, help save the bees with cards that benefit the Pollinator Partnership.
The Bower Studio, Witch's Herb Code Greeting Cards, $24 for a set of 8, available at The Bower Studio.
Let the moon guide your mission to save the environment with these plantable moon phase calendars. When the year comes to an end, save it to plant in the spring for a new growth of wildflowers.
Margins Imprint, Moon Phase Calendar, $20, available at Margins Imprint.
Birthdays and Christmas no longer have to produce so much waste. Rather than throwing heaps of wrapping paper into the trash after the big day, plant the sheets in a pot to grow another gift for yourself.
Blooming Bulb, Plantable Wrapping Paper, $9.95, available at Blooming Bulb. 
No need to clean up this confetti after a big summer party. Go wild with these cute celebration must-haves without feeling guilty about harming the environment.
Botanical Paper Works, Seed Paper Confetti, $9.99, available at Botanical Paper Works. 
Bring your eco-friendly flair to your next party with these cute plantable wine charms. After all the wine is gone, and no one is worried about keeping track of their glass, plant them in your garden and watch them grow.
Bloomin, Wineflower Charms, $9.99, available at Bloomin.