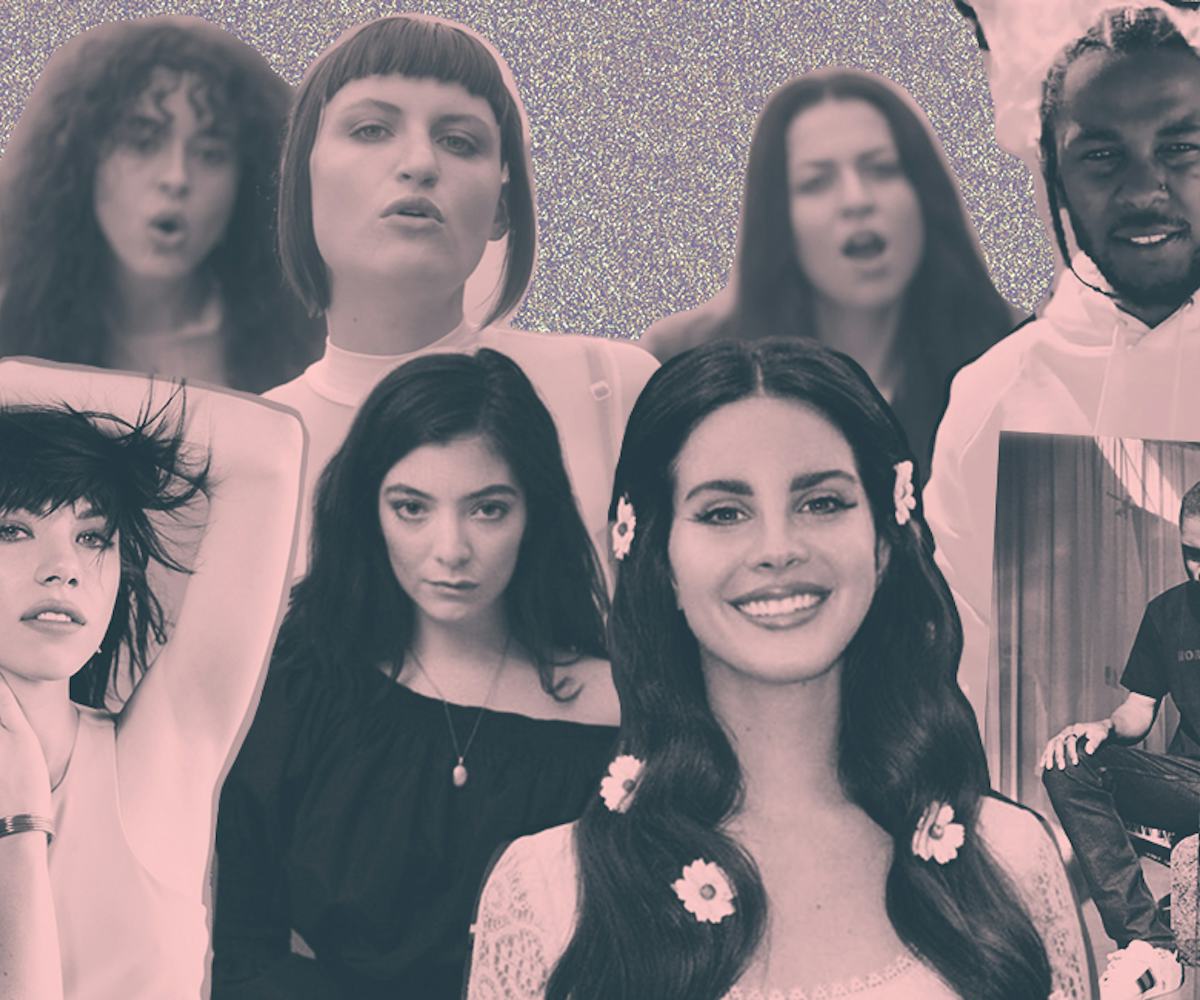 Photo courtesy of Interscope Records; RCA Records; via @lorde/Twitter; Def Jam Recordings
The Best Songs Of 2017, So Far
Congratulations, friends. We are officially halfway through 2017, a year that has truly been, well, a thing. (The Oxford English Dictionary now defines "thing" as "a genuine or established phenomenon or practice." Ten points for Internet Gryffindor.) The music that's come out of it, though, has been exceptional. Between Lorde's return, Gaga's pop 180, Frank Ocean's omnipresence, and walking rap prophet Kendrick Lamar, this year is shaping up to be one of the most exciting sonically since Lorde first hit the scene. So, let's take a moment to reflect on what we've been gifted thus far, as voted on by NYLON staffers. The rest of 2017 has a lot to live up to.
10. "The Cure" by Lady Gaga
How Gaga managed to keep the recording of this under wraps, especially from her Little Monsters, is anyone's guess. She debuted it during her headlining Coachella performance and swiftly dropped it on all digital platforms soon after. After the country-tinged Joanne album, which is more or less an album for her, "The Cure" is a gift to her fans and those begging her for the sweet, sweet pop anthems she built her name on. Welcome back, Gaga. 
9. "Slide feat. Frank Ocean and Migos" by Calvin Harris
What the funk is up, Calvin Harris? This return to form is the most welcomed. You know he's doing something right if Frank Ocean hopped on.
8. "Feel It Still" by Portugal. The Man
It's the little song that could! Portugal. The Man earned their first number one billing on the alternative charts with this one. It's easy to hear why: The swing elements sound like nothing on the radio right now. "Rebel just for kicks"? Sure, why not.
7. "Slip Away" by Perfume Genius
Mike Hadreas really went there with Perfume Genius' latest LP, No Shape. "Slip Away" is an escapist fantasy, urging its protagonist (and listeners) to stick it to the naysayers and live their lives wholly and truly themselves. With the wall of sound that blasts through the chorus, it's easy to think you can. 
6. "Chanel" by Frank Ocean
Once you pop, you can't stop. After what felt like an eternity, Frank Ocean dropped Blonde last year and hasn't stopped releasing singles since. "Chanel," an unexpected gift in March, is a whiskey-smooth love song exploring the duality of the emotion and his subject. No one pours their heart into their craft the way Ocean does, and he's wearing it proudly on his sleeve here.
5. "I Know A Place" by MUNA
Though released as a single last December, "I Know A Place" became an anthem this year following the release of MUNA's debut album, About U, in February. Its '80s-tinged pop soars through a cascade of emotions, all in an effort to uplift and provide comfort. With lyrics like "You think being yourself means being unworthy" and lead singer, Katie Gavin, singing soon after that she knows a place where you can safely be your true self, the song's message is vital for today's world that's still stripping marginalized people of their rights. MUNA is the sound of the future and, thankfully, the future sounds bright.
4. "Love" by Lana Del Rey
Leave it to Lana Del Rey to perfectly capture the romance of youthful ennui. What's more 2017 than that?
3. "Cut To The Feeling" by Carly Rae Jepsen
It is truly a shame more people aren't clued into the majesty that is Carly Rae Jepsen. She's making the best, sweetest pop music there is today, and "Cut To The Feeling" is a masterclass. Jepsen wastes almost no time (30 seconds, in fact) to deliver a chorus that blasts off to stars and doesn't let up for the rest of the song's duration. Like the rest of her music, "Cut To The Feeling" celebrates the possibility of big love, twirling away any negative or cynical thought that tries to take her off cloud nine. Do you want to know what those butterflies you get before a first date with a crush sound like? This. This is what they sound like.
2. "Supercut" by Lorde
Nestled at the tail end of Lorde's stunning sophomore album Melodrama is "Supercut," the most Robyn-like song this year has seen outside of Robyn's "Honey" snippet on Girls. It's the song that finds the true sweet spot between Lorde's wunderkind introspection and Jack Antonoff's production, something we consider to be the sound of 2017. Never has young love been defined so concisely than when Lorde sings of it being "wild" and "fluorescent." Gosh. 
1. "HUMBLE." by Kendrick Lamar
"HUMBLE." takes no prisoners. Between Lamar bragging about Obama paging him, the necessity for Photoshop-less bodies, and subtle digs as his peers, there's nothing humble about this. Sit down, though. Lamar deserves it.