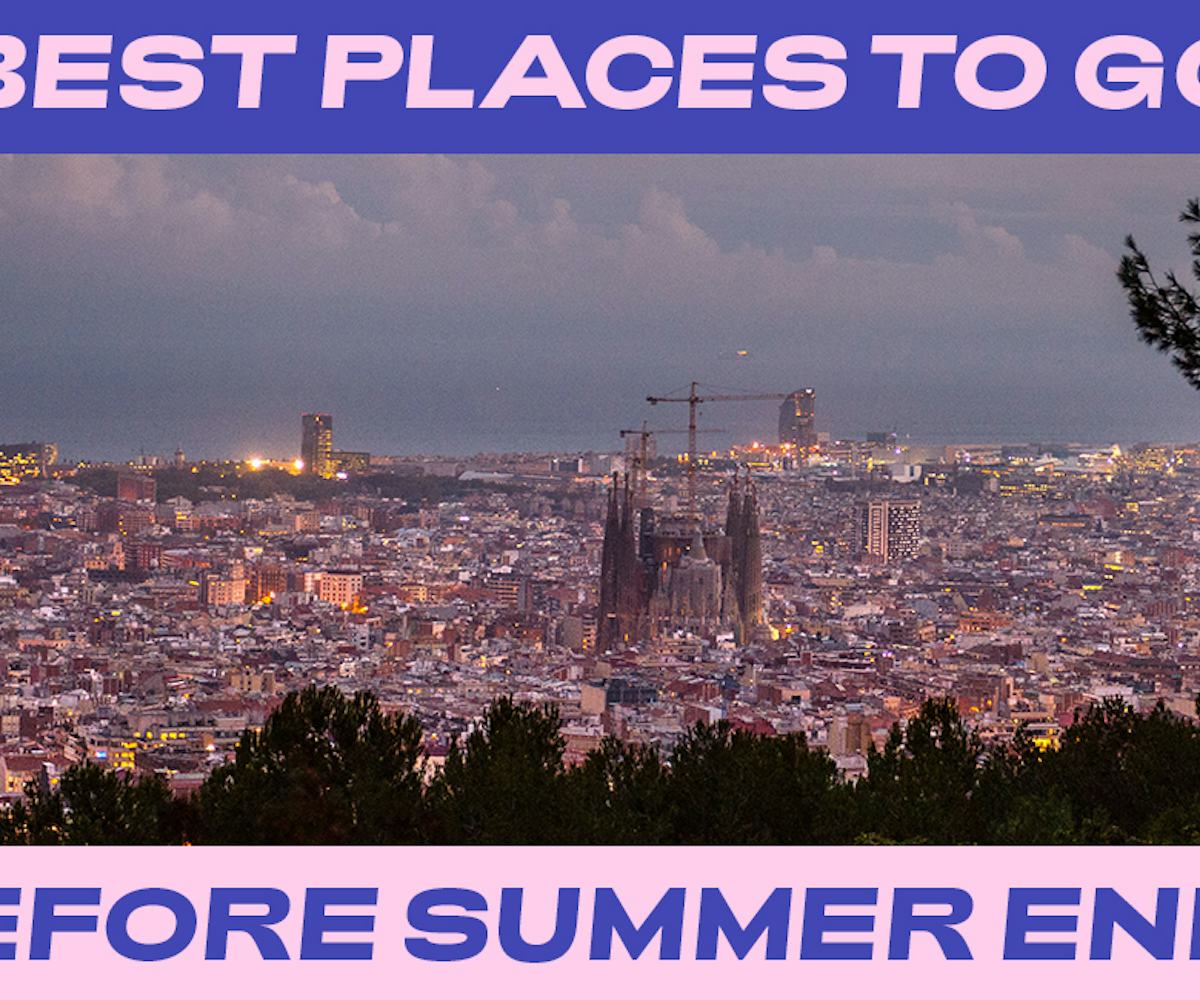 7 Places To Go Before Summer Ends
Hit up at least one of these last-minute travel spots
Sure, summer is almost over, but that doesn't mean you don't have time for one more vacation. Even if you just head out of town for a four-day weekend, it's important to make the most out of the dwindling season.
Unsure where to go? Here are NYLON editors' favorite spots for a last-minute summer getaway. 
Gulf of Papagayo, Guanacaste, Costa Rica
As we've said before, there are not a lot of places in the beautiful country of Costa Rica that don't require several hours of driving once you land at the airport. Gulf of Papagayo is an exception—one that offers a stunning beach, warm turquoise waters, and a myriad of adrenaline-inducing adventures.
Where to stay: The closest resort to the airport, El Mangroove is a gem of a hideaway. Boasting its own beach, a boat that you can use to go beach hopping and snorkeling, a spa, and two restaurants with sustainable ocean- and farm-to-table menus (I am still dreaming of the shrimp tacos with mango salsa from Matiss), you will be hard-pressed to find an excuse to leave the property.
Where to eat: If you've tired of all the typical Costa Rican fare (fried fish, rice and beans, plantains, empanadas etc.), you will find a reprieve at the Asian-Mediterranean fusion Ginger restaurant, which serves Lettuce Wraps with Mango-Tamarindo Pork alongside Papitas Bravas and chicken samosas. It may sound like an unlikely mix, but it works. For something more upscale, check out Ostra, a seasonal seafood-focused restaurant at the Andaz, that offers six different kinds of ceviche.
What to do: If you're not willing to drive two hours to Rincón de la Vieja, where you can hike through a stunning tropical forest and swim in a hot spring, at least take an hour to go to Tamarindo, a popular town for surfers where you can take lessons during the day, go sailing at sunset, and experience the nightlife like the locals (and, well, expats) do come sundown.
Asheville, North Carolina
This Southern city is the perfect spot for music lovers, adrenaline junkies, beer connoisseurs, and foodies alike. In fact, we love it so much, that we didn't even mind when, on a recent trip, our flight home was cancelled. In Asheville, there's always a silver lining—and it invariably involves listening to great music, while drinking and eating something delicious.
Where to stay: Asheville is one of many American cities with really strict Airbnb laws, making it a much better bet to grab a hotel room. We recommend the Doubletree by Hilton Hotels, which is right next to the historic Biltmore Estate (totally worth a visit—especially for architecture and landscape buffs) and has a convenient shuttle that takes hotel guests right to the center of downtown Asheville. The hotel also offers an Asheville Music Experience Travel Package, for music-lovers. Plus, those chocolate chip-walnut cookies guests get upon check-in are seriously delicious. 
What to eat: There is no shortage of incredible food in Asheville—the only hard part is leaving room for the next meal. Standout spots include Hole Doughnuts for freshly made treats (our favorite is the toasted almond sesame cinnamon); White Duck Tacos, for both truly inventive and perfectly executed classic tacos (do try the pork belly, if they have it, and the duck mole); Limones, a longtime Asheville favorite (make a reservation, and don't miss the ceviche and the carrot-habañero margarita); and Buxton Hall BBQ, one of the best barbecue spots in the country, serving Eastern Carolina-style fare—get the pulled pork, for sure, but don't sleep on the barbecue hash (like a meat-studded gravy). Oh! And save room for pie. I'm still dreaming about the slice of banana cream-toffee deliciousness that I squirreled away with me, to eat late at night in my hotel room. 
What to drink: Asheville residents love to let you know that the city has more breweries per capita than anywhere else in America (and maybe Earth?). Take advantage of that! Right in the heart of Asheville is Burial Beer Company, which not only has incredible brews on tap but also offers one of the most delicious brunches in town (try the burger and onion rings, sit in the backyard, and delight in the live music). There's also Wedge Brewing, which has two locations (and is a part of LaZoom Bus Tours' very fun Band and Beers ride). Also, check out Pisgah Brewing, just outside of Asheville, in Black Mountain. Their beer is award-winning, and the property is gorgeous, and includes a beautiful outdoor stage where acts like the Punch Brothers play, making for the perfect North Carolina night.
What to do: There is... so. much. to. do. For music lovers, catch a show at The Orange Peel, which Rolling Stone has named one of the top five venues in the country. (And we concur.) And don't forget to tour the Moog Factory, and try your hand at playing a theremin (it's even harder than you'd think). Check out Asheville's famous downtown drum circle, and follow up the dancing with a trip to Skinny Beats Drum Shop, where you can partake in a truly transcendent sound healing experience. For a really comprehensive idea of what Asheville's music scene entails, visit Explore Asheville's website, where you'll find event listings, venue guides, streaming local artist playlists, artist profiles, and more. 
If you're more outdoors-y, there's tons for you to do, too. You can go stand-up paddleboarding with Wai Mauna tours, which will help you SUP right down Asheville's French Broad River—the third oldest river in the world. You can also go on a guided hiking tour with Asheville Hiking Tours, and see everything from waterfalls to herds of elk to swarms of fireflies, if you opt for the company's seasonal nighttime hike. 
Catskills, New York
If you're New York-based, some easy escape options, to unwind and recharge from the city's pace, are Hudson and Beacon. And while both are charming in their own unique ways, we have our eyes set on the Catskills this month for the natural wonders that the region provides. Known for its mountains and forest preserve, Catskills has plenty of hiking trails, farm-to-table dining options, and quaint museums and shops.
Where to stay: Originally a bunkhouse for hunters and fisherman, the Eastwind Hotel & Bar opened this June as a stylish property with 19 rustic guest rooms, which include three Instagrammable A-frame wooden cabins, a barrel-like sauna, hot tub, and fire pit, all overlooking the secluded woods and Windham Mountain.
Where to eat: In addition to being a popular hotel located on 200 acres of greenery, Deer Mountain Inn holds a restaurant helmed by Michelin-starred chef Ryan Tate of Blenheim and Le Restaurant fame. Spring for the seven-course seasonal tasting menu made up of locally sourced ingredients, foraged produce, and herbs from the onsite garden.
What to do: You can't go wrong with any of the many mapped hiking trails, but for most impressive views, take one that passes by a waterfall. The tallest cascading waterfall in the state, Kaaterskill Falls is one of the most popular (and scenic) options. Just be careful not to fall off any cliffs while taking your perfect selfie.
Barcelona, Spain
While The Cheetah Girls may have carved this city's place in my heart back in 2006, its abundance of cheap, tasty eateries and abstract architecture has made it an absolute favorite vacation destination, especially if you want to do a bit of Europe on a budget.
Where to stay: Even the lower-priced Airbnbs are drop-dead gorgeous in the city, so save a little change and stay like a true local in Gràcia. Not only are you walking distance from plenty of Antoni Gaudí's architectural treasures, like Parc Güell and the Sagrada Família, but you'll discover great local cafes and boutiques that have escaped travel guides. 
Where to eat: Walk around La Boqueria and put together the dreamiest picnic (bury me in manchego and prosciutto, please) to take with you to any one of the parks, or head down to the Gothic Quarter for tapas and sangria. Basically, you could spin around and then head in any random direction, and you'd still wind up at a place with delicious eats, but... I recommend Bormuth. For drinks, head on over to Polaroid Bar if you're into kitschy '80s and '90s throwbacks (yummy cocktails with names like Delorean and Han Solo are definitely a highlight), or throw back a glass (or 10) of sangria for a single euro at low-key pub Casa del Molinero. Be sure to head out late, though, because the party doesn't start until after midnight (and doesn't stop until the sun comes up). 
What to do: Try to make time for each of Gaudi's landmarks, but for just a few euros more than the traditional tour ticket, you can head on up to the roof of the Casa Batlló or La Pedrera for an evening of music and drinks under the stars. During the daytime, hop in a paddle boat at Parc de la Ciutadella, or take the cable car up to the top of Montjuic (but make sure to bring a bottle of wine and snacks for a picnic along the hike down). If time allows, grab an advanced ticket to the Museu Picasso and head there first thing in the morning to beat the crowds and soak up over 4,000 pieces of his work. 
Baha Mar in Nassau, Bahamas
The Bahamas are known for their all-inclusive resorts, but this one is kind of the one. The Baha Mar houses three hotels, each with a distinct vibe (whether that be quiet and subdued or loud and crazy). There are tons of restaurants right on-site, so you don't have to stray too far from air conditioning, and there are multiple fitness centers and a spa, too. 
Where to Stay: The SLS Baha Mar is one of the resort's hotels, and it's the best one for people who want to get the most out of their stay. There are cafés, restaurants, and a casino accessible without leaving the building, and a couple pools right outside. Within walking distance you can find Bond, a nightclub within the resort; or, if that's not your vibe, the beach is a stone's throw away. There's truly something for everyone here, and you don't even have to leave the premises to have an amazing vacation.
Where to Eat: Look no further than the SLS's lobby, where you can find Mediterranean restaurant Café Cleo. Order a bunch of small plates for the table to share, so you can try some of everything. You could do the same at Katsuya, too, which is a sushi place that turned me from vegan to pescatarian for a night—and oh, was it worth it.
What to Do: You could stay for a week and not visit all the pools, to be honest. Spend your stay checking out as many as you can, though—they all have their own distinct vibes. Be sure to check out Privilege, a pool that doubles as a day club (yes, seriously), with the best music and flamingo floaties which are perfect for photo ops. Being there feels like being in a music video. There's also the Bungalow, which is a more relaxed and low-key vibe. Both have their own bars and servers so you could spend all day drinking frosé and eating avocado fries, if you so desire.
Chicago, Illinois
If you're looking for a low-key getaway that can provide everything from classic homestyle eats to cultural experiences—while also being easy on your bank account—look no further than Chicago. Perched along the western edge of Lake Michigan, while Chicago may affectionately be known as the Second City, it's anything but second-rate. From outdoor attractions to high street shopping to Michelin star eating, there's a little something for everyone. And it doesn't hurt that all the locals are incredibly friendly. Talk about Midwestern hospitality at its finest.
Where to Stay: For the most part, you can never go wrong with a stay at the reliably comfortable and ultra-sleek Ace Hotel—and its Chicago branch is no exception. However, if you want a true taste of downtown in a setting that feels straight out of a Mad Men episode, look no further than the legendary Drake Hotel, which is renowned for its spectacularly luxe Afternoon Tea service.
Where to Eat: Humble Chicago staples like hot dogs from the Weiner's Circle and a deep dish pizza from Lou Malnati's are obvious musts for first-time visitors passing through the Windy City. But if you're looking for something a little fancier, look no further than the West Loop. Home to the city's famed Randolph Restaurant Row and the likes of critically acclaimed spots such as Au Cheval, The Publican, and The Girl and the Goat, expect a ton of buzzy restaurants that love to put a highbrow spin on old-school American comfort food. Looking for something on the more casual side? Chicago also has a particularly good vegan/vegetarian scene with city staples like Handlebar and the Chicago Diner slinging some of the best tofu scramble this side of the Mississippi. 
What to Do: Unless you're really jonesing to go full tourist, skip the Magnificent Mile and instead opt to explore some of the other neighborhoods in this sprawling city. Hop on the train in any direction, and you're bound to find yourself in the middle of something exciting, whether that be catching a Cubs game up north in Wrigleyville or an end-of-summer street fair in Bucktown or Logan Square.
Want to get away from the hustle-and-bustle of the city? Chicago's also home to some gorgeous lakefront beaches, which are all connected by the popular jogger- and biker-friendly Lakefront Trail. An 18-mile path feel like too much of a commitment? Try a stroll through the Garfield Park Conservatory or visit one of Chicago's world-class museums. Our favorites include the Art Institute, the Field Museum, and the National Museum of Mexican Art.
Cusco, Peru
For many adventure-seekers, Cusco is a convenient stop along the way to Machu Picchu. But the city itself is rich with history; the former capital of the Inca Empire, it's a UNESCO World Heritage Site with a vibrant local culture.
Where to Stay: Cusco is way, way up high—like, over 11,000 feet high. That's no problem if you're staying at the JW Marriott, though, a luxury boutique hotel in the heart of town that pumps extra oxygen into the rooms to help you adjust to the altitude. Creature comforts aside, the coolest part of this hotel is that it's built on the bones of a restored 16th-century convent, with a lot of the space referencing the original architecture—head to the basement levels to see the ancient artifacts or book a room that contains some of the original walls. And definitely get up early to meet Ponchita, a teeny tiny baby llama that visits the hotel lobby in the morning.
Where to Eat: No matter where you go, eat the ceviche and drink the Pisco sour. If you're staying at the aforementioned hotel, the in-house restaurant is not to be missed, as it features creative spins on local cuisine. If you find yourself exploring the rest of the Sacred Valley, it's worth the trek to eat at Tierra, a lovely little restaurant where the salads are mixed with coffee and chocolate (yes, it's amazing) and the chef will serve you the just-prepared food himself. Also, if you do make it out to Machu Picchu, reward yourself with a meal at the Sumaq Hotel—slightly removed from the touristic chaos of Aguas Calientes, the town at the base of Machu, it's a calm respite with beautiful views (and WiFi). 
What to Do: Head to the center of town—the Plaza de Armas—to get a feel for the city. The San Pedro Mercado, a covered market, is where locals buy and sell everything from quinoa to chocolate, and is absolutely worth wandering through. Cusco is located in the Sacred Valley, with plenty of sites to see, all under an hour away. Definitely visit the salt mines, the Salinas de Maras, which were used by the Incas and are still active today. Also worth a trip is the Centro Textile URPI, where you can watch women handmake alpaca products, from start to finish (and meet the alpacas! If this is your entire reason to visit Peru, we understand). If you're staying in Cusco, you might as well make the day trip to Machu Picchu—it's a long one, but worth it. Less famous Incan ruins like Moray, with the very Instagram-friendly agricultural circle terraces, are likewise less crowded and also make for great day trips. No matter where you go, wear layers and sunscreen—it can be hot in the sun and freezing in the shade.