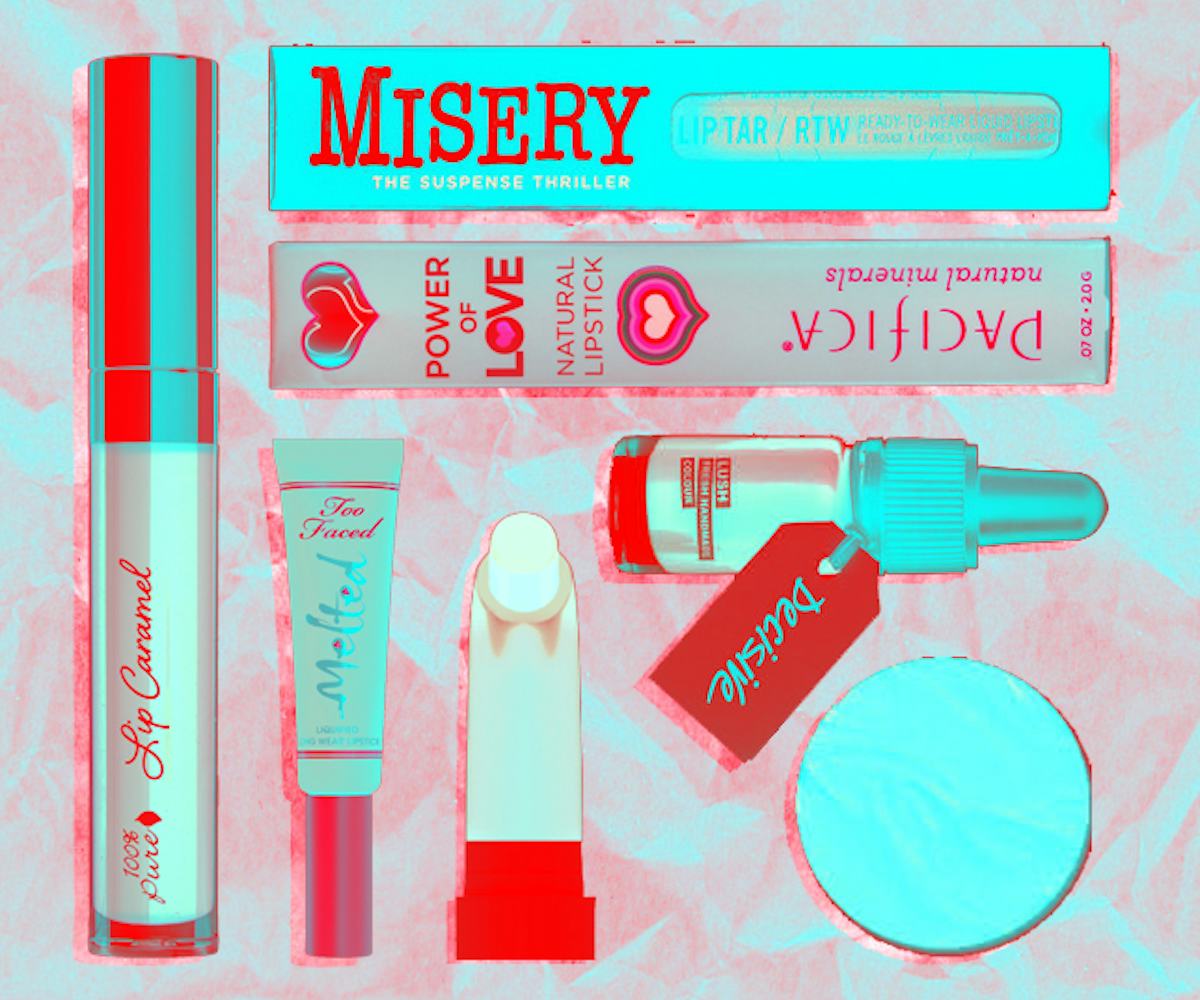 Red Alert: The 7 Best Vegan & Cruelty-Free Red Lipsticks
If life and beauty magazines tell us anything, it's that finding the perfect red lipstick is about as easy as finding the perfect love. While we may not believe in perfect love, we do believe in perfect lipstick—and we're not just talking about color. With the ever-increasing variety of amazing brands out there, it's never been easier to match your makeup to your morals. This Valentine's Day, put some heart in your look with these seven cherry-picked lipsticks that are not only gorgeous, but 100% vegan and cruelty-free—so you can keep slaying without hurting a soul.
Obsessive Compulsive, Lip Tar/RTW in 'Misery,' $16, available at Obsessive Compulsive Cosmetics.
Our go-to brand for crazy intense, lasting, innovative color, OCC is also one of the only natural & compassionate brands with a formidable selection of sexy reds. From vampy blackened reds to bright crimsons, you'll be sure to find the one that suits your mood and attitude. Our pick is Misery, an electric blood red inspired by the Broadway adaption of Stephen King's cult-favorite novel.
Too Faced, Melted Liquefied Long Wear Lipstick in 'Velvet,' $21, available at Too Faced.
Too Faced has been blowing our minds with their vegan and cruelty-free offerings, from the best mascara that's ever been invented (hint: it's better than a certain something) to this super creamy, super opaque lipstick that comes in a squeeze tube for the easiest of applications. Velvet is a deepened, medium-dark red that's moisturizing and semi-glossy for that coveted candy-apple finish. 
Lush, Lipstick in 'Decisive,' $19.95, available at Lush.
Best known as the pioneer of bath bombs and many other self-care delights, everyone's favorite all-natural brand has branched out into the beauty world. All Lush products are cruelty-free and almost all of them are vegan, including Decisive, a "pin-up, vintage cherry red" made with hydrating jojoba oil that is guaranteed to draw the right kind of attention.
ColourPop, Lippie Stix in 'Fighter,' $5, available at ColourPop.
Intense, vegan, cruelty-free color at $5 a go? That's the magic of ColourPop. Among an incredible selection of colors from a rainbow of nudes to pastel blues, Fighter is a bright, matte red that's creamy and non-drying. We dare you to try applying this without singing Xtina.
100% Pure, Lip Caramel in 'Red Velvet,' $25, available at 100% Pure.
Literally "health food for your skin," 100% Pure cosmetics are 100 percent natural and organic, formulated with only the highest quality oils and fruit pigments and without the toxins, chemical preservatives or artificial colors and fragrances that are usually found in beauty products. Their line of Lip Caramels is highly pigmented and moisturizing, with an ingredients list that's good—and safe—enough to eat. Our pick is Red Velvet, a deep, delicious red as satisfying as its namesake.
Pacifica, Power of Love Natural Lipstick in 'Super Love,' $10, available at Pacifica.
What's better than a new lipstick? New lipstick for a cause, of course. For every Power of Love lipstick sold, the company donates one to a woman in need. And considering the range of wearable, everyday shades, there's a color for each day of the work week. For daytime glamour, try Super Love, a natural-looking crimson that'll take you from desk to drinks drama-free.
Silk Naturals, Bombshell Red Vegan Lipstick, $5.75, available at Silk Naturals.
There are TONS of amazing indie brands out there, but few give you as much bang for your buck as Silk Naturals. Made with only natural ingredients and offering hydrating, high-end color at less than drugstore prices, Silk Naturals lipsticks are conveniently packaged in balm-style tubes for easy application and are as moisturizing as lip balms themselves. We love Bombshell, a vampy, hot, date-perfect red that's sure to get hearts beating.