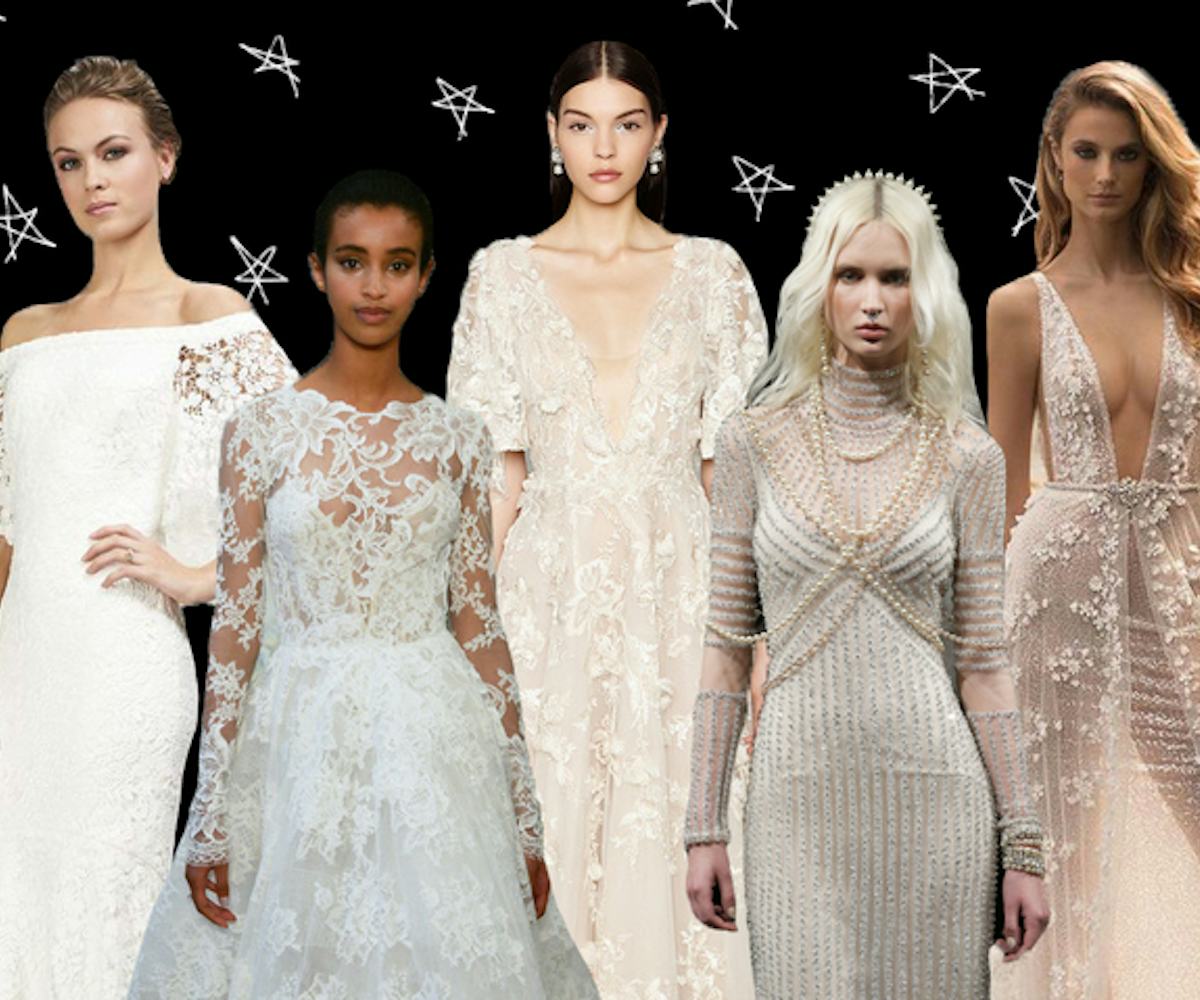 Find Your Dream Wedding Dress Based On Your Zodiac Sign
Let the stars guide you down the aisle
Even the most decisive of brides find themselves uncertain and wavering when it comes time to pick out their wedding day look. Labeled by society as the "most important day of your life," there's a certain pressure that comes from the moment you make your way down the aisle to when you take to the dance floor for the first time as a couple. This is why we think you should consult the astrology gods in preparation for your search.
Some may say it was always written in the stars for you and your partner to meet, so why not let those same stars guide you in choosing a nuptial look? 
In preparation for Bridal Fashion Week, which starts today, read on for your astrological guide to where you should be shopping.
Aries
Fearless, bold, and confident, an Aries prides herself on being an original bride who bucks all wedding tradition. She rejects any rules of what a bride should wear and would don a color other than white without giving it a second thought. Original and always boundary-pushing when it comes to bridal wear, Naeem Khan (who had septum rings on his models during his last bridal show!) is perfect for the stylish brides who want to be one-of-a-kind stunning on their big day.
See also: Inbal Dror
Taurus
Nothing if not practical, a Taurus will naturally be attracted to fuss-free details, soft fabrics, and loose-fitting silhouettes—no constrictive skirts or suffocating corset bustiers here—that say more through quality and craftsmanship than over-the-top glitz and bedazzling sparkle. Ruled by Venus, these Earth brides will love the simplicity of shapes and luxurious elegance of Oscar de la Renta, a brand that continues to put out some of the most understatedly beautiful bridal designs around—so very worthy of Taurus' impeccable taste.
See also: Delphine Manivet
Gemini
In case you haven't heard, those born under the Gemini sign are low-key psychopaths. This further becomes clear when it comes to selecting their wedding day looks. Spending the months leading up to the wedding flip-flopping between wanting to be princess brides in a giant ball gown or a rule-breaking boss in a sleek jumpsuit (spoiler alert, they'll usually end up going with two looks), these Mercury-ruled signs will satisfy both of their leanings at Houghton, a brand equally known for sexy form-fitting gowns as for edgy bridal crop top separates and bridal motorcycle jackets.
See also: Mira Zwillinger 
Cancer
This moon-ruled sign is notoriously romantic and traditional, often opting for vintage silhouettes with intricate lace over modern designs. These hopeless romantics will find beauty in wedding designs that speak to their sensitive, old-world souls, like the ones you will find at the ever-ethereal and feminine Monique Lhuillier, a brand known for its traditional styles, yet not without a touch of whimsy and happily ever after magic.
See also: Anne Barge
Leo
Always the center of attention, you can expect these fire signs to go all out when it comes to the sartorial fanfare surrounding their big day. More is more for these fearless creatures, who want regal silhouettes, dramatic embellishments, revealing cuts, and can't-miss colors—maybe even all those things at once. Notorious rule-breakers when it comes to being a bridal brand—remember the "bridal headphones" that it sent out one season and the goth numbers that rocked last spring's runways?—Reem Acra will tame the lioness' needs with designs that range from royally elegant to sexy glam but that all, best believe, make a statement.
See also: Vera Wang
Virgo
These Earth beings will take a while to find their dream dress—they will pore over and analyze every single detail of the outfit and won't settle for anything less than perfect. With a penchant for sophistication, Virgos prefer clean lines and feminine fabrics, like chiffon and lace, that let the carefully thought-out and placed embellishments shine. Such picky brides will no doubt find "the one" at a famed fashion house like Marchesa that boasts some of the most all-around stunning designs in the bridal industry.
See also: Sachin & Babi
Libra
Known for being, well, balanced, Libras love a good juxtaposition when it comes to their style—bridal included. Their desire for a traditionally feminine and romantic look will be offset by their pragmatic want of a timeless design that can be worn again in the future. They will find a happy medium at Lela Rose, who pairs simple and sometimes even masculine-leaning silhouettes with unabashedly feminine touches like bows, pearls, and tea-length hemlines.
See also: Viktor&Rolf Mariage
Scorpio
Ruled by Pluto, the planet of death and sex, these bewitching water signs couldn't care less about appearing demure or subtle on their wedding day. If it's not a body-hugging, plunging, and seductive show-stopper of a dress, flaunting all of their assets, a Scorpio does not want it. This sign's primal sexual nature will find a fashion companion at Berta, known for its drop-dead gorgeous designs that are as risque and revealing as they are elegant and bridal-appropriate.
See also: Galia Lahav
Sagittarius
Adventure-loving Sagittarians are the wanderlust-ers of the zodiac, easily tempted by the promise of an exotic locale and new experiences. They've got many souvenirs and stories that tell of their travels and will want a dress that will speak to their venue, too. Be it a ball gown covered in wild blooms, that is in step with their botanical garden venue, or a regal high-neck, long-sleeve dress, reminiscent of the European castle where the nuptials are taking place, these free-spirited brides will find plenty of variety at Temperley London, a line that prides itself on impeccable construction and stunning details that look equally at home at a beach wedding as they do in a gilded ballroom.
See also: Jenny Packham
Capricorn
The uniform dressers of all the zodiac signs, Caps like minimal, no-nonsense styles that are timeless enough to be passed on down. Earth signs through and through, they believe in a pragmatic gown that can be worn again after all the hard work (and money!) that went into selecting it. Not to say that Capricorn-born brides will opt for traditional garb—a modern update to the styles in the form of a cut or hemline is essential. No bridal brand is more timeless than Carolina Herrera, whose designer has become known for her signature uniform of a white blouse and a black skirt.
See also: Amsale
Aquarius
Rebellious and original, these cerebral air signs are easily moved by a noble cause or humanitarian efforts, which is why they would be the most likely out of the zodiacs to pick a vintage or passed-down dress. Aquarians looking for a brand-new style, though, will find a match in an eco-conscious designer like Paris' Rime Arodaky, known for practicing social responsibility and transparency with all of its fabric sourcing. With a rock 'n' roll mantra, aptitude for edgy designs—bridal crop top separates are a highlight of the collection—and the most luxe of fabrics, the brand's designs offer just the right twist for these rebel-loving brides.
See also: Reformation
Pisces
Notorious water lovers, these artsy dreamers will often opt for a beach or a waterside wedding and find themselves attracted to breezy gowns with romantic embellishments and old-world vibes. Having shown an entire collection dedicated to destination wedding dresses and tropical-inspired gowns a year ago, Theia's fluid and billowy styles and intricate designs—that often feature otherworldly cosmic undertones, sometimes literally—will be a perfect match for these water signs who love love and believe in star guidance.
See also: Claire Pettibone