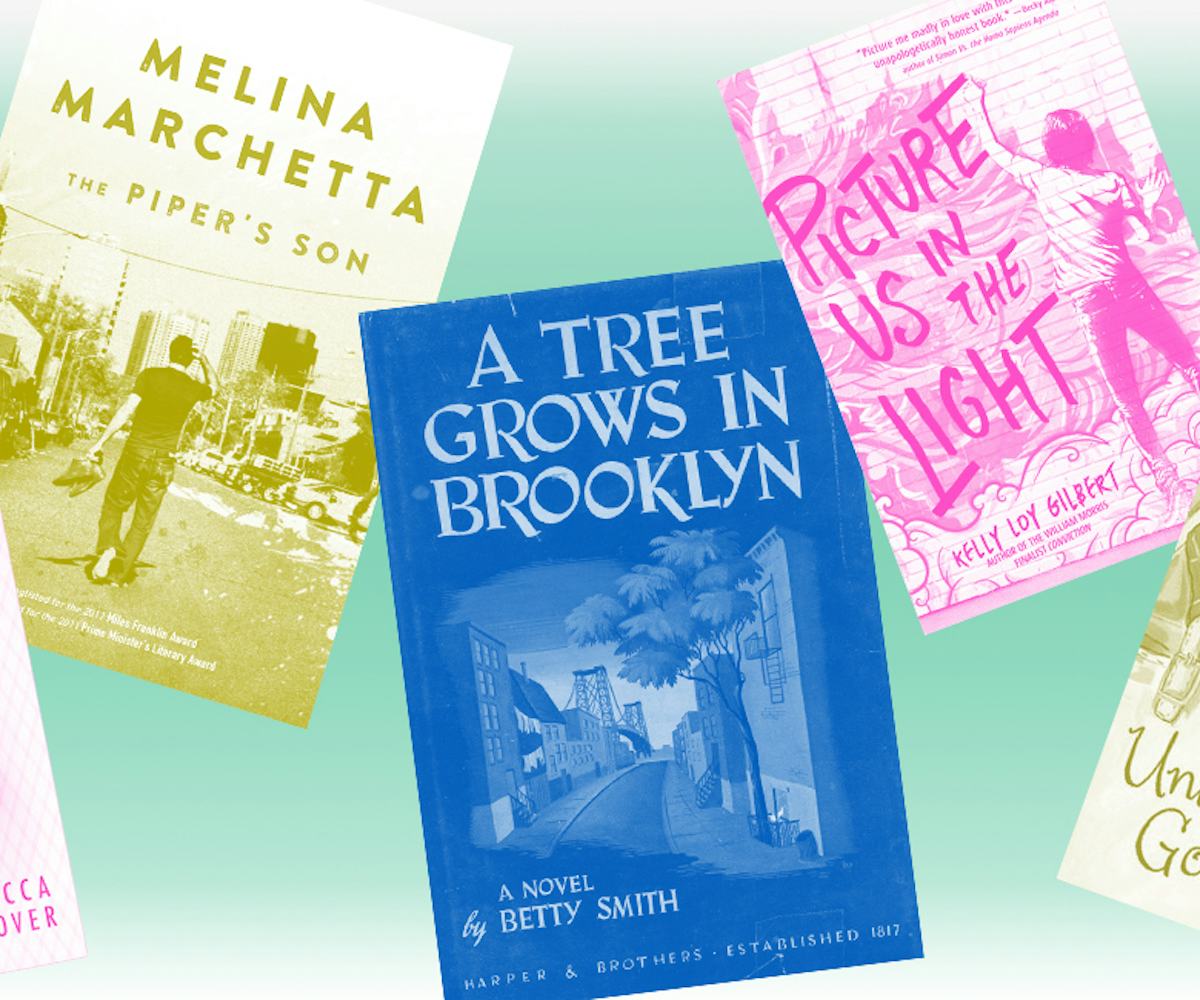 10 YA Authors On Their Favorite YA Books
The genre isn't just for teenagers
Some people never grow out of reading YA books. In fact, over half of today's YA readers are over the age of 18—though that wasn't always the case.
As author Jen Doll—who's coming out with her own YA novel, Unclaimed Baggage, this fall—once outlined for New York Magazine, the shift started with the Harry Potter books and hasn't really stopped. What was once a genre devoured by malleable teens is now being consumed by people twice their age and older—readers old enough to be their parents.
There are some pretty clear reasons for this: We all fall prey to nostalgia (see: all those reinvigorated '90s trends). Additionally, YA books act as a brief escape from what's really going on in the world; and while all novels can be said to provide escape, in YA, for the most part, those escapes are far more light-hearted than in adult fiction. As Doll explains in her piece: "It's intended for people who are coming of age reading about characters who are doing the same. As such, these books have a way of cocooning their protagonists, navigating them—and by extension, the reader—to safety, and sometimes real happiness." You may not get a happy ending every time, but rarely will you experience devastation. Doll continues: "The heroine really does get the guy, the world has been saved, the parents finally understand, or there is at least the promise of things working out in the end. Adult books may be great literature, but they don't make me feel the same way."
And we're sure (well, we know) many others feel similarly, so, ahead, we had 10 adult (yes, adult) authors share their favorite YA books. And before anyone tries to shame you for scrolling through, remind them that young adult still technically has the world adult in it.
A Tree Grows in Brooklyn by Betty SmithMy favorite YA novel came out before YA was an official category. When I was 11 years old, my mother's friend gave me a copy of Betty Smith's A Tree Grows in Brooklyn, published in 1943. It spoke to me in that all-consuming, totally intense way of great YA books, allowing me to embody its characters, especially Francie—a girl after my own heart, who wanted to read all the books in the world in alphabetical order. At the end of that first read, Francie had become a young grown-up and I was still 11, but somehow I felt changed in much the same way she had. In the course of the book, she finds a source of power within herself (writing!) that will take her where she needs to go; in the course of reading it, I found the beginnings of that, too. That's the stuff of incredible YA. —Jen Doll, author of the forthcoming Unclaimed Baggage
The Undomestic Goddess by Sophie KinsellaOne of my very favorite books is The Undomestic Goddess by Sophie Kinsella. I love how Kinsella's heroines are all so witty, charming, and smart. I also connect so deeply with her brand of humor—The Undomestic Goddess never, never fails to make me happy! —Sandhya Menon, author of From Twinkle, with Love
The Similars by Rebecca HanoverMaybe I'm just a sucker for tales about boarding schools (or clones), but this soon-to-be-released page-turner hit all the right notes for me. Hanover delivers on her premise of a near-future love story with relatable characters and a touch of sci-fi. The unexpected twist at the end only makes it that much better. —Allison Raskin, author of  I Hate Everyone But You
One of Us Is Lying by Karen M. McManusThis book has it all—a mystery with a twist, a romance with a swoony bad boy, and characters who grow and become better, stronger people by the end of the story. This was my favorite read of 2017, and I can't wait for the author's next book! —Monica Murphy, author of You Promised Me Forever
The Piper's Son by Melina MarchettaThis book is about a bereft young man and his grieving pregnant aunt and takes place in Sydney, Australia, and is all about lost family and found family and music and friends who don't go away no matter how much you push them. I never get tired of being with these characters and wish Melina would write a damn sequel already. —Gayle Forman, author of Leave Me
Picture Us In The Light by Kelly Loy GilbertPicture Us In The Light by Kelly Loy Gilbert is full of the kind of rare, complex characters that somehow creep into your heart and plant their flags and no matter how many months (and I suspect years) pass since reading, they remain a part of you. Bursting with honesty and empathy and clarity, this nuanced portrait of an immigrant family is exactly the book you need to read right now. —Julie Buxbaum, author of What to Say Next
Grim Lovelies by Megan ShepherdGrim Lovelies is a Paris-set fairy tale/thriller. I loved how the plot was dark, original, and gripping, but also magical and just simply fun. —April G. Tucholke, author of Between the Devil and the Deep Blue Sea 
I'll Give You the Sun by Jandy NelsonThis book is a poetic, time-bending exploration of a complicated and unforgettable sibling relationship. It's about grief and forgiveness, love and art, coming out and finding your own way. The novel paints with the full range of human emotions and such a vivid color palette in words that there are images I'll never forget for my entire reading life. After reading it, I tweeted at the author "How did you write a book that knows me better than I know myself?" —Alex London, author of the forthcoming Black Wings Beating
Dread Nation by Justina IrelandI am in love with Dread Nation by Justina Ireland. The world-building, the characters, the societal commentary, Justina blends it all together into this gorgeous work of art. Each character leaps from the page and makes a home in your heart and your head—except the bad guys. They still leap, but you don't want them anywhere near you. —L.L. McKinney, author of the forthcoming A Blade So Black
Feed by M.T. AndersonOne of my favorite YA books is Feed by MT Anderson. First of all, it has one of the best first lines ever: "We went to the moon to have fun, but the moon turned out to completely suck." Second, I'm afraid we are moving closer and closer to the world Anderson envisioned, in which ads and shows and chats feed directly into your brain. Feed is funny and frightening and altogether brilliant. —April Henry, author of Girl, Stolen
NYLON uses affiliate links and may earn a commission if you purchase something through those links, but every product chosen is selected independently.