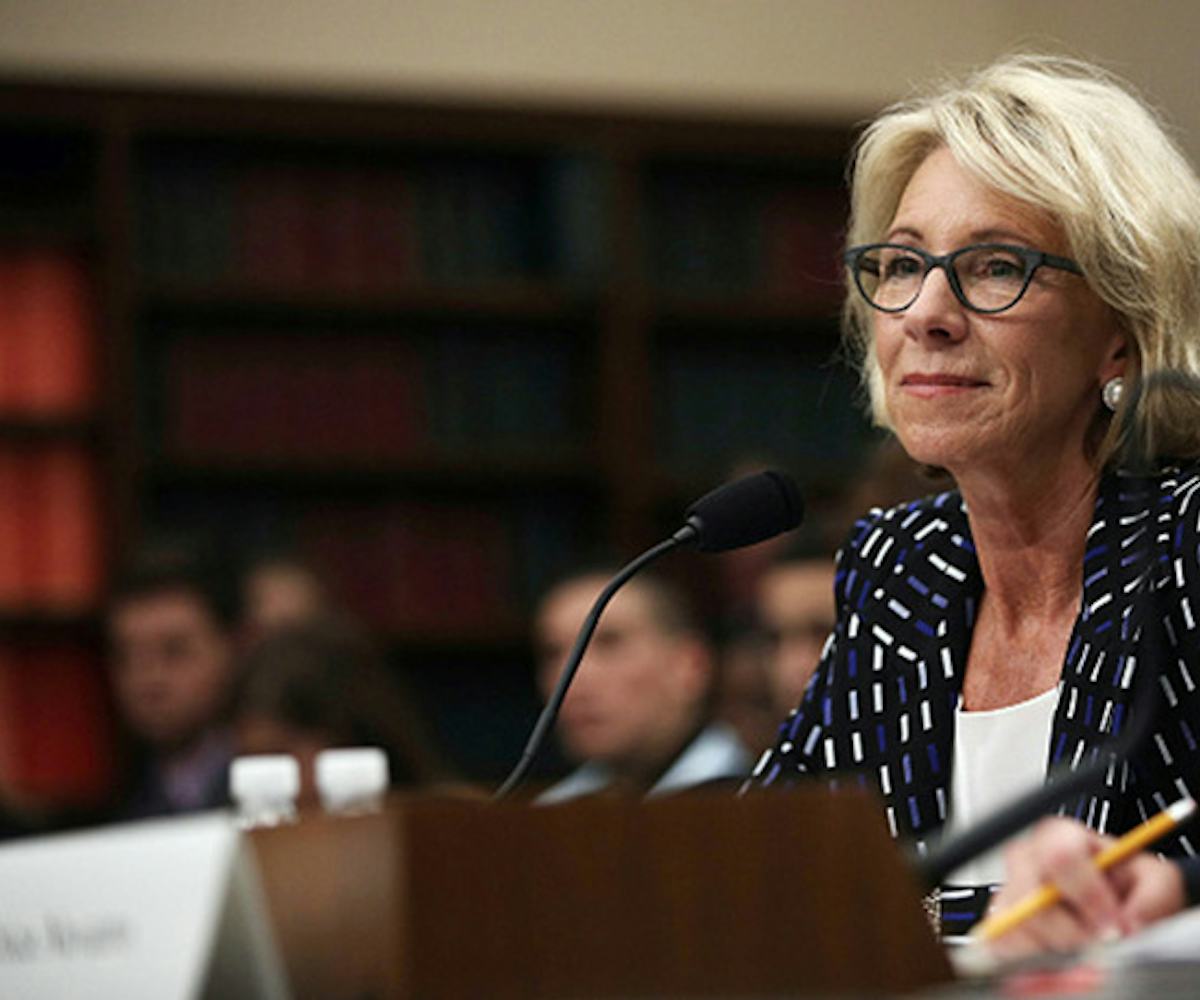 Photo by Alex Wong/Getty Images
Trump Administration Rolls Back College Sexual Assault Guidelines To Protect Men
And offers no replacement policies
Secretary of Education Betsy DeVos announced today that the Trump administration would be rolling back Obama-era Title IX sexual assault guidelines, which were put in place to protect victims on campus. "The system established by the prior administration has failed too many students," she said, referring to men who've been wrongfully accused of assault.
Like the president with neo-Nazis, DeVos wanted to address "both sides." Before making the final call, she met with supporters and critics of the policy, according to Mic, including men's rights advocates, who believe men face systemic discrimination. 
"Survivors, victims of a lack of due process and campus administrators have all told me that the current approach does a disservice to everyone involved," DeVos said during a speech at George Mason University. 
However, the current Title IX guidelines already require a fair process for both sides, the director of education at the National Women's Law Center, Neena Chaudhry, told Politico. "Schools are not getting it right sometimes—both for accused students and survivors," she said. "But the answer is not to change the law, but to help schools comply with it."
While DeVos said the administration wants to explore "all alternatives that would help schools meet their Title IX obligations and protect all students," she didn't offer any actual replacement policies that would protect students from sexual assault. "We welcome input and look forward to hearing more ideas."
In 2011, the Obama administration amended Title IX, which prohibits discrimination based on gender, obligating colleges and universities to actively address and combat sexual assault and harassment on campus, or otherwise, risk losing federal funding. "If a school knows or reasonably should know about student-on-student harassment that creates a hostile environment," the administration said in a statement, "Title IX requires the school to take immediate action to eliminate the harassment, prevent its recurrence and address its effects."
Republicans were immediately outraged by this, considering it an "overreach." Essentially, their argument is that accused rapists are the real victims of sex crimes on campus, despite the percentage of false allegations remaining low, according to the National Sexual Violence Resource Center. 
"There are so many young men whose lives have been destroyed by these allegations," Cynthia Garrett, co-president of Families Advocating for Campus Equality, which supports "due process rights for accused students," told Fox News. 
While DeVos acknowledged the Obama administration helped "elevate this issue in public life," she added: "Good intentions alone are not enough." The Trump administration is now looking for "a better way" to deal with sexual assault.