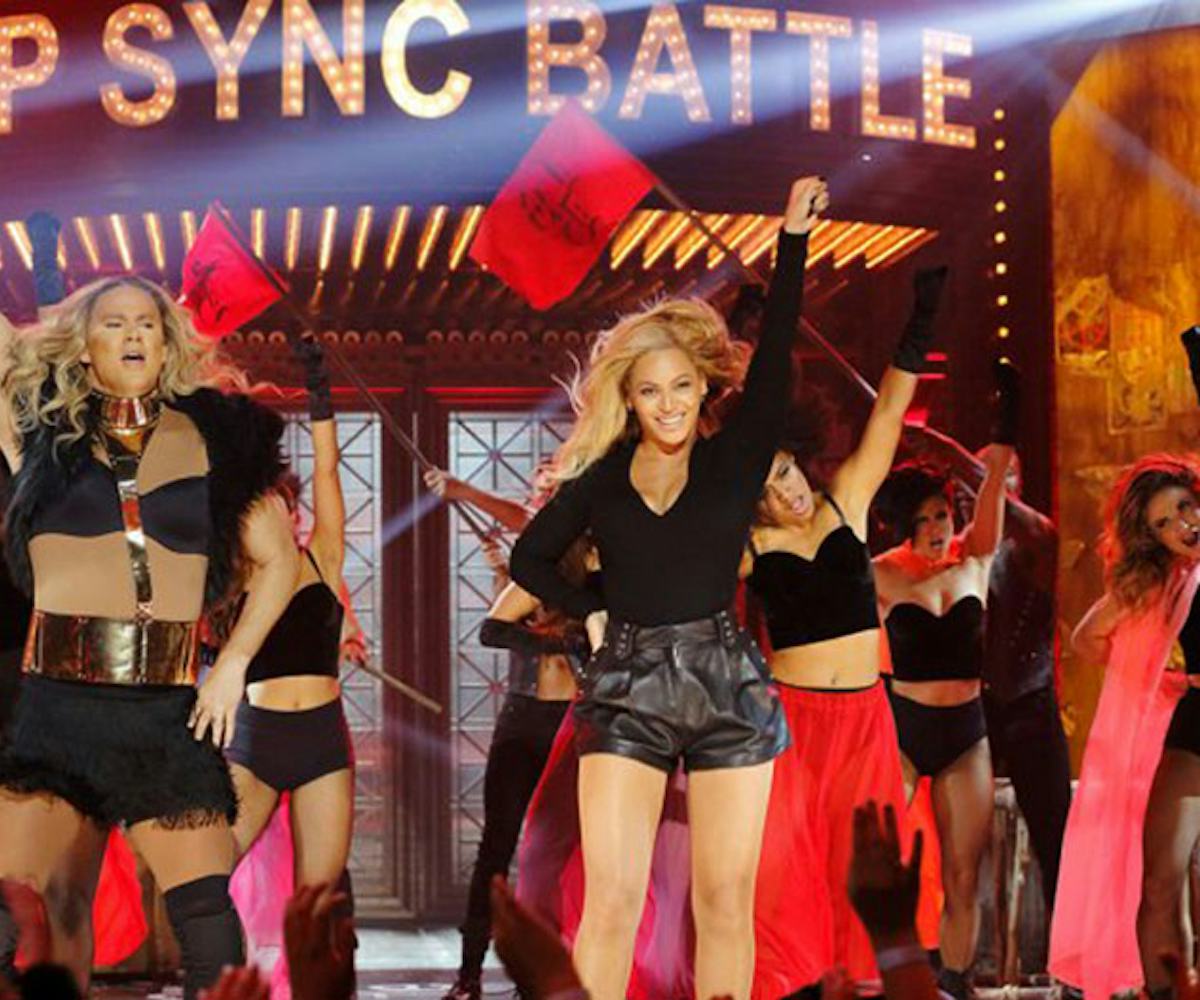 Photo via Spike
It Took How Long To Organize Channing Tatum's Beyoncé 'Lip Sync Battle'?
changing the game takes time, y'all.
If you want Beyoncé to appear on your hit television show, you better reach out to her camp a year in advance. Her less-than-a-minute cameo on Lip Sync Battle—you know, the episode with Channing Tatum that was teased like nothing has ever been teased before?—allegedly took about a year to plan. Talk about commitment. 
Casey Patterson, the show's executive producer, and Matador Content's Jay Peterson recently gave The Hollywood Reporter some inside scoop into what went on behind the scenes. According to Patterson, "We don't choose the songs for the performers—it's always their choice." Take a wild guess as to who the most requested artist is. If you thought Beyoncé, you're very much correct. "She's been the holy grail, and we've always been in contact with her camp. They know when we're gearing up for production."
As it turns out, though Beyoncé gave the go ahead for Tatum to tackle "Run the World (Girls)" a while back, the decision to have her on the show wasn't made until the night before the episode taped. According to Patterson, Tatum and Bey had been exchanging texts over his work and that's when the decision happened. They also said that Beyoncé and Tatum never met prior to their on-stage debut and that Tatum's wife, Jenna Dewan Tatum, had zero idea Beyoncé was even going to appear. Sheesh! It must've been some frenzy backstage. 
Thankfully (and rather unexpectedly), the episode brought in the most viewers to any Spike television show: 4.7 million viewers. Just a week after hitting the web, the clip has amassed over 20 million views. Sure, it might take extensive planning to get Bey on your show, but man, talk about a payoff. Rihanna might be the most marketable celebrity, but it's Beyoncé who runs the television ratings.
(via The Hollywood Reporter)