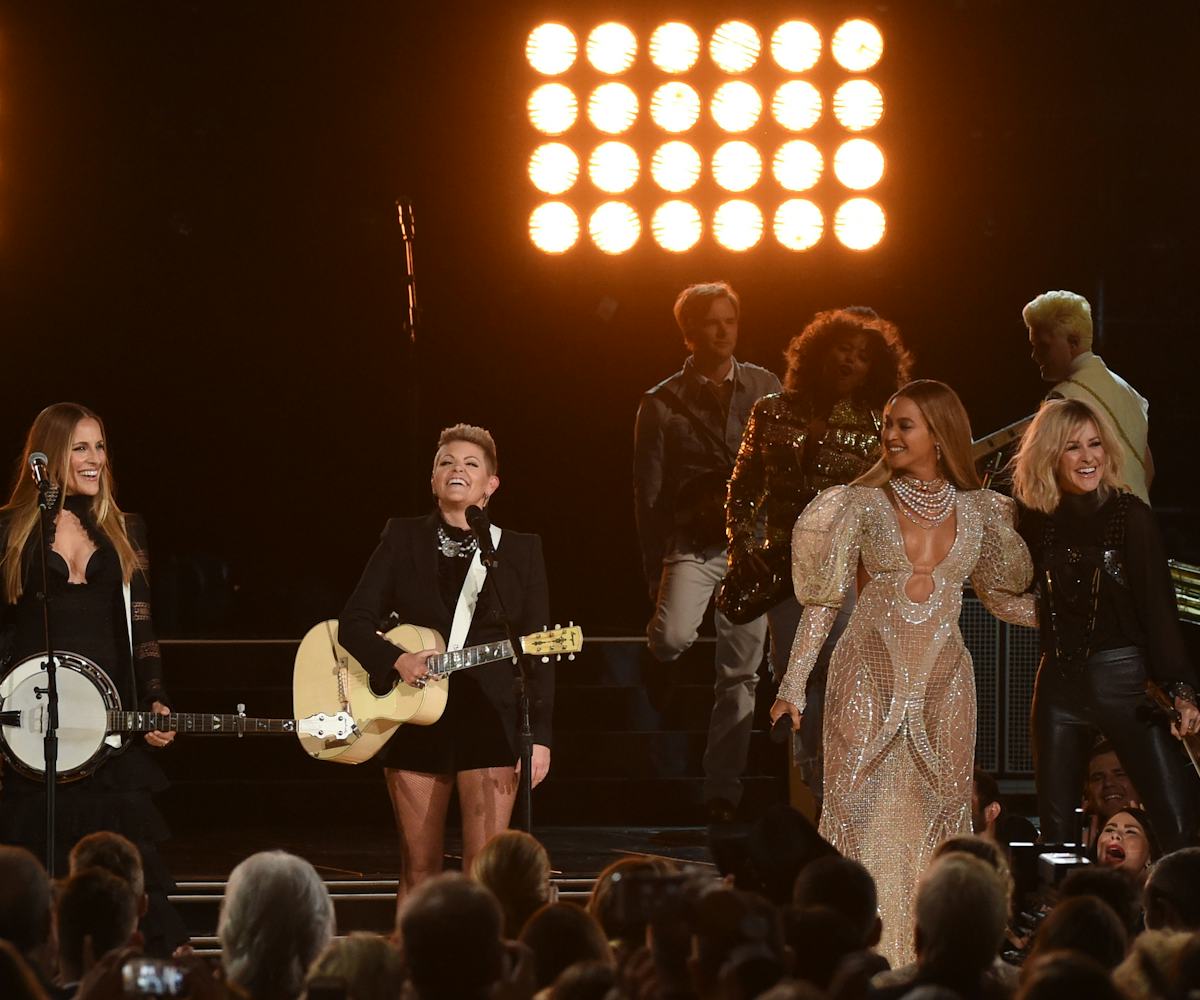 Photo By Rick Diamond/Getty Images.
Here's What's Going Down With The CMAs And Beyoncé
Is there some kind of conspiracy happening?
You might've heard that a performer by the name of Beyoncé crashed the Country Music Awards earlier this week. Some weren't happy about it, but most (mainly her fiercely loyal fans) were ecstatic. Why would anyone be disappointed that one of the most talented artists out right now is blessing the award show—and its ratings—with her presence? We hear ya.
Apparently, people are still upset about Beyoncé's mildly political "Formation" video, which some interpreted as being anti-police and caring about the lives of black people supporting "racist" organizations. In addition, some were frustrated that the singer isn't actually a "country artist," despite the fact that she hails from the South, "Daddy Lessons" does, indeed, fit into the definition of a "country" song, and, not to mention, the genre is rooted in black culture. As NPR so eloquently put, "her country excursion represents something more like reclamation than invasion."
But, we digress. Back to the topic at hand. The day after the award show, there were whisperings that the CMA deleted all traces of Beyoncé and the Dixie Chicks' performance from its website and social media in response to the backlash. A spokesperson denied this, issuing the following statement:
CMA has not erased any mentions of Beyoncé's performance on the CMA Awards. In advance of the broadcast, CMA removed a 5-second promotional clip from ABC.com and CMA's Facebook page. The promo was unapproved and CMA removed it prior to the broadcast. Beyoncé's performance with Dixie Chicks was a highlight of the evening and we are continuing to share the amazing full-length performance clip via our official social channels. 
The CMA's did reshare the Dixie Chicks post of the video on Facebook (which is littered with hateful comments) and Twitter. But, that's about it. The band, on the other hand, retweeted a comment from iHeartMedia personality Big D that reads: "So, @dixiechicks make a massive comeback with @Beyonce last night & @CountryMusic tries to cover it up?" Dixie Chick Natalie Maines also went rogue to post this message on her personal Twitter account: "Hey everybody! The CMA's just called and asked us to co-host next year's show with Beyoncé. Unfortunately I've got a thing that night so, no."
*Inserts pondering emoji here* Is there some kind of conspiracy happening? Probably, maybe, who knows. It mostly just looks like the CMA's trying to save face. Are the reactions to the performance despicable? Definitely, absolutely, yes. But, also, look at the state of our country right now. We can't say we're that surprised.
The bright side of the incident: This hoopla takes not one ounce of talent away from Bey. And the collaboration has brought us a great rendition of an already great song. As the Dixie Chicks wrote, "If we all turn [it] up really loud, together we can drown out the hate." So, let's do just that.