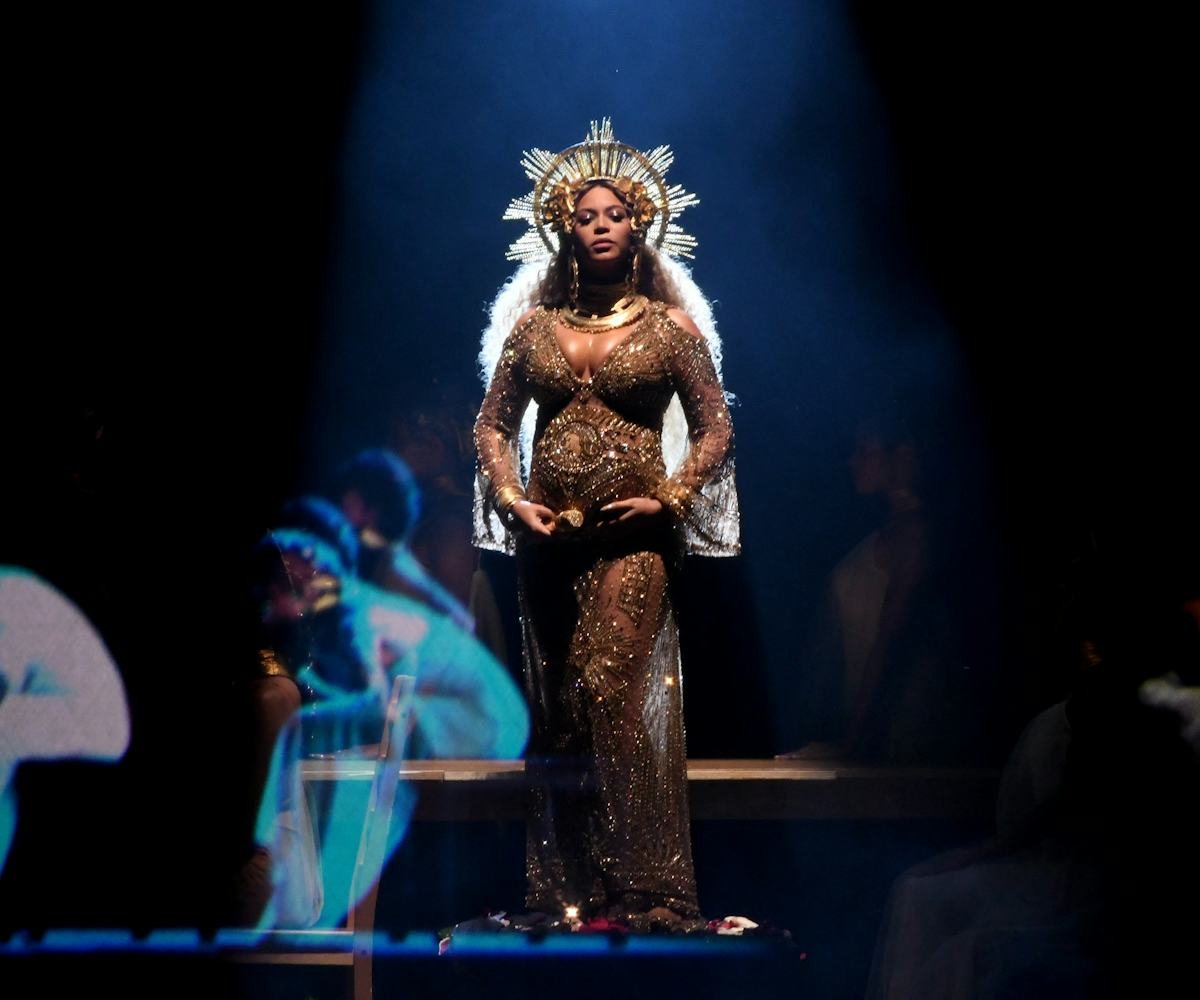 Photo by Kevin Winter/Getty Images
Beyoncé's Grammys Performance Was Solid Gold
You know that you're about to be hit with something phenomenal when Tina Knowles-Lawson is brought on stage to introduce her eldest daughter. Beyoncé opened her performance at the 59th Annual Grammy Awards with a beautiful ode to motherhood before singing "Love Drought," and it was the definition of iconic. "Do you remember being born?" she asks before taking our breath away.
The pop star was decked out in gold wearing the most majestic flower crown we've ever set our eyes on. The whole scene was very similar to the imagery from Beyoncé's ethereal pregnancy photographs. The stage transformed into a beautiful garden sprung with an assortment of flower petals and brown women.
Beyoncé sort of gave a nod to her sister, Solange, when she sat on a lone wooden chair that then proceeded to lean backward. (No, it did not break and Beyoncé did not blink because she literally defies gravity, even while carrying twins in the womb.) As she transitioned into "Sandcastles," more snippets of the passage about mothers played. "There is a curse that will be broken," she says. "If we're gonna heal, let it be glorious."
WE. ARE. STILL. SHOOK. TO. THE. CORE. 
Have we been initiated into another life? Did that really just happen? We have truly been blessed. As the camera panned out to the crowd, Jay Z and Blue Ivy were spotted beaming brightly with pride. What a tough act to follow... 
Rewatch the highlight of the night in the video, below.
SLAY BEY #Beyonce #BeyHive pic.twitter.com/9eZU3xvp8B— The Beyonce World (@thebeyworldcom) February 13, 2017