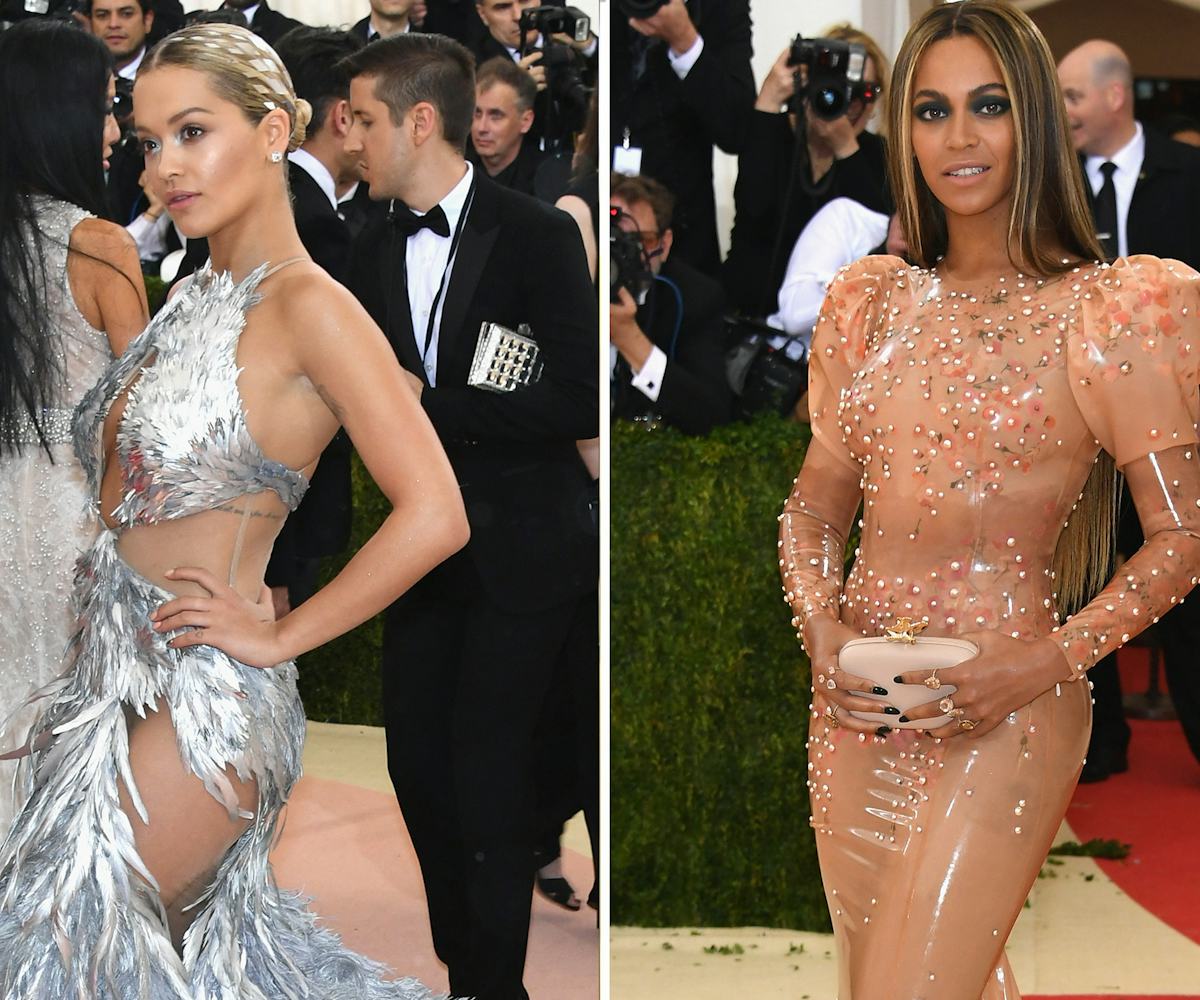 Photos by Larry Busacca/Getty Images
Beyoncé And Rita Ora Hugged It Out At The Met Gala After-party
Last night, we may have gotten our best confirmation that Rita Ora—despite everything the Internet has said about her—is almost positively not Beyoncé's "Becky with the good hair."
First off, Rita Ora, who had previously appeared alongside Vera Wang on the red carpet in one of her creations, arrived at the after-party for the 2016 Met Gala rocking one very interesting accessory. Quite simply, it was a name tag bearing the statement "NOT BECKY" in all caps (just in case you might miss it).  
This follows Ora's recent denial that she is "Becky with the good hair," Jay Z's supposed sidepiece mentioned in a lyric in Beyoncé's song, "Sorry," off of Lemonade. Though "Becky" is most likely a throwaway stand-in for the woman (or women) Beyoncé's husband Jay Z may have had an affair with, fans have latched onto those five words as if they were an arrow pointing in someone's direction. Some have supposed "Becky" is designer Rachel Roy. Others have singled out Ora.
While the "NOT BECKY" tag was some good stuff last night, the real proof that Ora isn't "Becky" comes in this very cute image of the singer and Bey enjoying the bash, which included a performance by The Weeknd. 
At this point, it seems pretty unlikely that Bey and Ora would be so cozy if "Sorry" was actually a case of one star calling out the other. Oh, and even if the long-standing rumors about Jay and Ora were true, it seems Beyoncé is good with her. Even if anything happened, it's in the past for all three of them, so it seems time to bury this particular bit of nastiness in the backyard behind the shed where it belongs.