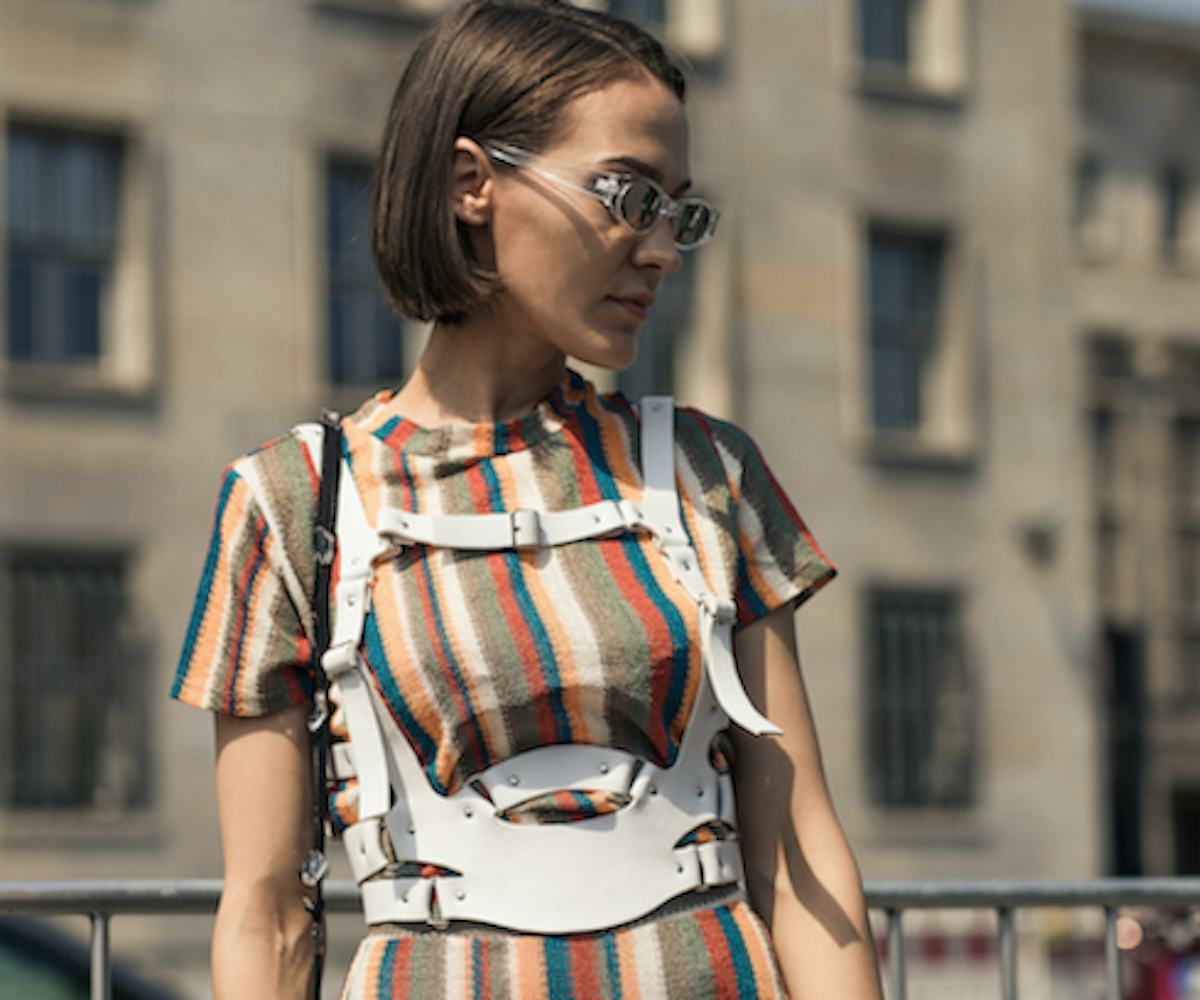 Photo by Matthew Sperzel
The Best Of Berlin Fashion Week Street Style
The Germans sure know how to style a harness
And, that's a wrap! Berlin Fashion Week concluded over the weekend, and the past few days of street style have us feeling just as inspired as the collections themselves.
Berliner style had no boundaries, and we have the proof. Towels? Throw 'em on your head to make a head wrap accessory. Harnesses? Take one from the bedroom and put it, well, anywhere. It doesn't stop there. From voluptuous tulle to belt buckles in every color of the rainbow, accessories and interesting fabrics were the stars of this street style show. The Germans showed us how to elevate classic prints and textures such as florals and denim, as well as the chicest ways to update old trends, such as bandage skirts (hint: wear them in leather and add some buckles).
Ever wondered what going the extra fashion mile is? This is it, folks. This street style is truly one-of-a-kind and has raised the bar for all the Fashion Weeks to come. Check it out, below.
This is monochromatic print mixing, 101.
An A+ for embellished tulle and bathing suit use.
TFW your jacket is your forever mood.
This pastel graphic dress and bucket hat pairing is our new favorite combo.
What's that saying? The bigger the conductor hat, the better?
The perfect set of harnesses for when your knees get weak.
That posh "fresh out of the shower" look.
Asymmetric graphic tees and checkered belts are a match made in heaven.
The drama of it all!
We're always here for an allover floral getup.
Where were these jeans during Pride Month?
We're not sure what we love more, this bandage buckle skirt or over-the-top ruffled top.
Ah, another buckle skirt! Okay, we're sold.
Transparent raincoats and denim—a classic love story.
Double the buckle, double the trouble. Also, this neon fuzzy hat needs its own zip code.
When camo goes bondage.
So many trends to wear, so little time.
Monochrome for the win again.
The cutest feather detailing in the whole wide world.
Now this is how you layer. We're swooning.
Thinking deeply about… this all-star off-duty look.
Button up. Or down. Or not at all.
When your athleisure look matches your BFF.
Can we take a minute to appreciate the stripes on this harness ensemble?
Why wear a shirt forward when you can wear it backward?
Every jersey needs an accompanying pair of statement earrings.
When in doubt, throw on a peekaboo print bra.
These cropped and flared floral trousers are what dreams are made of.
PSA: Bucket hats aren't going anywhere anytime soon.
We're glad to see strong suiting is here to stay.
This feathery outfit is making our goth girl dreams come true.
We're glad to see Pride lewks still going strong.