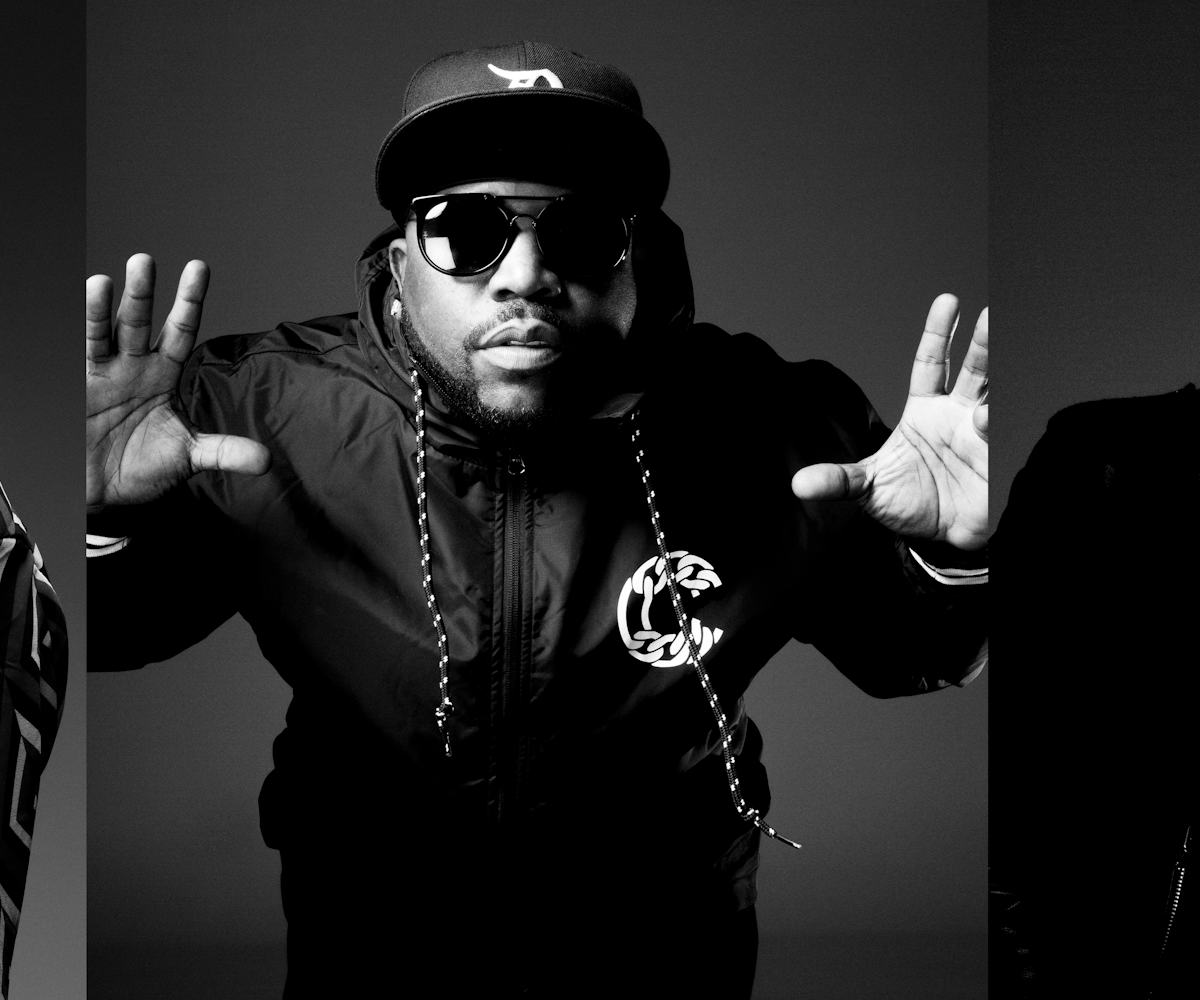 Photo by Timothy Saccenti.
Big Boi And Phantogram Are Moving Weight
as the collaborative group, big grams
The walls of the Griffin are shaking.
This is not hyperbole. Nor is it a scene from a disaster movie filmed at the opulent club in New York City's Meatpacking District—though the pounding rain and thunder outside have lent a certain cinematic quality to the evening. About 150 or so people have gathered to celebrate the release of Big Grams (the eponymous collaborative project between hip-hop groundbreaker Big Boi and electronic duo Phantogram), and the music is so loud that the building is actually vibrating. Not one of the head-bobbing partygoers seems to mind—especially not the woman twerking by the bar.
"We just connected," recalls Phantogram's Sarah Barthel of meeting Big with her counterpart, Josh Carter, as we chat the next morning in the much quieter offices of the overwhelmingly lofty Sony Music headquarters. "We all have the same idea—of making fresh music and new shit, and thinking outside the box." The rapper's discovery of the duo is indicative of our times: He was closing a pop-up ad when a song spontaneously began playing. He used Shazam to identify it as Phantogram's "Mouthful of Diamonds." The track was then posted on BigBoi.com as a "Jam of the Week," and the duo was invited to Outkast's Stankonia Studios in Atlanta to contribute to Big's Vicious Lies and Dangerous Rumors. Their creative harmony was immediately apparent, given Phantogram's three features on the 17-song album. Beyond that, however, a genuine camaraderie had developed between the artists. "It was like we had been friends forever, like we went to high school and middle school together," says Big, admitting the sadness he felt when the two left Atlanta to return home to New York.
Another fun fact: Phantogram and Outkast share astrological signs—Big and Barthel are Aquarians and André 3000 and Carter are Geminians (double Aquemini!). But the main sign of compatibility made itself known in the studio. "They're not afraid to experiment," says Big. "That's one of the reasons we clicked so well—they're mad scientists in the lab, too." It was inevitable, then, for the three to maintain their momentum, and they set out to produce music under the moniker Big Grams, having come to the consensus that "Phanto Boi" sounded too creepy. 
"Drum Machine" came first, with its icy beat that transforms into a thumping track, putting Big's bars and Barthel's slinky vocals on full display. "It became this thing that's [metamorphosed] over time," says Carter, explaining how his creation made its way to Bosko (who produced Big Boi's "Shutterbugg") and eventually to EDM mastermind Skrillex—or, rather, "Skrilly Baby," as he's known by the group. The track set the tone for how most of Big Grams would be created—virtually, that is, with Barthel, Carter, and Big in different cities for much of the recording process and having to play songs for each other via FaceTime Audio, further proving how fundamental technology has been to the project. The creation of "Drum Machine" also foretold the truly collaborative nature of the album, with its contributions from Organized Noize's Ray Murray, Chris Carmouche, 9th Wonder, and Run the Jewels. "If you want to make a project like this, which has been a labor of love and friendship, you've got to put your ego aside and learn how to cooperate and have fun," says Carter. 
They surely succeeded in doing so. From the feel-good "Fell in the Sun" to "Goldmine Junkie," which features Barthel premiering a rapping style that Big has coined as "smokin' word," Big Grams is a testament to the relationship-forging qualities of music and the creative output those relationships can spark. In addition to the recording, the collaboration has inspired an animated music video produced by Adult Swim that's slated to drop in the coming months. With Big's children referring to Carter as "Uncle Jo-Jo" and the trio taking bonding trips to various strip clubs—as most kin do, of course—what started as an appreciation for one another's work has transformed into the extension of a family. As Big Boi sums things up: "It's the dopest of dope, you know what I'm saying? The biggest of grams, it won't even fit up your nose. You couldn't rub it on your gums with your pinky if you wanted to. How 'bout that?"