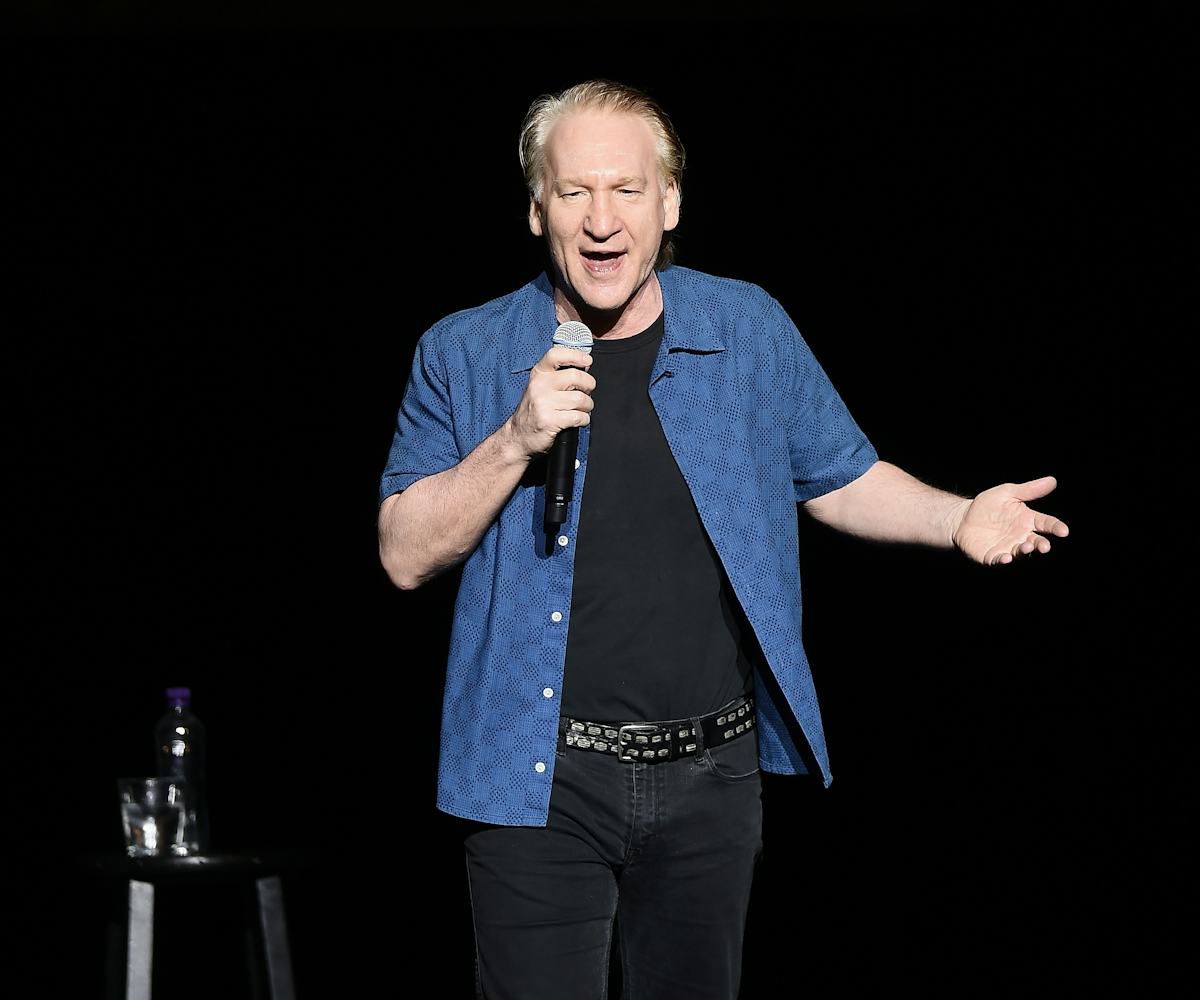 Photo by Nicholas Hunt/Getty Images
Bill Maher Issues An Apology For Using Racial Slur On 'Real Time'
"The word was offensive and I regret saying it"
On Friday night, Bill Maher, comedian and host of Real Time on HBO, used the N-word during an interview with Nebraska senator Ben Sasse. It immediately sparked outrage on Twitter, with some people asking the network to cancel Maher's show. He's now apologized via a statement sent out by his publicist, saying that he regrets his word choice.
"Friday nights are always my worst night of sleep because I'm up reflecting on the things I should or shouldn't have said on my live show," Maher said in a statement on Saturday. "Last night was a particularly long night as a I regret the word I used in the banter of a live moment. The word was offensive and I regret saying it and am very sorry."
When discussing Sasse's new book on the show, the senator told Maher he should come to Nebraska. "We'd love to have you work in the fields with us," Sasse said. 
"Work in the fields?" Maher replied. "Senator, I'm a house n*****." The audience reacted with a mix of awkward laughter and groans. 
"Bill Maher's comment last night was completely inexcusable and tasteless," HBO said in a statement after the show aired. "We are removing his deeply offensive comment from any subsequent airings of the show."
Those who were asking for HBO to fire Maher include activist DeRay McKesson, who tweeted: "But really, @BillMaher has got to go. There are no explanations that make this acceptable." 
McKesson added: "And why did the audience think it was okay to laugh? And Ben Sasse doesn't even flinch. What is happening in the world?"
Chance the Rapper also made a plea to HBO to never air another episode of Maher's show. "Please @HBO," he tweeted, "Do Not Air Another Episode Of Real Time With Bill Maher."
Writer and producer for NBC's This Is Us said on Twitter, "Bill Maher's joke isn't a result of being 'too comfortable.' It's entitlement. 'Comfort' comes after understanding. He would know better."
Journalist Jack Posobiec, who writes for the right-wing site Rebel Media, has also called for Maher to be fired. "Racist Bill Maher must be fired and @BenSasse must be held accountable for his endorsement of the n-word," he tweeted. 
Sasse responded to the criticism by saying what he wished he'd said on air. "Here's what I wish I'd been quick enough to say in the moment," he tweeted, "'Hold up, why would you think it's OK to use that word? The history of the n-word is an attack on universal human dignity. It's therefore an attack on the American Creed. Don't use it.'" 
NAACP president, Cornell William Brooks, said: "Great comedians make us think & laugh. When our humanity is the punchline, it hurts too much to think or laugh."
Maher is currently hosting his 15th season of Real Time, and as of Saturday afternoon, it is still expected to air next week in its usual time slot on HBO.