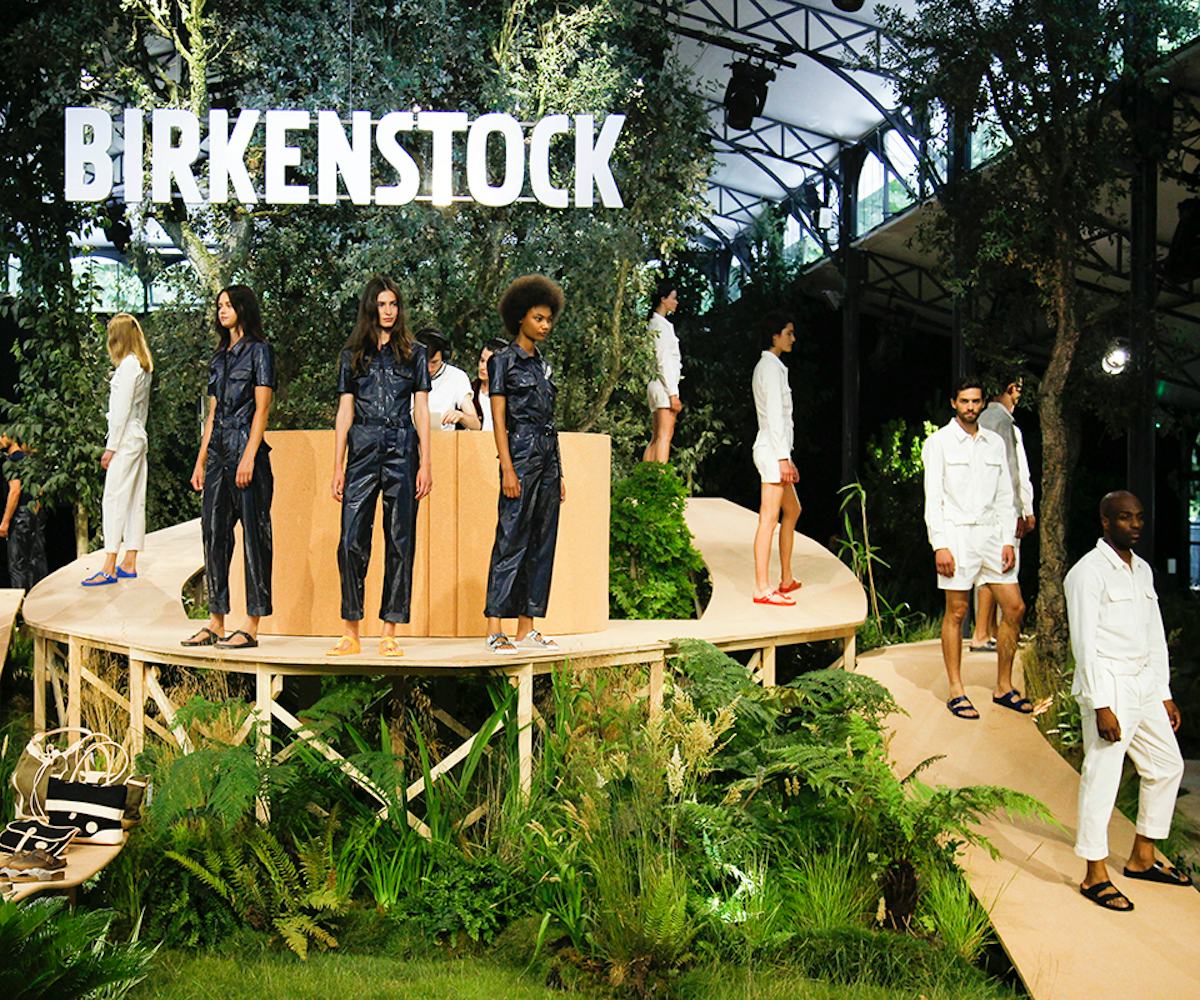 Photo courtesy of Birkenstock
An Unlikely Brand Just Made Its Paris Fashion Week Debut
Over the weekend, an unexpected 242-year-old label made its Paris Fashion Week debut (you know, alongside the likes of Dior Homme and Kenzo): Birkenstock.
The runway presentation and party were held in Paris' Tuileries Garden, where the German footwear brand created a temporary event space complete with, according to Vogue, a pavilion, pine walkways, plant arrangements, healthy drinks and food, and more to celebrate the 115 new Birkenstock styles that made their way down the runway.
The shoes once reserved for the earthy-crunchy types have certainly become more mainstream over the past few years, now carried at retailers such as Urban Outfitters and Barneys. Even though we can't ignore the growing number of Birkenstocks making the department store shelves and fashion week street style rounds (in addition to sneakers and other less blister-forming, feet-destroying styles), we must say, we're still a bit surprised to see the chunky, cork slides making such a bold appearance on the runway—specifically one in Paris.
What does this mean for the rest of us, Birkenstock-loving folk? Are our favorite "walking to the bodega to buy toilet paper" shoes going to now be reserved for only the rich and glamorous?
Fear not, as the brand isn't necessarily trying to jump on the luxury bandwagon, like many other brands have done in the past. "We are not going into the arena with the big fashion brands," Birkenstock CEO, Olivier Reichert, told Vogue. "We are just trying to open a space for the people to relax and have a drink. We want to join the family, let them check our new collection. But we are not on the way to push the fashion more—we are okay where we are."
What we're really left wondering now is whether the brand plans to start carrying the tailor-made clothing worn by the models specifically for the show, because we need to get our hands on that shiny vinyl jumpsuit.