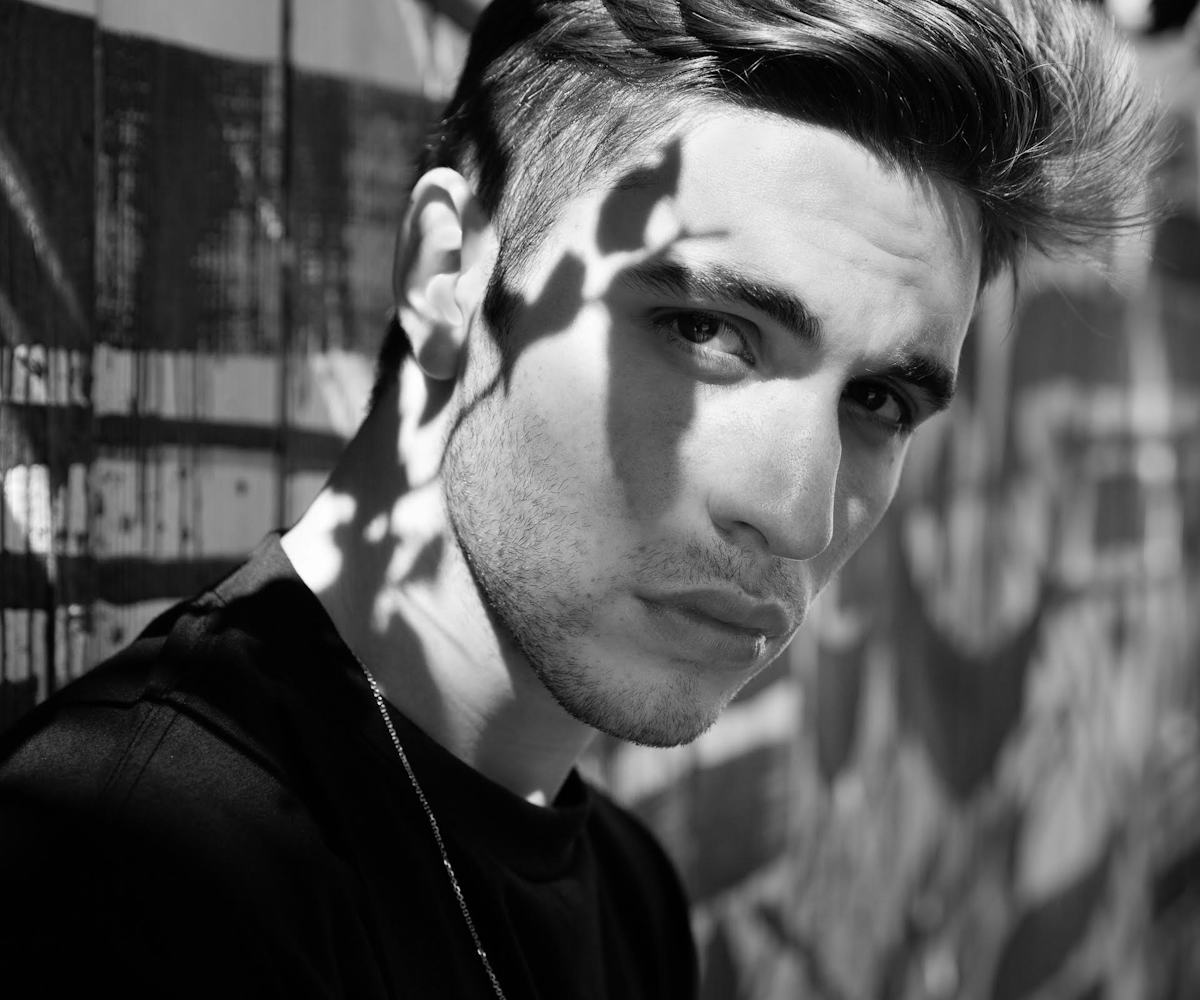 Photography by Myles Pettengill
Meet R&B Crooner And Fashion Darling, Black Atlass
alex fleming is just getting started
Not many 18-year-olds can say they soundtracked a Louis Vuitton Marc Jacobs ad, but back in 2012, Alex Fleming wasn't just any 18-year-old. Then a high-school student in Ontario, Fleming had already released a self-titled EP as Black Atlass when Jacobs' camp came calling, and was well on his way to developing the refined and stylish aesthetic that sets him apart from the ever-growing crowd of electronic R&B artists. Three years on and fresh off his debut full-length, Jade, he's already diving into a new stage of his career, with a series of singles and videos set to drop later this fall. We caught up with Fleming to discuss Black Atlass' origins and the project's distinct synthesis of music, fashion, film and photography.
You've been active in both the music and the fashion worlds. Which came first?
Definitely the music led into all of that. It's been a good gateway into all sorts of different mediums and letting me blossom into the artist that I want to be. I've been using music as a vessel into things like modeling, photography, and video.
You already seem to have strong relationships with major fashion houses and underground designers. Where did those connections originate?
I guess it just came about back in high school when I first did the Louis Vuitton thing, and that spiraled into where I'm at today, where it's sort of synonymous with the music and my project, in general. It's also something I try to apply to my work now, envisioning it in those sorts of campaigns.
Tell me about the Louis Vuitton campaign. How did that come about?
They reached out to me to use my song "Paris" in a quick little behind-the-scenes for these leatherhead figurines they were doing in collaboration with Marc Jacobs, and from there that sort of spiraled into everything else.
From the start, you've had a very distinct visual aesthetic. Who were your biggest inspirations when crafting the Black Atlass look?
I was initially really inspired around the time Watch The Throne came out. I had seen this really cool documentary—I forget who it was by—that surfaced online about the making of the album. It was this sort of analogue, lo-fi view of this really high-fashion, luxury setting, but also mixed with these crazy shots of forests, water, and ambient nature. I loved that aesthetic and that inspired me to create the music based off the visual. I've always loved cinema in general, so I take a lot of inspiration from that sort of thing. Taking photos in high school was something I loved to do, so I've always had that sort of element to the project.
You grew up in Ontario then moved to Montreal. What was it like moving to the city for the first time?
It was definitely a change of pace. I'm back in Ontario now, just because I wasn't really feeling the atmosphere of a big city, creatively. It's great being around so many like-minded and driven people who are doing really interesting things, but I like to be more secluded and able to sit with my own thoughts on my work, without distractions. It took some getting used to, and eventually didn't work out for me.
What attracted you to Fool's Gold?
Initially it was just the Montreal connection, and then I also had such respect for A-Trak and what he was doing with his label. Having A-Trak reach out to me was the first collaboration I'd ever had with someone of that caliber, then that sort of led me into realizing the scope of what they can do and the level they can do it at. They have what you'd expect from a more DIY approach, a really down-to-earth artist-label connection, but they also have the scope of a major label. I really like that dynamic.
You're on a label with some really interesting rappers and producers. Do you see any collabs coming up in the future?
I really love the fact that I worked with Action Bronson and Party Supplies. I really like the vibe of those guys' work, so I'd love to work with them again in the future. Fool's Gold just has so many great producers and artists in general that the list is really endless.
You released your debut album in April and you're already back with a new single out now and more on the way. Should we be looking forward to album two?
It wasn't truly a debut album. Now I'm calling it more of a full-length EP. I really just put that out to have a blank slate and forge a new direction in the sound that I want for myself moving forward. I've been figuring out how to create the sounds that inspired me, and Jade was the first time that really clicked for me, so that was more of a palate cleanser. Now, I'm moving forward with new singles to get things moving throughout the year.
"Haunted Paradise" has an unexpected stylistic shift near the end of the song. Do you try to make music that surprises your audience?
For sure. That speaks to my creative process in general. I'm always trying to create things that are exciting to me and really show my different tastes in music and art and visual aesthetics, overall. I really try to combine all of those things in different ways each time, and I always want to keep my fans and my audience excited by that and not to ever fall into a style that's necessarily considered my own.
Speaking of expecting the unexpected, what's next for Black Atlass?
I've got a few more singles coming out with Fool's Gold and the "Haunted Paradise" video. I think we're trying to do a video for each single, and hopefully, that'll lead into a full-length project with all of this included on it and more.