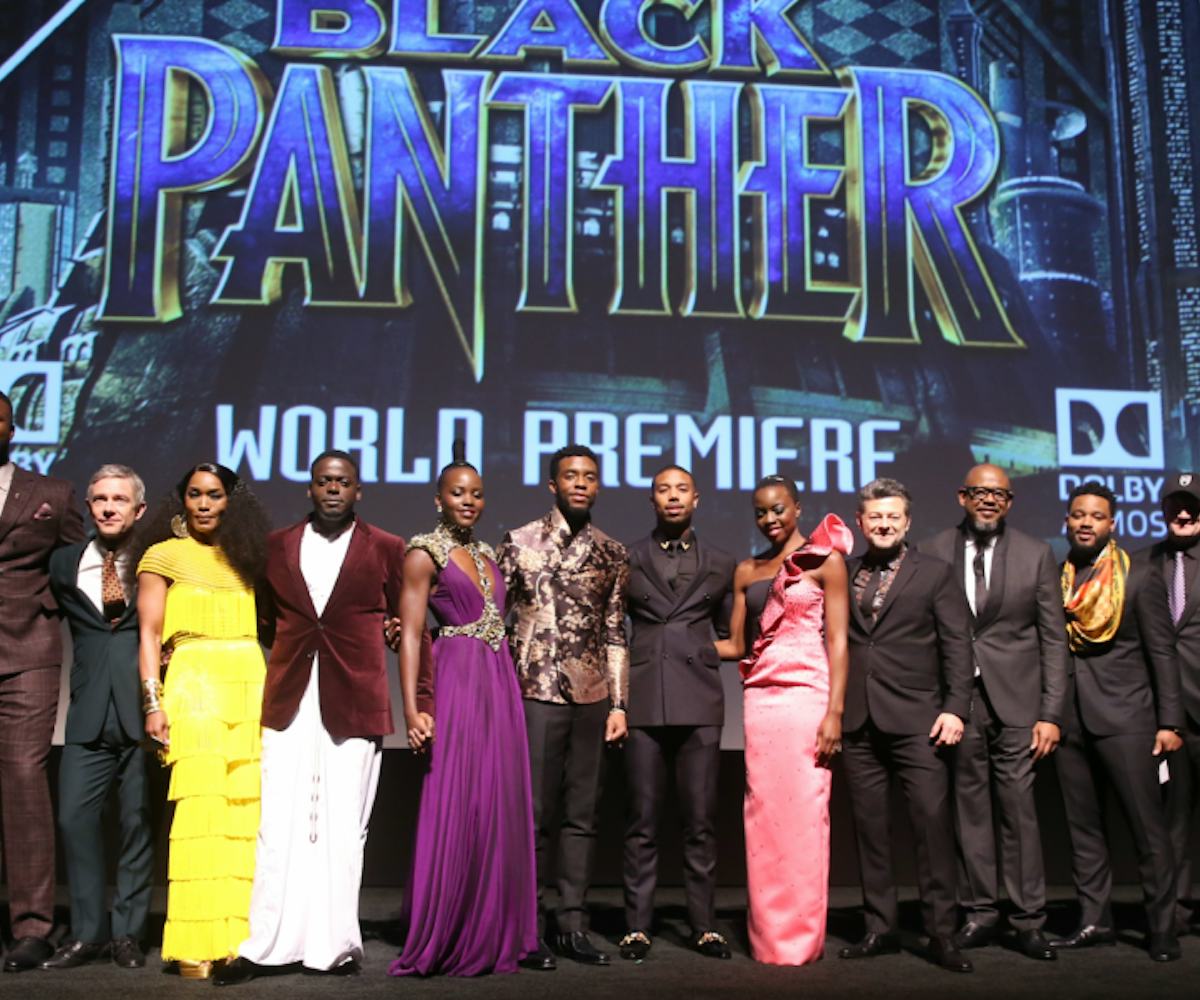 Photo by Jesse Grant/Getty Images for Disney
The Alt-Right Is Trying To Lower "Black Panther" Ratings, But Rotten Tomatoes Is Not Having It
"We do not condone hate speech"
Even though Marvel's Black Panther is slated for success (ticket sales have already broken a Fandango record), there are still a number of people out there who don't want us to enjoy nice things: Namely, hateful, racist neo-Nazis. (Who, let's be honest, never want us to enjoy nice things.)
The now-deleted "Down With Disney's Treatment of Franchises and its Fanboys" Facebook group—which is run by a self-proclaimed member of the alt-right—aims to lower Black Panther's Rotten Tomatoes score by inundating the site with negative reviews. Other targets on their list include Solo: A Star Wars Story, Avengers: Infinity War, and Marvel's Netflix shows. 
Rotten Tomatoes, of course, was having nothing to do with these hateful shenanigans, and issued the following statement:
We at Rotten Tomatoes are proud to have become a platform for passionate fans to debate and discuss entertainment and we take that responsibility seriously. While we respect our fans' diverse opinions, we do not condone hate speech. Our team of security, network and social experts continue to closely monitor our platforms and any users who engage in such activities will be blocked from our site and their comments removed as quickly as possible.
"Down With Disney's Treatment of Franchises and its Fanboys" (couldn't they think of a shorter name?) also claims they lowered Rotten Tomatoes reviews of The Last Jedi, which has a 91 percent approval rating from critics score but a mysterious 48 percent approval rating from audiences. According to the group, The Last Jedi was targeted due to its "feminist agenda." 
Though these dudes with too much time on their hands haven't explicitly said why Black Panther will be targeted, we have our suspicions. (Hint: It's not because everyone involved is so incredibly stylish.) Luckily, the movie looks amazing, and the majority of people out there seem to realize that. We know we're eager to watch Chadwick Boseman and his crew on the big screen this month.