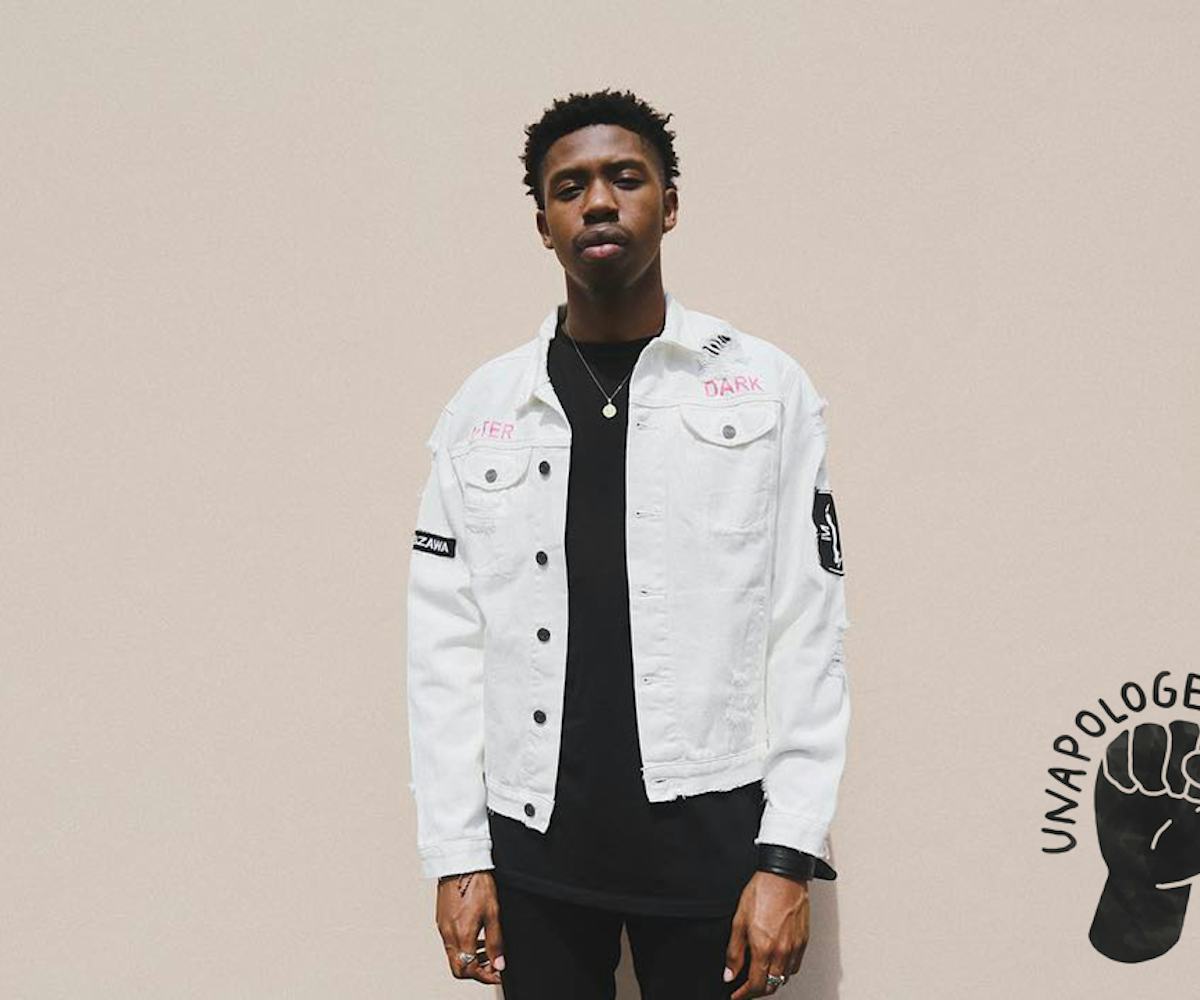 BLESSED Wants The World To Know That Being Yourself Is Cool
The Aussie artist stands out because he's true to himself
In celebration of Black History Month, NYLON is running a spotlight series called UNAPOLOGETIC. Every day, we'll celebrate different aspects of black culture through profiles, interviews, roundtables, reviews, videos, and op-eds. #Blacklivesmatter and we hold that truth to be self-evident.
Lately, Australia has really been proving itself as a feeding ground for creativity. BLESSED is the latest output from Down Under with his multilayered music that explores the boundaries of rock, pop, hip-hop, and R&B. In case you're wondering what that sounds like, the 24-year-old has been compared to Kid Cudi with his ability to sing, rap, produce, and play instruments.
He also isn't afraid of making a fashion statement—upon meeting the artist, you'll immediately notice he's equipped with a black leather fanny pack. "I just keep everything in it," he says. "I'm asthmatic, so I need my puffer with me at all times."
BLESSED has been making music since he was in high school. Shortly after he graduated, he started producing and writing music, but, for the most part, he was more invested in helping other artists than in promoting himself. It wasn't until last year that he realized he wanted to start making music for himself. 
After breaking away from major label obligations, BLESSED is set to release his upcoming debut EP sometime this season. Until then, learn everything about the Aussie in the interview, below.
What was it like growing up in Australia?
I moved around a lot in Australia 'cause my dad's a minister, so he moved around for church. Growing up in Australia, I don't know how to describe it... There's just so many different ethnicities and cultures there. Sydney's like a melting pot of everything and everyone, so growing up with all those different influences, and having mates that are all completely different, was awesome. [I grew up] listening to Bible stories every day. I don't like to swear in my music, and I like to show them that there's a bright side. 
Could tell me more about the treatment for the "Insanity" music video?
It was just a bunch of mates, really. We had these actors mates who my girlfriend picked out, and we just went around for, like, two or three days to different places in the countryside and just pretty much got them to act out whatever we said. So it was really on the spot, but it turned out really great. 
What is that song about?
It's obviously about love, but it's almost like an idea of love. Being so connected or involved with someone else and giving yourself to someone so much that you kind of lose yourself.
What else do you have coming up? 
Finished working on an EP. I've got a bunch of songs, but I plan on dropping the EP maybe next month or the month after. Still gotta figure it out. I want to do a couple more videos as well for this EP and then just move on, keep trying new things.
What are you hoping to accomplish as an artist?
I want to make music that people connect with and relate to. Especially kids like me—I'm Ghanaian, but I live in Australia, and I don't speak my language. Everyone around me who's Ghanaian speaks the language and then I hang out with the white kids, but I'm the black kid. [For] kids who feel alone, but not that alone... So to make music for people like me; and if other people enjoy it too, that'd be sick.
Do you consider yourself a rapper? 'Cause you're also a singer and a producer.
Honestly, just a musician. I love making music more than just rapping. I only started working on my own stuff two years ago. I have so much music coming out of Australia which isn't mine, but I love that.
Is the transition from making music for other people to doing your own thing and putting yourself out there as a solo artist difficult?
Yeah, it was, but it's not really that much anymore. I guess I'm growing as an adult and understanding [how] being yourself is cool. I tried to be cool for so many years, but now I feel like I'm the coolest person because I'm just being me. You know what I mean? Like, not trying at all. And so it's easy for me to get in the studio by myself now and just make music. 
Do you have a go-to creative process or routine when you're making music or does it sort of come to you when you get in the studio?
Yeah, especially if I'm working with someone else, I gotta hang out with them for at least two or three hours. So pretty much sit around and talk. I'll play music I like, they play music they like. I play music I worked on, and they play that. And then we just chill for a bit, and when it feels like making music, then you make music. I'm not really [into] the whole structure like, "Oh, let's get in the sessions, let's try to make a song like this or whatever." It just doesn't feel real.
What would you say is one of the biggest challenges that you've either had to overcome or that you've faced so far as a musician?
I guess talking about stuff that I don't usually talk about. I'm pretty quiet. I only really realized not long ago that music is the tool for speaking or my tool for at least expressing my emotions. I've had a girlfriend for six years, but I don't really know how to like... I show her, but I never really know how to tell her how I feel. So that's challenging, which is good.