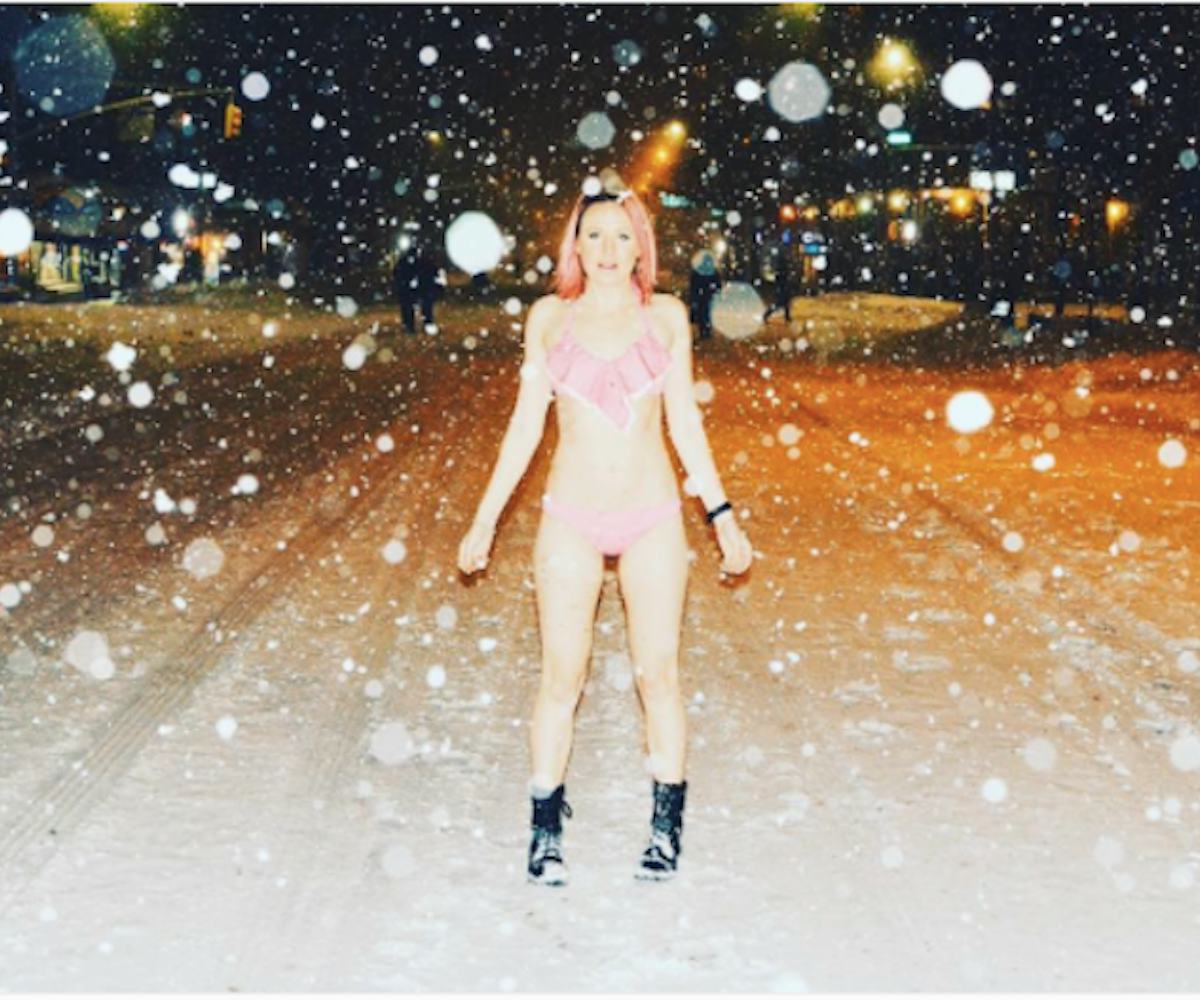 Photo via @kristinmd.
13 Of The Most Stylish Instagrams From #blizzard2016
why stay inside when you can take awesome pics like these?
There's nothing like a snowstorm to bring out peoples' stylish sides and #blizzard2016 (aka Jonas) definitely delivered.
Gorgeous white background? Check. A magical, ethereal glow from street lamps? Check. The guarantee that you'll look different from everyone else by not wearing 20 layers outside? Check.
If there's one scene that's begging to be Instagrammed, it's a city blanketed in the white stuff. While there were probably plenty of gorgeous shots filling your thread yesterday, we pulled together some of the most stylish ones out there—bundled up snow bunnies and brave bikini wearers included. Take a cue from these guys and girls and get outside before the plows and salt trucks turn this beauty into a brown, post-apocolyptic nightmare.
Note to self: combine graphic graffiti with a cozy cable knit hat and barely-there eyes for the perfect "I'm freezing but I look really cool" photo.
With his muted grays, fur trapper hat, and olive green coat, @aneeshchaganty looks like he's on his way home from a J.Crew catalog shoot.
Purple lips + playboy bunny slip + gladiator boots…the coolness factor of this look from @aleesyvon makes up for the fact that it's not quite weather appropriate.
We would stay inside, too, if we looked as awesome as Lea Michele in this printed wrap.
Hey, @emmyrossum, we want to come play in the whiteout with you.
We're loving (pun intended) this colorful mix of prints from Kiel James Patrick and Sarah Vickers.
The award for best cozy teatime shot goes to @walkingssstatue, with this stacked ring and pink cable-knit beauty.
This perfect black and white combo plus trendy, mirrored shades comes courtesy of @eve_thechick.
@kerinrosegold rocks the goth snow angel look with a tent-like parka, black on black, and fiery red hair.
The rugged lumberjack gets a cool update with a fur hat, ski goggles, and the ultimate manly accessory: the shovel.
@kristenmarienichols is a pretty snow princess in this romantic rooftop scene.
As one commenter aptly notes, @kristinmd looks just like Bridget Jones (aka wanton sex goddess) chasing after her Mr. Darcy.
Kate Hudson and friends know how to weather this blurry winter storm in style.