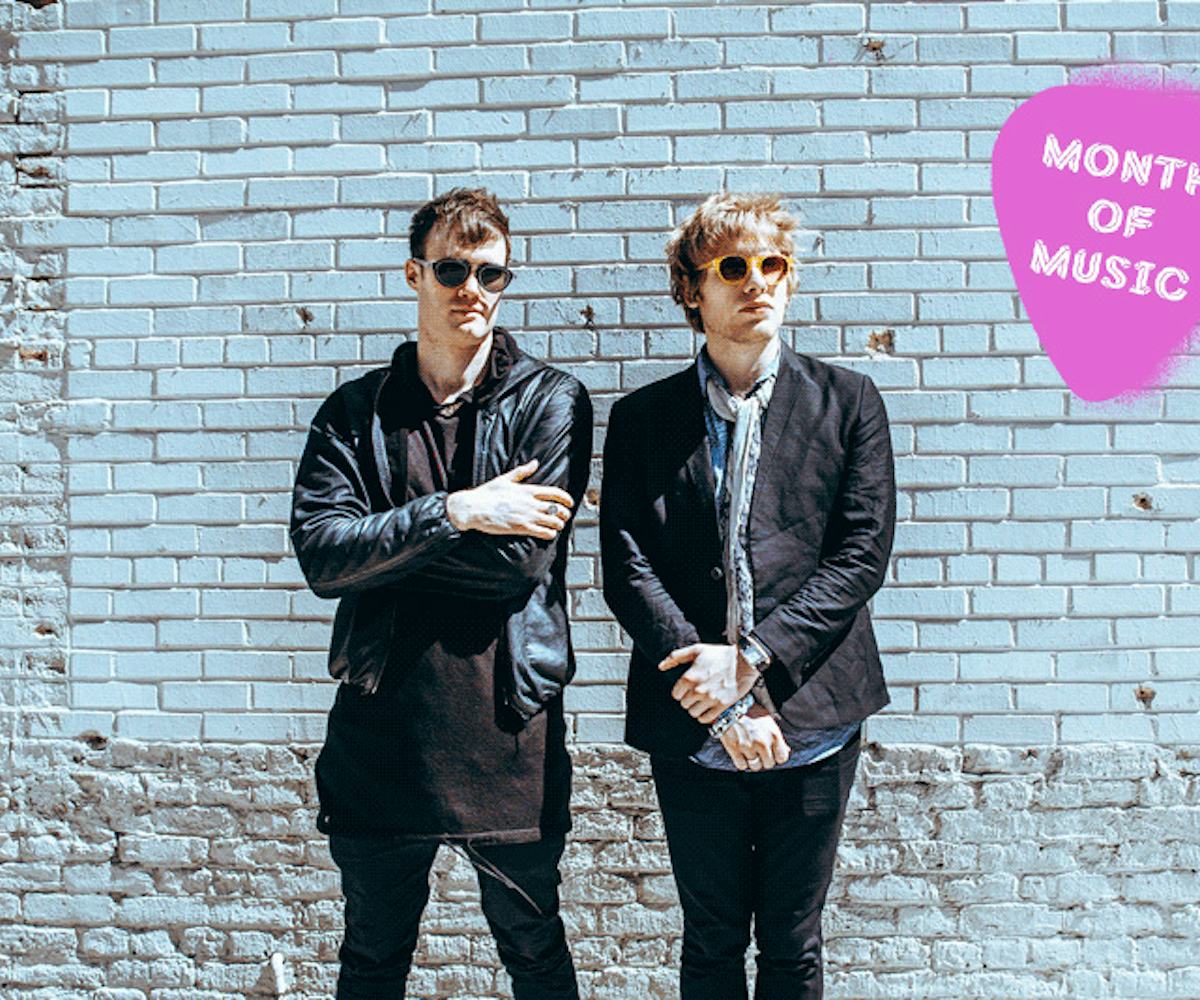 Photographed by Kara Smarsh.
Bob Moses Is Underground Electronica's Ticket To The Mainstream
d-d-d-d-drop the new vibes
We share music because we want to connect with others on a deeper level. We want to relay and relate to a message that can't be said with just words. This April, NYLON is dedicating six days a week to introducing you to new artists and budding favorites. With interviews and GIF portraits done down at SXSW, NYLON's Month of Music is an exercise in finding aural pleasures outside of the Top 40. It's an exercise in challenging you (and ourselves) to not stick to one genre. But above all, it's a celebration of bold voices and sheer talent. Enjoy.
Electronic music has become an industry. The fists that used to pump to the juggernaut of EDM have tired over the past few years, though, making room for acts like Tom Howie and Jimmy Vallance's Bob Moses to shine. Their debut album Days Gone By captures the disillusionment many have felt for the scene, and offers up a subdued alternative to the frantic build-drop of the big-name DJs. Together, they make music that's as refreshing to listen to as it is to boogie to. (Magic things happen when done so together.)
What song of yours fits the following situations:
Getting ready in the morning?
JIMMY: "Touch And Go." Why? Because you're touching clothes in the morning and gotta go. Gotta get ready for the day!
Me-time?
JIMMY: The acoustic version of "Hands to Hold," do you think?
TOM: I don't know. That's a bit depressing. I'm trying to think of all our songs right now. Maybe "Writing on the Wall"?
JIMMY: That's pretty good.
TOM: It's more chill, relaxing, and introspective.
Hooking up?
JIMMY: "First to Cry." It's sexy.
Can you recall a moment in your life—whether it's a song, a show, a video—that convinced you that you wanted to make music?
TOM: I saw U2's 3-D concert in IMAX. I remember seeing that and thinking, "I want to play to crowds like that."
JIMMY: I saw an Alice Cooper concert when I was, like, 8. I thought it'd be cool to be the dude on the other side of the stage.
If any artist, dead or alive, could cover your music, who would you want it to be?
JIMMY: Anyone would probably kill to have John Lennon cover one of their songs.
TOM: Or Kurt Cobain.
JIMMY: He does amazing covers—like that MTV Unplugged special. He did the David Bowie cover, "The Man Who Sold The World." He's really good at taking whatever it is and making it current. It'd be so dope.
Have you ever been starstruck?
JIMMY: Last night!
TOM: We ran into Bob Rock on the street.
JIMMY: He's a super-cool dude.
TOM: He said he had just bought our record.
JIMMY: Yeah, he said, "I bought your record. I'm really digging it, man. You guys made a great record." That was crazy.
At the end of the day, how do you wind down and ground yourself?
TOM: A bath.
JIMMY: Yeah, a bath. And if there's extra body wash, put it in the fucking tub to make bubbles. Candles, too. If you don't have a candle, paint a body wash mustache and it'll be like you're smelling a candle. Or, you know, just chemicals.
Photographed by Kara Smarsh.