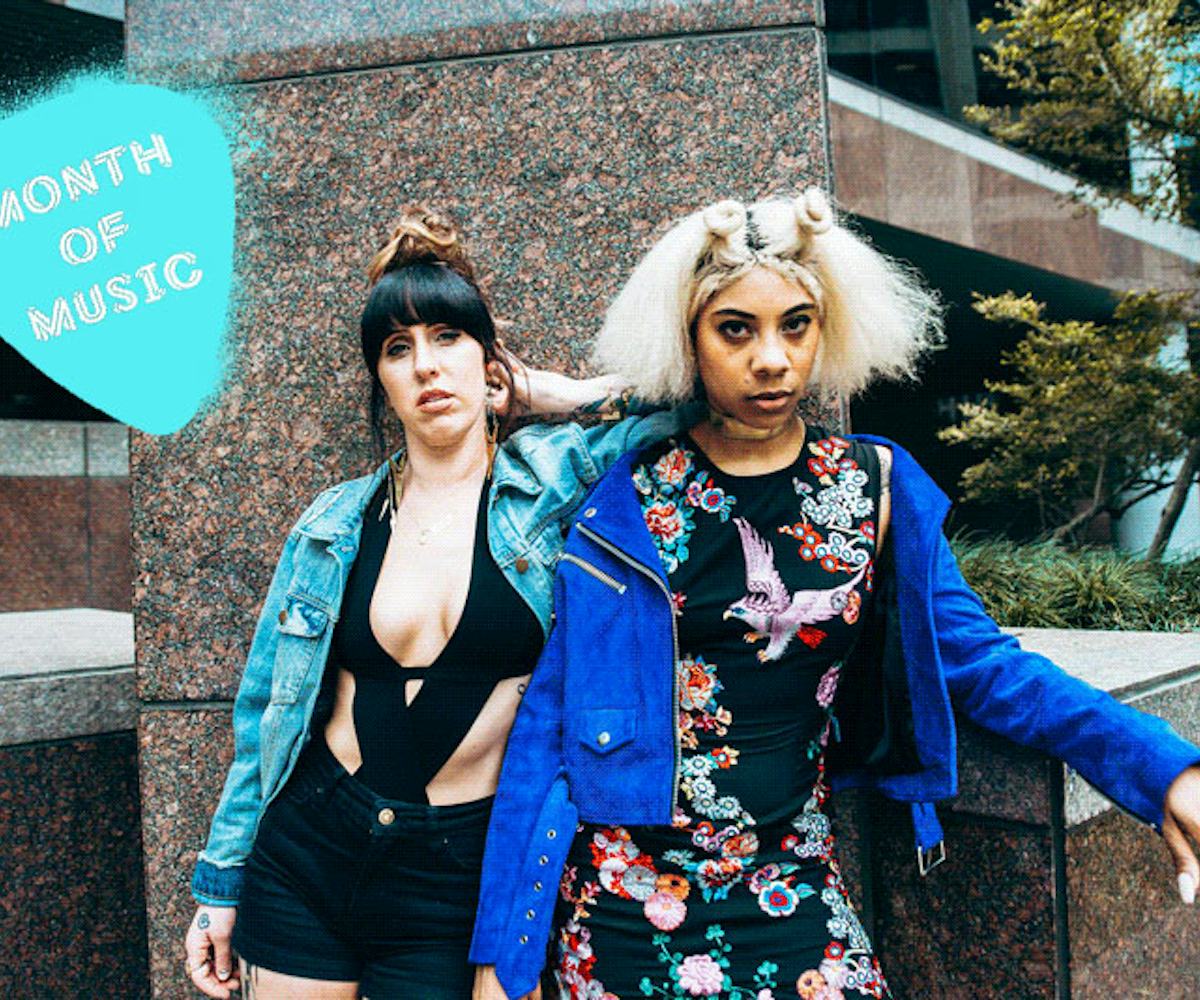 Photographed by Kara Smarsh.
BOSCO & Speakerfoxxx Are Shattering The DJ World's Glass Ceiling One Beat At A Time
Let's party in their yard
We share music because we want to connect with others on a deeper level. We want to relay and relate to a message that can't be said with just words. This April, NYLON is dedicating six days a week to introducing you to new artists and budding favorites. With interviews and GIF portraits done down at SXSW, NYLON's Month of Music is an exercise in finding aural pleasures outside of the Top 40. It's an exercise in challenging you and ourselves to not stick to one genre. But above all, it's a celebration of bold voices and sheer talent. Enjoy.One of the coolest things about living right here, right now is that we have access to an endless amount of nostalgic music and eras, that can be reinterpreted for the forward-thinking ear. Remixes, recuts, and re-edits of classics and deep-cut staples aren't new, but how and by who, is. You don't have to dive deep through the Internet to experience the freshness of BOSCO & Speakerfoxxx's music. Both hail from Atlanta and have come together—BOSCO's an R&B singer and Speakerfoxxx works magic as a DJ-producer—using years of individual projects and experimentation to create a sound that's familiar, but different. Their knowledge of dance music, R&B, and more is remarkable and bolsters their samples and mixes to new, exciting levels of expertise. Girls In The Yard, their new mixtape (available here), is a nine-track deep project that's as outrageous as it is brilliant. It's a wonder the fellas of the industry have gotten all the time to shine when it's women like these two who are truly advancing the genre-bending sounds into new territory. 
What song of yours fits the following situations?Getting Ready In The Morning?
SPEAKERFOXXX: "Run Around"?
BOSCO: "Run Around." 
S: It's a '90s house sample—that Black Box song called "Everybody Everybody." It makes me happy.
B: It's telling people to get their booties on the floor. The goal in life is to dance. 
S: It's how our mixtape starts. It sets the tone for it to be a party.
Me Time?
S: I would do "9mm." We listen to a lot of reggae when we're not listening to dance. I sample a King Tubby track there. It's just very chill. It's a happy song.
Hooking up?
B: "Hot Boyz."
S: The "Hot Boyz" cover.
Can you recall a moment in your life—whether it's a song, a show, a video—that convinced you, you wanted to be doing music?
B: I remember the first time I heard Bill Withers' "Lean On Me." I was a radio kid. My grandmother had this really old, '80s radio. It was obnoxiously big with a textured, crackle, analog sound. This very robust voice came through. I remember [starts singing] "Just call on your brother, when you need a hand," I felt like the heavens just opened when that came on.
S: That's a good memory.
B: I remember she was making coffee. It was, like, on Love 101.1. I was too young to really understand it, but now that I'm older, I get the power of music. Whatever that moment was when I felt Bill Withers, I knew I needed to be doing something like that. Michael Jackson's Dangerous album had a similar effect, but really, when I heard "Lean On Me," that was the defining moment.
S: I played music before I learned how to DJ, so, I have two separate experiences. I would say when I first heard The Breeders and El Seven, like the first time I had ever heard them, I was like "Oh my fucking god. I need to start an all-girl rock band tomorrow. I was just, like, "Yes." Then, I had an all-girl punk band called Sex Kittens for several years. I got tired of listening to live music and started to see DJs more, and going to clubs, and really got into club culture more. I remember hearing Don Cannon play this Atlanta club called Django. Don Cannon played a J Dilla tribute set. He played that Janet Jackson and Jermaine Dupri song, with the Joni Mitchell sample. When that song dropped, it was like the seas parted and time stopped; I knew that I had to learn how to do it. It was the most amazing feeling. My mom listened to Joni Mitchell, but when he dropped that song, it was really something. So, I taught myself how to DJ.
If any artist, dead or alive, could cover your music, who would you want it to be?
B: I'm going to for an André/Pharrell combo.
S: Definitely André.
B: I like André. I like Pharrell during N.E.R.D.
S: N.E.R.D. with André on production. And Kanye.
B: Who would you want to sing-slash-rap/talk?
S: André with M.I.A.
Have you ever been starstruck?
S: The one time I was starstruck was when Samuel L. Jackson walked into the restaurant I was a hostess at. I literally couldn't do anything. I just asked, "What's your reservation under?" Then I looked up and it was him. I blanked and walked to the bathroom. I couldn't do anything. And Remy Ma.
B: We lost it.
S: She had just gotten out of jail.
B: When "Take Me Home" came out, I became a woman. Like "Take Me Home," by Terror Squad? I just wanted to be a fucking boss. Like, I just wanted to boss up. But, I got starstruck when I met St. Vincent. In 2012, when I was trying to be musician for real, on a mainstream artist scale, I randomly tweeted something like, "Oh my god. I love you so much. Your tickets are sold out." She put me and my friend on the guest list in Atlanta. I hit her up again and she gave us tickets to the San Francisco show, too. I've kind of become one of her little loyal fans. I bought her a book—she really likes books; I got to wait for her after the show. She was really dope. She hooked it up. She really loves her fans. I've been a fan of her songwriting for a long time.
At the end of the day, how do you wind down and ground yourself?
B: Wind down? With wine!
S: I suck at winding down, so I just pass out. 
Photographed by Kara Smarsh.